Are you worried about handling Facebook and Instagram marketing campaign individually? Ever thought you could control Facebook and Instagram campaigns from a single dashboard? Facebook Creator Studio is the answer to this issue. It can be challenging for marketers to oversee each individual social media marketing channel. And Facebook and Instagram marketing make up the bulk of the company's target. If your company is having trouble getting good engagement, then opt for a social media marketing service from a reputed company.
Facebook Creator Studio is a dashboard for companies and content producers using Instagram and Facebook. It lessens the effort of publishing material independently and monitoring its performance across accounts on both platforms. While you are learning about the creator studio, you should also focus on Facebook Pixel, as it will help you a lot in realizing the worth of your audience.
The creator studio assists with carrying out all essential tasks for the development of your company on social media platforms. Facebook Creator Studio's biggest feature is that it completely removes any potential interference with your personal Facebook and Instagram accounts.
What is Facebook Creator Studio?
Facebook's Creator Studio is a one-stop platform for managing social media content that enables publishers and creators to manage their material, monitor performance, and build meaningful relationships with their audiences on Facebook and Instagram. Consider it as a strong desktop hub.
Facebook wants marketers, publishers, content producers, and companies of all sizes to be able to use this hub and share more video content. That is indeed a sizable portion of Facebook's daily active creators. Many marketers might not even be aware that they have access to Creator Studio. Many people still organize, schedule, and track material using third-party applications. However, you do not really need any other tools if Facebook and Instagram are your only concerns. Facebook's own built-in, native tool, Creator Studio, offers many additional features for organizing and generating content as well as more in-depth video insights.
Business Manager and Creator Studio are different in that the former is used to manage many pages and ad accounts without sharing login information. The content of your page can be managed and organized in Creator Studio. If you like, you may use it as a central location for uploading, planning, publishing, tracking, and monitoring all of your material, with a focus on video.
You can access the desktop version directly from your Facebook profile by visiting https://business.facebook.com/creatorstudio or clicking Creator Studio in the top navigation (if you do not see it straight away, try the More tab).
Creator Studio synchronizes everything together, regardless of whether one member of your team is using their phone and another is using the desktop version. You can start and finish posts on the desktop version and continue them on the mobile app, and you can even hold posts in Drafts for final approval. It makes team coordination and publishing easy.
Who Should Make Use of Facebook Creator Studio?
This fantastic tool can be used by anyone who works with Facebook and Instagram. However, the majority of the features are tailored with brands and content creators in mind. If you want to do more than just watch funny videos or chat with your friends, you should use creator studio.
Here's a list of how the tool can help these two groups:
Content Creators
For planning content ahead of time
To monetize Facebook video content
To manage influencer-brand partnerships
Access to a library of content creation resources (Like gaming guides or free audio)
Access to media kit and collaboration pitch performance metrics
Brands
To schedule and post content on multiple Facebook and Instagram accounts
Measuring the performance of individual posts or pages
Learning more about precise targeting
Easily increasing organic content
Managing the conversations across both platforms
How Do I Begin Using Creator Studio?
Users can access Facebook Creator Studio on desktop, iOS, and Android. You must go to business to access Creator Studio from your PC or Mac. Sign in to your Facebook account at facebook.com/creatorstudio. If you want to use it on a mobile device, search for Creator Studio in the Google Play or iOS app stores and download its app.
Features of Facebook Creator Studio
It is simple to monitor all of your Facebook or Instagram profiles from the Facebook Creator Studio if you have multiple accounts. There are several features you can use, some of them are listed below:
Produce, upload, and publish content
The main advantage of using Facebook Creator Studio is definitely this. Simply put, manually publishing content takes an absurdly long time. You will therefore have much more time and peace of mind if you can plan everything out a week, month, or longer in advance.
Receive Critical Platform and Business Updates
You can receive alerts and read about any new updates from Meta, such as the IOS 14.5 release, for instance. It will help you optimize your content to adjust with the new updates. This will prevent any loss of reach in case of change in algorithm or some other mishap.
Content Archive
Another fantastic advantage is that you may now have all of your content materials in one location. Therefore, you may keep all of your films and photographs here and subsequently use them to generate content. Instead of posting your files to the cloud or local storage and then download them. Only to return and re-upload it. When you have to repeat this process for 30 pieces of content, you begin to value being able to upload something only once.
Get Information
If you want to dive down to a certain post to check how it is functioning or you want to view analytics and your social media KPIs on how your page is doing, with Creator Studio insights, you have some excellent, trustworthy analytics.
Streamline Your Messages
This one is very time-efficient. And the reason for this is that viewing direct messages required logging into Instagram or Facebook even with the majority of social networking applications, including Hootsuite. With the Facebook Creator studio, though, you can see everything from a single, straightforward inbox.
Monetization
You can monetize your social media posts if you have a sizable audience. Additionally, you can alter the settings using the Creator Studio. It also helps you build a steady revenue source for your brand by enabling social media revenue.
Rights Coordinator
By utilizing the rights manager tool, you may defend your material against copyright violations. This feature tells you about possible copyright violations that your content might be prone to. It would help you dodge a legal bullet by warning of a breach at a time when you never thought that there was any. You can connect your Instagram account to Creator Studio to utilize this feature across platforms.
Sound Library
This one is nice because, if you want to spice things up, you can download free music and sound effects to add to your content. It also streamlines the process as you do not have to import audio files and adjust them according to your content.
Control Pages
And naturally, you can manage all of your pages from one location allowing you to better coordinate social media processes without any confusion.
How Does Facebook Creator Studio Work?
Now that you have a basic understanding of the creator studio Facebook features, let's dig deeper and see how you can use them. If you ever feel trouble working with Creator Studio, Meta has a guide to help you out.
Make a Post
This option allows you to make an organic post, start a live stream, or post a job listing. It is very similar to the options available in the native Facebook app. To begin creating a Facebook post, either click the shortcut on your home screen or the green Create Post button in the upper left corner of the page.
You can customize your post in the same way that you can on the native Facebook post-builder: media files, feelings/activities, check-ins, and so on. After you have customized your post, you can either publish it immediately or schedule it for later. You may also use the Boost Post feature directly.
Make Post-Tests
This option allows you to create and test an organic video post in up to four different variations. It could include a variety of post elements such as titles, thumbnails, or video edits. Before posting on your page, Facebook shows different post versions to your audience. And, based on the reaction of the audience, the post with the highest chance of engagement is posted on your account.
Include a story
You have all heard of a story. It allows you to create and share content that will be available for 24 hours. You can only use text or photos with this option, and you can also add custom CTA buttons. In contrast to the post scheduling option, you must share the stories right away.
Publish a Video Post
If you want to make a video post, select this option. After you have uploaded the video, you will be able to edit your post. You can include a thumbnail, captions, polls, and other features. Remember to check and fulfill the Before You Publish criteria for better optimization.
Share Multiple Videos
You can use this option to post up to 50 videos at one time. You can also change the title and description of each video. You can also publish the videos in the form of different episodes from a series and schedule them to publish at a set time.
Go Online
This option allows you to go live using Facebook's native Live Producer tool.
Distribute videos across multiple pages
Upload a video here and share it on your multiple Facebook pages. It will save you from the hassle of uploading the same video multiple times.
Content Library
All of the posts you have published on all of your Facebook Pages can be found in the Content library. The content library is more than just a repository for your Facebook content. When you click on a specific post, a detailed breakdown of its performance will appear.
Insights
Since it only includes videos and stories, this Creator Studio Insights area differs slightly from the Insights that we receive on the Facebook page. Your video performance is the first thing you see when you open these insights. It displays the number of minutes watched, one-minute and three-second video views, engagement, and net followers.
Loyalty is one of the most recent metrics they have started presenting. The Loyalty element was one of the primary metrics that Facebook used to give more reach to videos when they modified their news feed algorithm recently, possibly within the previous year. How many people from your audience return to view your videos? You can now monitor when you have new viewers, how frequently they watch, and how frequently they come back.
You have Audience below Loyalty. This breaks down your readers by age, geography, and other demographic factors, as well as displaying more pages and videos that your most enthusiastic viewers would find interesting. Be warned that many of these details won't be accessible to you until your viewing reaches a particular threshold.
There is also a tab for retention, which displays the origin of your viewers and the length of time they spend watching. Three-second, fifteen-second, and one-minute views of this are separately broken down. These graphs emphasize the significance of the initial few seconds of your videos, especially if they are not live. Facebook's video retention rates are frequently low. For this reason, the initial 15 seconds are crucial in retaining viewers' attention and preventing feed scrolling.
Earnings is a different section that you might encounter under Insights. Creator Studio's goal includes monetizing in addition to managing and understanding your content and audience. They also have a completely distinct Monetization category below that includes in-stream adverts, sponsored content when you're working with a paid partner, and brand collaborations, which you may or may not see anything under. Additionally, Facebook stars are displayed on monetized gaming profiles.
Also Read
Inbox+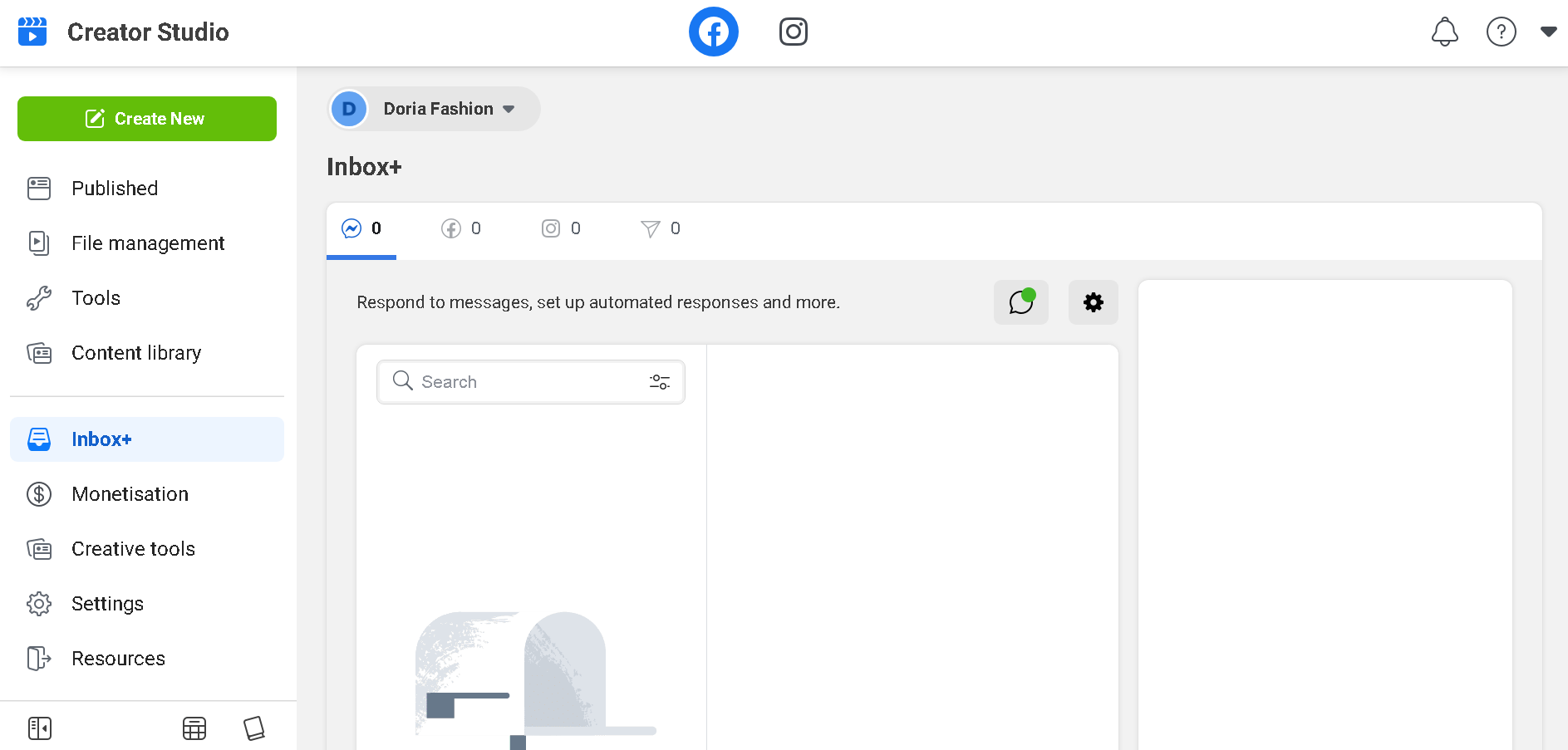 You can interact with comments and messages from Facebook Pages and connected Instagram accounts in the Inbox+ section. You can interact with the audiences of both platforms using this single dashboard. It also categorizes conversations as completed, read, followed up on, or spam. Facebook's automatic responses resemble chatbots, except they have less features.
You can programme prompts like "What are your opening hours?" or "Where are you located?" into Facebook to automatically respond to those frequently asked questions. Additionally, you can introduce yourself, inform job applicants that their application has been accepted, and send reminders for appointments and follow-ups automatically.
You can choose whether these responses or notifications are sent instantly, after a certain amount of time has passed, or in response to a specific trigger. You can also create an away message to be sent when your business is closed for a specific amount of time or outside of typical business hours.
For Facebook DMs, the following additional features are available:
Assigning threads of conversation to teammates
Making profiles for the people who interact with your company
Conversations with labels, notes, and activities
Payment requests
Contact Tracking
There is a tiny magnifying glass in the Messages UI that enables you to look up people and labels on Facebook, Messenger, and Instagram.
Any message you open will display the sender's profile photo in a sidebar to the right when you click on it. After that, you can click over to view their profile. If you know anything about them, including their email address, birthday, address, or place of employment, you can write your own notes in confidence and then select Add Label or Add Activity. If your website has shopping elements, you may additionally track appointments made, orders placed, payments received, and orders sent. You may even tag specific clients to have their communications appear differently in your inbox. It resembles a system for managing customer relationships (CRM).
You'll soon be able to manage both your CRM and your email communications inside of Facebook since the social network is currently testing a full email management solution.
Monetization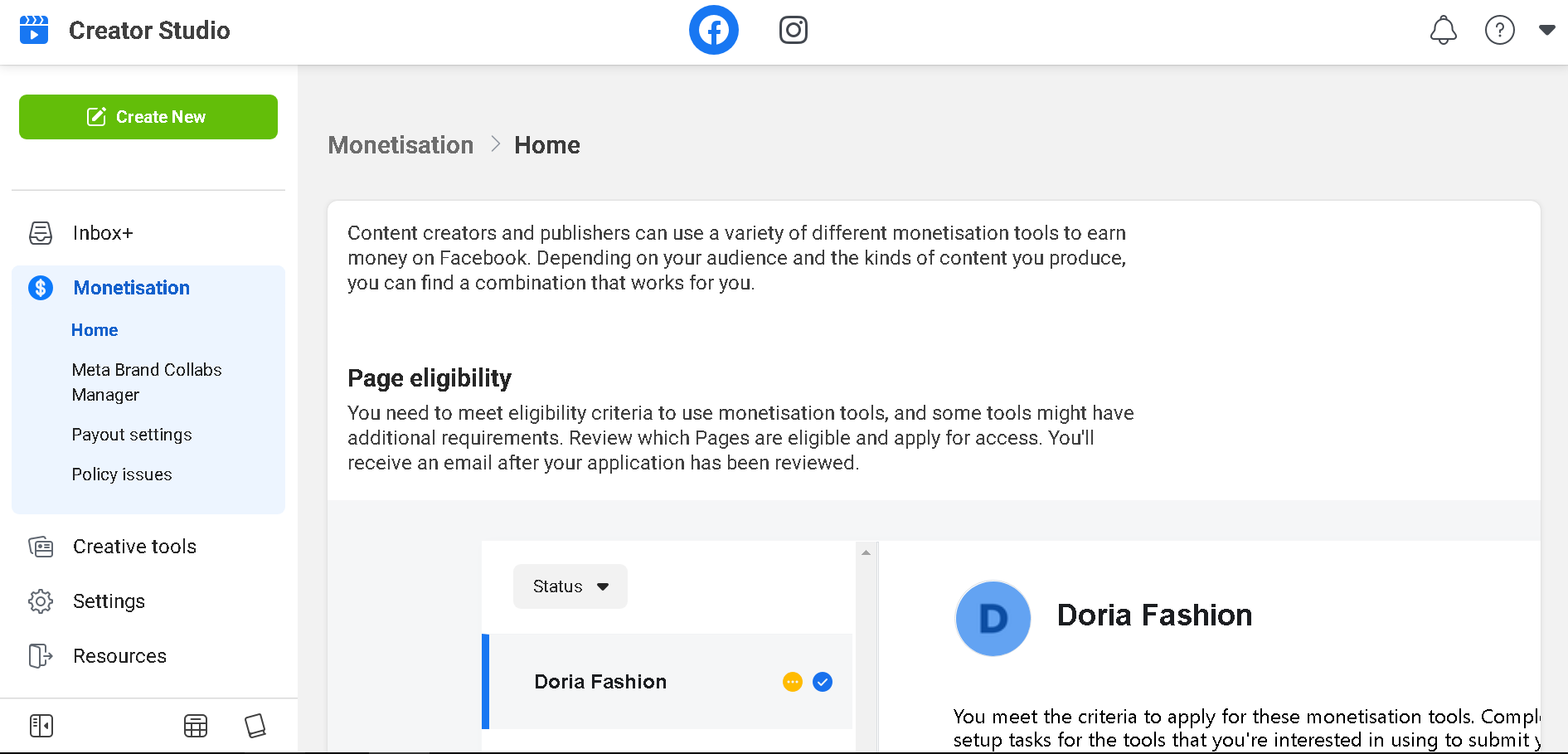 This tab allows you to optimize monetization tools as well as track and manage your earnings. You can monetize your account by allowing ads to appear before, after, or in between your content. The rules for monetization can be complicated, but Creator Studio simplifies them. This page determines whether your page is monetizable. If not, please explain why or what makes you ineligible. They also provide tips and tricks to assist you in getting started with and managing monetization.
The monetization tool consists of:
Posts
Online paid events
On-demand ads in-stream
Subscriptions from fans
Stars
Live in-stream advertisements
Brand Collaboration manager
Rights Manager
The Rights Manager scales the protection of your copyrighted Facebook and Instagram authentic content. To prevent unauthorized use of your content, the rights manager will automatically recognise audio and video content that matches yours.
Creative instruments
The Creative Tools section offers you access to your Live Dashboard and Sound Collection tools.
You should be aware of the following:
Live Gaming Streams Dashboard
The Live Dashboard by Creator Studio is a relatively recent addition that was created with game streaming in mind. With the following capabilities, you may manage your game streams:
Before going live, start live feeds or test your broadcast.
Updating your streams' information
Control notifications and alerts for your streams.
Look at the insights on your streams.
Plan live streamed events
Access your Clips Library and watch videos there.
View poll results and add polls to feeds
Plan to watch your previous streams again
Sound Library
Facebook image sound collection function from Creator Studio. We can now produce posts, monetize them, evaluate how well they're received, and safeguard them against unauthorized usage thanks to Creator Studio.
It makes sense that they would also provide you with access to copyright-free components that you might use to produce content. You may get free, authorized music and sound effects to use in your videos in the Sound Collection section.
To find tracks and sound effects for your posts, use the Sound Collection feature. Facebook did a great job on this one by incorporating strong filters and search functionality to make it easy for you to find the appropriate sound assets.
Wrapping Up
Overall, the Facebook Creator Studio is a useful tool for managing Facebook and Instagram accounts. It allows you to monitor and manage content performance metrics across all of your pages. It allows you to see how the audience interacts with and responds to content. Facebook has been emphasizing video content, as evidenced by the creator studio. It has evolved into a hub for activity management and measurement.
Although all of these features are not particularly novel, what makes it appealing is the simplicity and ease of use that it provides. Creator studio reduces distractions and allows you to focus on your work.
Frequently Asked Questions
What is the purpose of Creator Studio?
Creator Studio combines all of the tools you need to post, manage, monetise, and measure content across all of your Facebook Pages and Instagram accounts. It also allows you to take advantage of new features and revenue opportunities as they become available.
What is the benefit of Facebook Creator Studio?
You can schedule and manage your Facebook and Instagram posts using Creator Studio, Facebook's new free dashboard. All the resources you require to efficiently post, monetize, and track content across all of your Facebook Pages and Instagram profiles are included in this package.
Can I run ads on Creator Studio?
The capability of Facebook Creator Studio to find chances for paid collaborations and advertising is another essential aspect. As an added advantage, many of Creator Studio's features may be easily transferred to Instagram with just one click. However, you cannot run ads on Facebook or Instagram from the Creator Studio.
Latest posts by Ritu Sharma
(see all)