The fastest technique to get relevant traffic to your website from search engines is to target 'Question-Based' keywords. As a result, AnswerThePublic has become a popular tool for locating question-based keywords. However, you cannot always use the tool as it comes with its own limitations. In this post, we have shared 11 best AnswerThePublic Alternatives that you can use for keyword research and other SEO tasks.
The importance of keyword research in content marketing cannot be overstated. If you want to succeed in generating search engine traffic, you must first figure out what terms people are searching for. After all, you cannot always generate content that satisfies people's requirements until you know what they are looking for. With this you can form an effective SEO strategy that gets your website quality traffic. You can also opt for SEO services from a trusted company to let go of all the hassle.
If you want to pursue keyword research yourself and are unhappy with the keywords Answer The Public generates, this list of the best AnswerThePublic Alternatives will be perfect for you. If your website is not generating good traffic, sometimes it could be the fault of underlying technical SEO issues and not poor keyword research. In this blog, we will discuss some keyword research tools that serve as an excellent alternatives. The list includes free as well as paid tools that you can utilize to make your content better.
What is Answer The Public?
While there are many effective SEO tools available, Answer The Public is undoubtedly one of the most user-friendly and simple. This is due to the fact that it uses the same 'recommended searches' or predictions that you often see when conducting a Google search. This keyword tool creates a search cloud, which is a visual representation of the proposed autocomplete searches and search queries. The five Ws plus 'how,' can,' 'are,' 'which,' and 'will' make up categories for the tool to present us with questions.
Answer The Public Alternatives
Before we dive into understanding Answer The Public alternative tools, here's a list including some of them:
Let's understand more about these long tail keyword generation tools in brief.
11 Best Answer The Public Alternatives
It is crucial to produce quality content for your audience. Researching keywords and figuring out the terms people use to search for content are also important as they are essential to frame quality content. You are probably losing out on a lot of traffic if you are not doing keyword research properly for your website and content. Here are some tools that you can utilize for keyword research.
For any online business, keyword research is crucial. From an SEO perspective, choosing the correct keywords to target is essential if you want to grow your business via organic traffic.
One of the greatest keyword research tools is Semrush, which is utilized by many top industry figures and professional bloggers to increase their organic traffic and lead generation. A potent set of tools for competitive analysis, keyword research, link building, rank tracking, and on-page SEO are included with Semrush.
Today, Semrush is more than simply a keyword tool; it is the SEO equivalent of the Swiss Army Knife. Semrush proposes 5-10 highly precise keywords that your competitors are already using instead of generating a list of keywords. Using the keywords, you can also find out different relevant intents and key phrases.
Leading Features
Discover suggestions for ad groups and long-tail keywords
Get an annual keyword trend report
Statistics on CPC distribution around the world
The entire keyword research toolbox is available to you
Insights into organic traffic and keyword difficulty
Pricing
Semrush offers a free seven-day trial of its service. You must input credit card information to gain access to the trial, but there are no costs included if you cancel your subscription during the first seven days.
Semrush offers four pricing options. Annual billing is required to get the best SEMrush pack deals.
Pro- It starts at $99.95 per month and is invoiced annually for sites and freelancers on a tight budget.
Guru- The capabilities in this plan are ideal for managing content sites on a day-to-day basis for SEO agencies and small to mid-sized businesses. Guru is available for $191.62 per month.
Business- It starts at $374.95 a month and is ideal for eCommerce stores and agencies.
Enterprise- SEMrush can tailor a plan for your needs if you have a large content strategy that goes beyond the capabilities of the preceding options.
Semrush Keyword Magic Tool vs Answer The Public
| | |
| --- | --- |
| Semrush Keyword Magic Tool | Answer The Public |
| Semrush provides a great central hub for adding your websites as projects. | Cannot add websites as projects. You will need to do manual searches every time. |
| Projects can be tracked, audited and measured for visibility over time. | No such option available on the platform. |
| Limited keyword suggestions as compared to other tools. | Diverse keyword suggestions to suit different websites types and niches. |
| Starts at $99.95/month | Starts at $99/month |
AlsoAsked is a great alternative to Answer The Public if you are looking for something unique. AnswerThePublic uses 'Counsel' information to recommend autocomplete searches, whereas AlsoAsked uses 'People Also Ask' data to provide long-tail keyword alternatives. AlsoAsked compiles questions that were asked on popular search engines like Google, giving you a simple way to find commonly asked questions. All you have to do is type in a term, and AlsoAsked will provide a list of related questions that have been asked by other users.
Here's how you may quickly find question-based keywords by also asking.
Enter any question or term into the search box on the webpage. When you press the search button, the software will immediately return terms that are based on a question.
Leading Features
Get answers to 'People Also Asked' queries that are specific to your location
Image export to PNG
Make searches in bulk
History of searches is accessible
CSV files can be used to export data in bulk
Pricing
AlsoAsked is a freemium tool, meaning it is free for some time but you will eventually have to pay to use some specific features. Here are the paid plans:
Basic- AlsoAsked's most affordable option is $15 per month.
Lite- The monthly fee for this plan is $29
Pro- The monthly fee for this plan is $59
AlsoAsked.com vs Answer The Public
| | |
| --- | --- |
| AlsoAsked.com | Answer The Public |
| Location specific PAA queries. | Diverse PAA queries to select from. |
| Easily identify long-tail keywords by using the autocomplete features of different search engines. | This tool visualizes search questions and suggests autocomplete searches in an image. It is called a search cloud. |
| Cannot export data to CSV or excel. | You can easily export data to CSV or excel file format to import in other tools and applications. |
| Starts at $15/month | Starts at $99/month |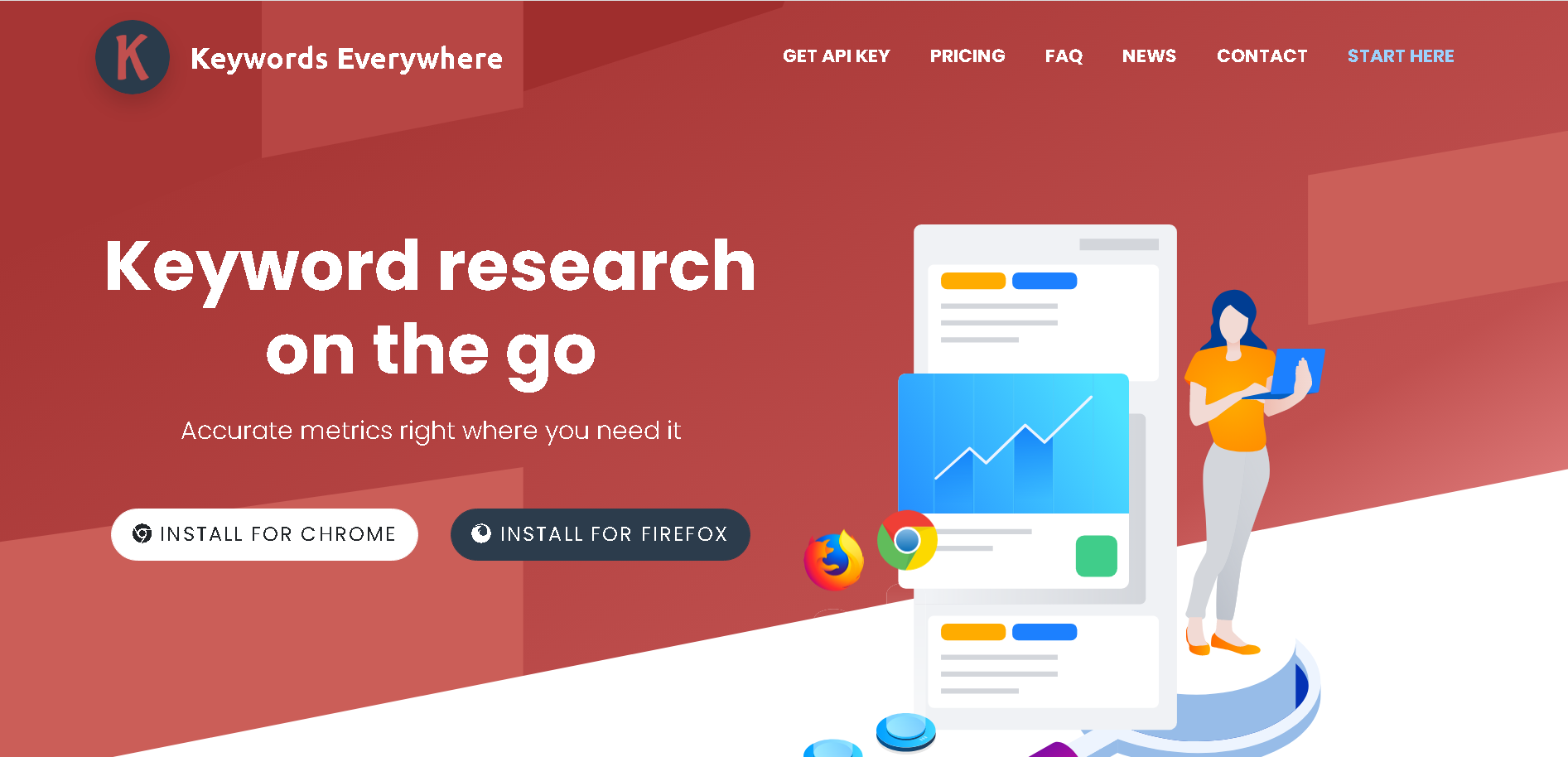 Keywords Everywhere is a browser extension for Chrome and Firefox. It displays data on competitiveness, cost per click (CPC), and monthly search volume for various APIs. The information is conveniently integrated into the search results page you just used.
The benefit of using Keywords Everywhere is that you can conduct search engine optimization using real-time data. Thus, you have the opportunity to come across terms in the same way that your target client does. This enables you to see the user experience practically rather than abstractly, giving you information you might have overlooked otherwise. By eliminating time-wasting or useless keywords, allowing you to save keywords more quickly, and removing the need to jump between different tabs, Keywords Everywhere also saves you time.
Leading Features
Your keyword list can be downloaded from Keywords Everywhere in Excel, CSV, or PDF file formats.
Import keywords to add them all at once and get volume numbers.
Specify a country to limit your results.
Find all the keywords on a page and check their search volume with the analyze page tool.
You can save all of the keywords on a page using the "Add All Keywords" feature for use in later research.
Google Search, Google Search Console, Google Analytics, Google Trends, Google Keyword Planner, Bing, YouTube, YouTube Tags, Amazon, eBay, Etsy, Answer the Public, Soovle, Keyword Shitter, Majestic, and Moz Open Site Explorer are just a few of the 16 APIs that are compatible with Keywords Everywhere.
Pricing
Keywords Everywhere is not a subscription-based tool, unlike many other applications. Instead, credits are purchased. One credit equals one keyword to keep things simple — and you know how much we adore simplicity. At this time, the pricing is as follows:
Although it is not technically true that one credit will be spent for a single search, credits are charged on a per-user basis. For instance, it will cost 29 (1 + 20 + 8 = 29) credits to conduct a Google search and receive metrics for 8 related keywords and 20 PASFs.
To consume fewer credits, some settings can be turned off. For instance, the tool will charge you one credit for any keyword that shows in Google AutoComplete. You should turn this off to protect your credits.
You can turn off the programme at any time to avoid wasting credits while you are not conducting keyword research. Additionally, you can turn off related keywords and PASF results. You can keep inside your spending limit by using the tool to find out how many credits you still have.
Keywords Everywhere vs Answer The Public
| | |
| --- | --- |
| Keywords Everywhere | Answer The Public |
| Conduct SEO using real time data from search engines. | The data fetched by this tool can sometimes be as long as one week old. |
| Country specific search volume data on the keyword tool of your choice. | Country specific search volume data not available. |
| 'Organic Ranking Keywords' option that finds all keywords that any webpage ranks for in the first three pages of the SERPs. | View keyword metrics in two parts- the wheel and alphabetical keyword data. |
| This tool does not come with a monthly or yearly subscription. You can buy credits and spend them according to the actions you perform. | Subscription starts at $99/month. |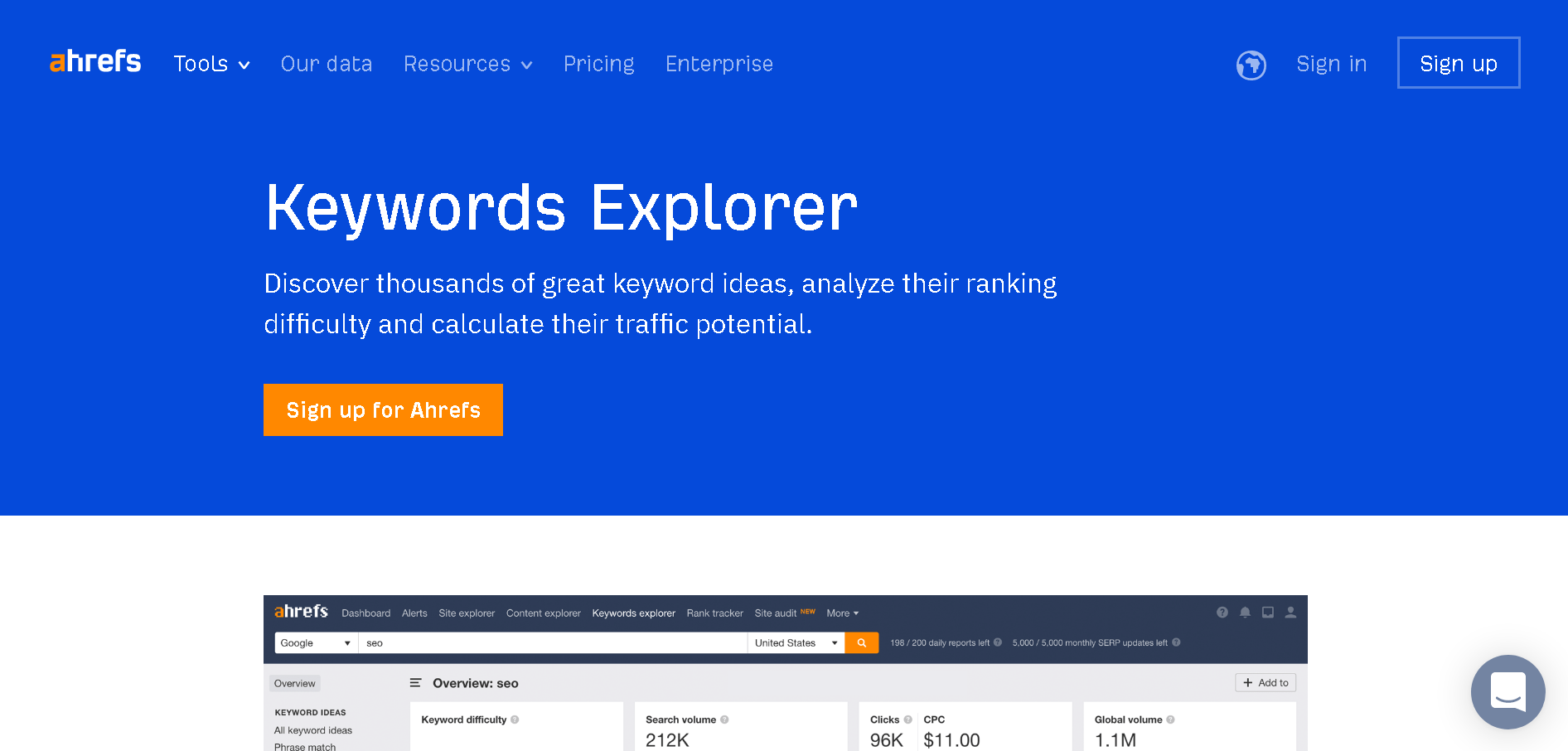 If you want to find a large number of unique keywords, Ahrefs Keywords Explorer is the tool to use. Its database comprises approximately 5.6 billion terms, all of which are accompanied by a variety of unique indicators. They indicate which keywords generate the most traffic.
Because of the huge search volume, certain inquiries appear promising, yet this is deceiving. Because Google displays a Knowledge Card with an immediate response, they generate a small number of page views. You may assess the organic search traffic potential for any phrase using Ahrefs' Clicks metric.
Users generally click on the first result to get a response to their queries. It means that even if you are ranked second, you may receive no visitors. The Clicks Per Search measure shows how many times people click on each query's search results.
Because the system captures clickstream data from users, Search Volume is quite accurate. Ahrefs also provides an accurate Keyword Difficulty score based on the big backlink index. You will find it simple to study keywords for your projects with Ahrefs' visually appealing interface, sophisticated filters, and sorting choices.
Leading Features
Keyword difficulty score that is accurate
Keyword ideas totaling over 1,000
Over 171 countries have pledged their support
Improve your CTR by using click metrics
An in-depth look into the SERPs
Pricing
Ahrefs offers four different pricing options. If you choose an annual payment plan, the costs for freelancers, internet marketers, mid-sized enterprises, and larger corporations start at just $83 per month. Here is the Ahrefs pricing according to the plan:
Lite- Starts at $83 per month, ideal for small businesses, bloggers, and hobby professionals
Standard- Starts at $166 per month, ideal for marketers and SEO professionals
Advanced- Starts at $333, ideal for growing agencies and companies to utilize in their SEO and content strategy
Enterprise- Starts at $833, ideal for big agencies and multinational corporations that work at scale
Ahrefs vs Answer The Public
| | |
| --- | --- |
| Ahrefs | Answer The Public |
| Provides difficulty metrics on keywords and phrases | No such feature available with this tool |
| Weaker questions feature as compared to other tools in the industry. | Excellent questions to include in your web content including product pages and blogs. |
| Does not make relevant content suggestions. | Make relevant content suggestions to support your overall content strategy. |
| Starts at $83/month. | Starts at $99/month. |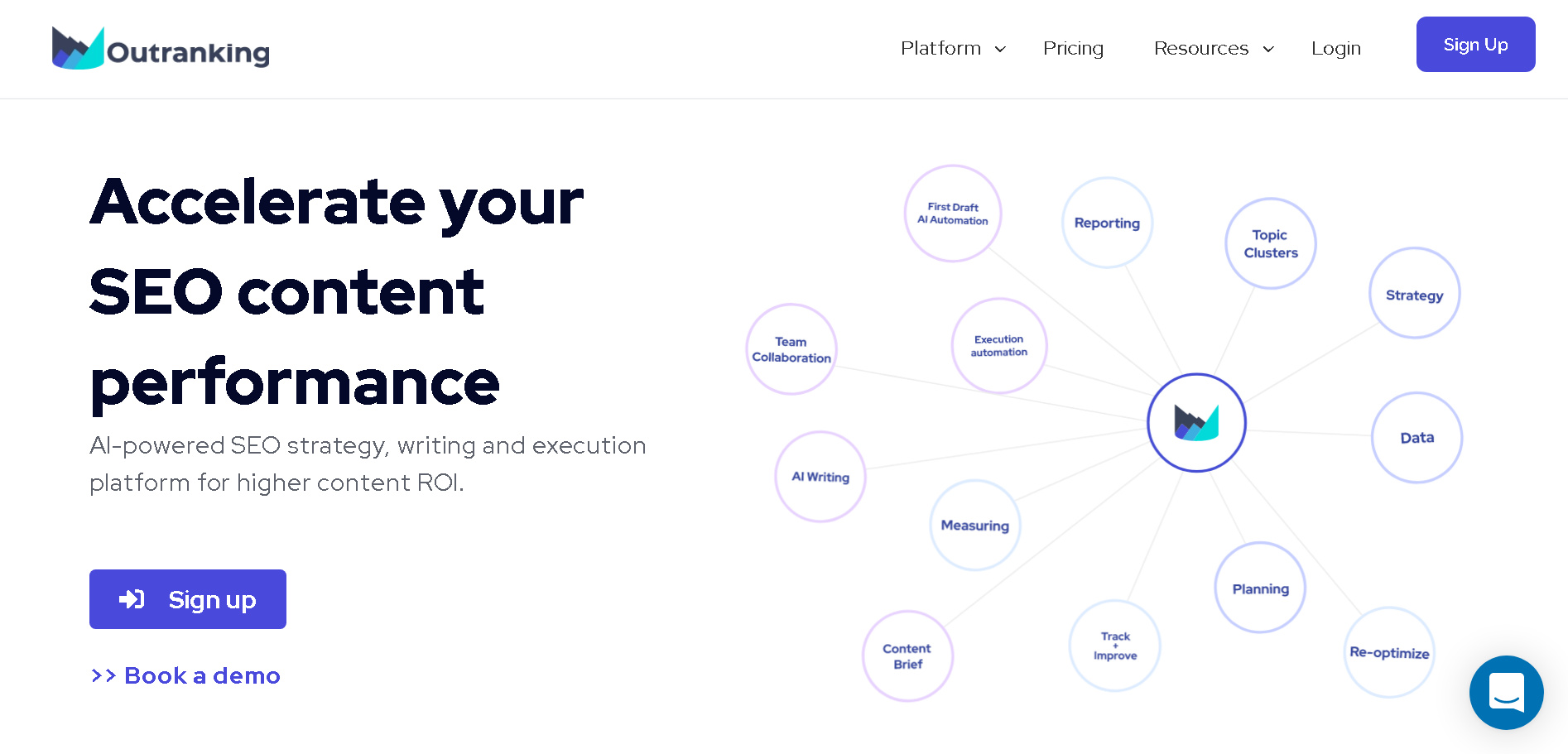 Outranking is a SERP Analysis and SEO Content Optimization tool. It is not simply another one of those useless tools for SEO content optimization. Additionally, you may use this tool to generate headline alternatives, content summaries, and outlines that will help you conceptualize the content you are about to produce. Alternately, improve the content that is currently available but is not doing well. If you have stuck with SEO for a while, you are aware that building backlinks is not always the best approach to make progress.
Fixing existing content will frequently increase its likelihood of ranking higher as a solution. And numerous studies have demonstrated that by just optimizing the content with proper SEO strategies, entities, and subjects, the ranking factor does change; to be fair, this is a more affordable method of ranking improvement than continually purchasing backlinks. With the help of Outranking's features, you may optimize existing content, a process known as 'content pruning' and plan the creation of new content.
Leading Features
Even though we have already seen some fantastic features, in this section we will know about a few that really set this platform apart from the competition and that you should be aware of before signing up for a paid plan.
Optimizing SEO Content & Developing Outlines
Analysis of SERPs
Questions you can include in your content by scraping
Integration Capabilities
Team Collaboration
Pricing
Outranking has been priced very well with various customer groups in mind. The $49 beginning plan is appropriate for small businesses that publish two blogs every week.
For agencies and media firms that are serious about growth and recognise the value of distributing properly optimized content at scale, there is a professional $199 Plan. Even though the free version has limitations, the fact that you can join up without using a credit card is a game-changer given that the majority of competitors only have a seven-day money-back guarantee.
Outranking.io vs Answer The Public
| | |
| --- | --- |
| Outranking.io | Answer The Public |
| Can generate headline alternatives, content summaries, and outlines. | Excellent with generating useful questions and phrases. |
| Optimize and develop content outlines | Can only help in developing content outlines |
| AI content generator available | Limited features to help your content strategy |
| Starts at $49/month. | Starts at $99/month. |
Google SERPs
Google search results are the best way to research for your SEO and content strategy. As you are, most of the time, doing SEO for Google, it will be best that you take data and inspiration directly from the parent platform. You can find content inspiration from 'People Also Ask' (PAA) and 'People Also Search For' (PASF) sections. As the data will be directly from Google, you will always study with the most updated materials, without the worry of your tools fetching earlier data that might not be relevant in the current scenario.
Leading Features
Google SERPs come with a ton of features that can help you generate high quality content with all the relevant questions and keywords.
Related Search
People Also Ask section
Keywords get bold in meta descriptions
Pricing
The best thing about using Google SERPs is that they will not cost you anything. All you have to do is perform a Google search with your target keywords and you will have enough data on your hand. If you are looking for more, try using related keywords alongside.
Google SERPs vs Answer The Public
| | |
| --- | --- |
| Google SERPs | Answer The Public |
| Real time updated PAA results | The results are often few days old |
| As you will be looking for relevant keywords and data in Google search, you will have to spend a lot of time on it | You get the intended information directly without having to look for it in a heap of data |
| No intent analysis available from Google inside the search results | Intent analysis to help with your content formation tasks |
| No subscription fee! | Pricing starts at $99/month |
Nozzle provides more accurate business SERP data than the majority of other tools in the market. SERP data is the information displayed on the search engine results page after a user enters a search term. SERPs typically include pay-per-click advertisements in addition to organic search results. Using Nozzle, you can easily rank at the top of both organic search results and devise an effective ad campaign strategy that keeps your budget to a minimum (use Nozzle to search for multiple PPC keywords related to your niche, determine the ones that have good volume and low CPC, and run your ad on those).
Nozzle.io keeps track of your entire brand as well as unlimited domain matches, including social media accounts. There is no limit to the number of competitors you can follow (unlike Ahrefs and Ubersuggest). You can track as much as you want in each monthly plan with this software. You can now take control of your SERP.
Leading Features
Brand tracking and monitoring
Useful analysis
Flexible planning
Multiple domain check
SERP data
Pricing
Nozzle offers monthly and annual plans for two types of users:
Small and Medium Business (SMB): Basic, Advance, Pro, and Pro Plus.
Enterprise is further classified as Business Basic, Business Advance, Business Pro, and Enterprise.
The entry level monthly plan for SMB's start for $49/month while for Enterprises it costs $1,199/month.
Nozzle.io vs Answer The Public
| | |
| --- | --- |
| Nozzle.io | Answer The Public |
| Provides an incredible wealth or useful data at a lower price than most other rank tracking solutions. | Can only be used for gathering limited people also ask data. |
| Local SEO related features missing in the tool | You can use local keywords to find relevant data for your local SEO strategy |
| Keeps track of your entire brand as well as unlimited domain matches, including social media accounts | Cannot manage social media accounts from the tool |
| Starts at $49/month | Starts at $99/month |
Also Read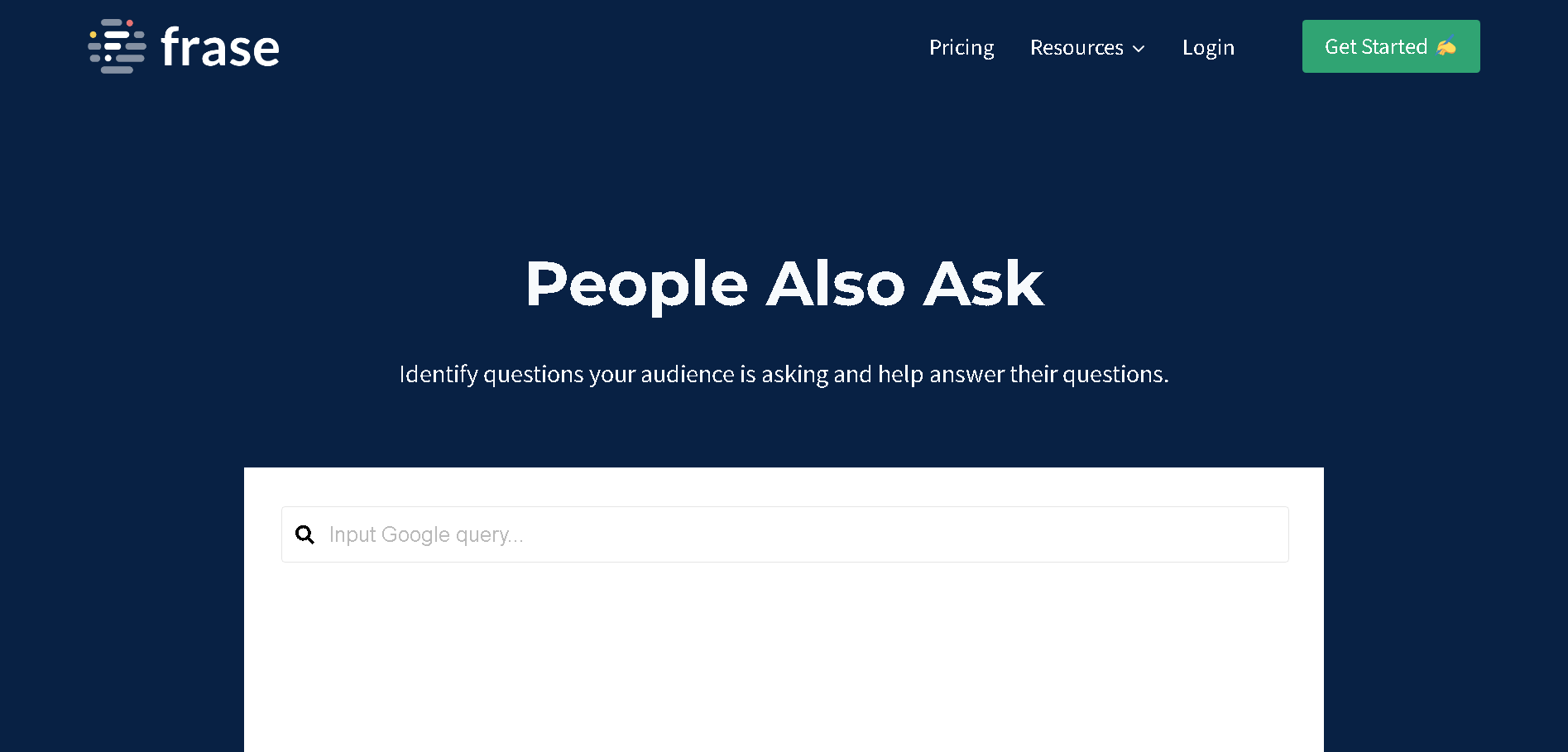 Frase assists you in creating SEO-friendly content by locating relevant keywords and questions for your article. It can also generate and improve relevant responses to questions posed by your target audience! Frase is jam-packed with features that will not only save you time but also allow you to create stunning, in-depth, and SEO-focused content.
Frase steps in to save the day. With Frase, you can actually automate the research process. As you type your term, it compiles a list of relevant queries based on data from the People Also Ask column, Quora, Reddit, Search Autocomplete Results, and so on. It helps you identify the questions your audience is asking so you can address them more effectively in your articles.
Leading Features
Outline builder section with PAA and related questions
Concept map
Content brief to help you start writing
Content editor
Pricing
It is simple to get started with Frase. You begin by creating a basic profile, then select the size and type of your business before being presented with various plans and pricing options.
Basic- $44.99/month
Team- $114.99/month
Growth- 199.99/month
Frase vs Answer The Public
| | |
| --- | --- |
| Frase | Answer The Public |
| Build content outline along with PAA and related questions | Content outline cannot be generated from this tool |
| Compiles data from search engines and social media sites | Only works on data from search engines |
| Complex user interface due to too many features and data being listed on a single page | Easy user interface to fulfill PAA and key phrase related queries |
| Starts at $44.99/month | Start at $99/month |
When it comes to creating content briefs, Content Harmony has created a solid product that is similar to Frase, Surfer SEO, and MarketMuse.
Content Harmony is ideal for SEO and content teams looking to create amazing content briefs and optimize their content. The data-driven content brief workflow ensures that your writers create comprehensive content that adheres to your SEO and brand guidelines. Content Harmony is a great tool for your content marketing efforts because it eliminates the time-consuming process of analyzing the top results content structure.
Leading Features
Save time in doing general processes as this tool does the heavy lifting
Scale your content strategy
Create high quality content
Pocket friendly
Pricing
Content Harmony is one of the best tools for beginners as its plans start at just $10/month and provide a range of services with it. However, the plan cost increases as you choose more benefits with it.
Content Harmony vs Answer The Public
| | |
| --- | --- |
| Content Harmony | Answer The Public |
| Can create content briefs and help optimize content | Ideal for generating PAA and other questions |
| Budget friendly tool that reduces time spent on general tasks | Relatively expensive tool that can help you rank higher than competitors |
| Starts at $10/month | Starts at $99/month |
Using searchresponse.io, you can gain actionable insights and prioritize and create content that drives organic traffic. Search Response is a set of SEO tools for content marketing and keyword research that uses rich search engine data to uncover important insights.
Using this tool, you can search a dataset of over 100 million People Also Ask (PAA) questions compiled by Google using 200 million keywords. You can search for questions about your topic and sort them by popularity.
Leading Features
Tracking of keyword rank
Difficulty ranking
Recommendations for long-tail keywords
PAA questions
Get PASF queries
Pricing
Searchresponse.io comes with a free plan that gives you limited access to the tools' functions. However, it is perfect to try the tool and experience it before investing in it. Here are its paid plans.
Starter – $39 per month
Optimize – $59 per month
Pro – $99 per month
Searchresponse.io vs Answer The Public
| | |
| --- | --- |
| Searchresponse.io | Answer The Public |
| Track keyword rank and search for relevant PAA questions for your brand content strategy | Keyword rank tracking not available with this tool |
| Long tail keyword recommendations | Provides long tail keywords as well as key phrases that can be utilized to frame SEO friendly content for web pages |
| Monthly keyword data is not available | Monthly and historical keyword data available |
| Starts at $39/month | Starts at $99/month |
QuestionDB is a straight substitute for Answer The Public that is very similar in terms of functionalities. QuestionDB sources these user queries from Reddit to identify the inquiries people are typing into search engines.
Reddit users frequently post more in-depth or personal inquiries, so taking use of the platform is a wonderful method to learn about people's queries and worries.
Reddit may also be utilized as an online community for people with more specialized hobbies or viewpoints, so if your company operates in a specialized field, there are probably related sub-threads. You can follow these to stay updated with the consumer voice. It can help your brand take corrective and efficient actions and stay up to date. You can also use QuestionDB to find fresh subject matter for articles and other stuff.
Leading Features
Find relevant questions based on a term or topic
Select from a wide directory of questions
Intent-based long tail keywords
Pricing
You are limited to 10 searches per day in the freemium version, but limitless searches are available with the Pro Plan for $10 per month.
QuestionDB vs Answer The Public
| | |
| --- | --- |
| QuestionDB | Answer The Public |
| User queries are sourced from Reddit and other social media platforms | Queries are sourced from search engines |
| Can be used to find fresh subject matter for articles and other content areas | Search results can be used for articles as well as research on existing ones |
| Cannot target specific local regions due to unavailability of data | You can utilize local search terms to conduct local SEO research |
| Starts at $10/month | Starts at $99/month |
Conclusion
These are some of the top keyword research tools available in the SEO market right now. Start by examining your budget and then analyze the key emphasis of your brand's SEO strategy to pick the one that works best for you. For SEO, there are numerous commercial and free keyword research tools. While the paid tools offer the most data and the quickest access to it, the free tools can still be extremely useful – especially if you don't mind paying a small fee.
Frequently Asked Questions
What is the Answer The Public?
Answer The Public is a keyword tool that uses an image called a search cloud to show search questions and suggested autocomplete searches. The 5 Ws, as well as 'how,' 'can,' 'are,' which, and will', are divided into categories according to which it generates relevant questions for your topic.
Is there another tool like AnswerThePublic?
You can use tools like
1. Semrush Keyword Magic Tool
2. GrowthBar
3. Google Keyword Planner
as Answer The Public Alternatives. While these tools are not a direct replacement of Answer The Public, they have several similar functionalities that may help you achieve the objectives.
How do you find out what people are Googling?
There are several ways with which you can find out what the general public is googling. However, the best medium is a tool called Google Trends. It allows you to enter a term or topic and see the search volume it generates over time.
Is Google Keyword Planner free?
Google Keyword Planner is a free tool that can help you research keywords for your search campaigns. You can use it to find keywords that are relevant to your business and see the volume that they generate on a regular basis.