When Was the Google Helpful Content Update Released?
On August 25, 2022, Google released the Helpful Content Update. This ranking algorithm update will take about two weeks to fully roll out for English searches globally, with plans to expand to other languages in the future.
You can stay up to date on the launch and rollout by visiting the Google ranking updates page, which includes the most recent information on Google Search ranking updates that are relevant to website owners.
What Exactly Is Google's Helpful Content Update?
The Google Helpful Content Update is a ranking algorithm update that aims to reward content that provides a satisfying user experience while reducing visibility in search engine results pages (SERPs) for content written to rank in search engines to attract clicks.
This is not a Google Core Update, manual action, or spam action, but rather a new signal that Google will use to evaluate and rank website content. It is also a weighted site-wide algorithm.
This means that if the machine learning algorithm determines that a large amount of content on a website is unhelpful, it may be flagged with a classifier, affecting the overall visibility of the site in the SERPs. Sites with a high proportion of unhelpful content may experience a stronger effect than sites with a high proportion of helpful content.
Recovery for affected sites could take months given that they would need to refresh their existing content. To regain search engine visibility, remove unhelpful content and demonstrate to the ranking algorithm that your website adheres to best practices for publishing people-first content. Consider it a probationary period.
Google would not want content creators to publish harmful content as soon as the recovery is complete, so make sure the content you are publishing is user-friendly first. Google desires to reward better and more useful content written for humans and to assist users.
Google Helpful Content Update Quick Facts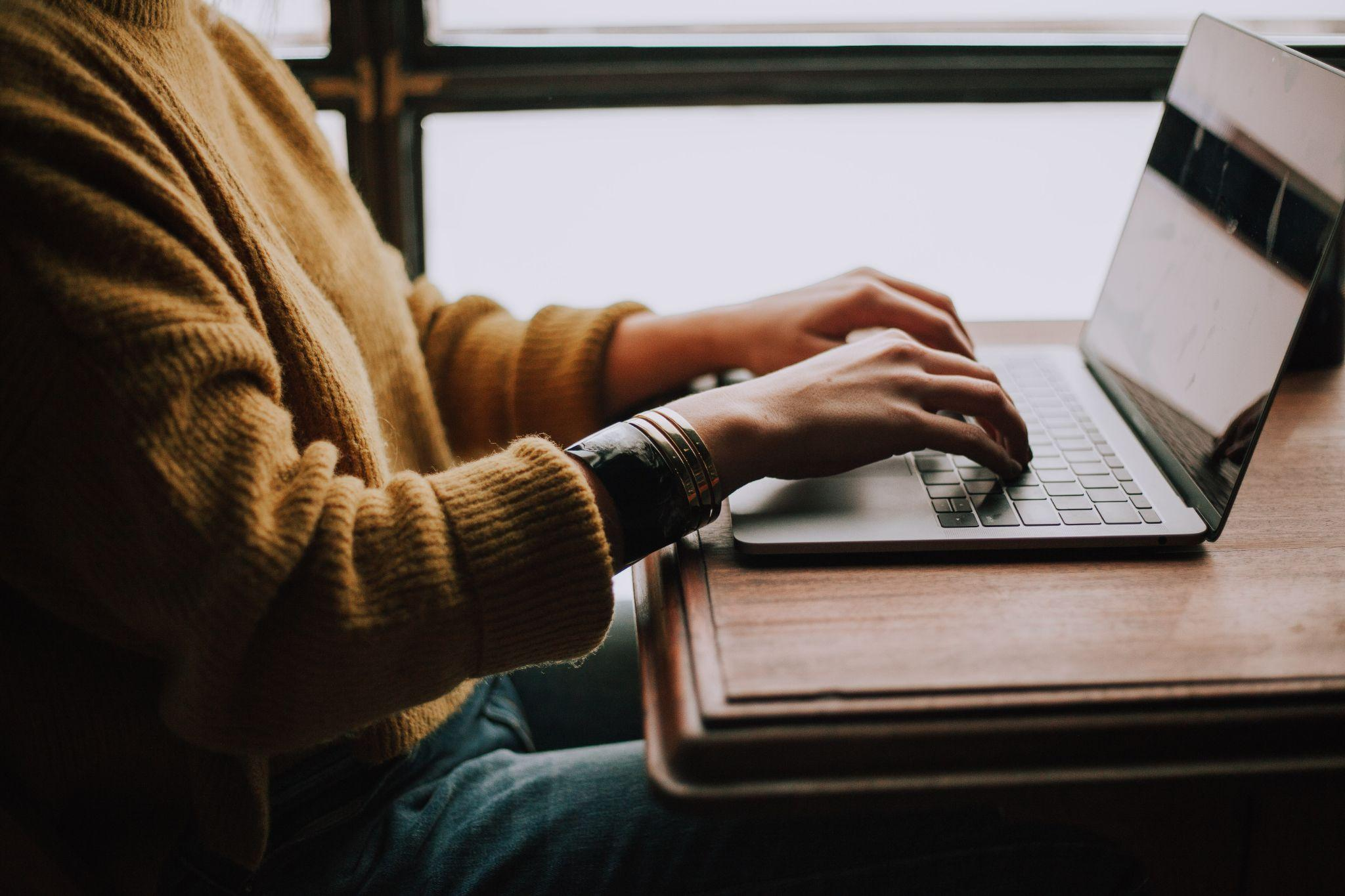 The key details that we currently have about the ongoing Helpful Content Update are listed below in the most precise form. Google has also shared a creator's guide about the update.
| | |
| --- | --- |
| Name | Google Helpful Content Update |
| Launch Date | 25th August 2022 |
| Rollout | The update will take about two weeks to fully roll out |
| Targets | It looks at content that was created to rank well in search over help humans |
| Impact | The update currently only impacts Google Search. It has not affected Google Discover or other Google surfaces yet. But Google may expand this to Discover and more as the update progresses. |
| Penalty | Google has not mentioned penalties but the update sure seems to give out penalties for websites with poor content that is not user friendly |
| Scope | The whole site will be impacted by this update as it is a sitewide update |
| Type | Contradicting popular opinion, this is not a core update |
| Language | The update is currently assessing only the English language. However, its focus is likely to expand to other languages in the coming weeks. |
| Recovery | If your website was hit by this, then you will need to look at your content and see if you can do better with Google's advice below |
| Refreshes | Google updates the scores constantly here, but there is a timeout period and a validation period, and it can take several months to recover from this update. |
Updated August 26, 2002:
Google has shared a feedback form with which you can share the URLs of websites that you believe should not have been affected by the ongoing update. This form was shared by John Mueller of Google in the webmaster's help forum.
Alongside the release, Mueller wrote, "We recently released a Search ranking update called the August 2022 helpful content update. This is part of a broader effort to ensure people see more original, helpful content written by people, for people, in search results." He added "If you have any feedback about this update, you can comment on this thread. If you'd like to give us feedback specific to your site, you can use the feedback form for this update. We use your feedback to help our engineers find ways to improve our systems overall. Your feedback is valuable and helps to improve Search for everyone!"
Updated August 25, 2022:
The rollout has begun! Google posted in its ranking updates documentation that the Helpful Content Update started rolling out on 8/25/22 and will take about two weeks to fully implement.
Updated August 18, 2022:
Google, on 18 August 2022, shared a pre-release about a 'Helpful Content Update' targeted at improving user experience by pushing down content that is targeted for 'search engines' and not for 'actual people'.
Google helpful content update is a sitewide change. It targets websites with a high proportion of unsatisfying or unhelpful content, where the content is written first for search engines. In other words, if you have written that piece of content to rank on Google while not focusing on user experience, this update might hurt your rankings and traffic. High-quality content writing has become more important than ever.
Unlike the May 2022 core update, this time, the search engine giant has provided a list of questions about content that site owners can ask themselves. Read through the questions we have shared in this post and ask yourself, objectively, if your content is in sync with this update.
It is important to note that if you were affected by this update, it might take several months to recover if you do everything correctly and make changes to your content over time.
According to Google, the new helpful content update specifically targets "content that appears to have been created primarily for ranking well in search engines rather than to help or inform people." This update aims to assist users in finding "high-quality content."
Latest On The Helpful Content Update
No indexing content is almost certainly as effective as removing it. However, sites with issues are likely to have more than a few pages to no index. There should also be evidence of good, helpful pages on the site, and this could be in the form of useful content that links to pages.
Cleaning up your content is important, but it might not help you perform better during the initial rollout. The useful content update includes a classifier that must gather data and make decisions. The data collected by the classifier for the initial rollout has most likely already been compiled to help Google keep the update stable.
Discover traffic seems unaffected at least during the initial period. This may change rapidly during the later phases as we start noticing more changes around.
All content on your pages, including user-generated/submitted content, is evaluated. Site owners might have to re-evaluate where they allow user generated content to appear and consider removing the existing one.
As the update has just started rolling out, it looks like we are in for a wild ride. You could experience major changes in traffic in the coming days.
According to Google's blog post, the update will have an impact on sites related to online education, arts and entertainment, shopping, and technology. However, Danny Sullivan stated that it is not aimed at any specific demographic. It's just that pre-launch tests have revealed that much of the content affected by the update comes from these categories.
Is This Panda 5.0?
The likelihood is strong that this update, like the Panda update in 2012, will have a large impact, devastating effects on a number of websites, and probably also harm your pay per click advertising. The latest algorithm tweak appears to be extremely similar to the Google Panda Update if you are even vaguely familiar with it due to its emphasis on low-quality content.
However, according to Google, this upgrade is an addition to Panda, which has been a part of the core algorithm for a very long time. Panda is still active, however this update is new and may have a similar feel to Panda's initial release, although being distinct.
We believe this update will hold the same stature as a Panda or Penguin update when we look back on it in years to come because it made SEOs reevaluate some of their SEO tactics. This update might have a devastating effect for some agencies that focus on short term value rather than creating informative content that is relevant for years.
What You Should Understand About This Signal
If Google applies this signal to your site, the entire site will likely suffer in terms of ranking.
Some sites will feel it more strongly than others as the update has a weighted effect.
It is applied to websites that contain "a disproportionate amount of unhelpful content".
The model that applies this signal to sites is continuously running, "allowing it to monitor both newly launched and existing sites."
It is not a manual action because the process is automated. It is automated through the use of a machine learning model, which means that it is constantly learning and changing.
After being hit, sites can recover. The removal of "unhelpful content" is critical. If you make changes to your site after the signal has been applied, it will take several months for recovery to be felt.
For the time being, it only affects English searches.
Why Is Google Launching This Ranking Algorithm Update?
Content written for the purpose of ranking in search engines, also known as search engine first content, has become increasingly popular in social media and other areas. In short, searchers are becoming dissatisfied with landing on web pages that do not assist them but rank high in search results because they were designed to rank high.
This algorithm aims to degrade those types of websites while elevating more useful, human-designed websites above search engines.
According to Google, this is part of an "ongoing effort to reduce low-quality content and make it easier to find content in Search that feels authentic and useful." This prioritizes content written for search engines over content written for humans.
If you notice any changes in ranking or visibility in Google search over the next few days, especially if they are significant, you can most likely attribute them to this update. Read Google's recommendations, make the necessary changes, and hope for a recovery in the coming months.
Google's Advice On Handling The Update
To assist, Google has released these tips on how to navigate the upcoming changes. Google also advises content creators, marketers, and publishers to follow its guidelines for creating high-quality sites and content for people.
How to Protect Your Website from the Effects of Helpful Content Update
Of course, the Helpful Content Update will be a sitewide update, but that doesn't mean it will be as bad as a manual action. Your ranking drops can be reversed if you follow a set of actions. Here's a checklist to help you if you get the Helpful Content Update.
Any marketing strategy must begin with a thorough examination of the target audience. That will always be the case. In our workflow, researching your personas is a common task.
If we double-check our buyer persona, the Helpful Content Update will come in handy.
So, if you haven't already, go over your empathy map and see if your content is truly meeting the needs of your persona right now.
Avoid relying too heavily on AI
Generating content with AI is a brand-new practice for publishing a large number of pieces in a short period of time. However, you should reconsider whether an AI can write content for you. Human editing is critical to making the difference if they are truly useful for optimizing your content.
When creating content, try to use other tools, such as actual data, competitors, or social listening. You can also use tools like Answer The Public or the SERP features, which display the most frequently asked questions and needs about any topic.
Include the value that only you can provide
As I previously stated, Google prioritizes content that is clearly written firsthand and conveys the creator's extensive knowledge.
Not only Google. This is also important to your readers. People who visit your website or blog want to know what you (or your brand) have to say about a particular topic.
There is far too much information on the same subject available online. How will your website distinguish itself from the competition?
Include real-world examples, cases, data, studies, your thoughts, and expertise. I'll leave three examples of content produced by Rock Content that adhered to this premise:
Don't distribute generic content in bulk
Concentrate on producing better content that satisfies your reader while also providing important answers and insights. This takes time and requires planning.
Before looking for the keyword positions you want to achieve on SERPs, consider how you can add value to this topic. This will undoubtedly assist you in resisting the temptation to create a large volume of low-quality, unplanned, and generic content.
Google is telling us, "Ignore me; satisfy users."
Let us remember that every time we write a post, another human is reading it. The Helpful Content Update aims to remind us of our primary goal: to assist our audience through our content.
Write for a Specific Audience
Your website cannot be a jack of all trades, and Google is attempting to emphasize this even more with the Helpful Content Update.
A website that publishes content about technology, health, CBD, finance, and other topics exists primarily to generate traffic through any means possible. If this is not the case, such websites intend to monetize by publishing guest posts, which Google strongly opposes.
The new update will put an end to such websites' dominance in the top search results. By the way, I don't believe genuine news websites will be affected, but sites that continue to rely on aggregated and repurposed content may struggle to appear at the top of Google.
It is strongly advised not to write about a topic solely for the purpose of driving traffic from search engines.
If you have extensive knowledge of it and believe that the existing web content lacks the valuable information you can provide, go ahead and publish.
How to Recover From a Helpful Content Update Hit?
You are not alone if you have ever found yourself reeling from the aftereffects of a Google algorithm update. Google algorithm updates frequently bring radical changes and with no clear guidance on how to deal with them. However, the Helpful Content Update has come with a lot of material on how to recover from the hit.
When someone writes for the sake of ranking, the only goal is to steal traffic from another website without adding value. Google is targeting such websites that follow this strategy without adding any contextual value. This is what Google means when it says, "Is the content primarily designed to attract people from search engines rather than humans?"
While writing for humans, your content addresses the reader's fears, doubts, and questions, and they are satisfied with their decision to click on your result by the time they leave the site. When users come across such content, they leave the site with the impression that they must search for the same information again.
This is something Google does not want any of their users to experience, and with the Helpful Content Update, user satisfaction will be a major ranking factor. If your website is also hit with the update and you are looking to recover from it, here's how to do it:

Here is what we will most likely be focusing on when assisting sites in their efforts to recover from this update.
Determining which content is created primarily to rank. We will then devise a strategy for noindexing, removing, or improving this content.
Ensure that your site demonstrates first hand expertise on your topic, and find ways to get others in your industry to recognise you as having expertise and knowledge on your topics.
Revamping content and improving E-A-T based on the questions. Google suggests in their blog post on what site owners should know about core updates, as well as their guides to writing product reviews and affiliate content. This could include:

Better demonstrating firsthand knowledge
Doing more to establish yourself as an expert in the eyes of others
Finding ways to make content as valuable to searchers as possible
Concentrating on understanding what the searcher wants to do and find, and then delivering content that fulfills that need
Defining the purpose or focus of each page (and ensuring that this focus is first and foremost meant to help queries made by users)
For inspiration, compare what type of content Google ranks from competitors.
As the update is still rolling out, we might modify our advice as we learn more about the types of sites that are affected and as new recovery cases emerge. Drastic changes will be required for most negatively affected sites to recover as they will have to replace most of their content.
Apart from these measures, you should also work on the content quality and helpfulness questions shared by Google. Here are the questions Google has mentioned in their release.
Content and quality questions
Does the content provide original information, reporting, research or analysis?
Does the content provide a substantial, complete or comprehensive description of the topic?
Does the content provide insightful analysis or interesting information that is beyond obvious?
If the content draws on other sources, does it avoid simply copying or rewriting those sources and instead provide substantial additional value and originality?
Does the headline and/or page title provide a descriptive, helpful summary of the content?
Does the headline and/or page title avoid being exaggerating or shocking in nature?
Is this the sort of page you'd want to bookmark, share with a friend, or recommend?
Would you expect to see this content in or referenced by a printed magazine, encyclopedia or book?
Expertise questions
Does the content present information in a way that makes you want to trust it, such as clear sourcing, evidence of the expertise involved, background about the author or the site that publishes it, such as through links to an author page or a site's About page?
If you researched the site producing the content, would you come away with an impression that it is well-trusted or widely-recognized as an authority on its topic?
Is this content written by an expert or enthusiast who demonstrably knows the topic well?
Does the content have any easily-verified factual errors?
Would you feel comfortable trusting this content for issues relating to your money or your life?
Presentation and production questions
Does the content have any spelling or stylistic issues?
Was the content produced well, or does it appear sloppy or hastily produced?
Is the content mass-produced by or outsourced to a large number of creators, or spread across a large network of sites, so that individual pages or sites don't get as much attention or care?
Does the content have an excessive amount of ads that distract from or interfere with the main content?
Does content display well for mobile devices when viewed on them?
Comparative questions
Does the content provide substantial value when compared to other pages in search results?
Does the content seem to be serving the genuine interests of visitors to the site or does it seem to exist solely by someone attempting to guess what might rank well in search engines?
If you want to gain more insights about these questions or want to grade your site against HCU (Helpful Content Update), here's a compiled spreadsheet by Aleyda Solis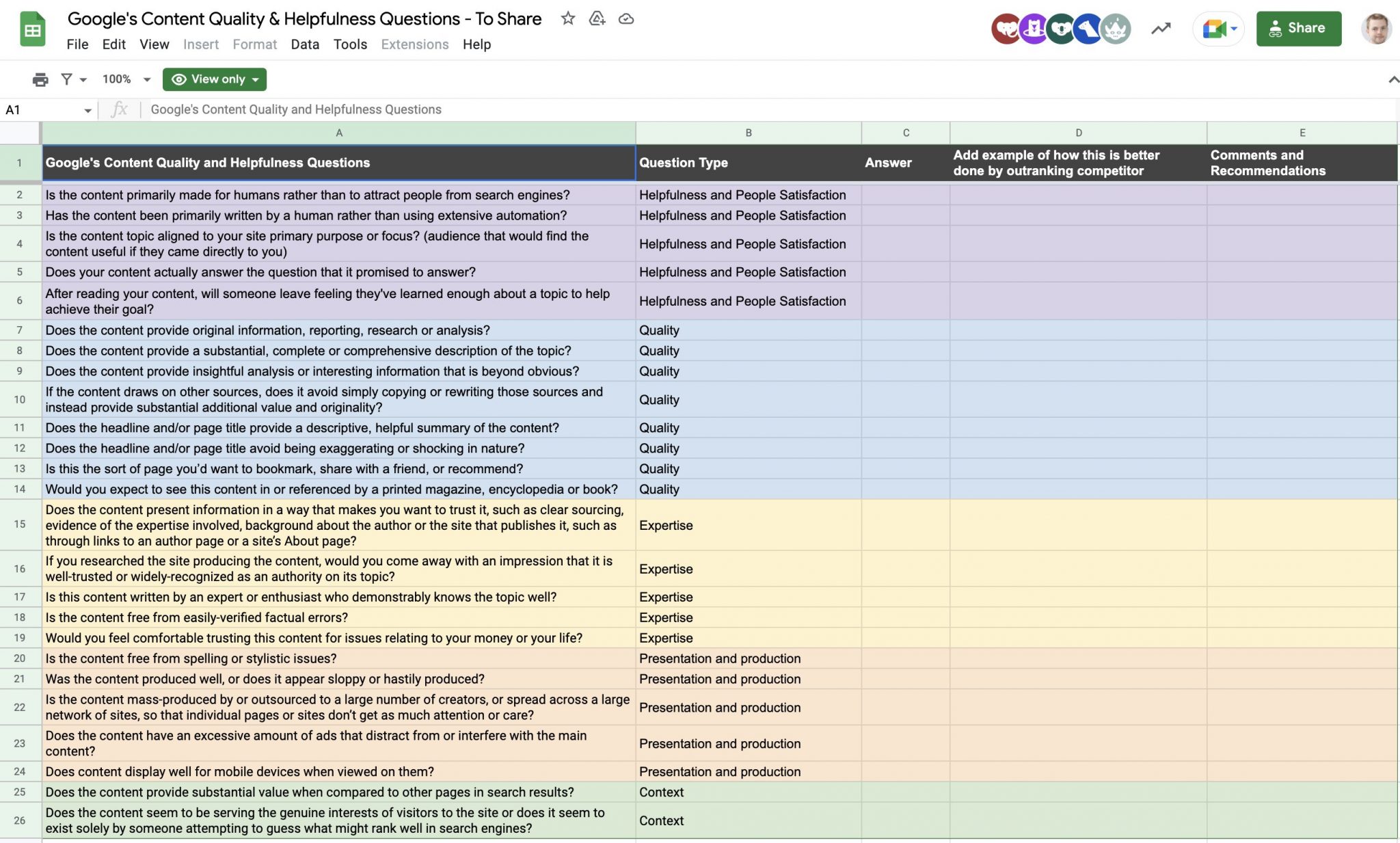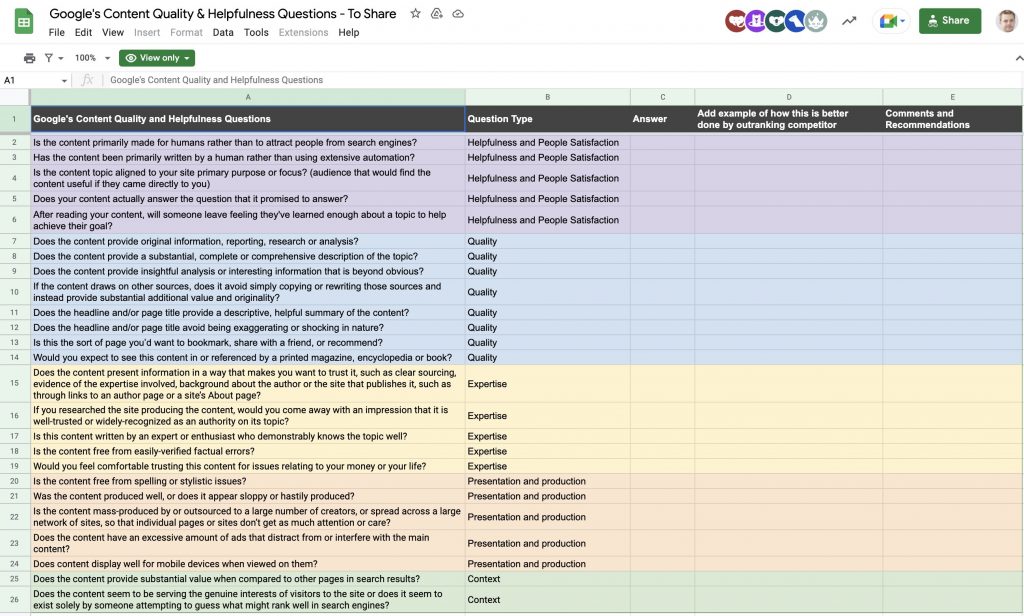 Once you have understood these questions, it will be clear to you that there are only two ways to go from here:
Refresh your content
Content pruning
Content Pruning entails updating or removing content that is slowing down a website and preventing it from performing optimally. You improve its overall health by removing that dead weight.
It is similar to pruning a tree in that by removing dead branches and leaves, you improve the tree's overall health and ensure that all of its energy is directed toward the parts you want to grow. This way you can keep the good content and remove any harmful material that may be hurting your SERP rankings.
Here's a good example of how to do content pruning.
This way you can remove all the harmful or unworthy content from your website to make place for good human-first content that is preferred by modern search engines.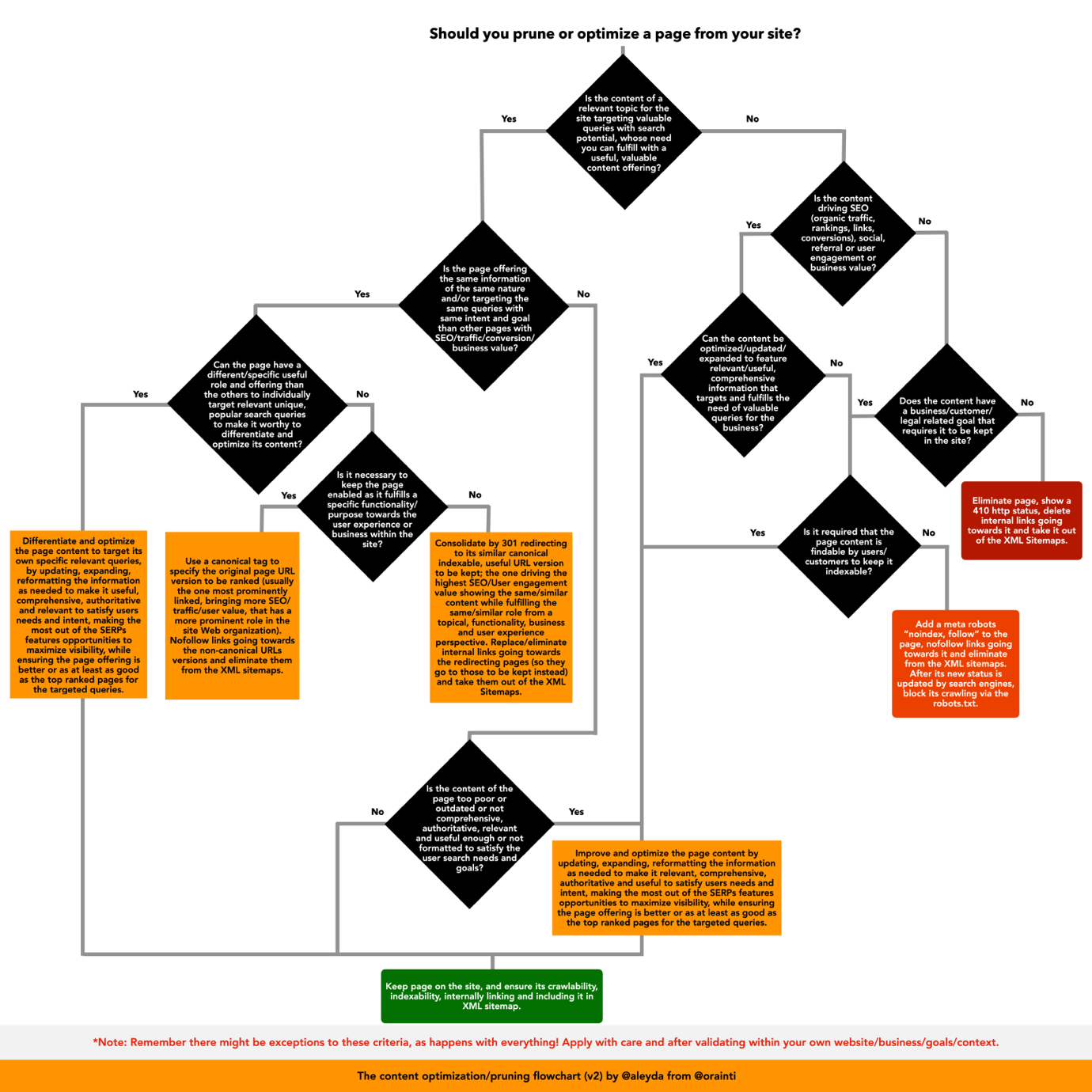 Also, Read
What is Human-first Content?
With the new guidelines, Google prioritizes content written by people for people over content published solely for search engines. The goal of human-first content is to answer questions and satisfy your reader.
The Helpful Content Update also avoids unoriginal pieces that simply summarize what other creators have said without adding value or something new.
Some SEO professionals may be familiar with this strategy: the content creator chooses a keyword for which they want to rank high in search results. Then, they "mix" the content of the first three ranked sites in an unoriginal text as a sort of rewriting, designed only to catch the attention of Google's algorithm, often with no added value to the reader.
In order to provide good content to searchers, Google wants to avoid this strategy. According to Google, Helpful Content is just one signal in its arsenal of ranking factors, and a few pages within a site can still rank higher if they perform well in all other aspects.
Google has been telling us for years that we should create content to satisfy the search intent of users, not bots. Furthermore, the content producers and their expertise will be given a lot of attention.
For example, if a person writes about medicines but has no digital footprint of working with any pharma company or authoring similar or related content, the article will be difficult to rank on Google.
How to Create Human-First Content?
So, what makes content truly human-centered? Aside from adhering to a human-centered process, the success of such content can be gathered in three ways. These are more like guiding principles than a checklist.
Form content around user queries
User queries and tasks are prioritized in human-centered content because they are the primary reasons why someone will use any platform. People care about themselves, not your company, whether it is a website, an app, or an internal web portal. You can be more human-centered by prioritizing content that answers their questions or assists them with their tasks.
You can start by asking and answering queries similar to the ones listed below:
What does your company do?
Is your company close to my house?
What are your working hours?
What's on the menu?
How can you assist me?
User tasks include the following:
My bank's mailing address needs to be updated.
I need to make an appointment.
I need to make a new profile for one of my employees.
I need to send someone a document for electronic signature.
Design and create 'relevant' content for the user
Aside from questions and tasks, all content should be created with the question in mind: "How can we make this relevant to our user?" Many businesses enjoy discussing their company's history, awards, and certifications, among other things. If someone is looking for a new electronic appliance, they probably do not care about industry certifications they have never heard of.
If you must include content on your website that is not directly answering a question or assisting a user task, find a way to make it more user-centered. Do not simply inform the user that you have a certification. Explain why they should care and how it will benefit them.
Relevant content should be:
In a voice and tone that the user will appreciate
In a format that the user will recognise and understand
Inclusive and accessible content
Humans are not all alike. Personas, as much as we all love them, will never represent every single person who views your content. Some people will be unable to hear the audio in your videos. Other people may be unable to see the screen and require the assistance of screen readers. There is a wide range of human capabilities available, and they are all equally wonderful.
To be truly human-centered, your content must be accessible to all humans. In other words, regardless of their physical or cognitive abilities, they should be able to access and understand the information in some way. Human-centered content is inclusive and welcoming at its best.
To make your content more accessible, consider the following:
For images, use alternate text.
For videos, use captions and transcripts.
Use headings and subheadings to prioritize important information.
Avoid using jargon, acronyms, and long sentences.
Make your writing descriptive and specific.
To make your content more inclusive, try the following:
When possible, avoid using gendered language.
Is a form asking for gender or race? Explain why, and include options for write-ins.
Avoid phrases and idioms that will be difficult to translate if your audience speaks English as a second language.
Wrapping It Up
The Helpful Content Update aims to reward content in the SERPs that provides a satisfying user experience while reducing visibility for content written solely for the purpose of ranking in search engines to attract clicks. Google wants to surface more useful content for its users, and testing has revealed that people-first, rather than search-engine-first, content is the most satisfying to its users. We will continue to update this post as effects of the rollout become more clear. If your website is hit with this update, we can help you recover. Click here to book a free Google penalty recovery consultation with us.
Frequently Asked Questions
What is Google helpful content update (HCU)?
Google's Helpful Content Update aims to encourage content creators to put more effort into producing high-quality content that aims to answer user queries instead of focusing only on being search engine friendly. The update is being compared to previous algorithm updates such as Panda and Penguin, which caused SEO experts to rethink their strategies.
When was the last major Google update?
Google implemented a 'broad core update' in May 2022. It was the last major update before the search giant released the Helpful Content Update in August 2022.
How often does Google release its updates?
Google releases algorithm updates several times in a year. In 2020, Google made 4,500 updates to Google Search. By comparison, in 2019, Google made 3,200 changes to Google Search. Google is known to do 5-6 broad core updates every year. We could see more updates coming in during the final months of the year.