Most search engines, including the search giant Google, go through your search results to find the information you are looking for while also sifting through your personal information, infringing on your privacy and Internet freedom. The data gathered through such mediums is often used for propaganda advertising. Unfortunately, most search engines and websites store IP addresses and track your activity in order to generate targeted advertisements and deliver personalized search results. This is not liked by users who value their privacy over anything else. However, you can easily build a website that values user privacy. That's when we use DuckDuckGo. But is DuckDuckGo safe to use?
When it comes to search engines, users can get all of the search results they want with DuckDuckGo without being traced or tracked, and with complete privacy.
In fact, when you type your search into the DuckDuckGo address bar, it is completely forgotten the next time you search. If you are ready to use a search engine that will assist you in finding what you are looking for online while not tracking your searches then it is the perfect search engine for you.
What Is DuckDuckGo?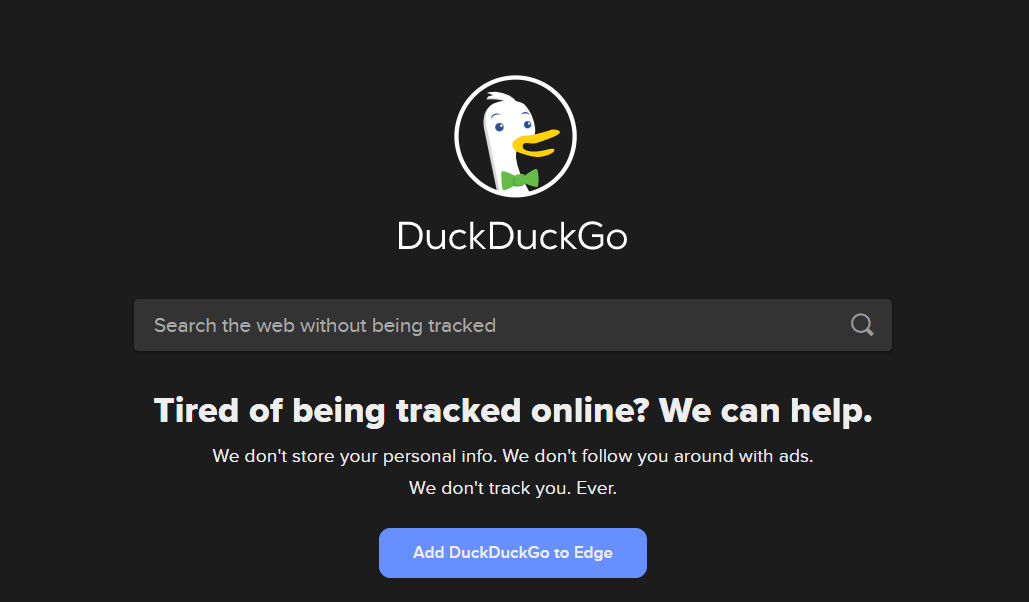 DuckDuckGo is a basic, simple search engine that prioritizes privacy protection and quality over providing users with all of the bells and whistles that some other search engines boast.
DuckDuckGo, unlike Google and other popular search engines, does not track its users' activities and request patterns, so it cannot provide personalized search results. It is hard to believe, but when using DuckDuckGo, most Internet users will get the same search results, not results tailored to individuals' histories.
Another distinction between Google and a DuckDuckGo search is that all results on DuckDuckGo are displayed on the same page, as opposed to Google's multi-paged results. So, if you value simplicity and user privacy when conducting search queries, DuckDuckGo is an excellent choice. Is DuckDuckGo safe to use? Read on to know.
What Is An Anonymous Search Engine?
Google now knows more about you than you do. If that makes you uncomfortable, it might be time to try an anonymous search engine. Unlike other search engines, which collect your information when you use them, an anonymous search engine does not track you or your searches or otherwise associate them with you.
Other search engines, such as Google, keep track of all your searches since the dawn of time, including those conducted in incognito mode. Essentially, Incognito or private mode does not effectively hide your browsing history; your ISP, Google, websites, and others can still see what you have been up to. That is why so many people prefer anonymous search engines like DDG.
Google creates a personal profile of you by combining your search history with other personal identifiers such as your age, gender, location, IP address, and device information. This profile is then used to serve you personalized search results and targeted ads.
Google also installs trackers on millions of other websites, logging your every move. In comparison, every time you use an anonymous search engine, you start from scratch. The search engine has no idea who you are, where you have been, or what you have previously searched for.
Anonymous search engines liberate you from suffocating 'filter bubbles'. You will only see what the search engine believes you want to see. If you want less biased search results, use an anonymous search engine. DuckDuckGo is one of the most widely used anonymous search engines today. Let's take a closer look at more information about it.
Is DuckDuckGo Safe to Use?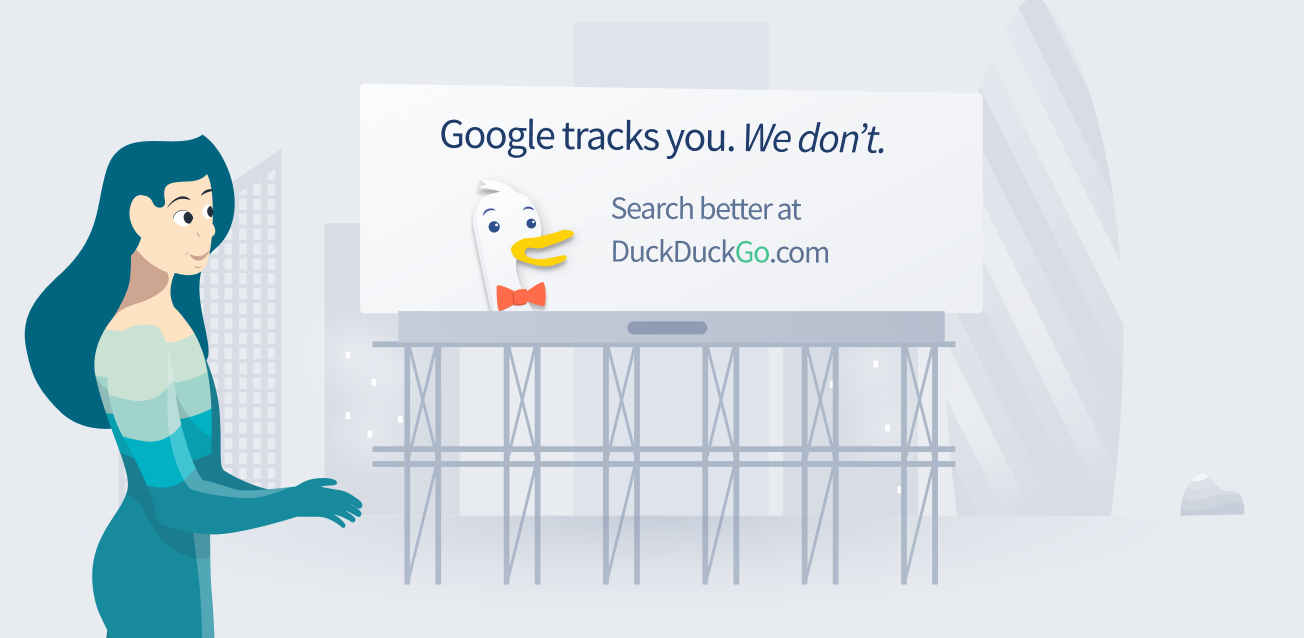 Is DuckDuckGo safe to use, is a question often asked. It is a great option if you want a private and secure search engine for your Internet searches. Unlike a Google search, using the DuckDuckGo search engine prioritizes your privacy and does not track or store your data when you believe you are typing in a private search request.
This means that every time you use your web browser, you will see a blank search history. DuckDuckGo will not save user data or browsing history unless you explicitly tell it to.
This means you will not see those incredibly creepy and often annoying targeted ads, and you will not have access to Google's auto-suggest feature. So, rather than feeling as if someone in your computer already knows what you are thinking, each time you use DuckDuckGo, you are approaching your computer with a blank slate.
How Secure Is DuckDuckGo?
If you are concerned about how closely Google and Facebook appear to be watching your every move, you will be relieved to know that DuckDuckGo's mission is to provide private browsing. While this could change at any time, DuckDuckGo currently claims that users can "Search the web without being tracked," which means that your search history disappears as you browse.
Revenue Model for DuckDuckGo
DuckDuckGo does profit from affiliate codes. This means that DuckDuckGo receives a commission every time a user purchases a product via DuckDuckGo searches or an ad on their page. If you are concerned about your privacy, it is a good idea to understand how this works.
When you search for something on the web privately, such as a new couch, DuckDuckGo will display ads related to your search. However, any personal information and browser information from the previous session are rendered obsolete as soon as you open a new page to search again.
Pros and Cons of DuckDuckGo
DuckDuckGo is a search engine with a lot of assets. Let's look at some of its specifications that are useful to users, as well as some of its drawbacks.
Pros:
Very simple to use.
There are no targeted search results. Regardless of your IP address or location, all results will be the same.
Excellent online privacy; does not save IP addresses, search histories, or personally identifiable information.
Cool features such as on-demand weather data, loan calculators, and advanced features for tech-savvy users are available.
There is no search leakage. Your personal information will never be shared with a third party or used for marketing purposes.
Cons:
You gain online privacy while losing auto-suggest features and personalized browsing experiences.
Google is more comprehensive.
DuckDuckGo does not allow you to sync multiple accounts like Google does.
A fair DuckDuckGo review may appear difficult to conduct. However, after discussing all of DuckDuckGo's great features and the shortcomings, we are sure that you will be able to make a decision for yourself.
Google vs DuckDuckGo
When comparing DuckDuckGo and Google, it is worth noting that DuckDuckGo has the same number of searches in a year as Google does in a single day. With that in mind, DuckDuckGo can be described as a minnow, but one that is deserving of its position. A Google search differs from a DuckDuckGo search in that it uses your previously saved preferences in the search.
DuckDuckGo does not operate in this manner. Your search history is not saved indefinitely.
DuckDuckGo claims that your privacy is secure with them. In fact, because they do not store information, they have no idea how many people use the search engine. Google, on the other hand, displays advertisements based on previously stored information about you on their servers. They also rank search results based on your previous searches.
When comparing DuckDuckGo vs Google, it is clear that DuckDuckGo is more committed to preventing user tracking and does not save any user information. DuckDuckGo is a trustworthy alternative to Google because of their commitment to user safety and privacy. If you need the Google Suite apps, stick with Google; however, if you are just a casual user trying to decide between DuckDuckGo and Google, giving DuckDuckGo a try will not hurt you.
While you may be accustomed to Google, using Google implies less private browsing and the storage of your personal data profile. DuckDuckGo is the way to go for more private browsing.
Further, it may be difficult to give up the convenience of syncing your Google accounts, but DuckDuckGo allows users to use a more minimalistic, simplistic engine, which is a different kind of convenience.
Also, Read
Why You Shouldn't Rely Too Much on Search Engines Like DuckDuckGo?
While DuckDuckGo is one of the best private search engines available, it is not comprehensive.
When it redirects you from your search engine to a website, you may be tracked by other websites, such as e-commerce sites.
You will be unidentifiable if you use DuckDuckGo to access your websites because your IP address is not linked to your profile, but the site you visit will be able to collect your information and track you and other Internet users. A VPN is the best option for keeping your search and Internet activity completely secure and private.
3 Best DuckDuckGo Alternatives
While DuckDuckGo provides more privacy than Google, it is not the best search engine for everyone. There are other options for people looking for privacy-focused search engines, just as there are alternatives to Google, such as Bing and Yahoo.
Here is a list of the 3 best DuckDuckGo alternatives: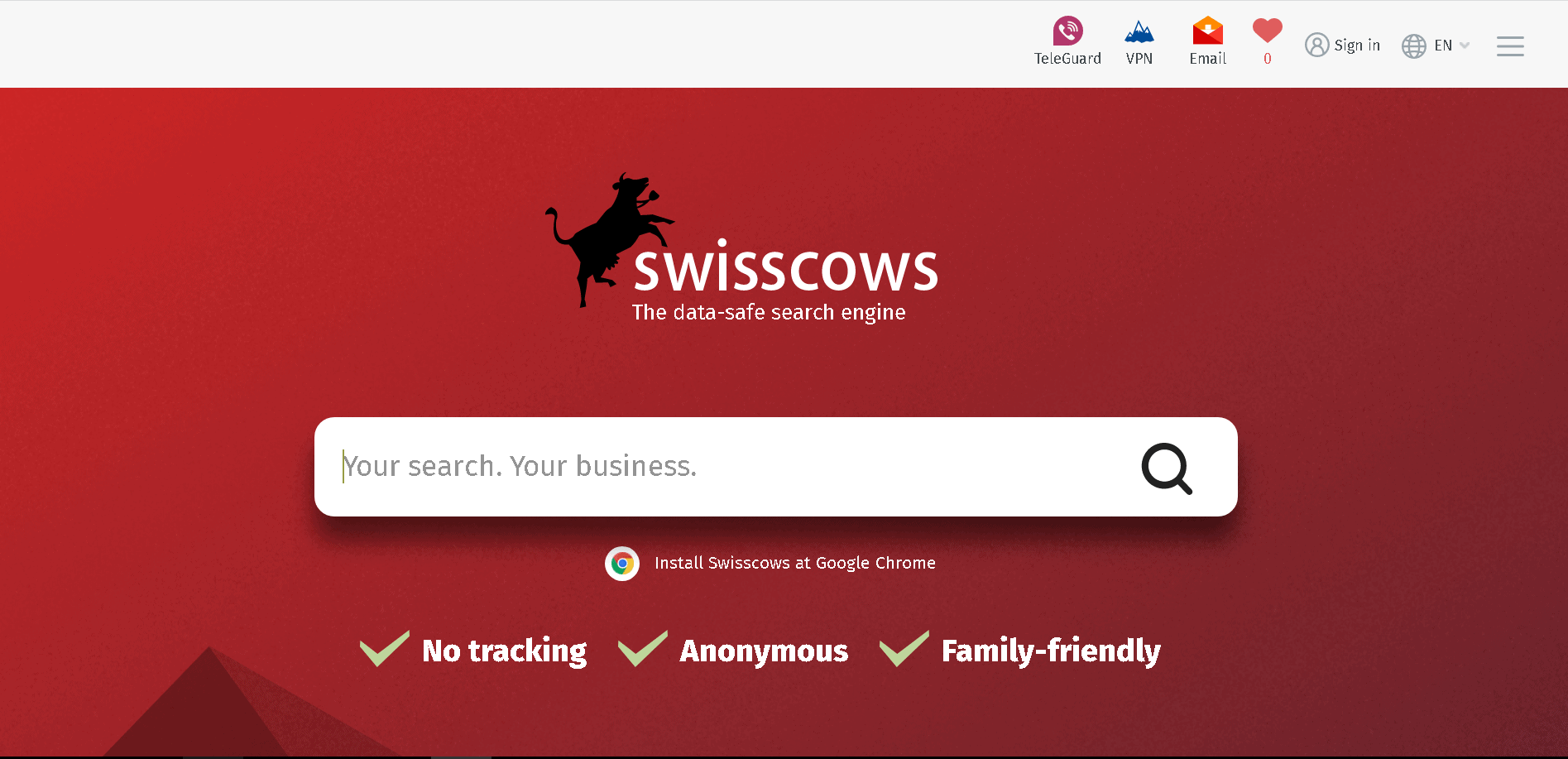 If browsing anonymously is your top priority, Swisscows is an excellent choice. The engine does not collect IP addresses or other personal information. Swisscows does log some information, such as the number of daily searches, which assists the company in measuring data traffic.
Swisscows lets you search for websites, images, videos, and music. It also includes a translation feature, though it is not as good as Google Translate or other online translators.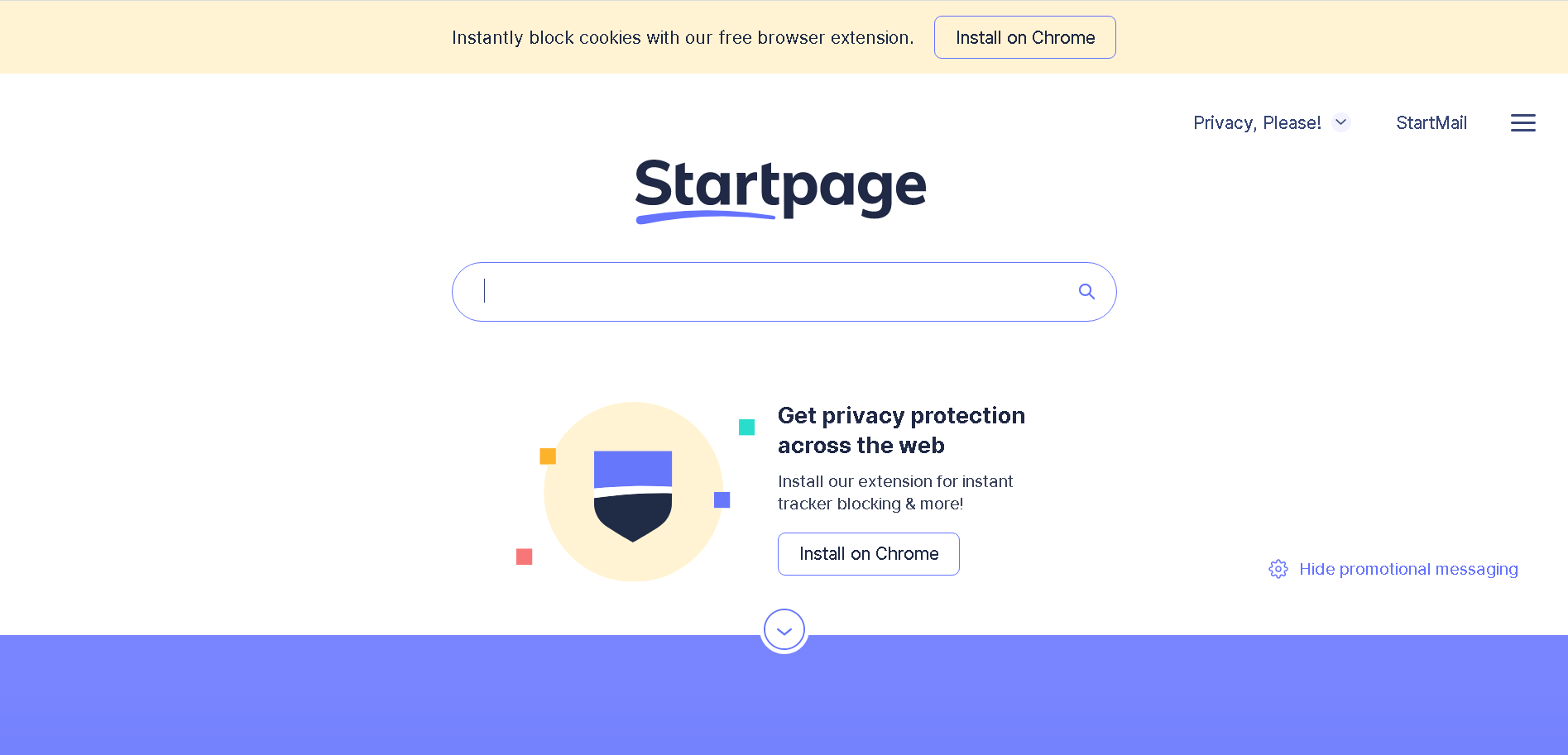 Startpage claims to be the most private search engine in the world. It protects the privacy of its users by not storing personal information or sharing user data with third parties.
Startpage is a Dutch search engine that has been in business since 1998. It includes a useful proxy feature that safeguards your personal information, such as your IP address.
One of the most significant advantages of Startpage is that it includes Google Search results in its results. As a result, Startpage combines the security of private search with the comfort of traditional Google results.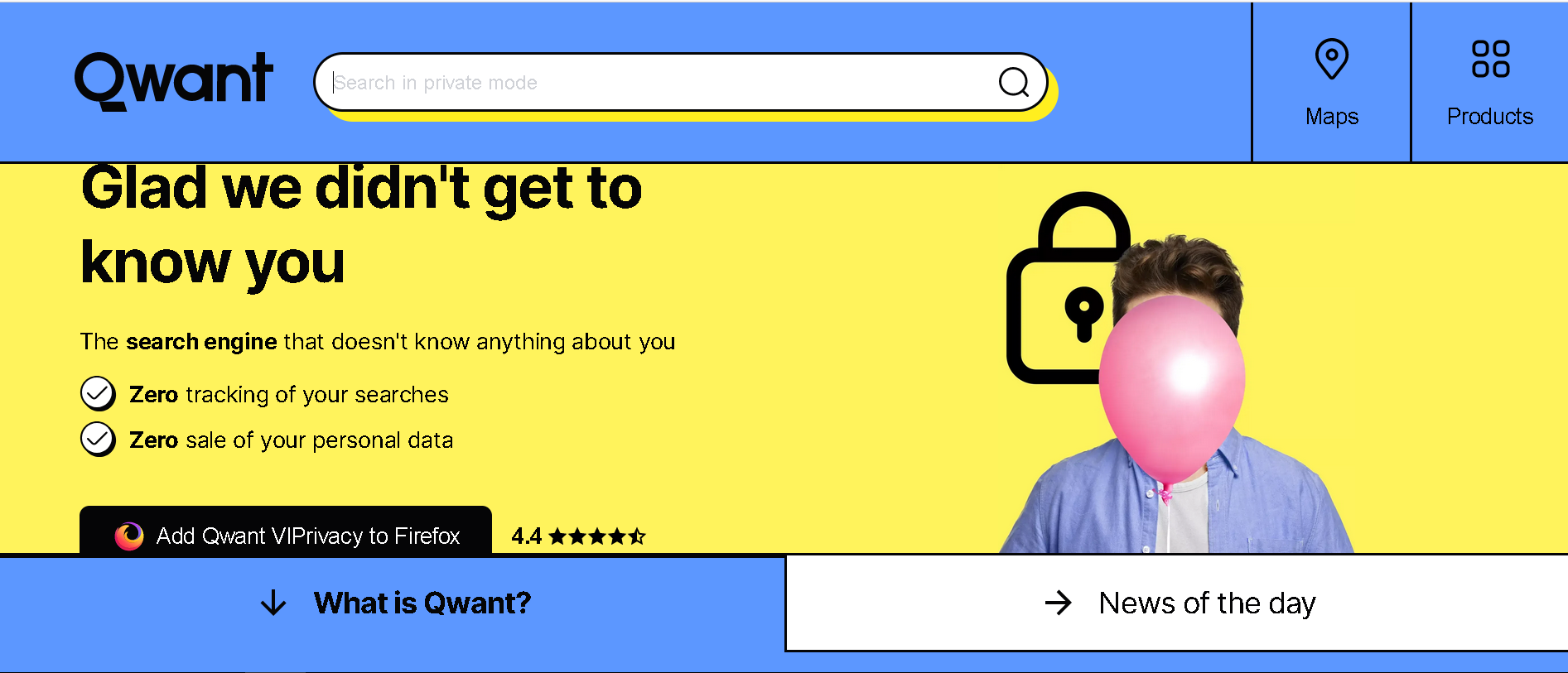 Qwant is a French search engine that does not track your searches or store your personal information for the purpose of advertising.
This search engine has similar features to DuckDuckGo. One of its features, known as Quick Search, provides shortcuts for searching for specific pages on websites. Qwant provides several other useful filter options to help you quickly find the right results.
Why Using VPN Could Be A Better Idea?
Your traffic on DuckDuckGo is not encrypted, so prying eyes, law enforcement agencies, and third parties can see your activity and IP address. If you use public Wi-Fi to connect to the Internet, you may be vulnerable to hackers and cyberattacks.
DuckDuckGo does a good job of protecting your privacy when searching for websites, but it cannot protect you from other Internet threats, such as trackers on social media. Using a reputable VPN ensures that your personal data and search history are never logged, that all of your activity is routed through an encrypted tunnel, and that your IP address is hidden.
Conclusion
If privacy and anonymity are important to you, the best way to maintain them is to use DuckDuckGo in conjunction with a reputable, vetted VPN. It will ensure that your activity is never logged and that all of your traffic is routed through an encrypted tunnel, rendering it indecipherable to third parties.
Frequently Asked Questions
Which is better: Google or DuckDuckGo?
DuckDuckGo is probably the best bet for privacy enthusiasts. Unlike Google, which logs and tracks your online activity, DuckDuckGo prioritizes privacy. However, if you want access to related searches and content, Google might be a better choice.
Is DuckDuckGo owned by Google now?
DuckDuckGo is not owned by Google or any other internet giant corporation. Created by Gabriel Weinberg, DuckDuckGo is headquartered in Pennsylvania, US. It is a privately held corporation as of August 2022.
How do you search on DuckDuckGo?
Searching on DuckDuckGo is as easy as searching on any other search engine. Just visit the website or mobile application of the company and you will see a search bar located on the home page. Type your query in the bar and hit the search button.
Latest posts by Ritu Sharma
(see all)