The Top 10 Google Algorithm Updates of 2021
Google is constantly evolving its algorithms to display the users the most accurate, relevant, and secure pages. And every year, it seems to introduce more and more updates every year. Knowing what kind of updates have been made will help you keep up with SEO best practices, improve your rankings, and understand any reasons behind performance shifts.
Here we cover the ten most influential Google algorithm updates for 2021 in chronological order.
These include:
Passage ranking
Mobile-first indexing
Product reviews
MUM
Link spam
Page experience
Page titles
Core update
Local Search Update
About this result
We have also provided tips for optimizing your content according to these updates. The new year is just around the corner. This is a good time to check for updates released last year. 2021 was a year-round for Google and SEO: multi-core updates, page experience updates, spam updates and more. To give you an overview, here's an infographic of Google's 2021 updates. We hope this infographic will help you understand the latest Google guidelines and updates to launch your new 2022 strategy.
Most Important Google Algorithm Updates of 2021
Passage Ranking Update (February 2021)
Google may now utilize artificial intelligence to index not only web pages, but also individual passages (paragraphs, phrases) from those pages, thanks to the passage ranking update. As a result, certain passages may appear as the featured snippet. Instead of making the user trawl through the relevant web page to locate the answer, the goal is to immediately respond to specific queries.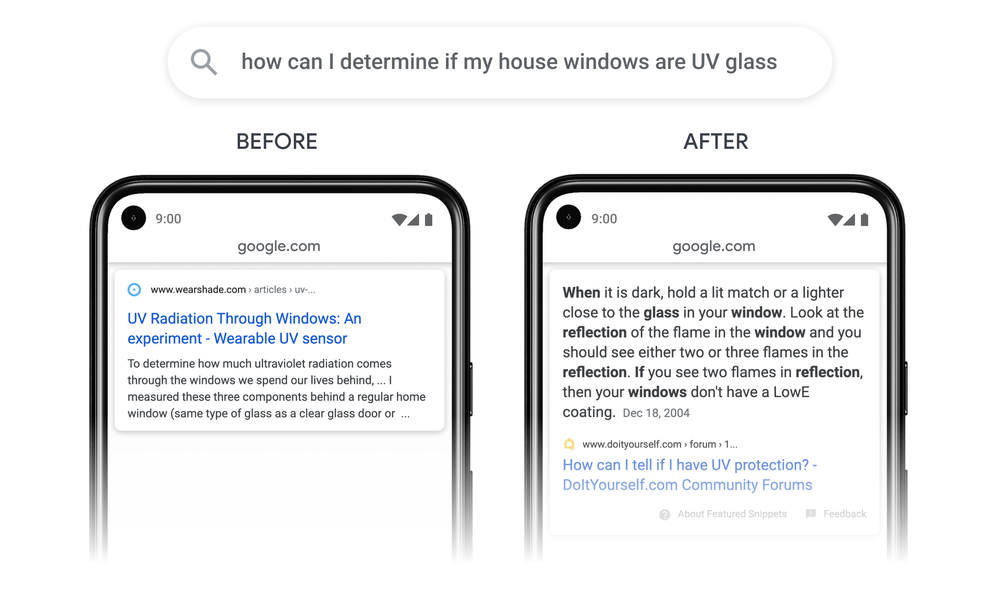 Let's imagine you have an in-depth blog post about buying a used car that covers a vast topic.
"Buying a second-hand automobile," "how to buy a second-hand car," and "what to check while buying a second-hand car" will be your core keywords.
Your page title, headings, and content will all be optimized for keywords like these, but your guide might also contain a section on common financing choices for customers buying used cars from a dealer.
Someone looking for information on the differences between Hire Purchase (HP) and Personal Contract Purchase (PCP) financing options may now come across your buying guide because Google recognizes the intent of their query and determines that your comparison provides the best answer to their question, even if other posts are better optimized for the query.
Google's official statement on the update is as follows:
"The most difficult searches to get right are those that are very narrow, because the single sentence that answers your question may be buried deep within a web page."
We've recently made a ranking breakthrough, and we can now better comprehend the relevance of individual portions.
We can find that needle-in-a-haystack information you're seeking for by understanding sections in addition to the entire page's relevance."
The takeaway here is to do the following instead of optimizing your posts for passage ranking:
Long-tail keywords should be targeted.
Provide comprehensive, high-quality content about the subject.
To make Googlebot's indexing easier, structure your webpage content correctly.
"About this result" Update (February 2021)
Google's "About this result" feature, introduced in February 2021, adds context to individual search results, allowing users to select which results will be most useful to them. The "About this result" box shares the following:
When Google first indexed the page's webpage.
Whether or not connection to the site is secure.
Which of your search terms appear on the page.
If there are any links to the page from other websites that use those search terms.
The page's language
It will also retrieve a brief description from Wikipedia if you have a Wikipedia reference (not meta tags this time).
Google is adding insight about how and why the company's algorithm landed on the specific results for the links that it surfaces when you search for things to its "about this result" feature for search results.
The "About this result" feature helps searchers know more about the search results or features they are keen on clicking. This tells searchers where the information comes from and understand if the searchers can trust the site to get the information they are looking for. Google shows if the site is secure, if Wikipedia has information about this site, and if the search listing is paid or not. The menu appears when you click the three dots in the corner of a search result, and it attempts to provide more background information about a website.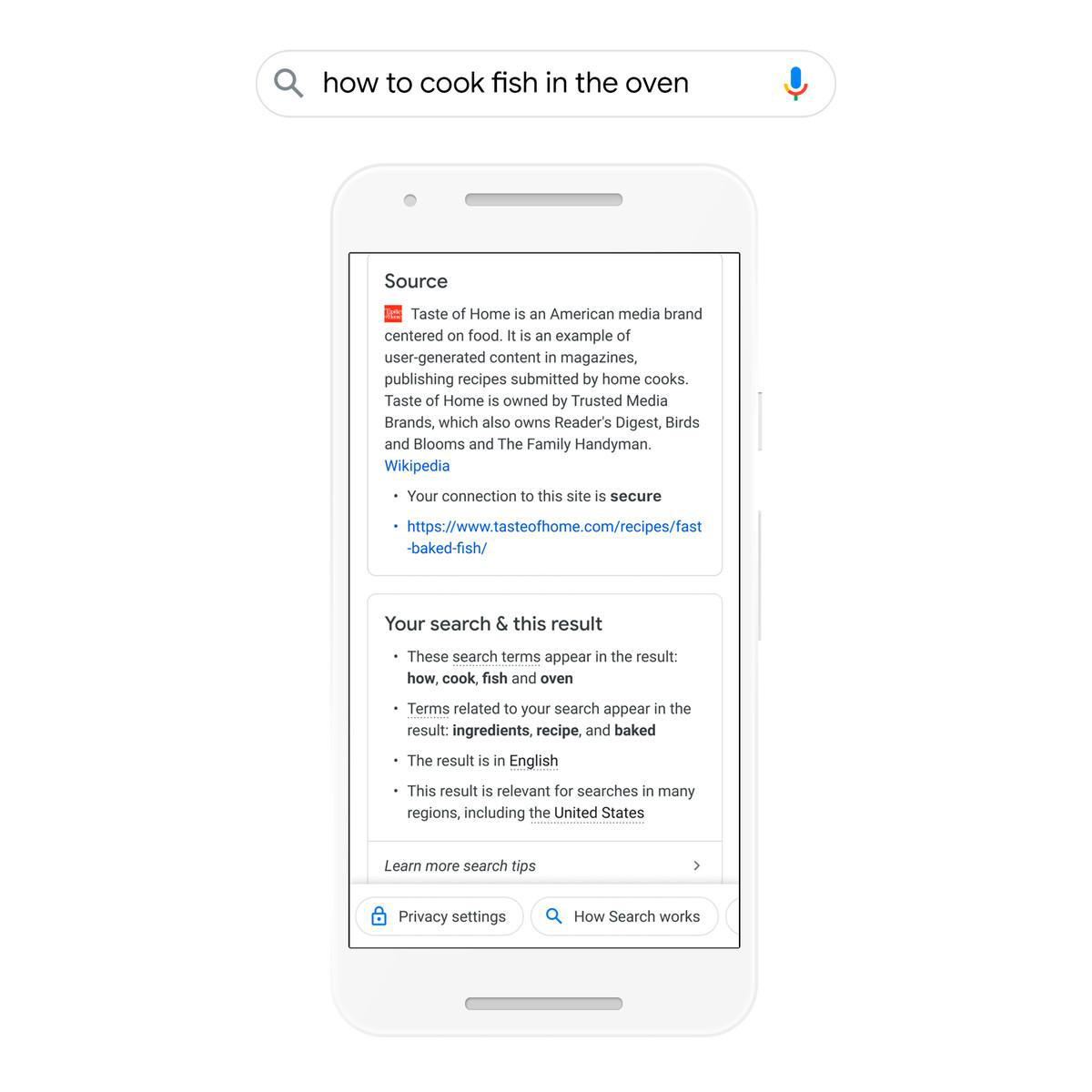 In Google's example, a search for "how to cook fish in the oven" yields a recipe from a website that includes the words "how, cook, fish, and oven," as well as terms like "ingredients" and "recipe." To assist you land on a certain result, Google performs things like match language and apply appropriate geographic locations.
What can be done by you?
The "About this result" section has no bearing on your rating; it simply contains a list of page data, some of which are ranking considerations. So, that comprises of:
Ensuring that your website is secured with https.
Obtaining high-quality backlinks.
Appropriately matching the keyword's intent
100% Mobile-First Indexing Update (March 2021)
As mobile traffic grew in popularity in the 2010s, Google began to emphasize mobile friendliness as a ranking criteria in 2015.
A year later, Google implemented mobile-first indexing, which refers to when Google scans and ranks your website pages based on the mobile version of that material.
Mobile-first indexing became the default for all new websites in July 2019.
It became the default for all websites, old and new, in June 2021.
In its must-read guide on the matter, Google goes on to say
"Previously, when evaluating the relevance of a page to a user's query, the index predominantly used the desktop version of the website's content." Because the majority of Google Search customers currently access the service via a mobile device, Googlebot will predominantly crawl and index pages using the smartphone agent in the future."
To make your site more mobile-friendly, do the following:
Make sure your website is mobile-friendly.
Use image compression and slow loading.
On your mobile phone, manually test popups and form functionality.
Mobile-friendliness works on a page-by-page basis, but the mobile usability report in Search Console and Google's Mobile-Friendly Test tool can provide site-wide mobile performance data.
Product Reviews are Being Updated (April 2021)
The purpose of Google's April 2021 product reviews update was to encourage product reviews that included in-depth research, intelligent analysis, and original material rather than just summarizing a list of products.
Google discovered that a lot of review content doesn't provide information that genuinely helps individuals make purchasing selections after a testing, experimenting, and review process.
In its statement, Google stated the following.
"As a result of this, we know that people prefer in-depth product reviews to shallow content that merely summarises a bunch of things."
That's why we're announcing a change to our ranking methods called the product reviews update, which is designed to better reward this type of material.
For the time being, this update only includes English language evaluations.
We feel this will benefit people who create valuable information in the product review area even more."
To ensure that review content meets Google's new standards, Google has supplied a list of questions to consider before publishing or amending any reviews on your website.
Carry out your reviews:
Express professional expert knowledge about products where applicable?
Show what the product looks like physically or how it's utilised with content that's not available from the manufacturer?
Provide quantitative data on how a product performs across several performance categories?
What distinguishes a product from its competitors?
Consider comparable products, or explain which products are ideal for specific uses or situations?
Discuss the advantages and disadvantages of a specific product based on your research?
Describe how a product has changed from prior models or versions in order to make enhancements, resolve issues, or otherwise assist users in making a purchasing decision?
Identify the product's category's key decision-making variables and how the product performs in those areas?
A automobile evaluation, for example, might find that fuel economy, safety, and handling are important decision-making criteria and provide a score to each of these areas.
Pages with buyer's guides, comparison tables, and computations to assist buyers in selecting the best product for their needs were the big winners. Affiliate content disguised as product reviews has been hit the hardest, and Google is now much better at recognizing this type of content.
So, in order to develop high-quality product review content, Google suggests that you:
Demonstrate expert product understanding.
Share exclusive content that is beyond what the manufacturer provides
Provide quantitative measurable performance indicators.
When compared to prior models and other products, it comes out on top.
Assist customers in making wise and informed purchasing decisions.
MUM Update (May 2021)
Google has made progress with AI in its algorithms, the most recent of which was the MUM upgrade in May 2021.
The Multitask Unified Model (MUM) is a natural language model that is substantially more powerful than BERT, which was released in October of this year (bidirectional encoder representations from transformers).
"Helping you when there isn't an easy answer," MUM says.
MUM's purpose is to offer comprehensive answers to complex problems by combining contextual information from several sources.
Instead of needing to look for something like:
"How to prepare for a hike on Mount Adams,"
"How to prepare for a hike on Mount Fuji,"
"Mount adams versus Mount Fuji hiking,"
"Mount adams vs Mount Fuji hiking,"
a person can inquire
"I've hiked Mt. Adams and now plan to hike Mt. Fuji next fall; how should I prepare differently?"
and find out everything you need to know in one search.
MUM is being trained in 75 languages, allowing it to find suitable replies in languages other than the one in which the query was typed.
This isn't to say you should start answering complicated queries in your postings.
Simply conduct keyword research and continue to generate long-form content that focuses on long-tail and query keywords.
Link Spam Update (June 2021)
It was divided into two sections, each of which Google claimed would begin and end on the same day—but it took two weeks longer than intended.
There weren't many specifics in this update, but it's always a good idea to double-check that your website is spam-free.
As part of our regular work to improve results, we've released a spam update to our systems. You can learn more about our efforts to fight spam in this post:https://t.co/piCLhbZPkH

And this video below:https://t.co/xMYWm4HPze pic.twitter.com/83IL0EB9Lm

— Google SearchLiaison (@searchliaison) June 23, 2021
If your website allows users to interact with it through comments, forums, or other means, you should be extremely wary of these malevolent actors.
Here are some suggestions for keeping your website safe from spammers:
The SSL certificate for your website should be updated.
Check for security concerns and manual action reports using Google Search Console.
Clean up suspected spamming acts on a regular basis, such as numerous requests from the same IP address.
Use noindex to keep low-trust pages out of Google's index, especially those that contain user-generated material.
You can also use the nofollow attribute to make the links nofollow
Page Experience Update (June 2021)
In addition to the mobile website index, Google has introduced a specific set of indicators through a Page Experience update called Core Web Vitals. The new Core Web Vitals signals, which monitor loading speeds, the responsiveness of interactive components, and the visual stability of pages, were merged with numerous existing user experience signals.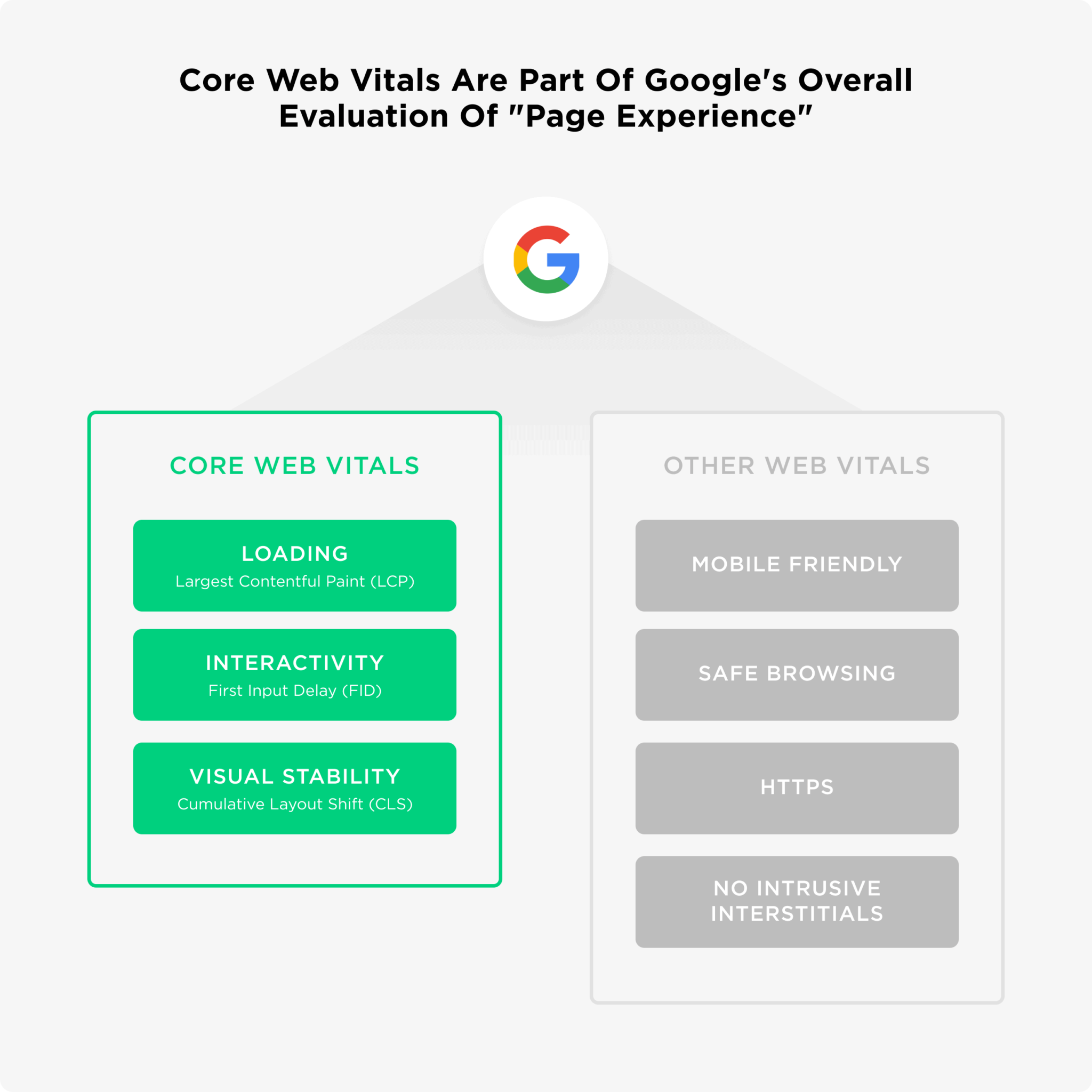 These are not new indicators, but re-prioritized elements used to quantify an individual's experience on a website. These include:
Largest Contentful Paint (LCP): The speed at which the main content of the page loads.
First Input Delay (FID): The speed at which a web page responds to the user's first action on the page.
Cumulative Layout Shift (CLS): Layout stability (that is, elements do not jump unexpectedly).
The actual data for these metrics can be accessed from Page Speed Insights or the full Core Web Vitals report in the search console. Each of these reports contains recommendations to improve the responsiveness of your site.
Google initially stated that the page experience upgrade will have a minor impact, claiming that quality is the most important component in ranking. The page experience signal, according to the report, could help distinguish between two pages of equivalent quality.
It turns out that Google may have done a better job of downplaying the upgrade than it planned, with Danny Sullivan later insisting that it might have a significant long-term impact, even if the immediate impacts were minor.
Did @searchliaison say that something along the lines that the page experience update will have a softer impact initially, and then overtime it will grow in its impact on rankings? 🤔 I need to review the recording once it's live.

— Paul Shapiro (@fighto) February 24, 2021
I said it shouldn't be the case that overnight, we flip some type of switch and there's a massive change. That's not typically how rollouts of this nature (such as speed, mobile-friendly) have worked. And also that things tend to be relative…

— Danny Sullivan (@dannysullivan) February 24, 2021
Here are some things you can do to improve your core web vitals:
Remove annoyinginterstitials and banners that are blocking
Reduce Javascript execution
Implement lazy loading
Optimize and compress images
Provide correct sizefor images and embeds Improve server response time
Page Title Update (August 2021)
For over a decade, Google has been following queries to optimize SERP page titles. But by August 16th, people started to notice that Google had changed the page title significantly. A week later, Google confirmed that it introduced a new system that stopped adjusting titles based on queries but was supposed to better represent the entire page. This update is not well accepted as the title is generated from H1, image tags, and even anchor text from other sites.
In mid-August, SEO reported a significant increase in Google rewriting page titles in SERP. Google often adjusts page titles to make them more relevant to user inquiries, but the frequency and scope of changes reported in late August was extreme.
On August 24th, Google confirmed an update to an algorithm that coordinates the search engine process for generating website titles in SERP results. "Last week we introduced a new system for generating website titles. Previously, titles could change based on the queries issued. In principle, this does not happen on the new system. This is because, in our opinion, the new system creates a title that is totally suitable for explaining what the document is, regardless of the particular query."Danny Sullivan, Google search liaison, suggests.
As a result, the frequency and level of page title changes have subsided since its peak in August, but Google has more power over page titles than it did before the update. Google argues that "focusing on good HTML title tags" is still important, and has posted new guidelines for website owners on its Search Central website.
Google Algorithm Updates of 2021 [recap]
SEO is a comprehensive and advanced strategy, and as long as you focus on EAT and best practices, you need to make sure that updates don't affect your rankings too much. However, as a marketer, webmaster, or business owner, it's important to monitor updates, report performance, improve your strategy, and take advantage of existing opportunities. The updates covered in this post are:
Passage ranking
About this result
Product reviews
MUM
Link spam
Mobile-first indexing
Page experience
Page titles
Having a strong SEO partner that can break down all updates from Google is the key to preparing your website for algorithm updates. By working with SEO industry experts, your website will be consistently monitored, and any changes will be reported. Stay up to date with the latest information from Google and work with your partner to carefully monitor all organic metrics, as well as stay ahead of Google search updates that can affect a site adversely.
Ready to take your search strategy to the next level? If so, take a look at our top-notch SEO services today or contact us for a free site analysis.