Finding the directions to a place and saving it has never been easier. Google Maps has become an integral part of our lives with its fantastic services and clean interface. I've found that dropping a pin in Google Maps is an easy way to save new locations, so you can find them again. Launched in February 2005, the application currently serves over 1 billion people every month. Its users come from across the planet as the application is available in over 79 local and international languages.
As the platform's popularity grows, its user base has also become more diversified, with elders also using it. In this post, we will discuss how you can pin a location in Google Maps and save it. Google Maps has a feature called pins that allows you to save a location. If a location does not have an address or if the address is inaccurate, you can drop a pin in Google Maps to save it or mark it. Your pins will help you find these places again, and you may share them with your friends to mark a meetup spot.
Google Maps can also help your business with its local marketing efforts. Many people use it to look for directions, information, and reviews. Maintaining an excellent Google Maps business listing has thus become more crucial than ever. You can opt for a Google Maps Marketing Service from a reputed agency to rank your business higher in the search. It will help attract more customers to your physical locations by allowing them to access more information about your business.
What is Google Maps?
Google Maps is a Google-provided free web mapping service application and technology. The popularity of this product can be attributed to the services it offers for business and personal use, such as the ability to create bespoke maps based on the user's location (i.e. local companies), the ability to display traffic conditions, share live location and more. Google Maps is also available for free on iPhone, BlackBerry, and Android phones.
Google Maps through the browser is no slouch, either. It contains most of the same functionality as the iOS and Android apps, plus a lot more screen space. You may also use Google My Maps to generate bespoke maps for your next trip or even create a shared map.
How to Drop a Pin in Google Maps Mobile Version
Dropping a pin in the Google Maps mobile app is super easy. It is also the same in Android and iOS versions. Here's how you can do it:
Click on the Google Maps icon on your phone and open the app
Look for the location you want to pin by searching for a nearby landmark and then zooming onto your desired spot
Tap on the screen and hold it until you see a pin icon appear
You will see a box with geo-coordinates of the pin
You can now share, save or add a label to this pin
Benefits of Using Google Maps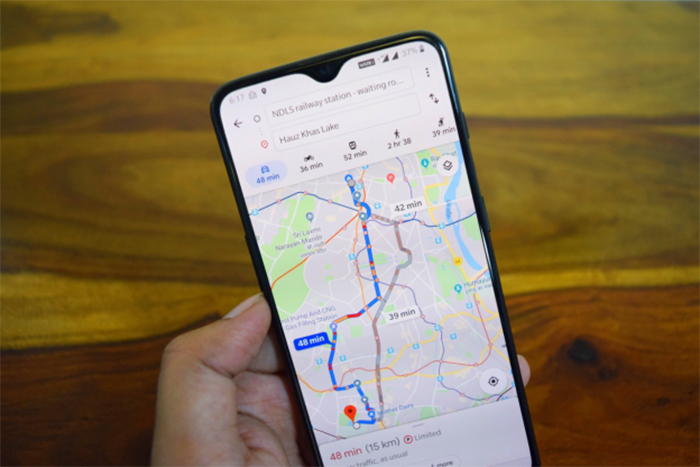 Google Maps is a Google-provided free web mapping service application and technology. The popularity of this product can be attributed to the services it offers for business and personal use, such as the ability to create bespoke maps based on the user's location (i.e. local companies) and the ability to display traffic conditions. Google Maps is also available for free on iPhone, BlackBerry, and Android phones.
Experience the World: Google has developed a comprehensive list of locations that have been photographed from a 360-degree street-level perspective. Users can explore different areas by clicking on the map, or they can react with a street view of their own business, home, or favorite location.
Contact Business Directly From Google Maps: With only one click of their mouse or a touch on their mobile device screen, users can acquire additional information about businesses, read ratings and hours of operation, as well as call the business immediately.
View Live Traffic Conditions: Google Maps is an extremely useful tool when it comes to checking live traffic conditions. You can manage your commute time and schedule by doing a simple traffic check on the maps application.
Parking Locator: You can look for nearby free and paid parking from Google Maps. The application can also save the location of your parking spot. This feature is very useful when someone has parked their vehicle in a big parking lot or on a crowded street.
Search Nearby Options: Google Maps allows you to look for nearby restaurants, chemists, petrol pumps and more with just a quick search.
How to Drop a Pin in Google Maps – Desktop Version
The process of dropping a pin on the Google Maps desktop version is quite similar to that of the mobile version. Here's what you can do to place a pin on Google Maps desktop version:
Open Google Maps Homepage in your browser
Type an address or a landmark in the search bar to find your desired location
Click on the location
A small gray pin will appear along with a box that contains the name of the area, geo-coordinates and the pin code
You can either check directions to this place or save it for future use
How to Make the Most of Your Pinned Locations?
There are several ways you can use pinned locations from Google Maps:
Save the Pin: By saving the pin, you can conveniently access it in the future with a few clicks. Three lists, namely, Favorites, Starred Places, and Want to Go, are already present on the dashboard. You can also make your own lists by going to the 'Saved' section.
Add a Label: Save a place by adding a customized label to your pin. Moreover, all the data from Google Maps is synced across devices, so you can access it from anywhere.
Sharing Your Pinned Location: To share your location pin with someone else, simply hit the 'Share' symbol in the mobile edition of Google Maps. By clicking on the icons in the menu on the desktop version, you can share the location on Facebook or Twitter.
Using Google Maps for Local SEO
You now know how to use Google Maps to put a pin, but the app can perform many more functions. The app can even support your company's marketing efforts. The practice of improving your business on Google Maps to rank higher in search engines is known as Google Maps Marketing. The more you optimize your business's profile, the more likely it will appear in a Google Maps search for businesses in your neighborhood.
The three best business listings appear at the top of the page when someone does a local search on Google. It is known as Google's 3-pack listing algorithm. Your chances of being found drop dramatically if your listing does not feature in the first three results. Earlier, Google Maps used to display a 7-pack result strategy until 2015. Because the remaining four results were receiving insufficient traffic, Google reduced the number of results to only the top three! Relevance, distance, and popularity are used by Google to determine which businesses appear in the 3-pack.
While this has made listing difficult for many business owners, it also presented them with the opportunity to excel in their local area. If you do not have much experience working with local SEO tools, then opting for Google Maps Local SEO Service from a reputed SEO agency could be a great idea. It will help you reach the 3-pack search and direct more views towards your business.
Also, Read
How to Rank Higher With Google Maps?
You can use a variety of tactics to ensure your business's Google Maps ranking stays on top. Here are a few steps you can follow:
Business Listing
The first step has already been discussed: ensuring that your company's location is listed on Google Maps. Create a business listing or drop a pin to accomplish this. The next step is to improve the listing by including operating hours, high-quality images, and contact information. This is significant because Google considers how thorough and reliable business listings are in search results.
Get More Positive Reviews
Getting positive customer reviews is another crucial component of Google Maps marketing. Companies use different tactics to gather reviews from their customers. Some people may give a review right after purchasing your product, while some may consider giving a review after a few weeks have passed. You must reach out to them via SMS, email and other outreach methods.
Connect With Your Customers
When you receive a review, whether positive or negative, it is critical that you respond appropriately. Thanking customers for their suggestions is an excellent approach to engage with the community. Responding appropriately to negative evaluations, on the other hand, can assist in resolving issues before they worsen. Bogus negative evaluations occasionally target businesses. When this occurs, the best course of action is to request the platform remove the spam review.
Post Regular Updates
Posting regular business updates on your Google Business Profile can also help with increasing your chances of coming in the 3-pack for a maps search. Google's algorithm promotes 'active' businesses that connect with customers through its platforms and via diverse mediums. It rewards such businesses with better visibility.
Request Verification
Verified businesses get better reach and visibility by default. Moreover, customers are also more likely to visit a store that has a verified profile. It helps ensure that they are going to the right place. You can request verification for your Google Business Profile through the settings page. Once your business is verified, your Google Maps location will also start coming with a blue tick. Every time someone searches for your business or puts in a related keyword, the chances of your business coming up will drastically improve.
Conclusion
Using Google Maps to drop a pin on a new location is an excellent method to remember it so you can find it later. This, along with a slew of other user-friendly features, has helped Google Maps maintain its steady increase in popularity. With billions of monthly active users, the app has become a critical component of local SEO for many businesses.
Frequently Asked Questions
How do I share my pin location via Google Maps?
Sharing your pin location from Google Maps is super easy. All you need to do is click on the pin. A dialogue box will appear from the bottom of the page with a 'Share' option. Upon clicking on this, several options will appear with which you can share the location.
How do I label a pin on Google Maps?
After you've dropped a pin on Google Maps, scroll down to the bottom-right corner of the page to see the option to 'Label' the address. You can now label the address with whatever name you wish.
How can I remove a Google Map pin?
Simply right-click on the pin and select 'Remove This Destination' to delete it from Google Maps. If you are doing this on a mobile device, click on the pin to open a dialogue box. You can also do this by navigating to the 'Saved' section from the homepage. Find your desired pin once the dialogue box with the list of pins appears. Now, click on the menu that appears on its right side and select 'Remove Listing'.
What does drop a pin in Google Maps mean?
When you place a pin in your specific location, the GPS coordinates of that position are saved. When you share it with a friend, you will be able to tell them exactly where you are, rather than the nearest street address (which might be miles away). Google also brings periodic updates that help you see more information on the pinned location.