Whether you are a lawyer or run a law firm, you already know the importance of increased digital visibility. When people need your services, they must be able to find your website easily in search engines – that is where SEO comes into play! And that's exactly where the real value of SEO for law firms comes into the picture.
Perhaps you might be thinking – "why do I need to invest in SEO, especially when the law is a highly specialized field of practice? Won't people come to my website anyway when they need my services?"
Of course, they will, if your website ranks higher in the search results. And from an SEO perspective, the legal niche is among the most competitive ones, according to a study by AccuRanker. Therefore, it becomes even more important for you to focus on law firm SEO to stand out in the tough competition.
As a leading law firm SEO provider, we frequently receive queries from a huge number of lawyers and law firms about how to bolster their online presence. Instead of answering them individually, we have created this detailed guide that answers all the questions comprehensively. In the end, we have also added an FAQ section to briefly answer the questions that are not covered in this guide.
Let's delve deeper without any further ado!
Most Important Google Ranking Factors to Consider
Here, we are only focusing on Google ranking factors because Google is the undoubted leader in the search engine industry. As of February 2021, it had 92.05 percent share of the search engine market.
Google has more than 200 ranking factors, a lot of which don't actually matter to law websites. Therefore, we have taken a different approach and will just discuss the key components of three types of SEO that you actually need to focus on.
These include organic SEO, local SEO, and GMB SEO. Let's start with organic SEO.
1. Organic SEO
Simply put, organic SEO aims to improve organic traffic, which is the traffic that you don't need to pay anything for. And organic search is responsible for generating 53.3% of all trackable traffic.
Here are the major elements of organic SEO that you need to work on to obtain higher rankings in SERPs.
Keyword Research
Keyword research is one of the key components of SEO. In the process, you find, analyze, and select terms that people might use when searching for your legal services.
Keyword intent and the types of keywords
Keyword intent is the purpose of a user behind conducting a search. Without considering it, the effectiveness of your keyword research would be far lesser than what you may think. If you don't factor in keyword intent, you'll most likely target inappropriate keywords and will eventually fail to connect with prospective clients.
To determine keyword intent, you need to understand the category of a search query to which your keywords belong. Search queries are divided into three key categories – navigational, informational, and transactional.
– In a navigational search query, people try to find a specific website such as Microsoft.
– In an informational search query, people try to learn something or find answers to their questions. These queries usually include "why", "how to", and similar search terms.
– In a transactional search query, people look forward to buying something. Here, common keywords include "buy", "subscribe", etc.
Long-tail vs. short-tail keywords
Though you can use different types of keywords to accomplish specific goals, they typically fall under two general categories – short-tail keywords and long-tail keywords.
– Short-tail keywords contain a maximum of three words and experience the maximum volume of searches. As the focus with these keywords is extremely broad, the competition is very high. Note that for most websites, using short-tail keywords isn't enough to rise above the competition and hence, they need to turn to the long-tail ones.
– Long-tail keywords have more than three words and target specific audiences. These offer a high conversion rate because users, who are searching for something in particular, tend to utilize them.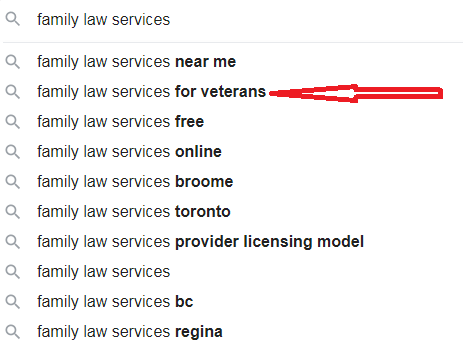 In short, due to the low volume of searches using long-tail keywords, you have an easier opportunity of improving your visibility and securing higher rankings.
Tools to use to find keywords
There are lots of paid and free SEO keyword tools available that you can use to find the right keywords related to your legal services. Before using one of these tools, create a list of potential keywords related to your firm, services, and the legal industry.
– Simply type in a keyword related to what you offer and the search engine will suggest other popular words people might use when they need your services.
– You can also check out the sections namely "People also ask" to gain more insights into the search queries.
– Google's Keyword Planner is another effective free tool to identify appropriate keywords. You'll get a clear idea of the volumes of searches that your keywords might receive.
Identifying your top competitors' keywords that you can use
Understanding the keywords your competitors are using to rank higher for is another highly effective idea to build your own list of keywords. In fact, you can actually learn something from your competitors to improve your own ranking. Just try to choose a paid tool for this purpose as free ones often lack useful features.
Here're three of the best tools that you can use to perform competitive keyword analysis to identify your competitors' top-performing keywords.
– The Free Keyword Tool from WordStream is one of the highly effective tools to identify competitor keywords. All you need to do is enter the URL of a competitor into it and it'll come up with a collection of competitive keyword data. You'll get different metrics such as search volume, CPC, and competition.
– If you're looking for a tool solely dedicated to competitor keyword research, you should explore SpyFu. You just enter a competitor's URL into it and SpyFu will provide you with in-depth analysis. Not only you'll get a list of keywords but data on paid keywords, estimated monthly SEO clicks, top organic competitors, backlinks, ranking history, and more as well.
– Ahref's Keywords Explorer is another great tool to keywords that your top-ranking competitors are using to rank for. Among many other features, it offers a report namely the "SERP overview". This lets you review all the SEO metrics such as organic keywords, organic traffic, and backlinks of the top-ranking results.
Website Structure Optimization
Before you start optimizing your website structure, identify the issues using popular heatmap tools like Hotjar, Inspectlet, Crazy Egg, Ptengine, and Lucky Orange. Once you've identified the issues, you may start working on three major areas – making your site mobile-friendly, reducing image sizes, and creating user-friendly navigation.
To ensure mobile-friendliness, focus on integrating a responsive design and optimizing the title tags and meta description.
Choose the appropriate file format for the images and compress them using Compressor and Imagify to reduce image sizes.
Include website breadcrumbs and reduce the number of subfolders to offer user-friendly navigation.
Content Planning
Probably there is nothing that can beat the importance of creating optimized content consistently when it comes to improving organic search visibility, traffic, and rankings. However, you can only enjoy all these when you plan your content strategy the right way. If you do it wrong, your site may attract Google penalties, recovering from which is an extremely difficult task.
Creating varying types of content is essential to perform better SEO, attract fresh traffic, and accomplish higher conversion rates. While there are different types of content that you can post, you shouldn't go on trying all of them because different types cater to the needs of different businesses.
When it comes to creating SEO content for legal practices, there are certain key considerations:
Content should be:
Authoritative: it's important to gain the trust of your potential clients.
Diverse: diversity in content will help you rank for various long tail keywords.
Interesting: others will link to you.
Simply put, pillar pages refer to the web pages that focus on a particular theme or topic, cover that in detail, and link to other pages with related content. Note that pillar pages usually don't have typical pieces of content like blog posts, infographics, or videos. These can be parts of the pillar content but they cannot be called pillar content. Pillar pages have larger pieces of content that provide the readers with in-depth information on a particular topic.
Developing pillar content takes a huge amount of effort and time but the benefits are worth them. As people may not be able to find your pillar content on their own, be sure to promote them using means like social media and email marketing.
It's not enough to be good at what you do, or have a lot of experience. To rank on Google these days, one must focus on E-A-T when creating content: expertise, authority and trustworthiness. Let's see how we can incorporate each of those concepts into our writing for the best results…
– To prove yourself as an expert, you need to understand the needs of your audience and know how they search. The two most important things are keyword research and knowing what people want when searching for something similar to what you're offering them.
– When other experts from legal fields start considering you as a source of authentic information or your voice synonymous with some specific topics, you become an authority. Therefore, it pays to create content that is heavily shared across social media. You should also try to gain links from authoritative and relevant websites as that would help establish your authoritativeness as well.
– You become a trustworthy expert when people trust that the information provided by you is honest and accurate. Try to earn positive reviews on Google My Business, Trustpilot, bbb.org, and more as they can actually help boost your trustworthiness for Google.
Google rewards longer posts, which focus on one specific topic at once instead of several topics with a few paragraphs each. The benefits of this format include:
A higher page rank from google's algorithm means more exposure
Less competition since there are fewer bloggers who have spent time focusing their efforts into writing engaging long form pieces like you do (shout out)
Boredom aversion because people want information immediately but don't always know what they need or where to find it.
FAQs, testimonials, checklists, quotes from industry experts, how-to videos can be included in the long form posts.
Link Building for Law Firms
Link building is a way to increase your site's ranking in search engines like Google by earning links from high-quality and authoritative websites. The more quality, trustworthy sites that link back to you the better chance it has of being ranked higher on SERPS (search engine results pages).
Here are some useful strategies you can use to earn high-quality backlinks.
References through high-quality content
Creating unique, compelling, high-value content is one of the most effective ways to get backlinks from external websites. Once you spread the word about it, you can expect people to reference and link to it. Case studies are one of the most common things that people reference frequently.
Whenever you are launching a new service or partnering with another firm or have any other exciting company news, use that as a method to earn quality backlinks. Write and distribute a press release covering the news. Just be sure to incorporate a backlink to your own site so that your readers can know more about your business.
Sponsoring local events can help you earn quality backlinks. Not only you'll get links from the event listing site but your link will be placed on the event page as well. That brings you an additional advantage of brand exposure too.
Organic links help you enjoy a plethora of benefits – from more traffic to long-term SEO benefits. One of the most effective methods to earn these links is to create high-quality content and reach out to websites and blogs that might be interested to link back to you.
Another effective idea is to build your business profile on relevant high-quality business directory sites. Remember to include your link when creating the profiles. It'll help you earn backlinks and improve your business exposure.
Citations are straightforward online mentions of the details of your business. Though building citations may take a lot of time and effort, they are a surefire way to improve your site's SEO performance. One relatively easier method to build citations is to write whitepapers and have them shared by authority sites.
Leveraging HARO (Help A Reporter Out) service is another effective way to build citations. After registering with the HARO website, choose emails that contain queries relevant to your expertise and start responding to the best leads. When responding to the queries, be sure to include your bio, important details, company logo, and a CTA.
2. Local SEO
If you don't optimize your site for local search, you are probably missing out on a significant number of potential local clients. Why? According to a report by Social Media Today, 97% of search engine users searched the Internet to find a local business.
When users search for businesses, services, or any other information relevant to a particular location, it is called local search. So, local SEO is optimizing your site to make it appear on those local searches. With the help of local SEO best practices, you can increase organic traffic coming from searches conducted by potential clients residing in nearby areas.
– First, you need to ensure that your NAP (name, address, and phone number) always remains clearly visible on your site. Ideally, you should place the NAP in the header or footer of your site.
– Second, focus on building citations in online business directories. Make sure that there are no abbreviations, misspellings, or other incorrect information.
– Third, optimize your site for mobile devices so that mobile visitors can easily find the information they are looking for.
In addition to these, try to collect lots of authentic, positive reviews to help improve your site's visibility in local searches significantly.
3. GMB (Google My Business) SEO
If you want to stand out in local searches, you've to optimize your site for Google My Business. GMB plays a crucial role when it comes to obtaining higher ranks in local searches.
First of all, you need to create your GMB account and have it verified. Then follow these steps to optimize it.
Be sure to complete each and every section of the GMB profile as it helps to increase your rankings in local searches while encouraging clients to take more actions after they find your profile.
Pay extra attention when providing your contact information. Keep your business name exactly the same as it appears on your office signage. If you've got other listings online, both the name and address of your business must match them exactly. Clearly mention your business and holiday hours. It'd not only help clients visit you but lower the chances of receiving negative reviews from clients who unknowingly visited your office during holiday hours.
Remember to choose the 'legal' category as it'd help your business show up in discovery searches. If the services you offer fall into multiple categories, keep your primary category as 'legal' while and choose additional applicable categories as secondary.
Try to upload photos to your GMB profile. It not only helps to increase engagement but shows Google that you're active with the profile and keep it up-to-date, which helps to improve your ranking.
When writing your business description, include your keywords and search phrases. Do the same when publishing a Local Post for your audience.
Reviews are one of the key ranking factors for Google, and hence, it's a must to manage and respond to your customer reviews. Encourage your customers to write a review and respond to them in a timely fashion. It not only increases your brand awareness but improves your local SEO as well.
Create posts using your GMB account to publish your services, offers, and events to Google Search and Maps directly. Try to post regularly and always include CTAs and links in every post.
Use the Google My Business app to send messages to your customers and receive their replies. It helps to increase the visibility and responsiveness of your business. To handle incoming messages, you can also create customized automated responses.
Once you've optimized your GMB account, it's time to monitor how customers interact with your listing. Google offers a very effective feature called 'Insights' to help businesses accomplish this goal. Using Insights data, you can understand different things related to customer interaction with your listing – from how customers find your listing and search queries to customer actions, phone calls, and more.
Just sign in to your GMB profile and then click Insights on the left menu to check Insights data.
Tracking Performance and Making Improvements
No matter how hard you try to boost your site's SEO performance, if you don't measure it, you cannot improve it. By measuring the results, you'll also understand whether or not an ROI is being generated.
Here are two effective tools to measure your site's SEO performance.
Google Search Console helps you to understand how different elements of your site are performing. Some of these include mobile-friendliness, any crawl errors, how many of your pages are present in Google's Index, and many other website-related metrics.
You can use the free version of Google Analytics to handle your site's SEO effectively. Using this tool, you can get a huge amount of insights into your traffic – from the performance of a specific page and traffic received from a particular campaign to isolated organic traffic, traffic received over a particular period of time, and more. Additionally, it is possible to set up goals in Google Analytics and check whether or not your site fulfills it.
Once you've received those insights, tweak your SEO strategy accordingly to make the most of your time, effort, and money.
Blogging for Law Firms
As per Google's search algorithm, site with frequently updated content are rewarded higher rankings. Blogs also allow for targeted research-based keywords that can lead to high traffic in a niche area of the market. This means your service pages won't rank highly on these searches but instead blog posts will provide you an opportunity to reach more people interested in those specific topics within your industry and receive their precious clicks! Consider the following as you plan your content calendar:
Who is your audience
Is your post helpful to them
Is your post informative enough
How often do you post
Are you writing long posts
Should A Law Firm Invest In Both Organic SEO And Local SEO Or Only Local SEO?
Ideally, you should focus on both organic SEO and local SEO. It actually comes down to your client base and the locations you want to target. However, your priority should be improving local SEO because Google focuses more on the local level.
Closing Thoughts
When you are trying to expand your client base, implementing the above-mentioned law firm SEO best practices can do wonders in giving you a competitive edge. Moreover, the benefits go far beyond attracting traffic and improving conversion rates. You'll be able to establish yourself as an authority in your niche in the long run.
FAQs for Law Firm SEO:
Lawyer SEO encompasses tactics, strategies, and techniques that help a lawyer's website attract more potential clients.
Why do law firms need SEO?
SEO helps law firms obtain higher rankings in search engine results, which results in more prospective clients finding it online. Also, many law firms serve clients from nearby areas. Local SEO would help them outshine the local competitors.
What is considered duplicate content? Does having it hurt my firm's website?
When exactly same or appreciably similar content is found in multiple locations (URLs) on the web, it is called duplicate content. If you use duplicate content, you can lose traffic and cause damage to your SERP rankings.
How to improve your law firm's SEO ranking?
Implement the SEO strategies we have mentioned above. If you find it difficult, consider partnering with a law firm SEO service provider.
The importance of social media and how it can help with SEO efforts
Exposure on social media isn't a direct factor for improving a site's ranking in search results. However, the traffic and backlinks it receives from social media may improve its overall SEO performance.
How is SEO success measured for law firms?
There are many tools available for measuring SEO success. The SEO performance tracking tools mentioned in this guide should be a good starting point for law firms.