Successful SEOs are wizards and their magic wand is in the toolbox. If your website lacks content, use keyword research and content creation tools. If you have low authority, use the backlink analysis tool. If the response time is slow, use audit tools on the site architecture. Be up and about as our team has compiled some of the latest and hottest SEO tools that you can try. You can be sure to find the right tool in our list below.
Go ahead!


13 Shiniest Search Engine Optimization (SEO) Tools
If you don't undertake keyword research first, content marketing can feel like an uphill battle. Even so, you're simply receiving a snapshot of search volume for a specific keyword. That's why we'd like to show you a useful tool that your agency may use to remain on top of things.
Introducing: Exploding Topics
It Assists You in Categorizing the Topics- Let's imagine you're interested in learning about some of the prospective hot issues in the education business. Exploding topics will allow you to choose your target industry and will provide a list of topics divided into three categories:
Exploding: Trending topics in your specific industry.
Regular: Topics that are doing good but will take time to trend.
Peaked: Keywords whose popularity is on decline now.
It Helps You Optimize– Writing great content is a difficult process, and if you make a mistake with the first step and write on an unrelated topic, your entire effort will be wasted. Your content strategy may be sound, but that doesn't guarantee that the post will reach the intended audience or rank well in search results. You need to get rid of the agony of not knowing what won't work, and this tool makes that possible. It saves you time by assisting you in picking which topic to pursue and suggests topics that have the potential to rank highly in Google searches.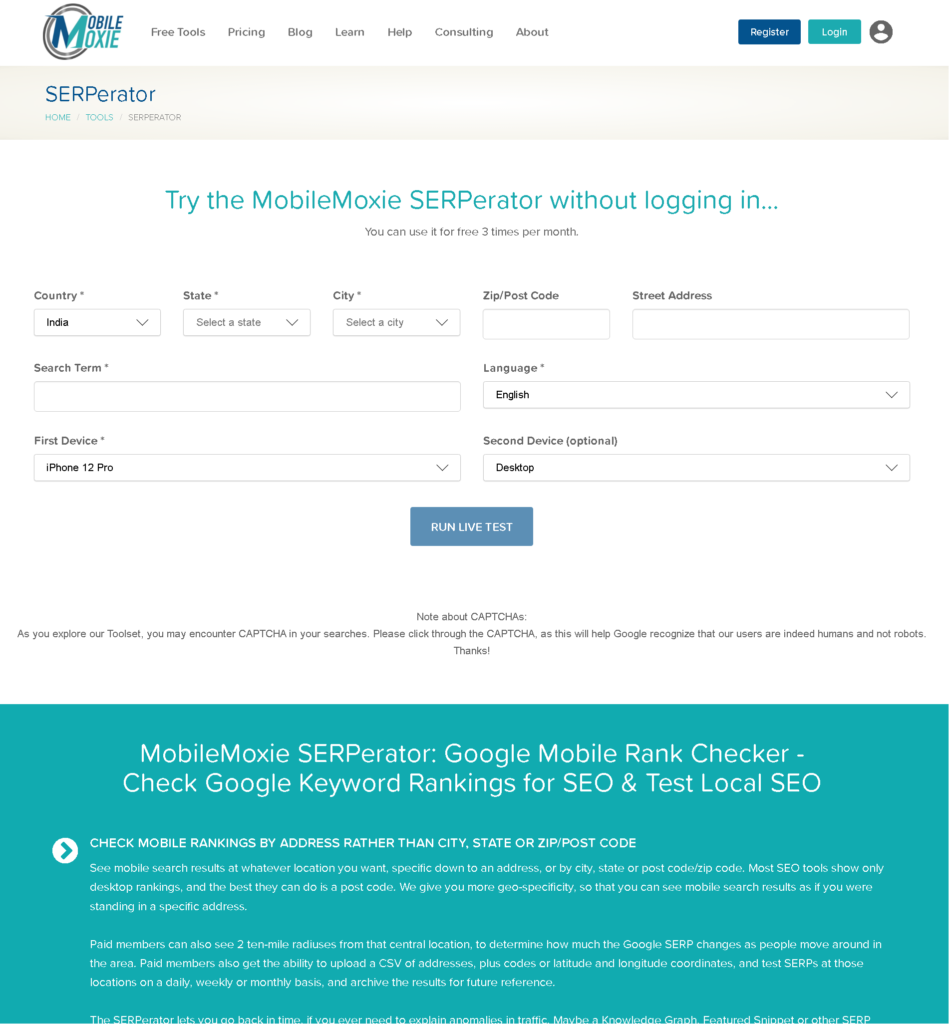 MobileMoxie offers Mobile SEO tools to help developers, marketers & brands drive more and better mobile traffic. The MobileMoxie SERPerator is a one-of-a-kind SEO tool that lets you take screenshots of genuine search results and compare them over time based on location, phone, and language. This works for whatever keywords you choose, and it's especially useful if you're conducting local SEO in places where you don't live, watching search performance in foreign countries, or simply wanting to see how a search result appears and changes over time.
Check Mobile Rankings by Address– On a mobile phone, the SERP test allows you to test any keyword in any language as if you were standing anywhere in the world. The importance of location and how a user's location might affect which sites rank and which ones don't is one of the most significant differences in mobile SEO. Because Google tries so hard to localize search results on mobile devices, a lot of existing SEO tools don't offer localized results; instead, they show results based on their IP address. So, if you're utilizing such techniques, you might assume you're ranked somewhere, but it actually varies a lot based on the user's location while searching.
See Mobile Search Results as Per Address– This tool has the advantage of being able to perform your test as if you were standing at a specific address in Tokyo looking for pizza, or as if you were standing at that address in Tokyo looking for pizza in Japanese. You can choose up to two phones at a time from among the many supported, and watch how the search results alter from one phone to the next. With SERP test, you may get the same real-time search results as if you were standing in Tokyo right now. You can test one term in one area at a time with SERP, but you can also test one keyword in up to a hundred distinct locations at once.
Know the Ranking of Website– The Bulk Google Rank Checker is a real-time tool you can use to retrieve the rankings for your website or of your competitors. Submit up to 10 keywords at a time and check the rankings for desktop sites in 14 countries and for mobile site in 5 countries.
Check Website's Performance– Use the Google Rank Checker to see how well your website is performing in search. Submit up to 10 keywords, add your domain and select your version of Google to get accurate real-time results. Save time and retrieve the rankings for your domain and your competitors for any given keyword. After receiving the results you can export your ranking data to Excel.
CanIRank is the first SEO tool to use artificial intelligence (AI) to provide precise action recommendations rather than just statistics. With just one click, you can get thorough DIY instructions for each recommendation or delegate to an SEO specialist.
Data-Driven Decisions– Google demonstrates what types of links it prefers, which content they think most relevant, and how much keyword usage is excessive on each search engine result page. All we need to do now is learn to listen! CanIRank converts all of those data points into precise SEO Tasks, such as which related terms to include in your article, how to make crucial words stand out, and where to gain links for maximum profit with the least amount of risk.
Keep Skills Up To Date– When last week's SEO recommended practises are this week's penalty triggers, keeping your skills up to date can be difficult. CanIRank connects you to an ever-growing SEO Knowledge Base of relevant Actions according to your skill level, site demands, and the historical effectiveness of each Action, regardless of the challenge your site is facing. Can I Rank automatically updates your Action Plan as your abilities improve or your website's needs change, so you'll always know which Actions the software predicts will have the most impact.

Sitechecker is a friendly platform tailored to your needs. Sitechecker analyzes search performance daily and updates the ToDo list based on changes related to website content, website rankings, or backlinks.
Improve Your Website Pages and Technical SEO– Whether you're launching a website, navigating your site, or looking for ways to improve search performance, sitechecker performs a technical SEO audit. You will receive an email every time there is a serious problem or warning in your project. Notifications like this help ensure that the fix is actually implemented and allow you to respond immediately to new issues. Use the text and video instructions to understand why each issue is important and how to fix it. Delegate troubleshooting to developers or junior marketers who have no SEO experience.
All-In-One Platform– Monitor the health of your website and track keywords and backlinks on one platform.
Gain actionable insights and prioritize and create content that drives organic traffic using searchresponse.io. Search Response is a suite of content marketing and keyword research Seo tools that leverage rich search engine data to uncover important insights.
People Also Ask– Use this tool to perform a search on a dataset of over 100 million People Also Ask (PAA) questions collected by Google using 200 million keywords. You can find questions related to your topic and see them by popularity. PAA questions can be used in a variety of ways. 1) Get a better understanding of your audience through the questions they ask. 2) Highlight important ideas, and topics that you might miss because your search volume is low or zero. 3) Improve existing content by understanding the user's intent for a particular topic. 4) Find the question people are asking about your brand.
People Also Search For– The PASF (People Also Search For) keyword is displayed to users who return to the search engine results page. Google limits this to 6-8 keywords per search query. Use keyword search a) Deepen your understanding of the topic through the relevant keywords that people are searching for. b) Gain insights into what your viewers are looking for next in their journey and use it to create content that keeps them on your site.
The hardest part of SEO is not knowing what to do. Actually it is doing it. Zyppy tool performs the most difficult parts of SEO. It not only provides the data, but also the tools to provide the actual results.
Track Title Changes– Changing the title is easy. Knowing if they work is a difficult part. Fortunately, Zyppy tracks all title changes, measures organic clicks, and uses machine learning predictions to assess traffic performance. Zyppy will help you identify both winners and losers. If you identify a loser, you can fix it and retest it or restore it to its original state. Secure winning titles for higher traffic profits.
Instant Live Publishing– With WordPress or Cloudflare integration, you can instantly publish new titles from your Zyppy dashboard. No need to switch between CMS and other tools. As soon as you click Publish, your track will appear live on your site. WordPress integration works with all major SEO plugins, Yoast, Rank Math, and AllInOne SEO.
Check Website's Performance– Your website's performance is monitored in real time and alerts your team about website changes that may affect your organic visibility.
Receive Competitive Analysis– to help identify quick tactical wins while providing insights into long-term SEO strategic plans
Reddico can provide daily / weekly / monthly reports full of practical insights and recommendations. API is available so you can send SEO directly to your internal business intelligence platform.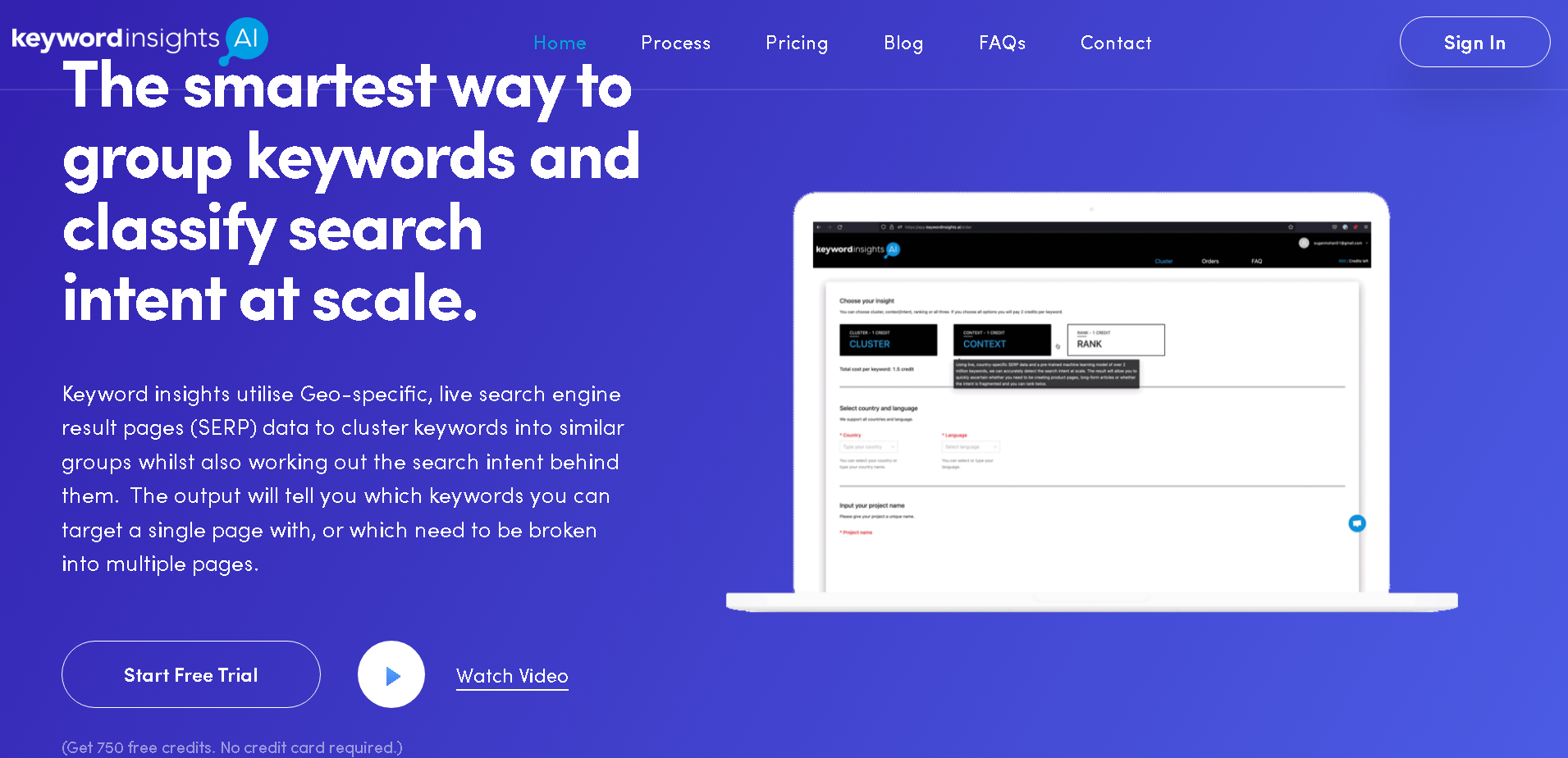 Check Keyword Clustering– Group keywords into important "clusters" using region-specific SERP live data. If a keyword has four URLs in common with another keyword in the top 10 results, they are grouped together. As a result, you can quickly understand when content needs to be split into new pages or when content can be integrated.
Intent / context keyword Live geo-specific SERP data and pre-trained machine learning models can be used to accurately detect large search intents. From the results, you have the opportunity to quickly determine if you need to create a product page, a long article, or if your search intent is fragmented, and rank it twice.
Know Keyword Ranking– Track the ranking and URL of each keyword on Google's Top 100 Results page. Panning all this data will quickly reveal URL-level optimization opportunities for all keywords. You can see when the page tries to rank too many clusters and when the page targets the wrong search intent.
Content Brief Generator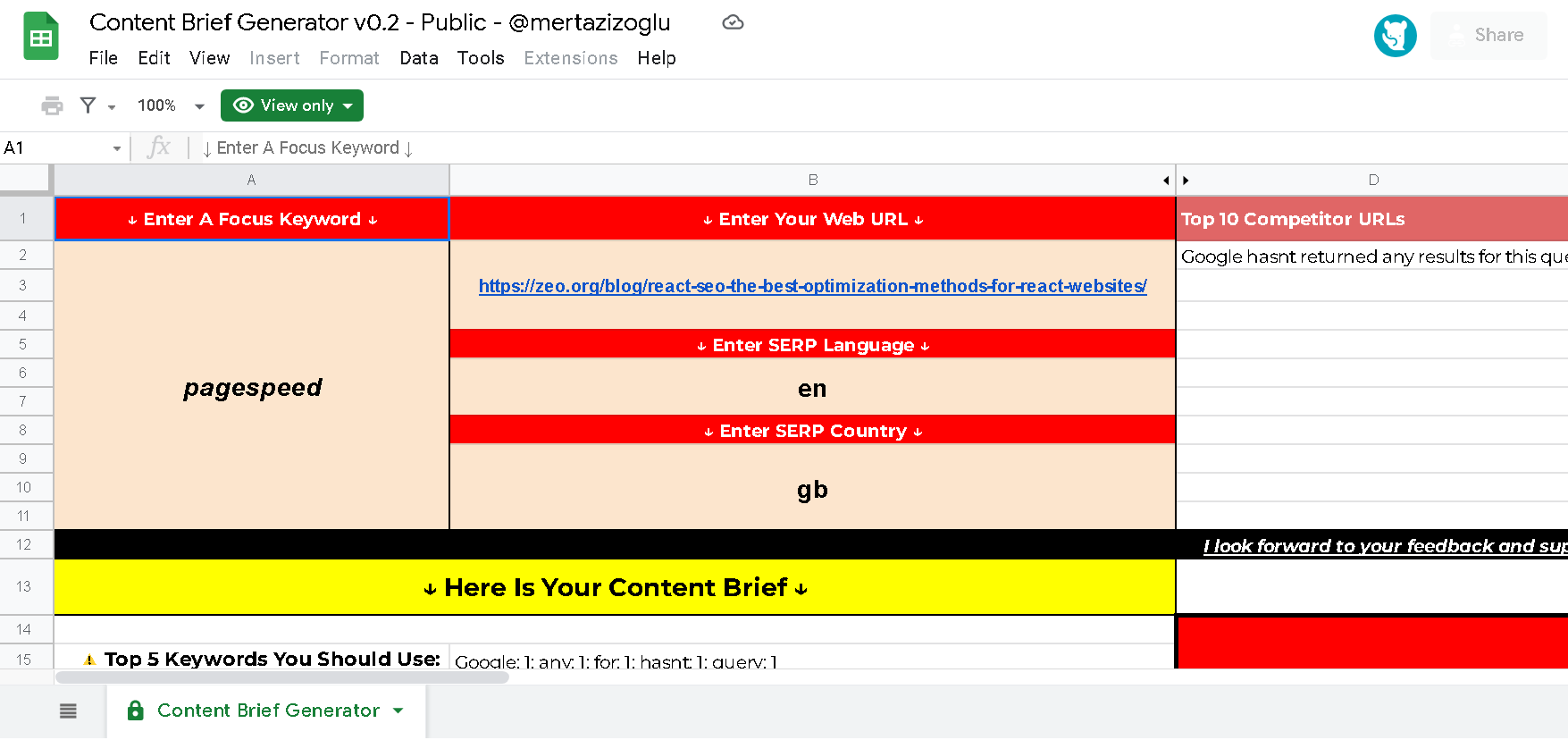 Content marketers need to make sure that the content they create matches the company's branding and message. There are no duplicate themes and all content can compete with other industry leaders. That may seem like a lot, but there are great content brief generator tools that content marketers can use to simplify and streamline their plans and strategies.
Create Content that Drives Traffic– The best way to optimize your content, test your SEO, and analyze your results is to use content brief generator. These tools allow marketers to perform in-depth topical surveys such as comparisons with competitors, keyword suggestions, and frequently searched questions about topics on the web. You can use this data to plan topics and meaningful content strategies to direct targeted traffic to your website.
Get content Insights that Matter– Don't spend hours searching the web to find the best content to share on your social media pages. Content brief generators can curate branded content using elements validated by in-house content generator experts, connect to social media and social planning tools, and generate content ideas from over 500 niches. Marketers can use content brief generator's content Curation Scheduling to ensure content consistency, empower your site, and increase website traffic.
With thruuu, you'll get comprehensive insights into competing content and details about Google's Search Engine Results Page (SERP). Understand why certain pages are ranked first, the topics they cover, and the content gaps that can be filled. Thanks to thruuu, you can write memorable content and rank first.
Helps You Get a Quick Overview of SERPs and Their Content– Quickly analyze the core and subtopics of each page that comes first. The main features of thruuu are:
An overview of the top results for a search query on Google
A detailed review of each page of the SERP
Information about word counts, images, last update, presence of featured snipped and other statistics
Comparison and keywords density of titles, descriptions, and headings
Related search and most asked questions
Export of All the SERP content in an Excel file
Create Content that Earns Clicks– Learn how to create content that is worth improving your CTR. With thruuu, the process is simple.
Survey of trending topics with high monthly searches
Analyze SERPs and their content for topic-related search queries
Start creating something better and more complete
Get comprehensive and easy to follow suggestions that your writers can use to create content. Create your articles using easy to understand visual feedback for optimizations and automated article status updates. Publish and schedule your content to WordPress in one click and without leaving the platform.
Stop Telling Writers What to Write– Stop creating manual briefings today. Rely on Contenteum's data to assist in content ranking. Generate topics and keywords in seconds
Create a comprehensive article
Reduce research time
Create Excellent content– Never lose your rank with the wrong grammar
Consistently create your own content
Improve quality with streamlined approvals and reviews
Conclusion
That wraps up the list of the hottest SEO tools for 2022. The choice of a particular SEO tool depends on your business type, and your needs. With the right tools, you can ensure the best content on your website and increase traffic and search engine rankings. We hope this list will help you raise your SEO game this year. As always, keep aiming for that first spot in Google search results.