Are you an online shopper searching for a fast and convenient payment solution? Or, a merchant looking to offer your customers a quick, hassle-free payment solution coupled with some unique features? If yes, Shop Pay from Shopify could be the one you are looking for.
One of the best things about Shop Pay is that both consumers and merchants can leverage its benefits as long as they have a Shopify account.
What is Shop Pay?
Having started its journey in 2017, Shop Pay quickly became one of the most popular payment methods. Currently, it has around 1.3 million users as Shop Pay store operators. You can think of Shop Pay as an advanced tool that combines the top features of a payment service provider, as well as an accelerated checkout method.
As customers get to make payments quickly in a hassle-free manner, it helps merchants increase their opportunities to gain repeat business, apart from reducing cart abandonment. Additionally, there are several unique features that help Shop Pay stand out from its competitors.
Shopify has done an excellent job in making Shop Pay a simple and straightforward solution. On the checkout page, you need to select the Shopify button when making a purchase. Then you need to enter the necessary information such as card details, billing information, shipping details, etc.
Once this is done and your information is linked with your preferred account, all your subsequent checkouts will be much faster. Shop Pay will ensure whenever you log into the e-store again, your purchase will be ready to complete with just a few clicks.
You won't have to waste your effort and time entering all the information each time you want to make a purchase, as Shop Pay will remember whatever you have put in earlier. Moreover, it comes with a solid security measure where you receive a code in the form of a text message, which you need to enter to complete your purchase.
If reading till now has made you interested in learning more about Shop Pay and eventually using it, you have come to the right place. In this ultimate guide, we are going to discuss all the essential things related to the platform to help you make a well-informed decision.
The Basics of Shop Pay
The functionalities of Shop Pay can be distributed into two categories. For online shoppers, it acts as a wallet where they can save payment details and accelerate transactions down the road. Merchants can add Shop Pay as a payment method to their store, providing shoppers with another option and added benefits.
If you are a shopper, you only need to download the Shop Pay app, enter your payment information, and save it on your device to facilitate faster checkouts in the future. Just remember that Shop Pay payments need to be allowed by your merchant to let you use the platform.
For online merchants, one of the key benefits is that using the Shopify e-commerce platform isn't mandatory to be able to use Shop Pay. This means even if you are a non-Shopify store owner, you can use the payment solution to your advantage.
Whether you are running a physical store together with an online store or selling only on the Internet, you can easily integrate Shop Pay to boost your sales.
Key Features of Shop Pay for Online Customers
As mentioned in the last block, Shop Pay has distinguished features for both online shoppers and merchants. Let's start with the features aimed at online customers.
When it comes to online shoppers, the key objective of Shop Pay is to expedite the checkout process. So, you just need to enter your payment information once, and the platform automatically identifies your profile whenever you visit one of the online stores that accept Shop Pay.
The platform saves all the billing information that you entered earlier in an encrypted form, so you just need to click the "Buy Now" button once to fill out the entire checkout form. Moreover, if you use the same device to make your next purchase, you may skip verifying the Shop Pay code.
The platform lets you save a maximum of five credit card details and five shipping addresses. You can alter those pieces of information during checkout or in the application.
Paying In Installments or In Full
One of the most advantageous features of Shop Pay is that it lets you choose how you want to pay to make a purchase. You can choose to divide the payment amount into multiple interest-free installments or make the entire payment at once.
Eligibility for Shop Pay Installments
Several payment solutions have already embraced the "Buy Now, Pay Later" method to help merchants increase their sales. According to Forbes, the total purchase made using this method was anticipated to reach around $100 billion in 2021.

With Shop Pay Installments, you can split your total purchase amount into four equal installments. However, your order amount has to be between $50 and $3,000 (this is inclusive of discounts, taxes, and shipping charges). The platform automatically calculates the billing period and your installment payment amounts.

Note that the feature of Shop Pay Installments isn't available to non-Shopify retailers or merchants based outside the U.S.

After you choose Shop Pay Installments, you need to select a debit/credit card to make the first payment, as well as other installment payments. While the platform doesn't check credit scores, you'll need to go through an identity verification process to prevent fraud.

Once you agree to the "Terms" and authorize your payment via Shop Pay, you'll receive a six-digit verification code that you need to enter to complete the process.


Late Fees
Whenever you use a credit card for making a purchase, you run the risk of paying late fees or additional charges for missing a payment. But Shop Pay doesn't charge any kind of fees or penalties for this. Moreover, you can make early payments using the same checkout page. Just remember that in the case of late or partial payments, the platform may ban or restrict you from using Shop Pay Installments.
All your past orders are logged by Shop Pay, meaning you can visit your purchase history to check all the details of the products you purchased earlier using the platform. From the products and their costs to the merchants who sell them, you'll have all the details at your fingertips.
All your orders are neatly organized in the history module. You can also use the "filter" and "quick search" features to locate details instantly together with detailed receipts of the purchases.
Simplified Access to Customer Support
Shop Pay isn't directly associated with any online store you visit, as its primary objective is to help online consumers. However, it lets you directly access the online resources of the store you're presently purchasing from.
So, if the merchant provides customer support links, FAQs, or other resources to help the shoppers, you can access all of them. From asking the seller for a return and clarifying your queries through a quick chat to viewing the shipping policy, the app allows you to do everything conveniently.
Customized Shopping Recommendations
Every online consumer receives lots of shopping recommendations based on their online activities, and these recommendations often comprise spam and push ads. Shop Pay also provides you with shopping recommendations, but it takes a different approach to create them.
The platform uses a mix of data, some of which originates from your purchasing habits and some of which is generated from your inputs, such as your favorite store to shop. And according to Shopify, they never maliciously track your activities to place more advertisements or send spam.
As a result, you get to see a straightforward, customized feed of recommendations. These include deals from your favorite stores, recommendations from them, and trending products that you might be interested in.
The Shop Local functionality is another effective method to personalize your feed. With this functionality, you can mention the local businesses you prefer to make purchases from or look for local businesses. You can purchase products from the merchant's online store and either choose in-store pickup or have them delivered to your doorstep.
Key Features of Shop Pay for Online Merchants
So far, we've been talking about what is shop pay and what are its key features that are aimed at helping online shoppers. Here're its merchant-specific features that have helped it garner huge popularity among retailers.
Marketing automation is one of the most vital features that help online merchants boost their sales. While you get lots of marketing options with standard Shopify checkout modules, Shop Pay has taken it to another level. As customer devices are already equipped with Shop Pay, merchants can effortlessly send automated marketing messages throughout the customer journey.
Here're some of the popular marketing automation offered by Shop Pay.
Trending product notifications
Shipment tracking notifications together with links to additional items
Hot deals
New arrival messages
Post-purchase offers to entice shoppers to return
Shipment notifications together with recommendations for additional products
As a whole, if you're searching for a streamlined method to improve conversions and repeat purchases, Shop Pay can do wonders for you.
For any merchant, it's simply impossible to grow its business without proper performance tracking. Shop Pay tracks several parameters to determine the performance of merchants. From how frequently people make purchases from your store and the growth rate of your conversions to how efficiently you can send the items to consumers within a logical period of time. Not only do all these help you gain clear insights into your business's performance, but they also help you build trust among consumers.
Both the customer and merchant receive tracking features from Shop Pay. Tracking messages are generated for the following instances:
When the merchant processes orders
When the merchant sends orders
When tracking codes are generated for orders
When orders arrive
Complete Store and Checkout Customization
Shop Pay allows merchants to decide on what the checkout experience will look like and what will be offered to consumers. For example, you may want to offer in-store pickup, fast shipping, or free shipping.
You can also choose to share recommended items, present certain items to customers, and have a segment where customers can view their order history. In addition to these, Shop Pay lets you customize several important components, such as your store description, contact methods, and customer support resources, together with the images that you want to display on your store, like your cover image and logo.
A Shop Pay Button for Selling on Google, Facebook, and Instagram
The beauty of Shop Pay is that today, merchants don't need to have a Shopify store to use it. Unlike in the past, today, even non-Shopify merchants can leverage the support of Shopify. They only need to add a Shop Pay button to sell on Google, Facebook, and Instagram. However, you cannot use any e-commerce platform other than Shopify to use the payment option.
If you're a Shopify merchant and want to add an alternative payment method to your store, you just need to install the Shop Pay button. Once this is installed, you can start using the app on your e-commerce store and your preferred social media platforms like Google, Facebook, and Instagram to increase sales.
Won't it be simply great to be able to manage all the merchant-specific features discussed in the above blocks through just one mobile app? The creators of Shop Pay know it is. With the Shop Pay merchant app, you can effortlessly manage all aspects of your business.
With this app, you can forget about being at your laptop or desktop to complete a task or manage customer support. Just open the app, and you can start managing the tasks.
Placement on Curated Lists
Things like product recommendations curated lists, and local shopping opportunities are among the key methods online businesses use to present their products before new customers. And Shop Pay offers all of these.
A whopping number of more than 100 million customers across the globe are already being served by Shop Pay, which means you get a massive marketing opportunity to increase your conversions. The platform includes your shop in these recommendations depending on people's buying preferences, so it gets all the exposure it requires to boost sales.
Safety Features of Shop Pay
With a rapidly increasing number of cybercrime and information theft, it has become a must to choose a secure checkout solution. At the same time, it also requires to offer a simple interface to facilitate a smooth customer experience. Shop Pay seems to have taken care of both sides very well.
Stripe, which is an advanced payment processor used by several leading brands, including Amazon and Under Armour use, powers Shop Pay. The software also adheres to stringent security requirements such as encrypted financial data, PCI Compliance, and SMS text verification to ensure that both merchants and consumers have secure selling and buying experiences.
Keeping payment security software up-to-date requires good technical expertise and a significant amount of time. But with Shop Pay, merchants don't need to worry about all these as the platform itself manages all the security components.
For consumers, Shop Pay code verification is the process where a six-digit code is sent to the customer's phone, and the customer has to enter the code on the checkout page to complete a transaction. You can also choose to have the code sent to your email address.
So, once you have your payment information stored on Shop Pay, you only need to have this code to complete transactions within seconds.
Using Shop Pay as a Consumer
To be able to use Shop Pay as an online wallet, you first need to create an account on the platform as an online customer. Visit the Shop Pay website, where you get two options to download the app: clicking the "Download Shop" button and scanning the QR Code.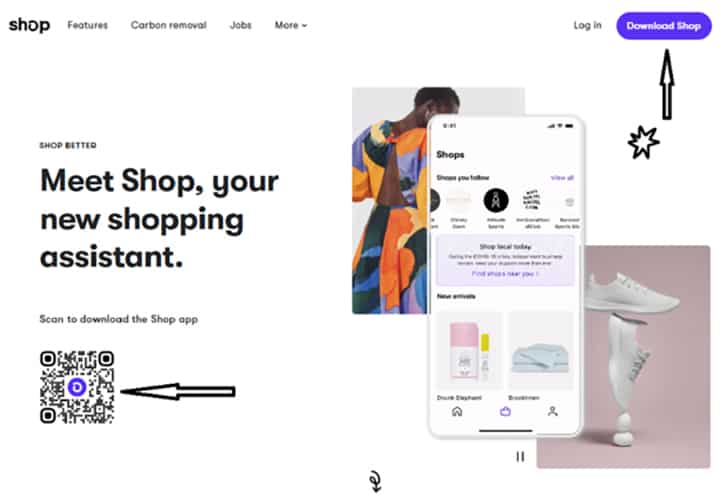 You can also visit Google Play Store and Apple App Store to download the app.
Once the app is downloaded, open it and complete the process of setting up your account. You can use your Google account, Apple account, or email address to log into your account.
The app directs you to the Home Page after completing your account setup. Here, you can import orders automatically from other sources, such as another Shop account or Amazon, together with any past or present orders you've got in the account.
There's a Search tab that you can use to explore items recommended by the app based on your customized preferences and location. You can also ask questions to the merchants of the products, save items to buy later, or instantly purchase them using the app.
The app has an Account tab which has your Wallet's link together with settings for notifications, archived items, tracking orders, and app settings. There is also a section from which you can contact customer support.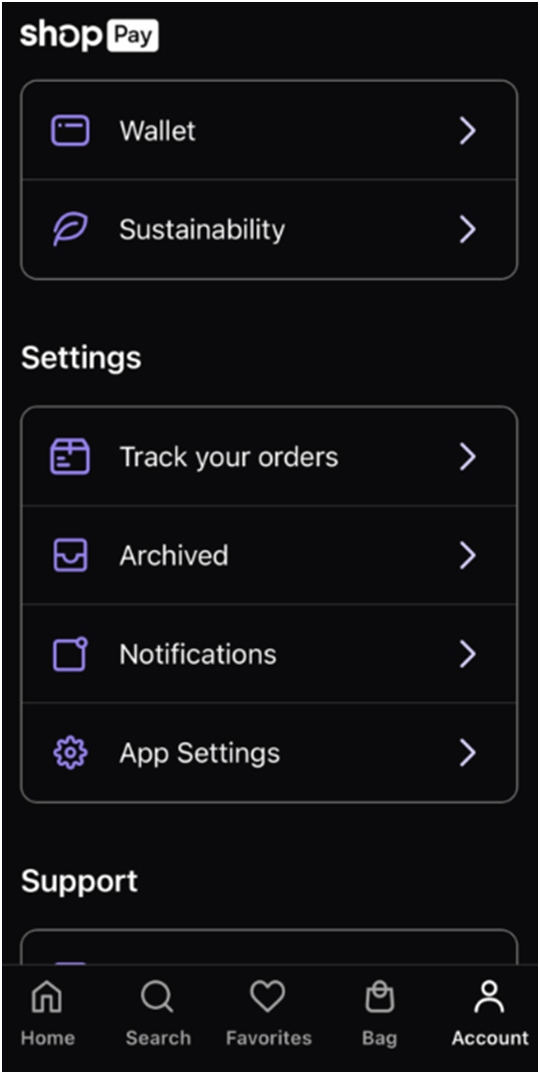 Using Shop Pay as a Merchant
As mentioned earlier, without a merchant adding Shop Pay to its online store, customers cannot use it to make purchases from that store. As an online merchant, you need to visit the Shop website first. Here, you need to choose one of the two options: adding the Shop app to your Shopify store or incorporating a Shop pay module in any Google, Facebook, or Instagram Shopping page.
You can use the button, namely "Add Shop Channel," or the link below if you're a non-Shopify store owner.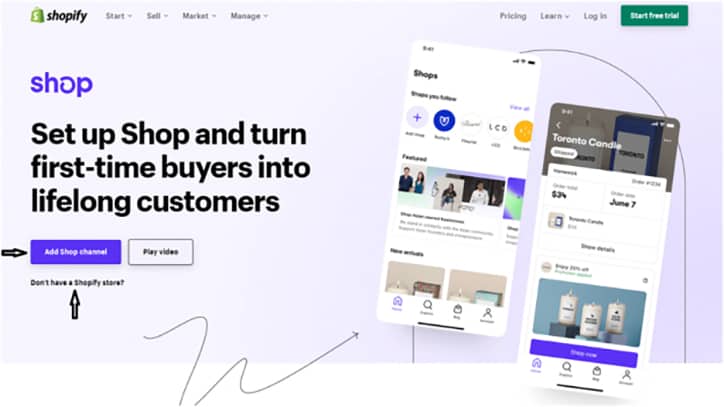 The process of enabling Shop Pay is similar to that of Amazon Pay or Apple Pay. You can also search the Shopify App Store to add the app.
It's important to fully activate Shop Pay on your store. All the management settings of the app are available in Sales Channels > Shop > Settings. From adding products and customizing your storefront to tracking, viewing analytics, and more – you can do everything from here.
There's also an Overview page that lets you monitor important metrics such as store profile followers, users with an offer, orders, and sales.
When a consumer reaches your checkout module, a purple button is shown below the Express Checkout area. The consumer will also see other express pay options if they're available in your store.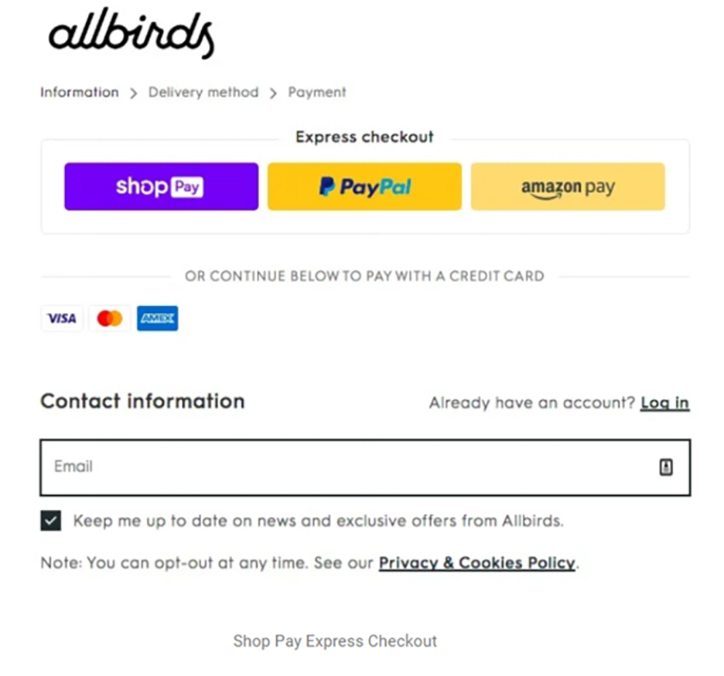 If a customer has already entered their billing, shipping, and credit card information, they'll get an option to save these pieces of information for subsequent purchases when completing the checkout process on your store using the app.
So, the next time the customer makes a purchase from your store using Shop Pay, they'll need only a couple of clicks to complete the checkout process if they chose to save the information the first time. They just need to enter a code to make the payment, which boosts your chances of making more sales.
Another notable merchant-specific feature of Shop Pay is that it comes with attractive options to help make your store stand out. For example, you can provide your customers with a local delivery or pickup option.
Your customers also get the flexibility of being able to modify their information whenever they need to. Although they'll need to stop using Shop Pay with their present phone number and create a fresh account with their preferred number, it might be beneficial for those looking to pay using different details.
Why Should Merchants Use Shop Pay?
If you're still experiencing a dilemma about whether you should use Shop Pay for your online store, the following pointers should help make up your mind.
It Can Improve Your Sales
Perhaps the biggest benefit of using Shop Pay is its faster and seamless checkout process, which improves customer experience. This essentially signifies that the total number of your sales will probably increase with your cart abandonment rate going down.
According to Shopify, Shop Pay ensures a much better checkout-to-order rate when comparing Shop Pay and regular checkout.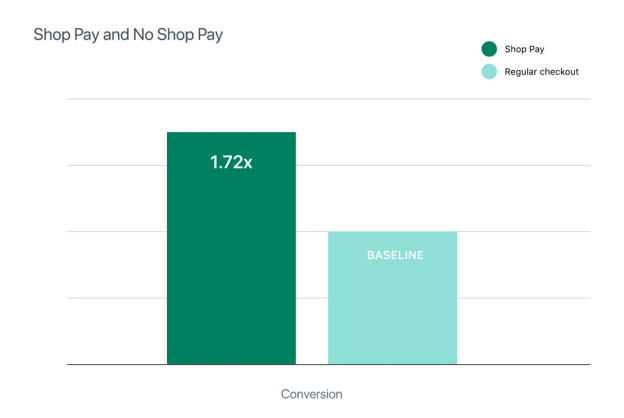 Another notable factor is that when your customers get the option to make the payment in four equal, interest-free installments, they'll most likely prefer your store over others. The "Buy Now, Pay Later" service has become highly popular these days. In fact, nearly 56% of U.S. customers have used this service.
Moreover, you receive the entire payment amount upfront after deducting a small fee. This makes it a win-win for you and your customers.
It Lets You Sell On Multiple Marketplaces
With Shop Pay, you can conveniently sell on different marketplaces and easily collect money. You only need to enable it as a third-party payment gateway for other marketplaces. Once done, your customers can make speedy purchases from your Google, Facebook, and Instagram pages using the "Buy Now" button.
This means with Shop Pay, your sale isn't limited to your online store. Instead, you can maximize your earning potential as much as you can by combining the power of Shop Pay with your digital marketing strategies.
Difference Between What is Shop Pay and Shopify Payments
As Shop Pay was once known as Shopify Pay, many people think that Shopify Payments is synonymous with Shop Pay. However, they aren't the same thing. For Shopify stores, Shopify Payments is the payment method available by default. And Shop Pay works in conjunction with Shopify Payments to speed up the checkout process.
Online shoppers can use Shop Pay as a wallet, and merchants can use it to help shoppers make quick payments and offer payment instalments. Shopify Payments is an online payment processor like Square, Stripe, and Authorize.net that merchants can use to receive payments. However, unlike Shop Pay, Shopify Payments cannot be used as a personal wallet to make fast checkouts.
Some Shopify stores use an alternative payment provider such as PayPal, Apple Pay, or Amazon Pay instead of Shopify Payments. You can also use these providers to offer your customers more payment options, but Shop Pay is only compatible with Shopify Payments.
On a merchant website, the Shopify Payments module is available as a regular checkout option to process cards. On the contrary, Shop Pay appears as a branded purple button and is available in the Express Checkout section.
It's also important to note that Shop Pay accounts are connected with customers' phone numbers, meaning if a customer doesn't want to supply their phone number, they cannot use it. But there's no such case with Shopify Payments.
Finally, Shopify Payments is a standalone application, but the functionality of Shop Pay depends on Shopify Payments.
What is Shop Pay Pricing?
Although Shop Pay itself is a free app, however, you need to have Shopify Payments installed to use it. Shop Pay isn't a standalone app, and hence, you need to purchase a Shopify plan to enable it.
In the Shopify pricing plan, there're three main tiers available, as shown in the below image.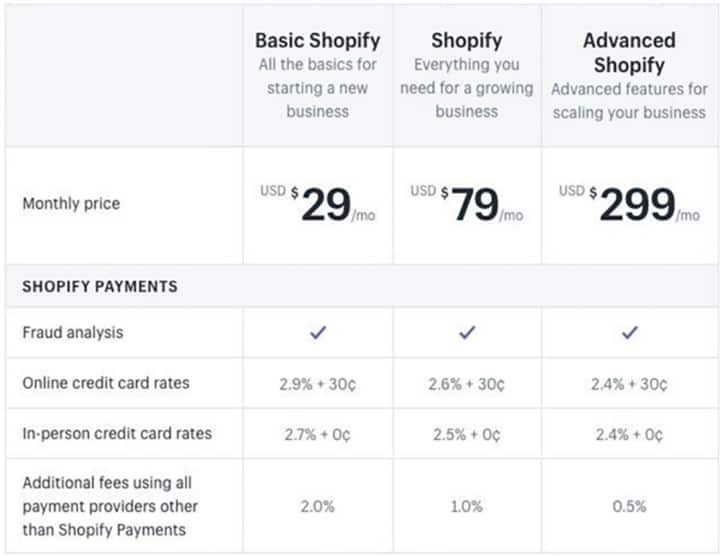 Contribution of Shop Pay to Protect the Environment
One thing that sets Shop Pay apart is its commitment to reducing carbon emissions triggered by delivery. Presently they've planted 4.6 million mangrove trees and protected more than 123 million trees.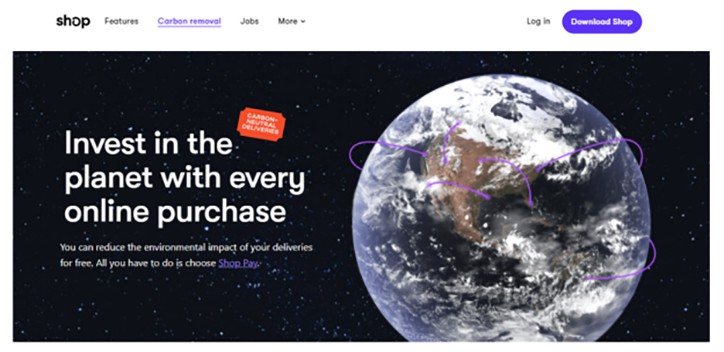 Whenever a consumer uses Shop Pay to make payments for online orders, the item is shipped by one of Shopify's carriers. Based on the information received by the carrier, the Shopify team calculates the carbon emission produced by the delivery. Then it offsets the emission by protecting trees.
The team of Shopify also runs the Shopify sustainability fund, which is the company's commitment to using over five million dollars each year to protect the environment.
Cards Supported By Shop Pay
If you're wondering what kinds of cards are supported by Shop Pay, you can use any card, including Visa and Mastercard, that's supported by the store you're looking to purchase from. However, as a customer, you need to adhere to the following requirements to seamlessly integrate your cards with Shop Pay.
Your cards have to be in an active status. You may need to activate your cards before integrating them with Shop Pay.
Your cards must carry the ability to make online purchases.
Your billing information has to match your registered bank account.
You must use a credit/debit card supported by the store.
Shop Pay Customer Support
Customer support for Shop Pay is available via the Shop Help Center. You can find everything here, from information about Shop Pay and the setup process for Shop Pay to the method to track carbon offset and a lot more.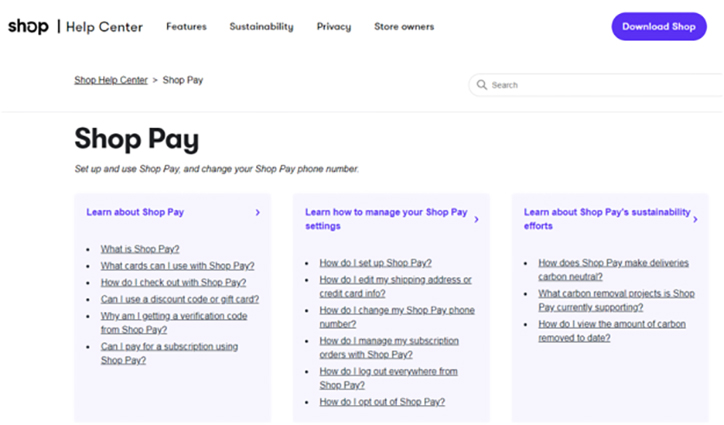 As the above page is built for only client-end, Shop Pay store owners need to visit the Shop Pay section available within the Shopify Help Center to learn more about the platform.
It's important to note that Shop Pay support isn't available through phone calls or live chat. If customers need to know about something which isn't available in the Help Center, they'll have to fill out a quick and simple contact form to reach out to the team. Once the filled-out form is sent, a support agent will contact the customers.
Should I Choose Shop Pay?
Shop Pay is a payment option from Shopify designed to provide customers and sellers with an improved online experience. To meet the increasing demand for more options and better customer experiences, having a streamlined and simple checkout process in place has become almost a necessity.
For merchants, perhaps the biggest benefit of using Shop Pay is the opportunity to increase repeat purchases. When customers can make payments with a few clicks, they're more likely to buy from the store offering that facility.
In a nutshell, Shop Pay brings merchants a fine mix of top-notch features and exceptional security measures to boost their conversions. Moreover, when a merchant uses Shop Pay, its customers understand that it's doing something to protect the environment.
When it comes to the consumers, Shop Pay acts as a one-stop-shop from where they can manage everything related to an online purchase. They only need to enter a verification code to complete the checkout process while staying assured that all their sensitive information and transaction details are safe with advanced security measures of Shopify.
As a seller, you may be wondering if Shop Pay is worth adding to your checkout process. The answer is unequivocally yes. Not only does it give customers another payment option, but it can also increase conversion rates and reduce shopping cart abandonment rates. Plus, as a Shopify merchant, you're already set up to use Shop Pay—it's easy to add. So why not start using it today?
FAQ's
How do you pay with shop pay?
Shop Pay is a new way to pay with your credit or debit card in stores. With Shop Pay, you can use your card to pay at any store that accepts Shop Pay. To pay with Shop Pay, just look for the Shop Pay logo at the checkout and tap your card to pay. You can also use Shop Pay to pay online at any store that accepts Shop Pay. To pay online, just look for the Shop Pay logo at checkout and enter your card information.
Who owns shop pay?
Shop Pay is a payment processor owned by Shopify. It was launched in 2017 as a way for Shopify merchants to offer their customers a faster, easier way to check out. Shop Pay is available to all Shopify merchants in the US, Canada, UK, Ireland, Australia, and New Zealand.
How does Shop pay work?
Shop Pay is a payment service that allows you to pay for your online purchases with your Shop account. You can use Shop Pay to pay for items on any website that accepts Shop Pay. When you use Shop Pay, your payment information is securely stored so that you can checkout faster and easier in the future. Plus, you'll earn rewards with every purchase.
Is shop pay free?
Yes, Shop Pay is free to use. You can use it to pay for your online purchases with Shopify merchants. All you need is a valid email address and a credit or debit card. Shop Pay is powered by Stripe, so you can rest assured that your payment information is safe and secure.
What happens when you use shop pay?
Shop Pay is a digital wallet that lets you store your credit card information, so you can easily make purchases at participating online retailers. When you use Shop Pay, your credit card information is stored in a secure, encrypted format. You can also add a PIN to your Shop Pay account, so that only you can access your information. In addition, Shop Pay offers fraud protection, so you can feel confident that your information is safe.
What exactly is Shop Pay?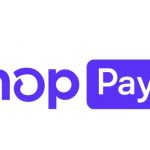 Shop Pay is an accelerated checkout process for Shopify stores. It enables customers to save their credit card info and other details in order to enjoy faster payments.