There're lots of marketers out there who believe that SEO is dying. However, in reality, SEO isn't dying, but it's actually thriving in 2021. For the naysayers, either it was too hard or they couldn't keep pace with the changes, making them believe that SEO isn't profitable anymore.
Many also think that high-traffic larger businesses have taken over the SERPs or social media marketing has become more effective than SEO. But the reality is SaaS SEO is still one of the most crucial drivers behind the success of most successful SaaS companies.
In fact, 68% online experiences start with a search engine. So, if you aren't using the right SEO strategy for your SaaS website, you're most likely losing a substantial number of potential leads.
Do you own a SaaS company or lead the marketing division of such an organization? Are you looking for some actionable SaaS SEO strategies to boost your business's growth? If yes, this comprehensible guide is here to help you out.
But before delving deeper, it's important to clear some basic concepts. At its core, SEO is the method of attracting more organic search traffic to your website from Google. While several search engines are there, Google dominates the search engine market with 87.76% market share as of Sept 2021. Therefore, all the SEO strategies we're going to discuss in this guide are mainly focused on improving your ranking on Google.
Any successful SEO strategy depends on three core pillars: content, technical SEO, and backlinks. Here're brief overviews of each of them.
Content: Developing valuable content and promoting it to the right audience is one of the most effective SEO strategies. If you do it right, not only it can boost your ranking in SERPs but improve your conversion rate as well.
Technical SEO: Technical SEO is all about ensuring the technical aspects of your SaaS website so that Google's web crawlers can easily find it and properly index it.
Backlinks: Earning backlinks from authoritative websites can substantially help improve your rankings. While it's a time-consuming and difficult task, our proven strategies discussed in this post would help make it relatively fast and easier.
Of course, creating a perfect SaaS SEO strategy involving all these areas requires great planning and substantial expertise. But this guide is aimed at helping SaaS company owners and their marketing heads at all levels. So, even if you've just stepped into the world of SaaS SEO, read this piece till the end. And you'd surely be able to attain short- and long-term growth while driving sustainable organic traffic.
Key Steps to Build an Effective SaaS SEO Strategy
Without understanding how to properly conduct keyword research, it's simply impossible to identify the search queries that your potential clients are utilizing to find solutions to their problems. So, the very first step of building your SaaS SEO strategy needs to be identifying keywords related to your product/solution.
Before we start discussing the strategies, it's important to understand user intent, which is what someone is looking for or what his/her intent is when conducting a search. You may have heard that marketers often prioritize focusing on high intent keywords.
This is because high intent keywords are considered to have strong commercial intent. These keywords indicate the high intent of searchers to carry out a transaction, whether it's to inquire about a service, purchase something or another form of action that appears with a high possibility of resulting in a later sale.
We'll start with informational keywords and then move on to transactional keywords.
Informational Keywords
Take for example, you offer a video creator application that lets users create beautiful videos using its drag-and-drop interface. So, your prospects would probably use informational keywords like these to find a solution like yours.
"Applications to create amazing videos"
"How to create professional videos quickly"
Note that your prospects aren't searching for exactly what you offer. Instead, they're trying to find out solutions to their problems. Identifying these keywords and using them in your SEO strategy would help you get more search traffic than what you'd get by using keywords involving your product.
Transactional Keywords
While the definitions of transactional keywords differ from one business to another, they're divided into two primary types – "product" keywords and "buy now" keywords.
For the above example, some "product" keywords can include:
Branded searches
Product categories (video creator applications, online video creators, etc.)
Top
Best
Some "buy now" keywords may include:
Optimize Across the Funnel
To build an effective SaaS SEO strategy, you need to optimize the entire funnel using the keywords you've found in your keyword research. Here're the three stages of the SaaS SEO funnel that you need to optimize.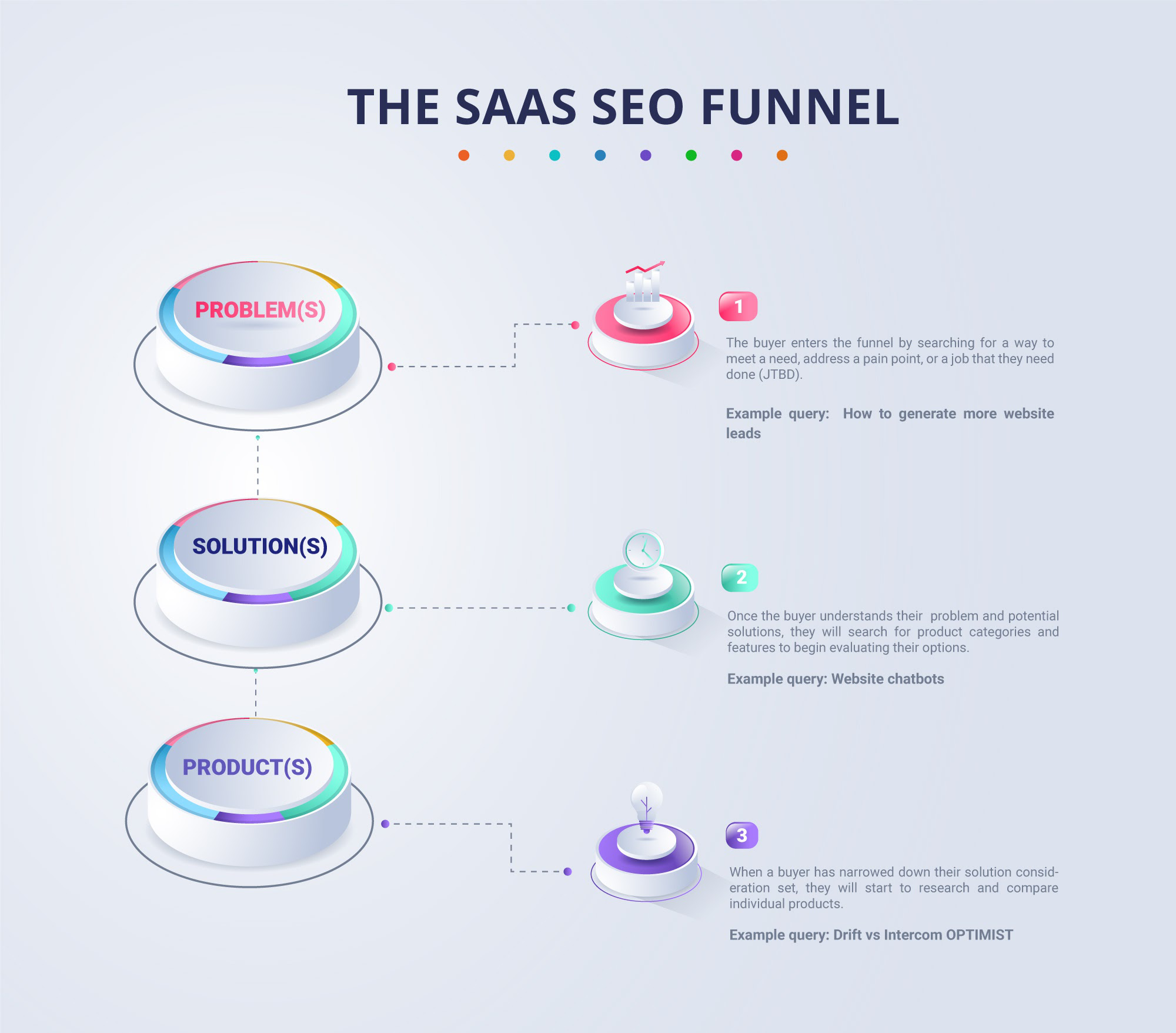 Let's understand each of them.
Top-of-the-funnel optimization: Many SaaS buyer journeys start at this stage. Maybe they've got a problem or are looking to better a part of their professional/personal life by finding the right solution. You can attract a prospect right at this stage by creating targeted content.
Considering the earlier example, your top-of-the-funnel keywords should revolve around specific search queries like "how to create beautiful videos," "applications to create professional videos," etc. Mostly, these are blog posts that serve as educational pieces for the audience.
Middle-of-the-funnel optimization: At this stage, your prospect has become aware of a solution to his/her problem but hasn't started exploring the options in detail. As your prospect is considering his/her options, gaining visibility is a must here.
These are typically your 'feature' or 'product' landing pages. Some relevant keywords could be "video creator applications," "video creator application with a drag-and-drop interface," etc.
Bottom-of-the-funnel optimization: Here, the buyer has become fully aware of the solution he/she needs to solve his/her problem. Most buyers compare different products before making any final decision. So, if your product's name is "ABC Video Creator," the keywords to convince a prospect should be "ABC Video Creator reviews," "ABC Video Creator pricing," etc.
How to Find Informational and Transactional Keywords
Here're the two most sought-after tools to find informational keywords.
To access the free Keyword Planner, first you must need to create and set up a Google Ads account. After logging in to your account, you'll be able to use the tool for two purposes: discovering new keywords and getting search volume and forecasts.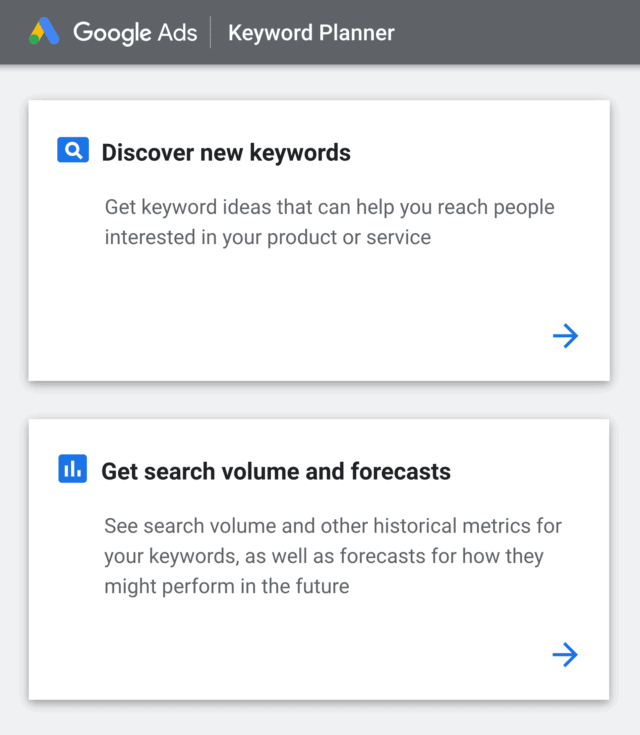 Now, enter some keywords closely related to your product/solution in "Discover new keywords," and it'll come up with relevant keyword ideas along with their average monthly search volume.
If you already know your keywords, Google Trends is a great tool to verify their search trends.
Create Topic Clusters
Once you've identified and sorted the keywords based on their search volumes, it's time to integrate them within relevant content. Following a topic cluster model when creating content would help keep your site organized and well-structured. And an organized site helps Googlebot navigate all its relevant content, and hence, increases its visibility and search rank.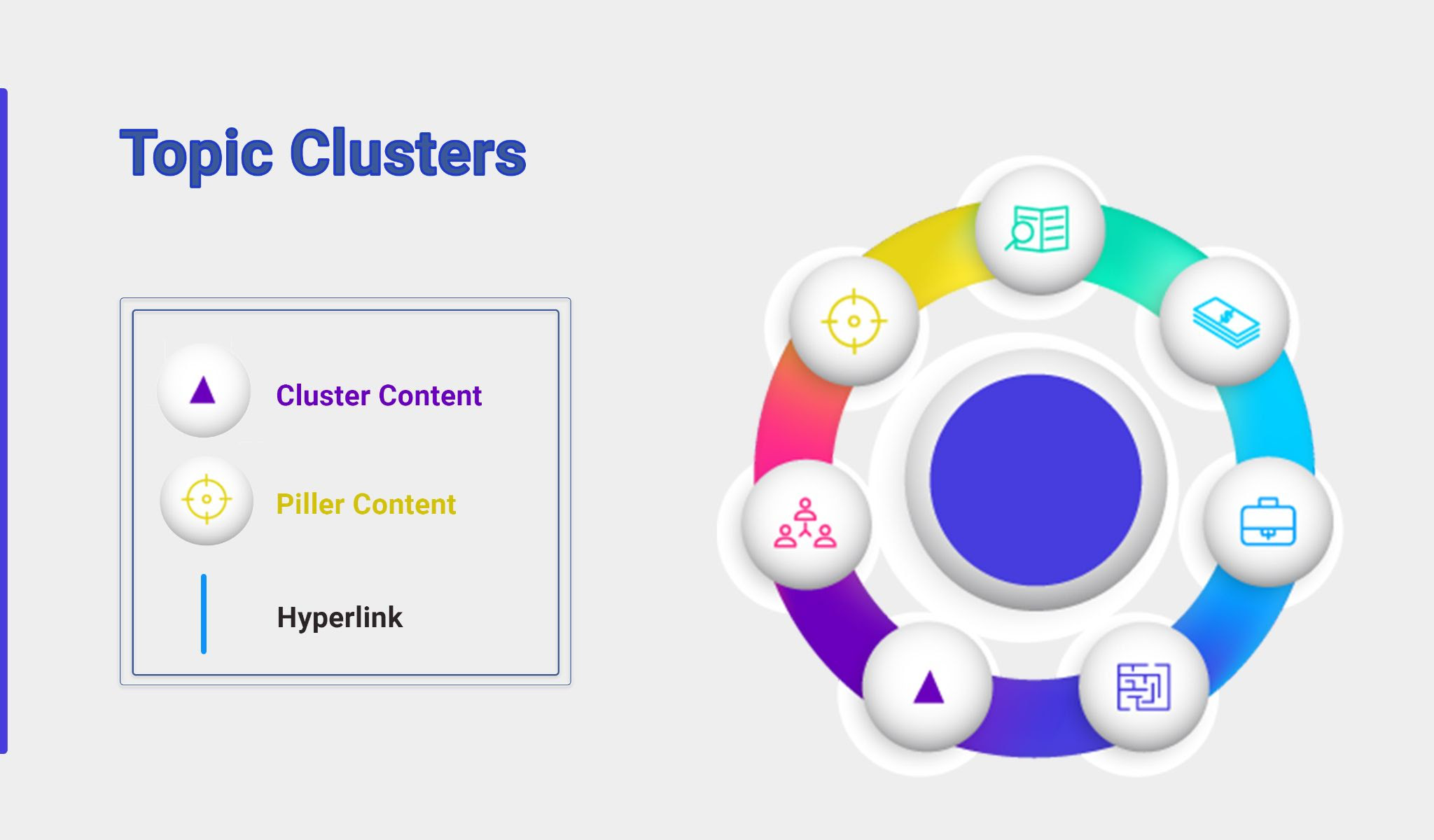 To create topic clusters, first you need to determine your target audience. Be sure to identify what kinds of questions your target audiences commonly have, problems they're trying to solve, and content they enjoy reading.
Identify some topics your target audiences struggle with that your product/solution can fix, and start grouping your keywords into them.
If you're reserving the broadest keyword (generally, the one with the highest volume) for the pillar page, start creating content using the lower volume keywords. These pieces of content will support your pillar piece, which needs to be information-dense and well-organized to help the readers easily navigate it.
Remember to link your pillar page and the pages of its complimentary subtopics to each other. And ensure that all links back to the pillar piece have exactly the same topic phrases within their hyperlinks.
Perform a Keyword Gap Analysis
Keyword gap analysis is the technique of identifying keywords for which your competitors are ranking heavily but not your site. Basically, by identifying gaps in your keyword strategy, you can explore opportunities to create targeted content to improve your visibility and search rank.
Thanks to Google's RankBrain algorithm, it now understands contextual relevance, plurals, and synonyms. So, one of your web pages or pieces of content with high-value information can rank for multiple search terms.
When doing a keyword gap analysis, consider these important things:
The keywords should be the ones your site could rank for or could get better rankings
They should be valuable (likely to convert, high volume, etc.)
You should also compare two or more competitors to get more insights.
As you or your competitors can potentially rank for many different keywords, you should do this analysis using a good tool. While many keyword research tools these days let you perform keyword gap analysis, the most popular ones include Ahref's Content Gap and Semrush's Keyword Gap.
Follow the 70/20/10 Rule
When it comes to implementing a successful SaaS SEO strategy, you should follow the 70/20/10 rule to bolster your site's on-page SEO. The approach looks like this:
Seventy percent of your results will be generated by merging your content strategy with on-page optimizations.
Additional twenty percent of the results will be generated by improving page load speed and fixing broken links/errors along with establishing a robust internal linking architecture.
The remaining ten percent will be the results of your social media efforts, backlink building, etc.
Till now, our discussion was mainly focused on keywords. Let's dive further to understand how to optimize your content using them.
Optimize Content for SEO
You cannot build a successful SaaS SEO strategy without doing on-page optimization of your website. It includes optimizing your homepage, use case pages, feature pages, etc.
Properly optimized content both for Google's algorithms and human readers is a crucial ranking factor. While Google can easily detect keyword stuffing, if you utilize the keywords naturally, your site is good to go. You should also prioritize proper use of LSI keywords to help Google get a deep understanding of the content of your web pages.
It's essential to make sure that you've got the following things in place:
Unique, optimized titles for every page
One H1 tag (optimized for your target keyword) on each page
Clear page hierarchy with proper utilization of H2, H3, etc. tags
Clean markup to demonstrate the most important elements of your site
Intuitive site architecture to help Google's crawlers crawl and index the web pages and humans to navigate them easily
You also need to ensure that there's no hidden content or any kind of black-hat things on your site.
Technical SEO Checklist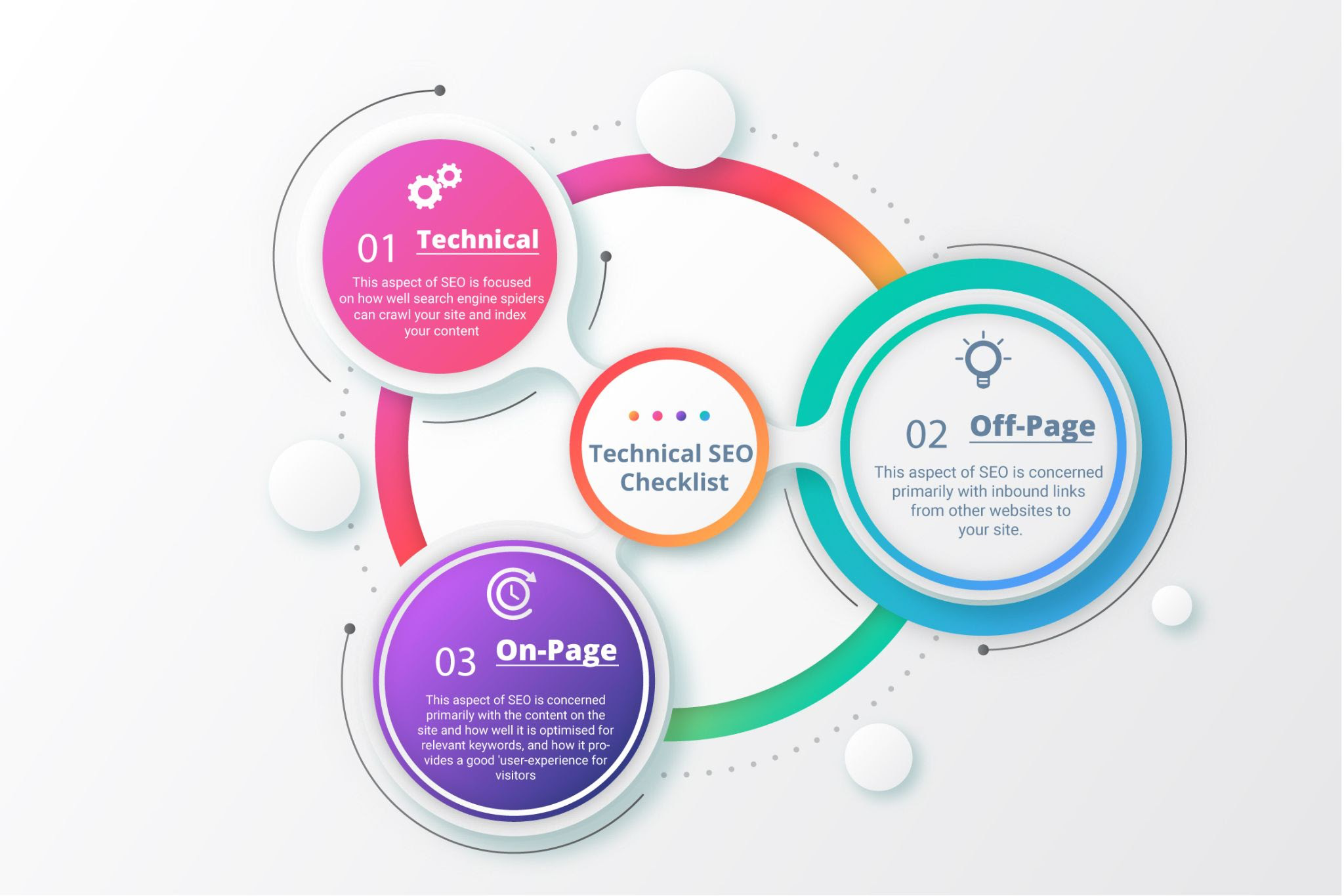 While Googlebots are getting better at crawling and indexing web pages, they aren't perfect. Therefore, if somehow they find it hard to figure out what a website is all about or whether or not it provides what searchers want, they'll simply move on.
In short, just creating and publishing great and highly-optimized content isn't enough if nobody can see or find it. And that's exactly why your SaaS website must have a robust technical SEO foundation.
Technical SEO helps to ensure that Google's crawlers can easily crawl and index your SaaS website. If there're unsolved issues with your technical SEO, it's highly likely that your SaaS SEO strategy won't deliver the desired results.
Even if you don't have much technical knowledge, ensuring the following things would help you get the job done.
Identify and Fix Crawl Errors
Crawl errors occur when Google tries to reach your web pages but cannot do so. To find and fix these errors, visit your Google Search Console account. Then check the "coverage" section to see if there're any crawl errors. Be sure to fix all the errors that you find.
Create an XML Sitemap
An XML sitemap helps to improve your site's search rank by helping Google understand its structure while crawling it. If you want Google to quickly find your XML sitemap, visit your Google Search Console account and add it to the "Sitemaps" section.
Make Your URL Structure SEO-Friendly
Your page URLs need to be simple to help Google crawl them and understand what they're about. Keep them as short as possible and use hyphens to separate words instead of underscores.
Optimize Robots.txt
This text file on your site tells Google's crawlers which pages they should crawl and which they shouldn't. For instance, by properly updating your robots.txt file, you can ensure that Google doesn't index your payment page, login pages, etc.
Eliminate Duplicate Content
If your site has two similar or identical pages, it can confuse Google and damage your rankings. While it's strongly advised not to have similar sections of content on the site, sometimes it becomes unavoidable. In that case, use a canonical URL to help Google understand which page it should show.
Identify and Fix Broken Links
Broken links generate a poor user experience and negatively impact your ranking. You can use Ahref's Broken Link Checker tool to identify broken links. Once you've found them, fix the issues either by removing the link or updating the target URL.
Add Structured Data
If you aren't using structured data already, you should do it immediately. It helps your site's organic listings become exceptionally good in the SERPs. You can use Google's Structured Data Markup Helper to do this.
Create SEO Blog Content
The success of SaaS SEO is deeply entrenched in creating high-value content that's better than what your competitors are creating. Note that better content isn't synonymous with longer content. Basically, your content needs to be longer and discuss a topic in more detail than your competitors.
We can divide the process of creating SEO blog content into two parts: generating ideas on blog topics and writing quality content.
Generate Ideas on Blog Topics
Here're two ways to tackle this problem.
Do competitor analysis to see which blog articles are driving maximum traffic to your competitors' sites. Once figured out, you may want to create articles about those topics. You can use Semrush's Competitive Research Toolkit and Ahref's Site Explorer tools for this purpose.
Vising Reddit or Quora is an easier way to generate blog ideas. Simply find out what types of questions related to your industry the members are discussing. You can address those pain points in your articles.
Write Quality Content
Focus on creating content that would help establish your brand as an authority in your niche. Make sure the topics are directly related to your products/solutions, and they cover unique opinions or instructions readers won't be able to find somewhere else.
Prioritize E-A-T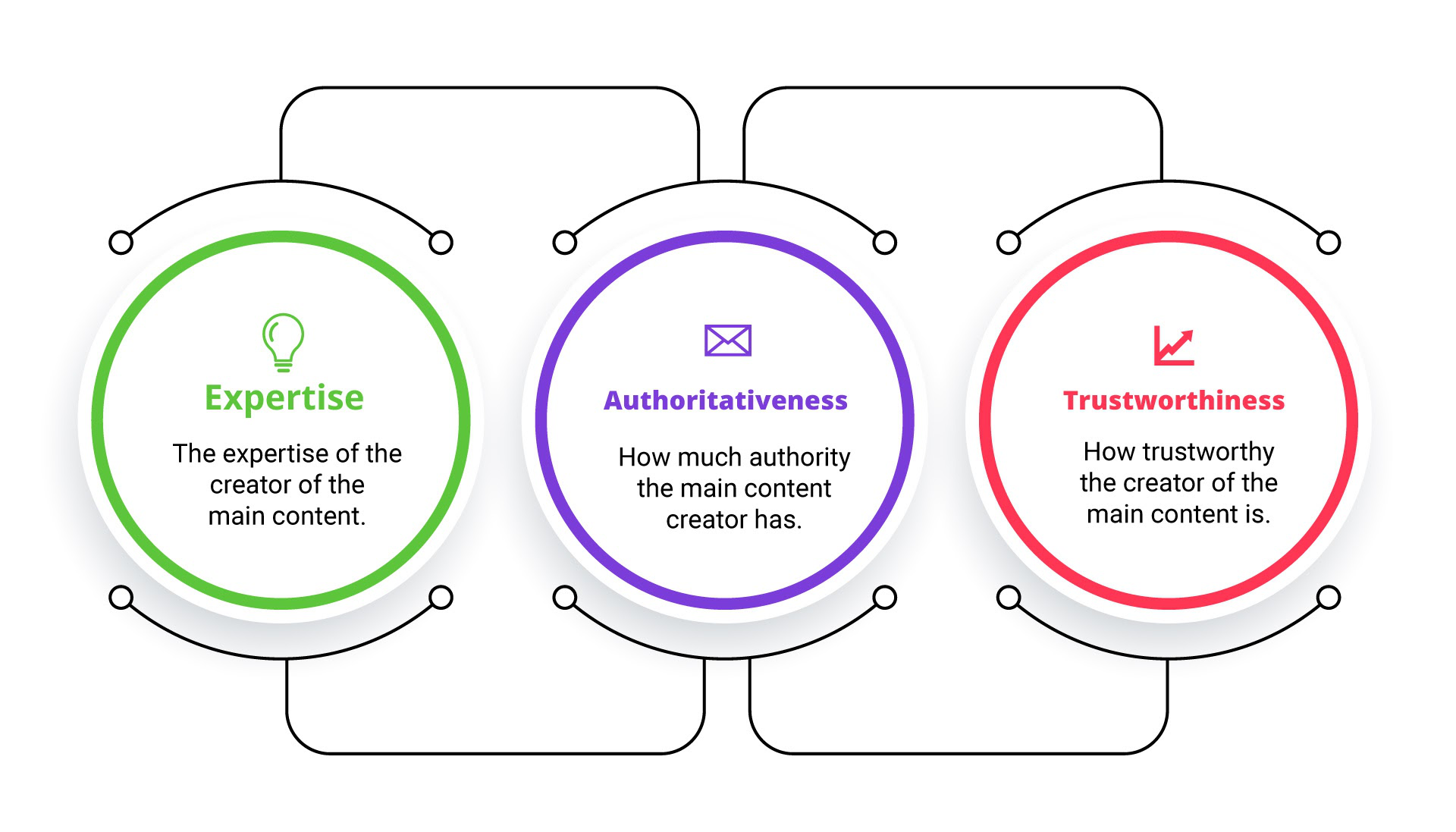 E-A-T refers to Expertise, Authoritativeness, and Trustworthiness. The concept originates from the Search Quality Rater Guidelines of Google and is one of the key factors used by Google to assess the overall quality of web pages.
E-A-T is one method Google tries to make sure that it provides the searchers with truthful, accurate, and useful information. Google considers E-A-T of the creator of the web page content, the content, and the whole website.
Expertise
Expertise means the content creator should possess a high level of skill or knowledge in a specific field. The YMYL (Your Money or Your Life) is one category of E-A-T SEO that heavily matters to Google. YMYL acts as a guiding principle for Google when it classifies pages that affect searchers' finances, safety, health, and/or happiness.
Websites that are most frequently considered YMYL include health and safety, finance, news and current events, legal, shopping, etc. For non-YMYL websites, it's about exhibiting everyday expertise and relevant life experience. According to Google, everyday expertise can also be sufficient for some YMYL topics. For instance, there're forums where people with certain diseases share personal experiences.
Authoritativeness
You can consider it as your/your site's reputation, especially among other influencers and experts in your industry. Raters search the Internet to gain insights into your/your site's reputation when evaluating authority. Note that some websites or people are considered authoritative when it comes to particular topics. For example, Neil Patel is an authoritative source of information related to SEO and digital marketing, but he has no to little authority when it comes to bodybuilding.
Trustworthiness
It's about transparency, accuracy, and legitimacy of a website and its content. When evaluating trustworthiness, raters search for several things. For instance, they check whether or not the website mentions the entity responsible for publishing its content. They also consider if the content is factually accurate and is backed by expert consensus.
Fortunately, there're various ways to build, as well as improve E-A-T to improve your search rank. These include building of high-quality links, keeping your content up-to-date, getting more reviews, hiring or using experts, demonstrating your credentials, displaying your contact information on your SaaS site, etc.
Guest Posting
This is one of the most popular link building strategies used by a huge number of SaaS companies. The strategy is quite straightforward – contact other publications or companies and see if they'd accept a contribution from you. But you've to ensure that these are the websites where your target audience hangs out. Additionally, you must have been writing for your own SaaS website to get accepted to contribute to other authoritative sites. And you need to prove that you're truly a subject-matter expert.
Collaborate With Popular Guest Bloggers
Rather than doing all the guest blogging work yourself, partner with guest bloggers who're already contributing to the websites you're targeting and ask them to mention your brand's name in their posts.
Of course, you'll need to give them something in return – such as, exclusive research data they can utilize in their posts, a free account on your platform, or simply a fee. However, often this strategy generates a higher ROI and works much faster than guest blogging yourself.
Write Testimonials
This is a simple but highly useful way to earn backlinks. Make a list of the popular products that you've recently used, contact the developers of those products, and tell them that you'll be willing to write a testimonial for them in return for a link back to your SaaS site's homepage.
Feature on Podcasts
With tens of millions of episodes, active podcasts bring you another effective opportunity to earn high-quality backlinks. This is especially becomes useful if you've got some case studies and innovative ideas to share.
First, you need to find out the most popular podcasts related to your particular industry. Then contact them, tell them about your product/service and how it's improving your clients' lives, and let them know that you'll like to get interviewed.
Every podcast episode has a few lines in its description, along with links to the products mentioned in it. Even if the podcast description doesn't have your site's link included, the listeners will most likely search for it, which may ultimately improve its rankings in Google Search.
Find Product Reviewers
If possible, try to launch an affiliate program. When affiliate marketers sign up for these programs, they publish articles and reviews about them on their sites.
If you cannot launch an affiliate program right away, find out content creators who consistently review products or services in your industry. Ask them to write detailed reviews of your product/service and offer them something in return.
Create a Free Tool
This is another highly effective way to increase organic traffic to your SaaS site and to get quality backlinks. You'll need to promote the tool to relevant communities to get interested people linking back. However, it's crucial to remember that this strategy only works well when the tool is actually useful.
Participate in Expert Roundups
Expert roundups are generally long-form pieces of content that gather responses or advice on a particular topic from industry experts. Unless you're extremely busy and cannot dedicate 20 minutes or so for writing your submission, always be willing to participate. This is because in almost all the instances, participants get a mention along with a link back to their respective sites.
Create a "Complete" Guide
This entirely content-based strategy can generate wonderful results if you can implement it the right way. The only one thing you need to do is write a "complete" guide to something closely associated with your product/service. If the piece can offer the ultimate take on the topic, many websites will naturally want to link to it.
Digital PR
Submission of press releases on dedicated platforms is another effective way to earn high-quality backlinks. These platforms include different websites – press release distribution portals, news portals, online magazines, etc. – where you can submit free/paid information on your products/services. You can also hire a PR professional to do the outreach, but you've to ensure that he/she has good contacts or can find the right ones for you.
Broken Link Building
Google appreciates it when you try to make the Internet better. The strategy involves identifying a broken link, reporting it to the webmaster or admin, and trying to get that replaced with one of your links to the same kind of content. The easiest to implement this strategy is to identify the broken links of your competitors. You can use Semrush's Backlink Audit tool to find these links.
Unlinked Brand Mentions
There could be several websites that are mentioning you but not linking to your content or website. With this strategy, you reach out to the webmasters of these sources and ask them to add your link to those mentions in their website or content. You can use Semrush's Brand Monitoring tool to see your brand's overall mentions online.
Resource Pages
On the Internet, there're thousands of resource pages that aim to provide their readers with as many resources on a specific topic as possible. This strategy works so well because when a website adds your link to its resource page, the page becomes better. Once you've identified resource pages in your industry, a simple outreach email is generally enough to earn a link.
Build Backlinks
As we've just mentioned, having high-quality backlinks can significantly improve your site's E-A-T. And backlinks from high-authority, relevant websites are also one of the key pillars of an effective SaaS SEO strategy.
By developing an effective link building strategy, not only you can improve your search rank but drive referral traffic and bolster your position as an expert in your industry also. Here're the most effective link building strategies that you should try to earn backlinks that will bring the results you deserve.
Want To Take Your SaaS Business To The Next Level?
B2B SaaS is a challenging world to live in, as you're likely solving an existing problem in new ways or going up against goliaths. You can build your business by understanding the problems of potential customers and providing them with solutions through content that meets their needs so well other businesses are forced to pay attention.
SEO can sometimes be difficult early on with all the work that goes into doing it properly; but luckily hiring a marketing team or company will take some of the burden off your shoulders.
We work with a diverse range of SaaS companies and have already helped hundreds of them to meet their business objectives. If you too want to grow your SaaS business using our top-notch SaaS SEO services, reach out to our team, and we would be happy to help you out.