You never operate in a vacuum as a brand. There will always be competition, no matter what niche you specialize in. Maintaining a close eye on your competition can assist you in developing a well-informed SEO strategy for your company. This post on Competitor analysis tools will help you select the best tools which you can use to analyze, track and learn from your competitors` strategies.
Explore every aspect of your rivals' online presence. Gain all the insights and get a leg up on your competition in one go with a list of competitor analysis tools compiled by our team.

Many people still believe that if you generate content for your website, people will find it and visit it. Unfortunately, running a website is seldom that simple. Getting to the top of a Google search can be a tough nut to crack. Google paid advertisements and other "features" taking up valuable space on the search engine results pages make things even more confusing. By following effective SEO strategies, you can aid yourself in a variety of ways.
You may also improve your chances of getting people to notice your content by looking at how your competitors get traffic. Here are a handful of the many competition analysis tools available to help you improve your website's performance at the expense of your competitors.
You can use these competition analysis tools to indicate how focused your competitors are on traffic-building operations, or even if their results are completely random because they don't follow SEO principles. The tools can tell you the key terms your competitors use, as well as provide you with content ideas to help you surpass them in vital searches.
Successful competitor analysis is divided into two parts. To properly alter the search engine results, you must first determine what your competitors are doing. After that, you must use that data to develop content that outperforms their offerings.
Simultaneously, you must guarantee that everything you do in regard to your content is done in accordance with optimal search engine optimization (SEO) practices. These competitive analysis tools can help you surpass your competition over time, especially when it comes to the most crucial keyword terms that bring in the most relevant targeted traffic.
If you decide to focus on PPC Google Ads, these tools will be just as useful. In this case, your main focus will be on finding the best search terms to bid on for your ads utilizing relevant tools.
Even if you appear to be getting a lot of clicks, you might be wondering why your competitors' advertising exceeds yours. The reason is generally that your competitors choose better keyword terms than you do, and you can use these competitor analysis tools to figure out which keywords are the most profitable.
14 Competitor analysis tools to improve traffic to your website
Talkwalker has the ability to monitor and index billions of data points per day from over 150 million webpages, newsgroups, and forums, as well as all major social networking sites. Furthermore, it has worked with LexisNexis to obtain insights based on what is being discussed in print media such as magazines and newspapers. In fact, their platform allows users to search through data from two years ago.
Its social channel analytics and competitive intelligence are particularly valuable for competitor analysis. With these tools, you can get precise information about your performance across all of your social media outlets. You can then utilize it to analyze what methods and content perform best for competitors to improve your marketing.

If you want to learn more about the technologies that a website employs, BuiltWith is a good place to start. Perhaps it's an e-commerce site, and you'd like to know if it's powered by Magento, WooCommerce, or something else. If it's a blog or a website, you might want to look at the CMS that's being used. You might also want to look into the website's other services and frameworks. BuiltWith.com can provide you with all of this information about a website.
BuiltWith will tell you about the website's web server, SSL certificates placed on the site, Nameservers and Email services utilized, CMS and frameworks used to develop the site, as well as integrated Advertising, Analytics, and Payment services.
BuiltWith.com may be used to check up the technology stack powering a website as well as analyze worldwide web technology usage trends and data. If you're deciding on your own tech stack, this can be helpful.
W3bin is a useful internet tool for determining who is hosting a competitor's website. This information is useful if you see that a competitor's website performs better in terms of speed and uptime and wish to switch your own website to their hosting company. The tool will also come in handy if you need to contact a website's web hosting provider to report abuse.
This online tool also displays a website's global rank, daily estimated revenue, daily estimated traffic, and total website worth. You can also discover the top keywords for which the website ranks in search engines. W3bin will also tell you about other domains hosted on the same IP, IP range, and hosting firm as yours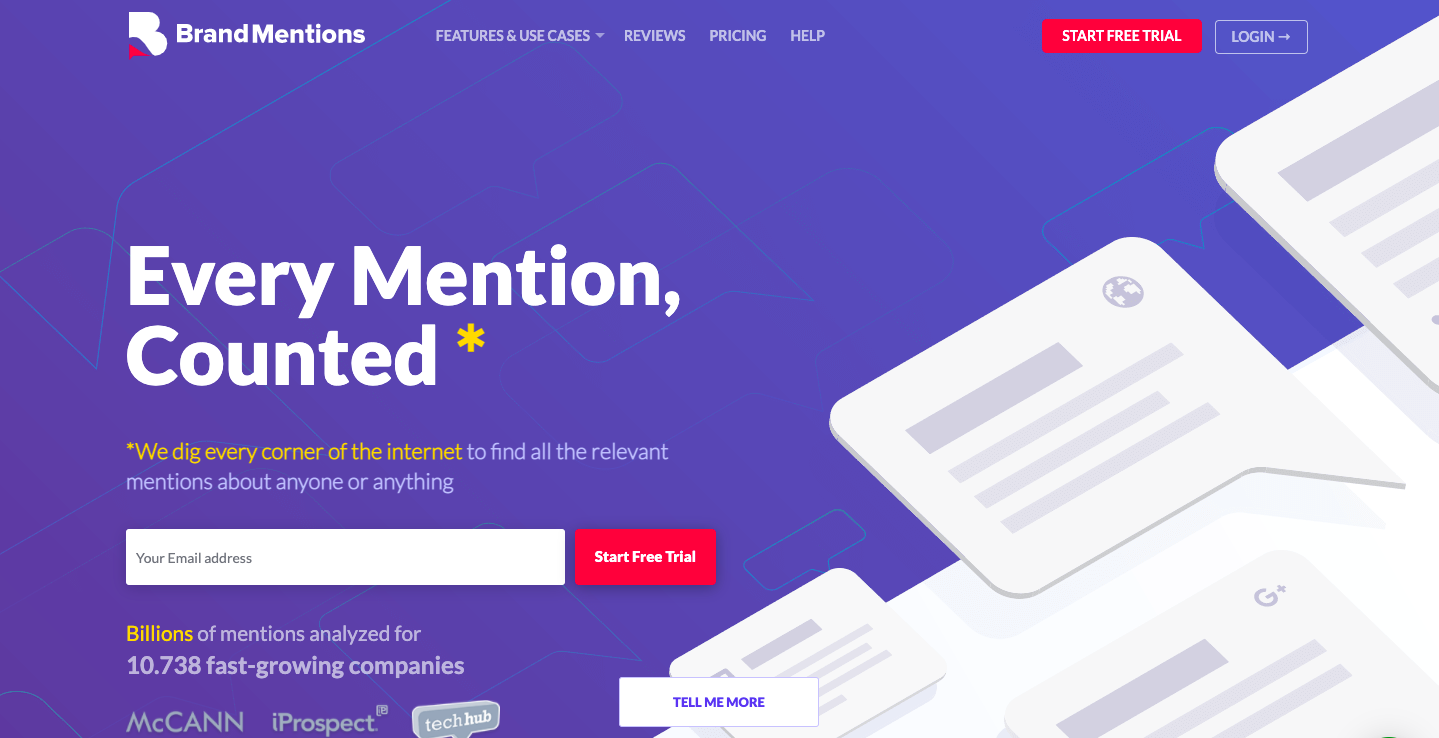 More than just basic social listening is available with BrandMentions. Instead, it allows businesses to get a complete picture of every reference made on the internet. In other words, it's like Talkwalker, broadens its scope beyond the major social media platforms to cover non-social sites as well. BrandMentions will identify, index, and notify you if a brand is referenced in the news, a blog post, or on a review site.
However, for competition analysis, you'll need to choose a subscription that supports multiple projects. Along with your business name and social handle, you'll be able to track your competitors' keywords and social handles. You may set it up to exclude specific keywords.
You can also save and organize mentions with BrandMentions. This way, you'll be able to use them as data points for future analysis. Alternatively, you can export your data into PDF reports so that you can get right to work.
Overall, it's an excellent investment. You'll be able to use the information as a point of reference to gauge your brand's success while also learning more about your largest competitors' target demographic and marketing methods if you use it for competitor analysis.
Buzzsumo is a tool that allows you to keep track of what's trending on social media. You may use it to keep an eye on your competition and see which types of content they're producing are getting the most social shares. You may search for URLs as well as content niches. So, for example, you may type in the URLs of your competitors to see which of their posts were the most popular. Alternatively, you can look for content creators in your field to see who has created the most popular content on a particular topic.
You can even set up Competition Content Alerts, which will notify you whenever your competitor publishes new content.
Buzzsumo also generates extensive information on competitor content performance. These analyze average shares by the network, content type, content length, and day published to identify where your competitors are succeeding.
The Neil Patel All-in-One SEO Tool can help you figure out why your competitors rank so high and how to outrank them. All you have to do is type the domain of your rival into the box on the page. This is a free tool that can help you figure out how your competitor gets their traffic.
The tool gives you a lot of useful information. It shows you how many organic keywords the site ranks for, how much traffic these keywords bring in, how many paid keywords the site is currently bidding on, and how much each sponsored ad costs. The graph then displays how the site's traffic has changed over the previous six months.
It also provides a variety of other SEO-related statistics, such as the site's domain score and the number of backlinks.
Competitive analysis, which tracks specific competitors and compares key metrics, is one of Mention's many offerings. You may utilize its Boolean alerts to narrow down your searches even further, for example, by limiting them to specific regions or websites.
It also integrates with Slack, just like Brand24 does. While the real-time notifications are helpful, it also sends you a daily summary email that highlights everything you're watching. When you combine this function with the Pulse notifications, it's simple to remain on top of any changes in the terms you've chosen to track.
Overall, the UI is simple to grasp and operate. You'll quickly become accustomed with Mention's setup if you're used to navigating your email inbox.
Moz's Open Site Explorer is a useful tool for determining the backlinks of a competitor's website. It can also be used to find link-building possibilities and identify possibly harmful links. This tool also shows a website's domain authority, which is a measure of the root domain's search engine ranking potential. This tool may also be used to determine the page authority of any page on a website.
Open Site Explorer also provides information on a website's top pages (based on page authority) and top connecting domains. Other important data is also supplied, such as the most regularly used anchor phrases in backlinks, newly gained backlinks, and so on.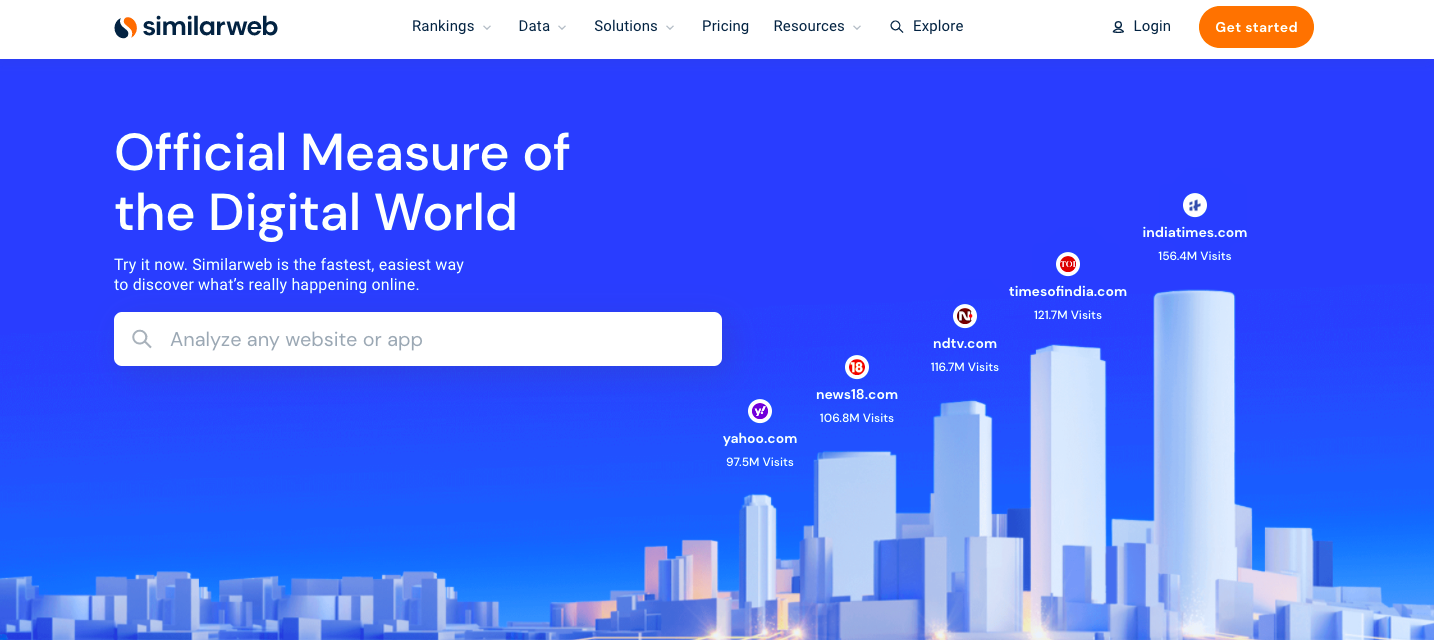 SimilarWeb is a competition analysis tool that allows you to investigate a website, app, or platform. It can be used to examine your competitors' market shares as well as their traffic sources. It also aids your strategy by highlighting related sites based on rank and resemblance. It has the ability to locate competitors you were previously unaware of.

Although Siteliner is most likely created for people to use on their own websites, there's no reason why you couldn't use it in a more tactical way to detect duplicate material, broken links, and other issues on other sites. This would be done in order to obtain a backlink from a high-quality website.
You can utilize Siteliner to locate a broken link on a reputable website and advise that they link to your material instead. Obviously, your site must have high-quality content, but you may utilise Siteliner to help you come up with ideas for future postings. The quality of the page you offer as a replacement link, on the other hand, is crucial to your success.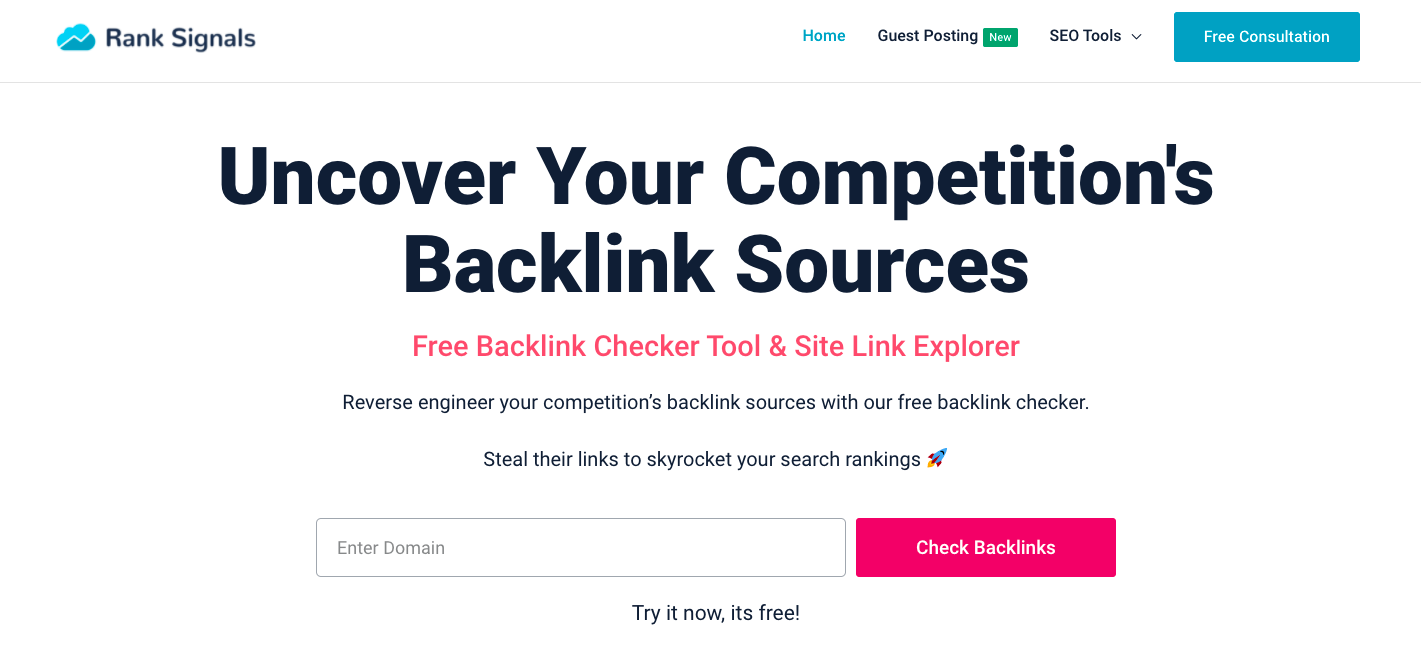 Rank Signals assists you in identifying your competitors' SEO backlinks and traffic sources. All you have to do is type in their domain, and Rank Signals will handle the rest. You should concentrate on backlinks that have to be followed and have a modest amount of external links.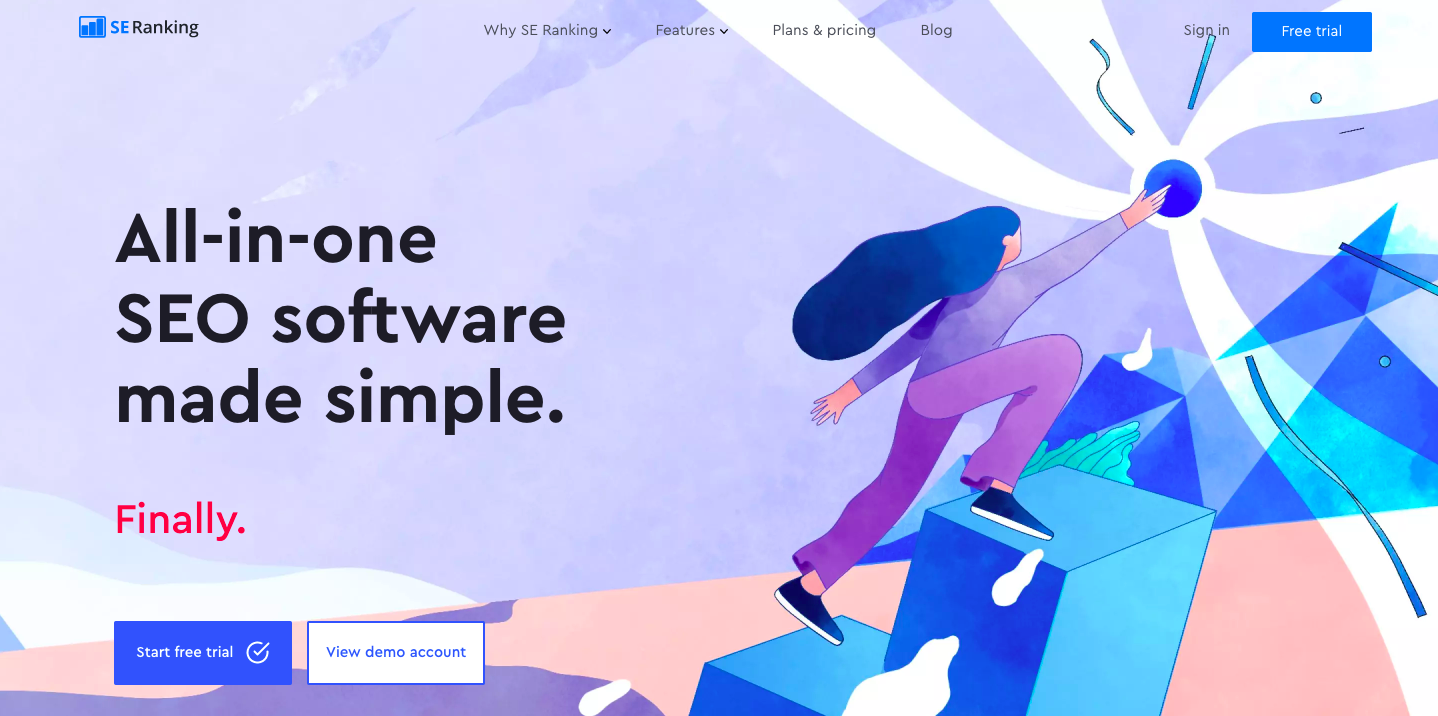 SERanking is an all-in-one SEO tool that lets users research keywords, track ranks, and analyze website traffic from all around the world.
When you search for a website, you'll see a short summary of the site's monthly organic and sponsored traffic, as well as the overall number of keywords it ranks for.
SERanking also gives a list of all the website's ranking keywords, an analysis of its main organic and paid competitors and a list of the website's top-performing pages.
WebCEO is a powerful set of SEO tools for businesses and individuals that want to handle several projects in one place. WebCEO differs from the other tools on this list in that it does not allow you to directly search for traffic statistics from another website.
Instead, users start a project with their own website and then evaluate the traffic of connected sites using the Competitor Metrics tool. The program uses Alexa data to deliver traffic figures for your nearest competitors' websites.
This allows you to view the traffic to these websites over time, as well as their average ranking position and shared keywords.
Serpstat is a collection of SEO tools that evolved from a simple keyword research tool to now provide users a more comprehensive set of features for analyzing their website's performance. Backlink analysis, rank tracking, site auditing, and traffic checking for other websites are all part of this process.
Both a free and a premium version of the platform are available. You must register an account with SerpStat before using the free version, which requires an email address, phone number, and password.
After you've created an account, you can use the homepage's search area to enter any website and start studying its traffic.
 Final words
You can't just track your performance in a bubble without knowing where you stand in the business, especially when it comes to your competition.
Monitor your competitors' performance and compare it to your own to help you simplify your strategy, identify opportunities, and remedy errors.
The list of competitor analysis tools provided above can assist you in doing so. These are some of the most effective competitor analysis tools on the market right now. So, pick your tool and start analyzing and measuring your website's competitors.