Q: I am trying to fix a website and have always been told that putting duplicate content is a complete No. I decided to put 500-550 character text and have now realized that I have already put 736 characters text on 80 pages. Please tell me if it is ok to put duplicate content on each page and if 736 characters is too much.
A: You are confusing duplicate content with overlapping content. Therefore, you need to understand what a duplicate content is and why or how the website can get penalized for this.
Here are some examples:
Scenario 1
Page 1 has same Title tag, same Meta description tag, same content, but different URL on the same domain.
Page 2 has same Title tag, meta description, and content but different URL on the same domain.
So, in this case, you have two pages with exactly same details on the same website. This is the case of duplicate content and you should use Canonical Meta tag to let the search engine known the true Page of the two. By ignoring this, you may get into trouble.
Scenario 2
Page 1 has same Title tag, meta description tag, and content but the URL is on a different domain.
Page 2 has same Title tag, meta description tag, and content but different URL on different domain.
In such a condition, you do not control the second page and this is more problematic. Being the first out of the box with content may work for you. This is a huge problem and Google cannot crack down unless your website participates in some kind of scheme.
Scenario 3
Page 1 has similar Title tag & meta description tag with 20 percent same content (mostly a keyword footer).
Page 2 has similar Title tag and meta description with 20 percent exact content (namely a keyword footer).
In this case, both are not same pages and you might have overlapping content but not a duplicate content. If this content appears natural in terms of website navigation and the keyword paragraph with overlapping content is not too long, then:
It will increase the keyword density for target keywords across the site & will send clear keyword themes to Google
It will allow for "link sculpting" as the keyword paragraphs is a part of site navigation
It will get natural syntax onto the page
Keyword Paragraph & Rest of the Content Ratio
I would suggest you not to overdo the keyword paragraph. Stop yourself from making it 90% of the page. Just like each page should have unique content, each page needs unique title & meta description tag also (as specified in Google SEO Guide).
When it comes to on-page SEO and website design, the primary focus is on providing high quality user experience. While creating or designing a website, we often pay attention to better graphics, attractive visuals, the content and it's promotional and seo works. But, have you ever paid a little attention towards the footer of the website? Hold on, the footer of the website, is it that important?
Ah, well, did you know your website's footer is not just vital in designing your website but also contributes to the SEO and search engine ranks?
If you are keen to provide better user experience to your audience then you must keep an eye on the footer of your website. However, footer links are often the overlooked ones when designing a website, yet it influences your website with it's SEO and ranking factors.
The perfect footer strategies and links can take you to the SEO path, or else, you would be hurting your website ranking already. Well, our below mentioned seo footer practices and tips can help you save your seo and the user experience along with the ranking analytics- all at the same time.
Why are website footers so important and how does it make SEO effective?
Having a clear and proper website footer helps your website to be more visible. Appropriate placement of footers helps your audience to easily find your home page including the main menu that consists of Blog, About, Services, About Us as well. Yes, users take most of their time to scroll through your website and having a clear footer can benefit you in plenty of ways.
Internal links are created
Did you know footer creates internal links? A website footer is the perfect opportunity to include other webpages and internal links or several other pages and parts of your website. And website optimization helps navigation and surfing easily for the mobile users. When your users need to access a particular page or post on your website, a footer makes it convenient for them. This also ensures that your site doesn't have any dead-end pages, optimizing your site's value and relevance.

Links easily to brand properties
I have come across a few websites where there is no inter-linking to their social media pages and accounts. When there are social media profiles linked in the website, the presence of social accounts makes the website trustworthy in the eyes of users and audience. It also helps your users to get in touch or follow you on social media pages- in case they do not have any option to contact from elsewhere. Footer can help you to link to various brand properties including your social media pages and profiles.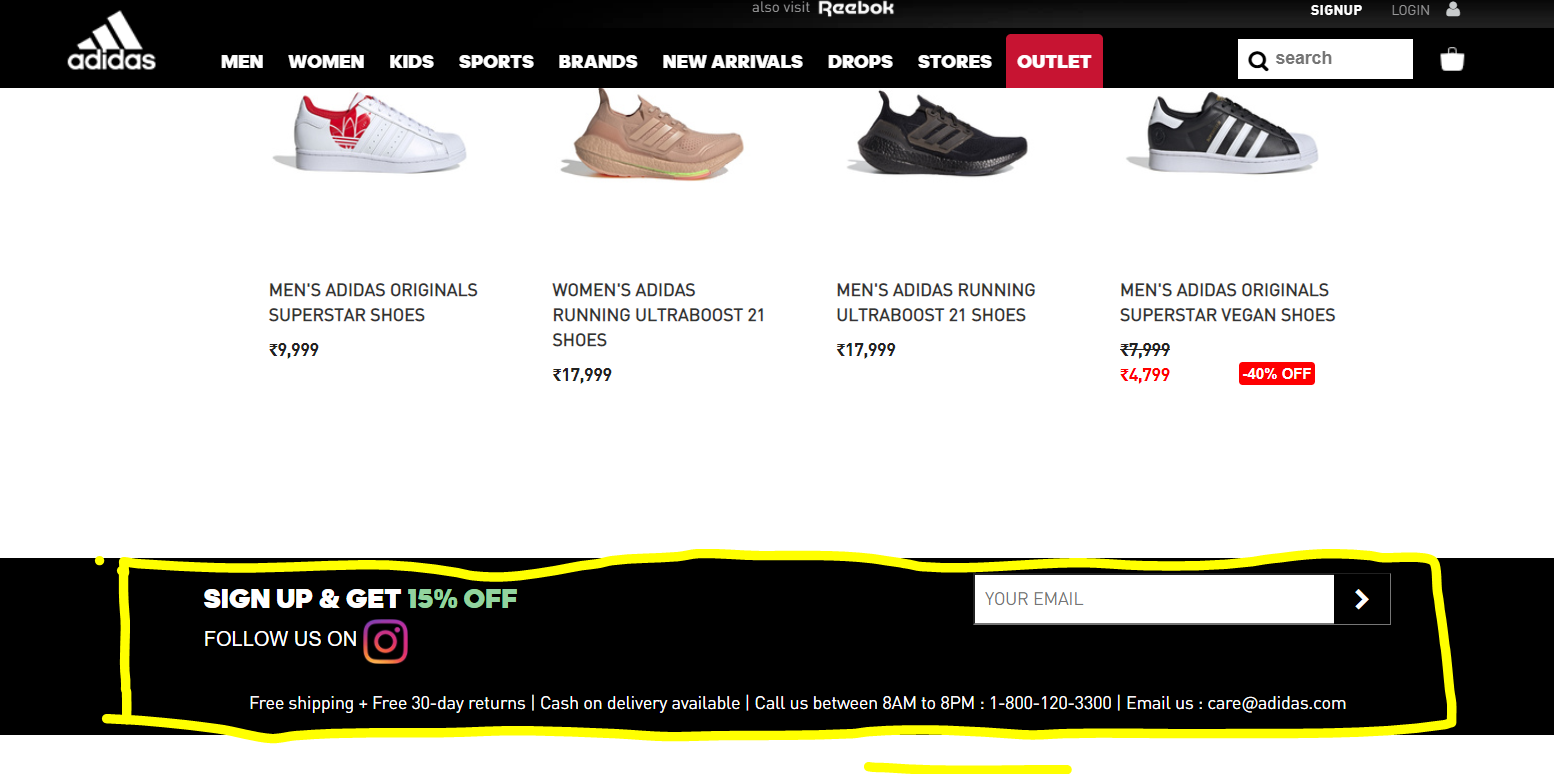 Redirection
I am sure, you might have never thought of your website footer as this important- but it plays a major role. So, your readers and audience have finished reading/viewing/scrolling through the content on the first page, what now? Of course, you don't want them to go in search of more content on your website, instead you give them more! The links that you put on your website footer redirects your audience to other pages- maybe interesting ones. When you push out engaging and premium quality content on your site, it generates more traffic that you expect.
It's mobile-friendly and ranks high on SEO
Every business strives to generate more leads and conversions post that, don't you? Whether you have an ecommerce website or a blog- you need traffic, clicks, purchases and audience for you to make profits. When you make the website mobile friendly, it helps you to generate more leads and conversions, indeed. Footers are mobile-friendly too, they help your users to scroll throughout your website quite buttery and this will give your users a high level of online experience. Such user-friendliness helps your website to rank on top of the search engines, since Google's algorithms will make you popular- if your website is easy to access.
Reference. https://www.screamingfrog.co.uk/seo-spider/
Amazing SEO Footer Tips for your website
Footer links are often not considered by the search engine- even if you have dozens of footer links, your website will still not be valued. You cannot have too many footer links- it works the other way. Well, there are many website footer tips and tricks that will help you to position your website footer that will support and backup your seo, instead of putting it down on the search engine.
Many of you might not know this, but we unknowingly duplicate the links in our website. If you have the menu options in your website and then if you link the same pages on the footer, then it's clearly called duplication of the link. Instead, you can have different links of your contents in your footer. This will take your audience to other pages and content, and if you have the product page links up and running already, then try putting about us or contact us or privacy policy links on the footer.
Okay, let me tell you this, footer links are not often clicked, or they are quite rarely clicked. However, there are domains that see the CTR rates that go below 1%, and if the links that have very less traffic- search engine registers the links as completely invaluable and might be non-viable as well. Hence, it is important for you to minimize the links that you have put on the footer. Also ensure that you are not over-optimizing your website adding plenty of links on the footer. You can opt for 5 links to the maximum if you need best results on your seo for your website, and not more than 5 links.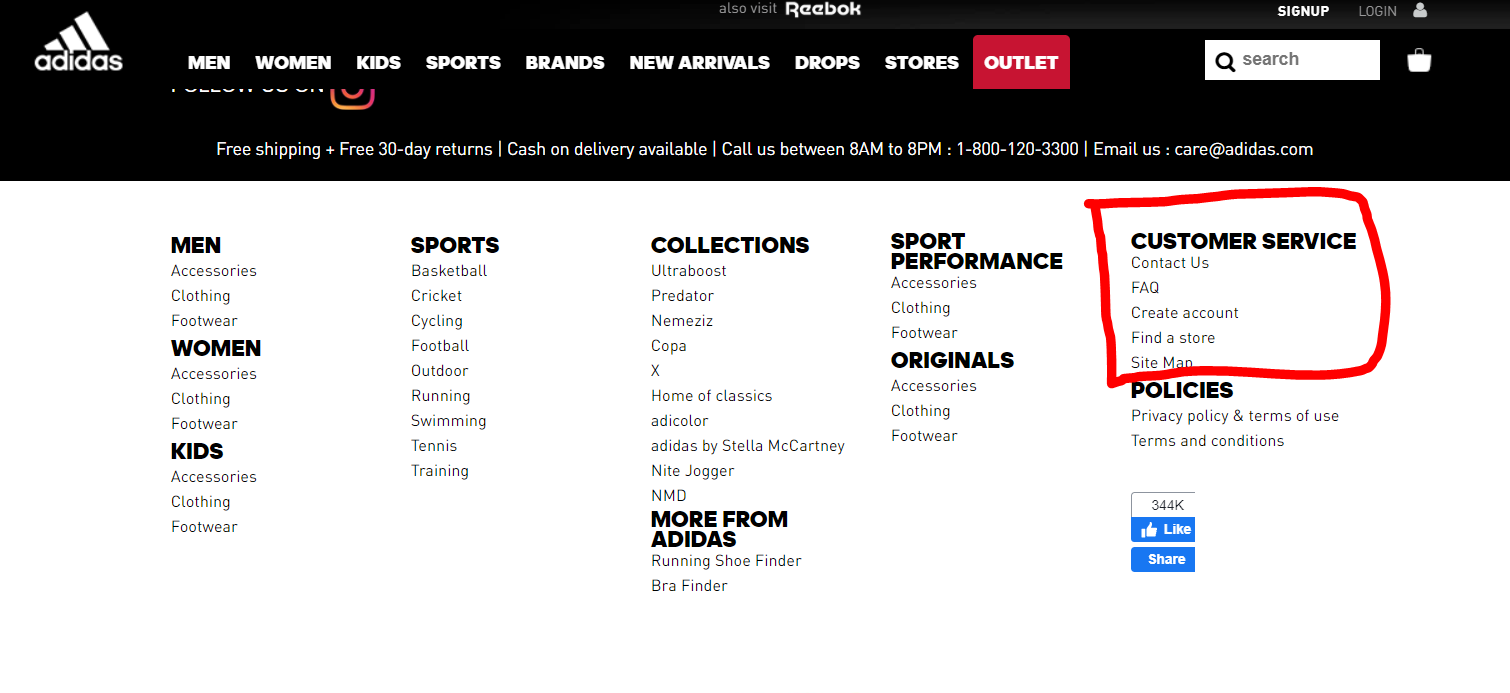 The footer must be organized
If you have a large site, then you need to keep the footer completely organized, and yes it also requires extensive footers links. One of the best practices is to keep the footer precise and specific. Well, you can also keep the popular topics quite separate from the internal links and probably on the secondary pages. However, you can also include a different section that will help your audience to find more details about you and your website. This can add more value to your links and your website which will help you to rank on the search engine.
Pay less attention to the anchor text
Many domains and websites make this mistake of adding anchor text with hyperlinks on the footers- instead you should always remember that these footers are not the place to add anchor text that comes with specific agendas or even probably keywords. Sure, footers help you to achieve your seo targets, but they are not the place where you come up with the marketing efforts for your website. Try to keep the footer links relevant and specific and more probably meaningful. Footer links are a navigation source, and always put your users in the first place when you design and do the footers of your website.
Check if you are hiding your links
It does happen sometimes that many footer links are hidden or probably not much visible to the users, which makes the user miss out on information and also it impacts the search engine rankings as well. There would be times when your domain is hiding your links- and instead of popping up the links on the page, it shows the texts with no link tagged. You need to add some user value to the texts and the links that you add. Always keep an eye on the footers and also if your domain is hiding the links inside somewhere.
Conclusion
There are plenty of survival tips for your footer links and seo on your website. But sometimes, we might unknowingly miss out on these significant values that add up to the seo of the website. Of course, you need not be on the bad side of the search engine. Hence, keep all the above-mentioned tips in mind when you design a website footer.
Related Services
Explore the award winning services of PageTraffic that puts you in the search engine spotlight.
SEO Services – Search engines have become rigidly stringent and the competition is doing all it can to move up. However, we snatch the top positions for you.
Full Time SEO Consultant – The modern mantras of growth are streamlining and strategizing. Hire an expert full time SEO consultant to manage and take care of both.
SEO Reseller – Expand your client base and service offerings with our private label SEO reseller partnership.