The recently released Penguin 2.1 update by Google has taken the SEO community by surprise. Matt Cutts said Penguin 2.1 would affect >1% of searches, webmasters have however seen a significant impact of the update.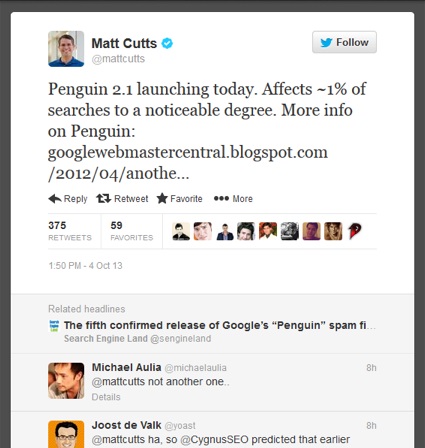 Post Penguin 2.1, PageTraffic did an in-depth analysis of its on-going campaigns and compared the search discrepancies before & after the update on Google. On the basis of the results derived after thorough study of the websites and the impact of Penguin 2.1, PageTraffic has updated its plan of action to make SEO plans Penguin 2.1 proof.
We have already started taking following measures across all our SEO campaigns:
Link Velocity: Getting too many links fast is now being scrutinized by Google. We already have been reducing the link velocity. Post Penguin 2.1, we are going to build link more slowly.
Penguin updates have put on-site optimization into forefront and Penguin 2.1 is an enhancement to that. Correcting 404 errors, duplicate content, implementing Google Authorship will be one of the most important areas to look-out for. And we want to be vigilant in fixing these issues. We now also recommend having an corporate blog which needs to be updated frequently
Even before Penguin 1.0, we had started taking steps to ensure that we are not over-optimizing anchor texts and keeping it natural. Post Penguin 2.1, our strategy would be to get 90% links for branded terms and 10% links will be combined of long tail keywords & exact match.
No-follow links do not pass PageRank or link juice however they still count in your link profile. If there are only do-follow links to your website, your link profile will look artificial and Google will assume that you are focusing only on the optimizing your website. This can be prove counter productive. We will balance both the link types and also be reviewing and removing the links that had turned bad in the eyes of Google.
Social media will be another focus area for us. PageTraffic is already creating Social Media Profiles for the clients. To further improve the social presence, we will get social signals to articles, blogs and PRs by getting Google+ Votes, Retweets, and Facebook likes.
Free directory submission is no longer a part of our SEO strategy, as these directories are not effective. We now have removed them from the submissions.
We also have reduced social bookmarking submissions and increased the informational content write-ups, which now holds more value to Google than ever before
Besides the above, we have also made some additions in our plan of action. The enhancements will result in serving niche content to the end-users & ultimately benefiting the positioning of our clients in front of Google.
Here is a glimpse of our offerings:
1. Guest Blogging: Inviting more guest bloggers to write for you. This is a relationship & relevancy focused strategy.
2. Presentation – An informative & crisp presentation will attract more eye balls on search engines & of course, the attention of Google crawlers (in positive way).
3. PRWEB – Submitting Press Release on PRWEB is a safe practice that will increase your outreach. And not to forget, almost all the links on PRWEB are NoFollow.
4. Link Building – Less focus on Anchor Text (Diversify) and more focus on trust at the core of integrity.
PageTraffic aims at bringing the latest and updated search marketing techniques to its clients. Our presentation on "SEO in the Age of Panda, Penguin & Beyond" also captures the essence of our processes & what we have in the store for our clients.
Our work doesn't stop here. We will be continuously observing and analyzing the impact of these changes to our strategy & keeping an eye on the algorithmic updates, so that we can serve our clients better.