Google Search, Google Maps, Google+ and one unified interface to bind them all. The launch of Google My Business, appears as a seamless solution to the chronic problem of managing your Google presence across various platforms. The tech giant says it will help small businesses connect with their customers by assembling all their business information from Search, Maps and Google+, and managing them right at one place. To keep it short and simple, the new tool lets your customers find you across Google.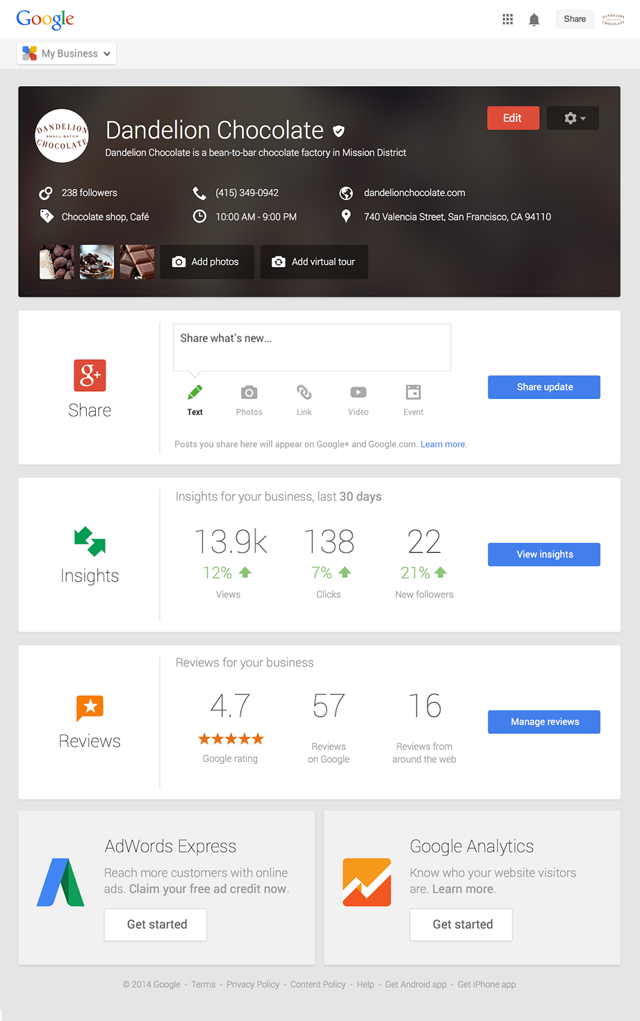 Businesses can post content, track analytics, revert back to customers and launch Google Hangouts all at one dashboard. Let's have a look at the different sections of the My Business Dashboard separately:
Business Info Editor: The Business Info Editor contains instructions on 100% completion of your profile. You can update your business information for search, maps and Google+ directly from here. The "View Your Business on Google" option allows you to see how your listing looks across different platforms on Google. Apart from this, you get options for deleting listings, reporting problems and Get Help right at the bottom of the page.
Insights: The Insights section gives information on- Visibility, Engagement and Audience. You can see the engagement on your posts depending on the content type like, text, links, photos and videos. Information on audience is again broken down into categories like gender, country etc. Some of the data is available only if you have more than 200 followers.
Reviews: This section shows you the reviews of your business on Google and around the web. You can respond back to these reviews right in the dashboard. Analytics for these reviews are also available in the Reviews section.
YouTube: Get the engagement information on your videos in the dashboard. You can also go directly to your channel from the dashboard.
Getting Started:
Google says 99% of the Google Places / +Local users have already been shifted to Google My Business. Google took a significant feat of rolling out the new tool globally on the same day to 235 regions with 65 different languages. As soon as you visit the Google My Business page, you will see a prominent blue button reading "Get On Google." Click on it to sign in. This will take you to Google Maps. You can use the search box on the top left side, to type in the name of your business and Google will display a list of businesses which match your search phrase. You can then select the relevant one from the list.
If you already have a Google account, you can click on the settings tab and then select "Create new page" or "View all pages" to go to an existing Google+ page. Non-local businesses can also get started on the system by clicking on the "Not a local business."
Apart from new businesses, current users of Places for Business and the Google+ dashboard can also use Google My Business. To create a new page, you must be authorized to manage the business listing. Google will send you a verification notice to confirm the same. Following this, you will be asked to create your profile page, adding all relevant information about your business. If you already have existing pages, you will be directed to the Google+ dashboard, where you can manage your profile by selecting a page.
How Google My Business Works for the Small Businesses?
Stay Updated: Businesses can update their information like address, contact numbers, opening hours and more on Search, Maps and Google+ at one place, so that customers can easily connect with them.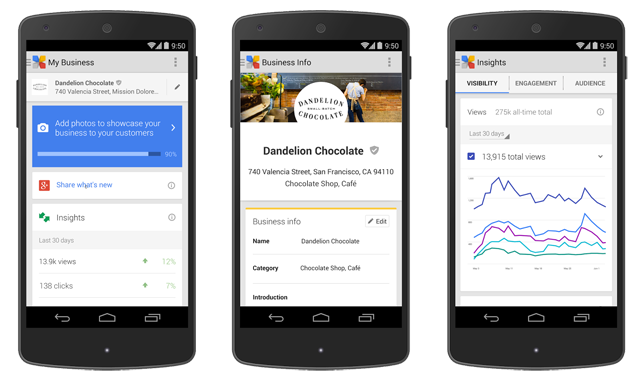 Tell Customers How Your Business is Unique: You can add beautiful photos and virtual tours of your business to show customers how your business is unique.
Connect With Customers: Share news, events and other updates from your Google+ page to better connect with your customers. It has become easier to make social updates from within the dashboard.
Respond to Reviews: Read and respond to reviews and stay on top of reviews from across the web. Google My Business gives a streamlined monitoring of reviews from Google and around the web + review analytics.
Know How People Interact With Your Business: Use custom insights and integration with AdWords Express to understand how people interact with your business. The Insights are available with more demographic information and data on views and clicks. You can get improved user insights for your business, including visibility, engagement, and audience insights.
Mobile Optimized: Manage all your business information on-the-go with the android app for the new tool. Google will soon be launching an app for iOS devices as well.
How to Manage Your Google My Business Page:
In order to make the most use of Google My Business and to connect with your existing and prospective customers, it is necessary to have a powerful social content strategy. We recommend, blending your own original content and curated content to give your followers an amazing experience.
Use the Reviews tool to monitor your business reviews and track the ratings for your business over time. This is also where you can respond to reviews as the owner of the business.
Monitor your Insights and use this to improve the visibility and engagement of your brand. Insights tell you how customers find your business and how they interact with your content by showing you data on different types of views and clicks, driving direction requests and website visits.
Make the most use of all creative tools and features offered by Google My Business. You can host Hangouts to chat live with your customers, or create photo albums centered around your products, services, customers and staff.
What Has Changed and What Has Not:
Google My Business is now the default dashboard for the users of Places for Business and Google+. This means if you log in to Google Places for Business, you will be directed to Google My Business. However, not much has changed:
Google My Business is just a business listing management dashboard update. No changes have been made to the front end of Google+ Local and Google Maps.
The update has nothing to do with any algorithmic changes. So, it will not change how you do local SEO.
This will bring no changes to the Google Places Quality Guidelines as well.
There will be no changes to bulk uploads. For businesses which have more than 10 business locations and use Google Places Bulk Upload to manage listings, you will find this has been automatically upgraded, when you log in the next time.
Apart from this, what has not changed is the management and ownership of listings, speed of updates and the verification process. However, Google says you should stay tuned in for more updates like faster updates, social features and visibility of live data.