Web designers are the architects of the user experience, and play an important role in agency operations. For clients, design principles are often the deciding factor that differentiates one agency from another.
Every website feature and functionality must have its own place on the finished website. Without a cohesive design, users won't know how to find the things they're looking for.
In a web agency environment, designers have to work closely with developers and project stakeholders to make sure every website element has its place. Every web project requires clear communication between everyone involved, and that takes time and effort.
But what if you could create a professional website on your own?
With the right set of WordPress tools and technologies, you can put your design chops to good use creating fully featured websites without writing a single line of code. This reduces the need for project micromanagement, and eliminates the frequent back-and-forth conflicts that erupt between developers and designers.
Some of these tools have been hugely successful parts of the WordPress community for years. Others are brand new. Designers who put together the perfect WordPress tech stack earn the ability to operate as full-fledged agencies – and take on high-paying clients on their own.
Elementor is key to this approach. The team behind the #1 WordPress website builder now allows designers to complete professional web projects without extensive technical knowledge. By combining an intuitive, code-free web editor with a managed hosting solution, Elementor Cloud Website empowers designers to work on their own terms.
Why Create an Elementor Cloud Website?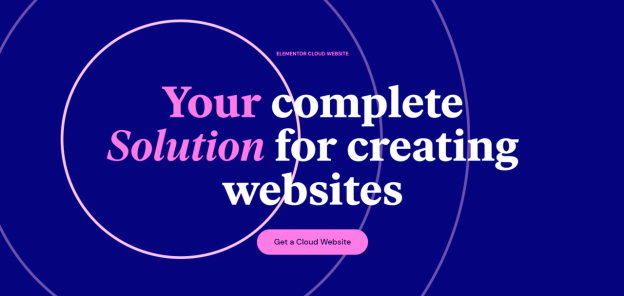 Elementor Cloud Website gives designers the ability to build, host, and publish websites without relying on third parties. Instead of configuring a dedicated server and then installing WordPress on it, you can immediately dive into the more valuable part of the web project – designing and building web pages.
Designers who use Elementor Cloud Website can conveniently skip over the most challenging technical parts of website creation. Not only does Elementor provide WordPress pre-installed on an already configured cloud server, it also comes with the Elementor Pro website builder. Instead of spending hours deploying web infrastructure for each project you take on, you can get started in mere seconds.
By covering website hosting, server configuration, and web page development, Elementor turns designers into one-stop website creators. There is no longer any need to outsource technical development to a team of programmers, and you're not limited by the obscure compatibility requirements of your web host. The entire technical side of website creation has been optimized.
Imagine all the time you would spend outsourcing these tasks to developers or searching for compatible WordPress plugins on your own. Elementor Cloud Website provides an instant solution that gives you more time to do what you do best without compromise.
Simplify web creation with best-in-class technology
Elementor isn't the only website builder out there. It's not the only managed cloud hosting service on the market. But it is the only solution combining best-in-class technologies to give designers the advantage they need to thrive in a competitive market.
WordPress is a powerful and flexible content management system, but it is also a technically demanding one. Elementor's website builder takes the guesswork out of publishing high quality professional websites and enables non-technical developers to compete with large-scale web agencies in the process.
Elementor's managed cloud hosting service performs a similar role. Without it, the responsibility for configuring a dedicated server, installing WordPress, and maintaining plugin compatibility falls squarely on your shoulders. On top of that, you need to ensure your website infrastructure is secure and guarantee fast, reliable performance for website visitors all across the globe.
Elementor Cloud Website does all of this for you. It relies on Google Cloud infrastructure and features free Cloudflare SSL certification. The managed hosting service uses a dynamic content delivery network (CDN) and 24-hour backups to mitigate security and performance risks.
Elementor Cloud Website comes with 20 GB of storage and 100 GB of bandwidth, sufficient for supporting 100,000 monthly visits. Google's cloud uptime score is among the industry's best, at more than 99.99%. If it dips below for any reason, the tech giant issues financial credit to offset the cost of downtime.
SSL certification protects your website traffic from interception. This makes it harder for hackers to spoof your website and steal user credentials. It also prevents compromised network devices from running malicious scripts on users' browsers (while making it look like you're the one doing it).
CDNs offer a valuable boost to website security and performance by copying redundant versions of your site to multiple data centers across the world. The system automatically routes traffic to the nearest server, improving website speed and performance. If a web server goes down for any reason, the CDN will reroute traffic to the nearest available one.
24-hour backups ensure that you and your clients are covered even in the event of catastrophic data loss. You can always roll back the status of your website to a previous version, preventing downtime and giving you a chance to restore your data properly. You can even create your own backups in preparation for major site overhauls and other changes.
What Elementor Cloud Website Offers You
Elementor's service offers more than the ability to make WordPress your content management system and create professional-quality websites from scratch. In fact, you can create and publish websites using some of the most sophisticated tools available on the market today.
Your Elementor Cloud Website includes features such as:
A code-free drag-and-drop live editor that is powerful and easy to use.
Hundreds of professionally designed web page templates for your inspiration.
Dozens of comprehensive Full Site Kits with backend functionality already configured.
100+ web page widgets that cover individual site functions like text blocks, imagery, forms, popups, and more.
As an additional benefit, Elementor Cloud Website lets you use a custom domain name at no additional charge. You can host your website on the standard ".elementor.cloud" subdomain, or link your own domain and host a fully independent website without paying a cent more for the privilege.
Elementor Cloud website is ready to help designers establish themselves as web agency professionals capable of taking on the biggest projects and seeing them through to completion. Start creating professional websites for your clients for a low fixed price of US $99 per year.
Latest posts by Ritu Sharma
(see all)