Your Facebook Messenger greeting sometimes referred to as a Welcome Message for Facebook Page, is an automatic welcome message that aims to 'break the ice' between your company and a user by initiating a conversation. A personalized welcome to Facebook message that will appear as a small popup on the desktop or arrive in the Messenger app for iPhone, iPad, and Android if the user has a messenger app installed on their smartphone. If you face difficulty setting this up, prefer taking social media management services from a reputed firm so that they can set up Facebook messages along with doing several other key tasks for your company.
While setting up the automatic message, you should do some competitor research in a similar way, like you utilize Facebook Ads Library to learn more about competitor ads and strategies. You can start by messaging some of your competitors on Facebook and some other social media platforms. Observe what message they send as a greeting and formulate a strategy accordingly.
When someone starts a chat with your Page for the first time or initiates some other kind of action, your Messenger greeting is displayed. Additionally, keep in mind that your Messenger greeting will show up prior to the sending of any messages. In other words, if a visitor to a Facebook Page starts a Messenger chat, your greeting is automatically sent. You can also set the greeting message to come up when a user fills in their information or just visits your website.
Benefits of Using a Welcome to Facebook Message
Setting up a Facebook Messenger welcome greeting has a few good benefits:
You welcome clients with open arms
Customers will not have to wait too long for a response after business hours
You clearly state when clients can expect a response
Even without making direct contact with somebody, you can still get leads
Setting a welcome message just requires a little work, but the rewards are substantial
Making use of a welcome to facebook message at particular occasions is a wonderful illustration of how you can effectively schedule most conversational tasks through Facebook. For example, if your website is unavailable, you can schedule a message that apologizes to customers for the inconvenience they may face due to this. As several customers reach out on social media or have queries or complaints, this message will serve as the first point of contact for them. This way, you can save the trouble of contacting several users individually at the same time and move at a pace that your team is comfortable with.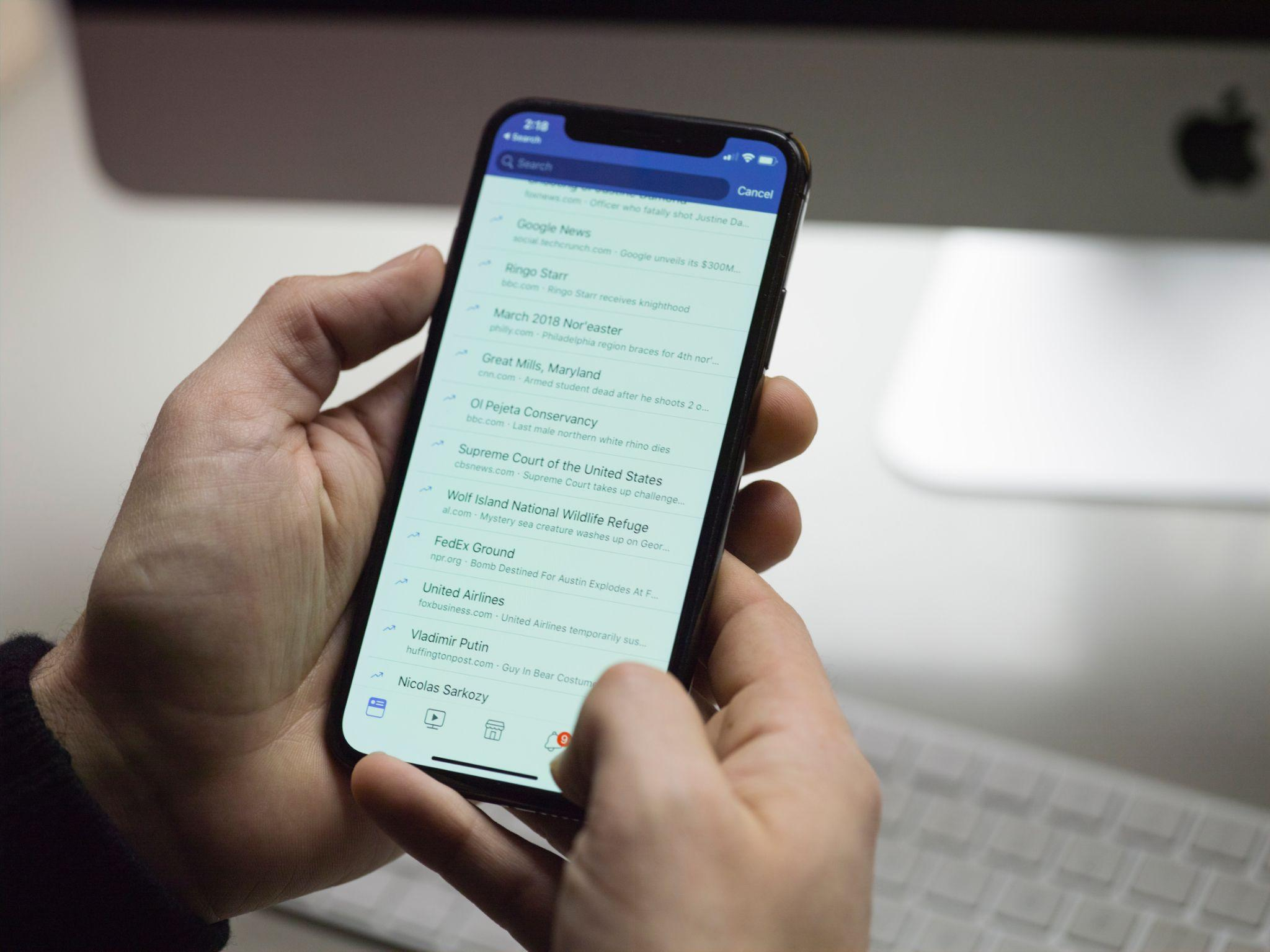 Things to Remember While Drafting a Welcome Message
Welcome to Facebook messages are crucial for educating users about your company and directing them along the customer journey. An excellent technique to engage your audience and provide a better experience is with well-written welcome emails. However, these messages could also turn into a disaster if you do not pay attention to your customer voice and what they expect from the company. Therefore, you must remember a few things before drafting a Facebook welcome message for your company.
Assure The Customer
Your welcome message initially reassures the customer that everything they did was correct. They filled out the subscription form, the algorithm processed it, and the company contacted them.
Such communications' primary goal is to build rapport with the new client. It is a digital handshake with the promise of rewards in the future. Choose a welcome message for customers that reflects the general aesthetic of your company and the rest of your marketing effort.
Engage Your Customer
Messages are the greatest medium to engage your customers and prospects with the brand. They can answer queries, resolve common doubts and do much more. Offering a present or special pricing on the first interaction with a new customer is the ideal way to pique customer interest even further.
The user will feel appreciated for their work and develop a better opinion of you. On the other hand, a promotion will compel consumers to start buying or at the very least, they will start looking right away. Furthermore, if the deal is valid for only a 'limited time', it provides another incentive for customers to shop while it is still available.
Show Them The Benefits
There is an old marketing adage that states advantages, not features, should be promoted. Despite all the wonderful functionality your product offers, customers will not have any emotional connection. The results will not take long to appear, though, if you explain how such characteristics can assist customers to accomplish their objectives.
A welcome to Facebook message is a great way to do this. You can draft a message that focuses more on the benefits side of your product as your website pages will already be showing the features. Make sure that you do not overdo it, else the message would sound too good to believe.
Use Your Brand Voice
The personality of your brand, or brand voice, is how you stand out from the competition. No matter which teams are in charge of which channels, it must remain constant throughout all of your communications (social media, website, blog posts, emails, and adverts). Customers dislike plain texts. Make sure your welcoming speech is succinct and natural-sounding. The tone of the welcome message should reflect the brand voice.
It will enhance customer experience and reflect on the brand's reputation for a long time. Sometimes, such small tasks could help you retain a customer or bring a new one onboard.
Tell Them What To Expect
Tell your customers what they can expect from the brand in terms of communication in messaging. If your customer service team is unavailable during a specific time every day, you should include this information in your welcome message. If you reach out via emails after receiving details through messages, state this in your welcome to Facebook message so that the customer could know what to expect from the brand.
Facebook Welcome Message Examples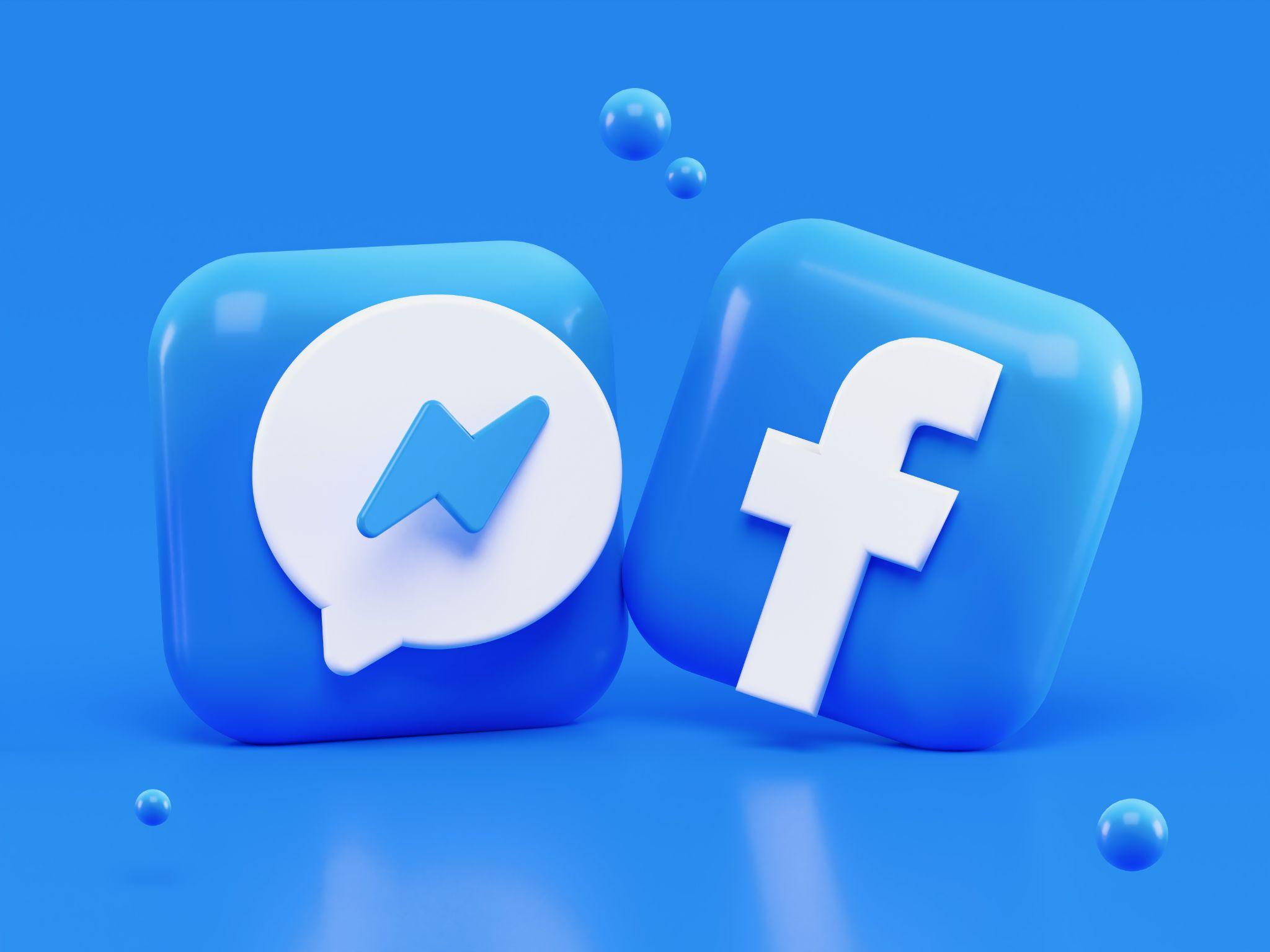 Different welcome messages are needed for various circumstances. Below we have shared a variety of options below for your customer service team, during holidays, when you are away from the office, or when you want to gather leads.
Plan the interaction accordingly and keep changing the message formats from time to time so that your customers can know that you are always working on making their experience better. Here are 15 awesome Facebook welcome message templates:
Facebook Welcome Message: Greetings & General Messages
Greetings and general messages are an important part of any automated message lineup. You need to have them for general use cases when people just message a 'hi' or any irrelevant word to your business.
Thanks for your message. We promise to respond to your inquiry within [number] hours. Best, The [your company] Team
Hello, [First Name of Customer]. Need assistance with anything? One of our representatives will respond to your question right away; start typing your query now.
Howdy! Greetings from [your company]. Within [number] hours, we'll reply to you. You can check out our help center in the interim. There is a big chance you won't need us after because there is a lot of information available!
Good day! We apologize, but we are unable to reply to your message at this time. Please enter your name and email address so that we can respond to your query as soon as possible. Team [Company Name]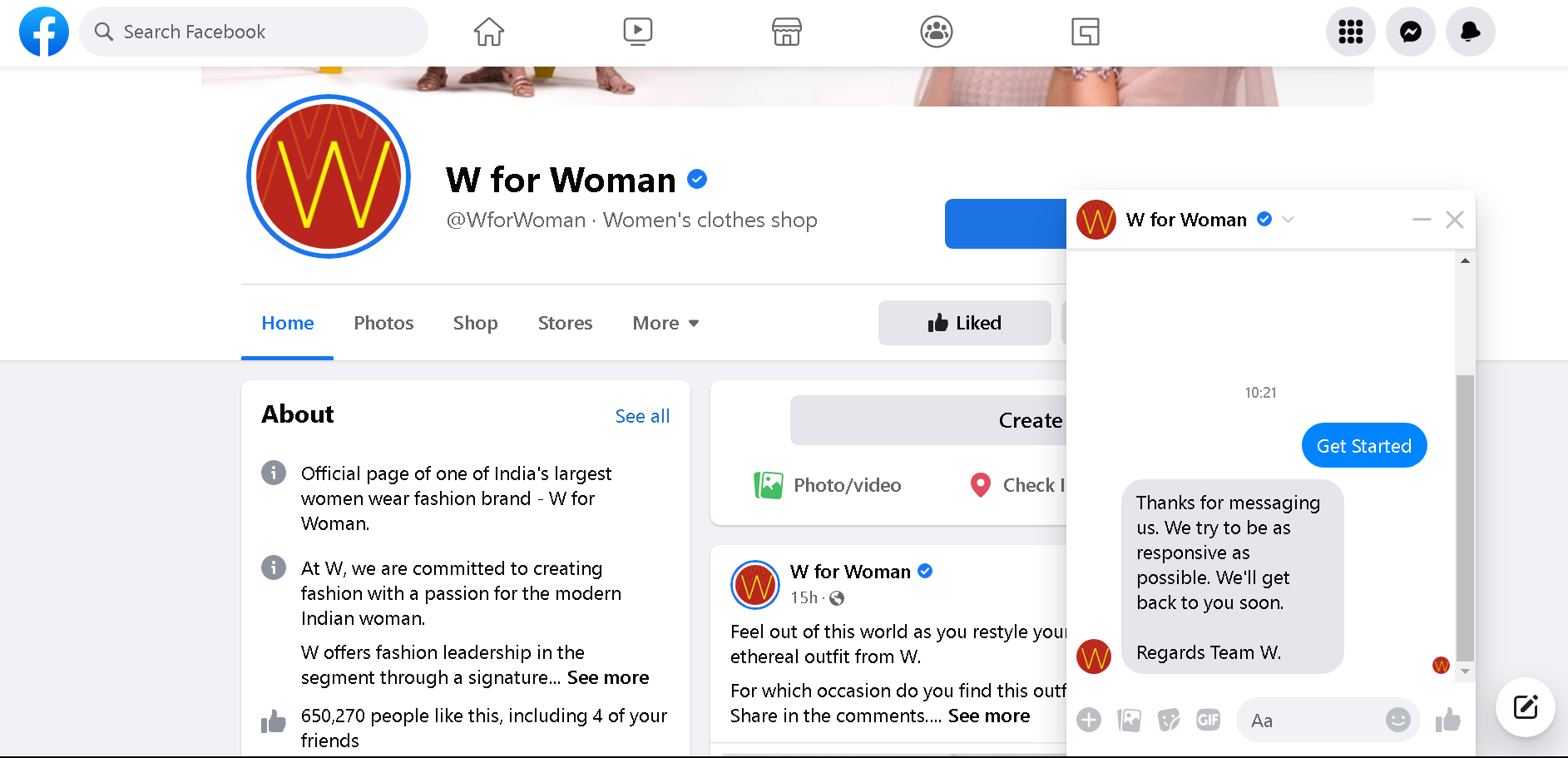 Welcome message sent by women's wear brand W for Woman
Facebook Welcome Message: Customer Support
Customer support is an integral part of any company's services. A great way of improving that is by using preset message templates across your social media platforms. These templates are generally triggered by some keywords that people typically use in a message intended for the customer support department.
Hello, I appreciate your message. Our representatives will ensure that it is sent to the respective department and will reply within [number] hours.
For answers to frequently asked issues in the interim, visit our help center here: Add your own link here.
We appreciate you stopping by [Business namepage! ]'s We have support staff on duty from 8:00 a.m. to 6:00 p.m. (GMT+8), Monday through Friday. You can ask a question here, and we will get back to you as soon as we can.
Ola! We are here to serve you. Enter your details to connect with a support specialist right away!

HP India's Facebook message bot that replies according to keywords and a preset format

Facebook Welcome Message: Special Offers
Communicating special offers through welcome to Facebook messages is a great way to introduce your social media audience to your store benefits. Here are a few preset messages you can utilize for this.
Would you like to learn a secret, hello [Customer First Name]? Till September 21, receive a $10 voucher with every order over $149 from our online store. But don't keep this as a secret, earn more by referring new customers to our website [Company Website]
New customer? We have a small present for you. Enter this code [Code number] on our website to receive a free welcome gift from us!
Greetings! Glad to see you. Did you know that we are now giving all of our products a [number] percent discount? XXXX is the code. Keep it a secret, though If you have any additional questions, please let me know and I will respond to you soon!
Did you know? Our product comes with an X number of benefits. So, what are you waiting for [link] click this link and try it with a free sample.
Facebook Welcome Message: Promotional Messages
Welcome messages can also serve as a promotional tool for your business. As not everyone on social media is your customer, you can target the new audience with promotional messages.
Are you worried about your website security? Share your name and email address with us to schedule a free consultation call with a security expert from (company name).
Good things take time! So does our ( automobile product name). Enter your message here, and one of our representatives will soon get in touch with you for a demo ride.
Nothing could be healthier for your beloved pet than our high-quality pet food (product name/link). Send us a hi! And we will tell you more about it and why it is so beneficial for your pet.
An excellent technique to learn more about your client is through Facebook Messenger. Along with their email address, you might inquire about their company or the reason they are contacting you. This makes it simpler to select the team member who is most suited to continue the chat later. It also gives you access to free high quality data that can be used by marketing and customer service departments to make the overall experience better for your customers.
How to Set Up Your Facebook Welcome Message?
Your welcome message can serve as both a greeting for newly subscribed Facebook contacts and a menu outlining what to do next. This relates to the function of your bot. Include a button to your website if you want people to move there. Ask potential customers what they would like through a messenger welcome message and get insights into customer thinking.
Additionally, you can use the Facebook Welcome Message's Keyword function to have messages sent to prospects when they enter specific keywords.
How then do you go about setting it up?
Go to the Meta Business Suite of Your Page
Select the 'Inbox' section and click on 'Automations'. It will appear on the top right corner of your screen.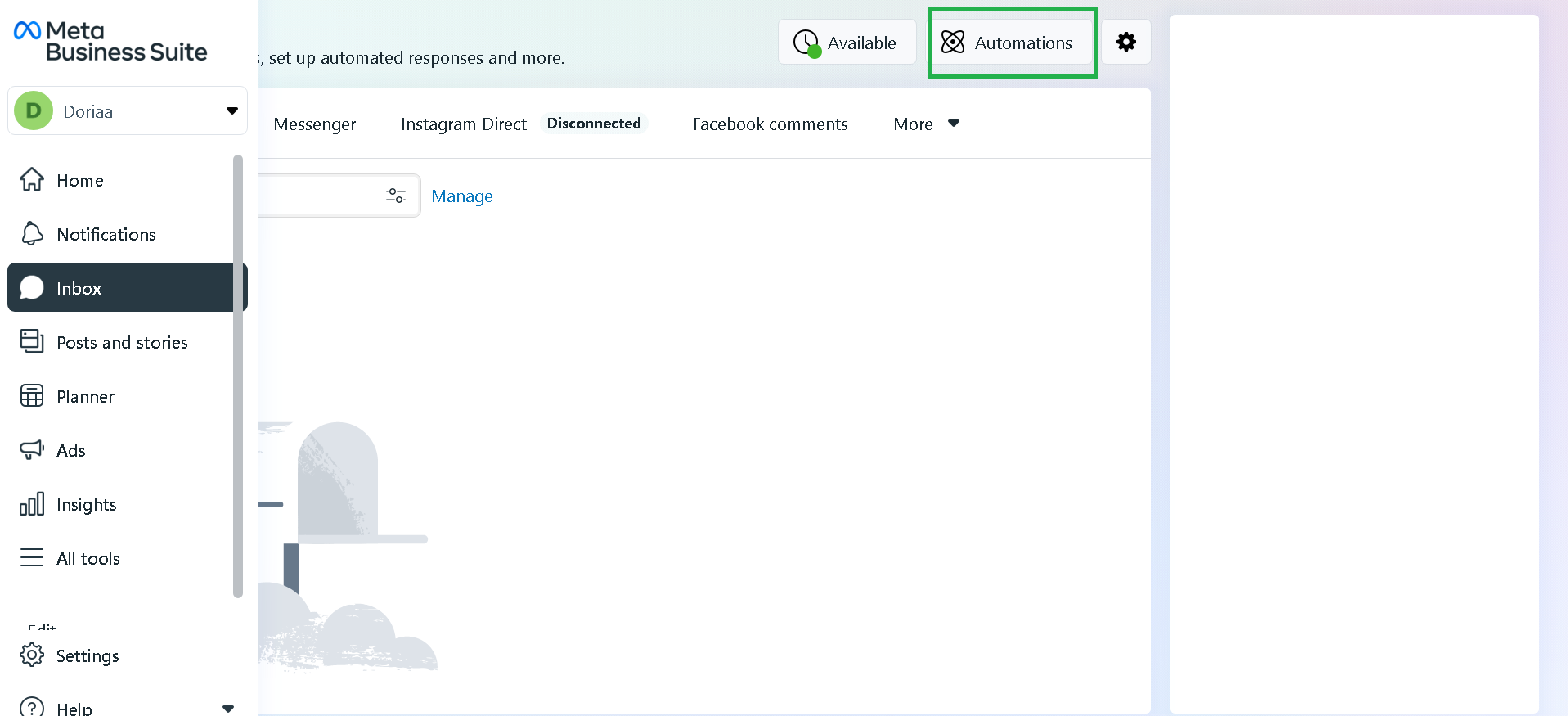 Now, you will be able to view a screen with several suggested presets and other messaging features. The first preset will be the 'Instant Reply' template that allows you to send an automatic instant reply as soon as someone sends a message to your page. The reply can be a thank you note, a greeting or anything that you would want to send.
To allow your contacts to interact with your bot and get what they want from the messages section, introduce different reply templates from the presets menu. You can turn on replies for times when your team is not online.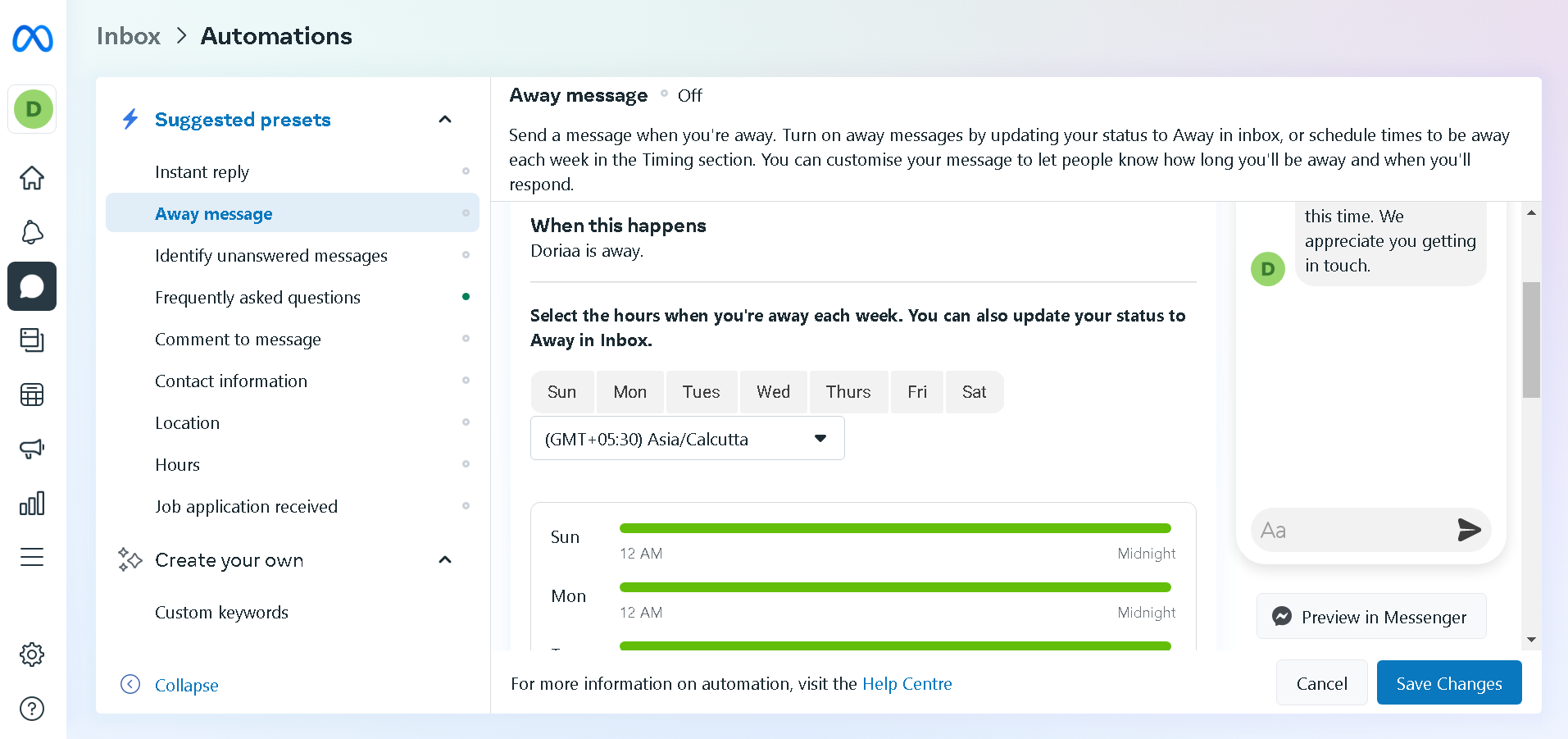 These replies will automatically turn on according to the hours you select and can be customized on the basis of different days.
You must remember that in most cases people use messages to seek general information about your business or products. Do not forget to provide this ability inside your messenger by adding some FAQs in the presets.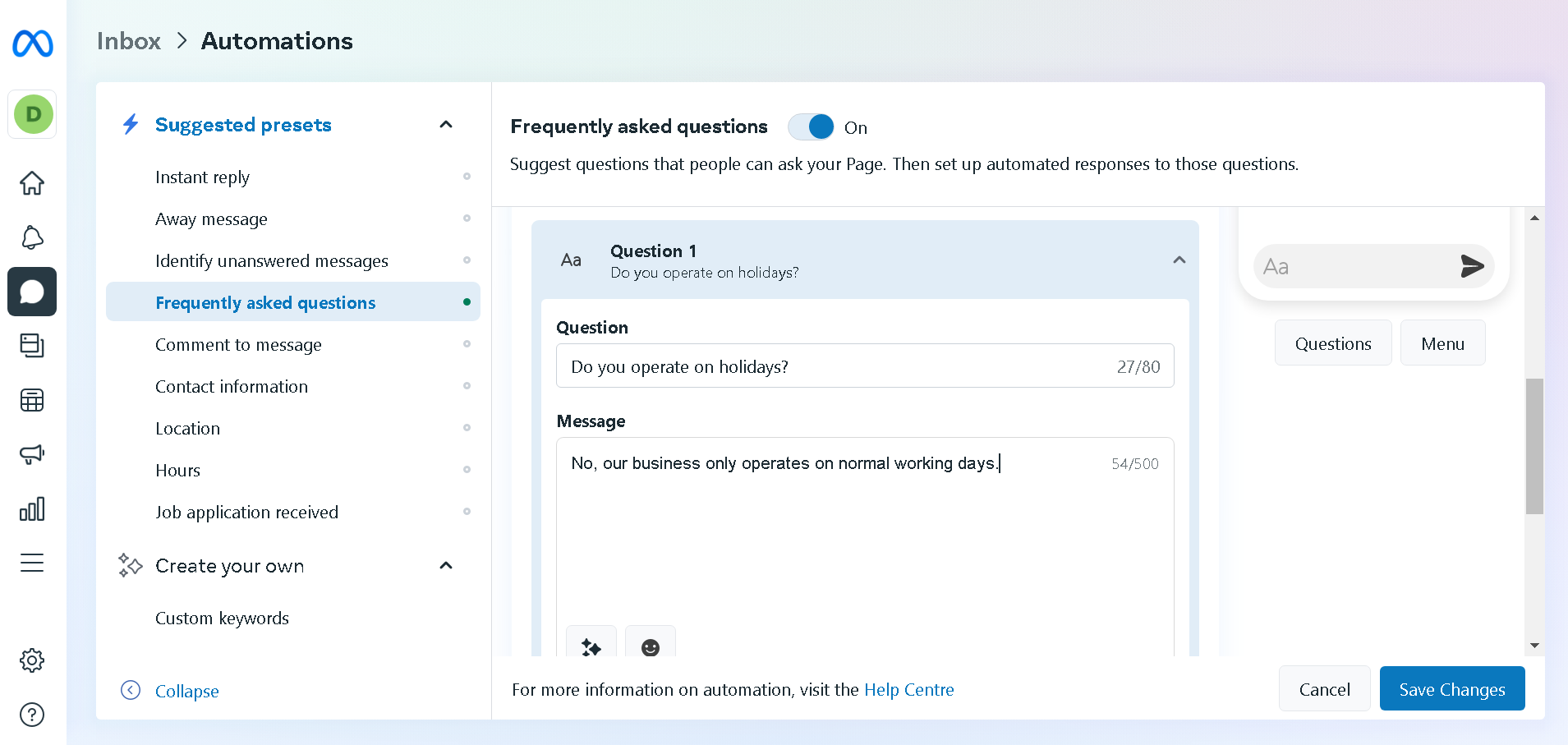 You can also add media and buttons to the messages to make them more interactive. Just scroll down in any of the suggested presets and you will see the options.
You can also add custom keywords to send messages. For example, if you enter 'price' as a custom keyword, a message will be sent every time a customer sends a message with 'price' in it. Similarly, you can add up to 5 custom keywords according to your business. You can also select whether you want these automatic messages to go only on Facebook messenger or also on Instagram.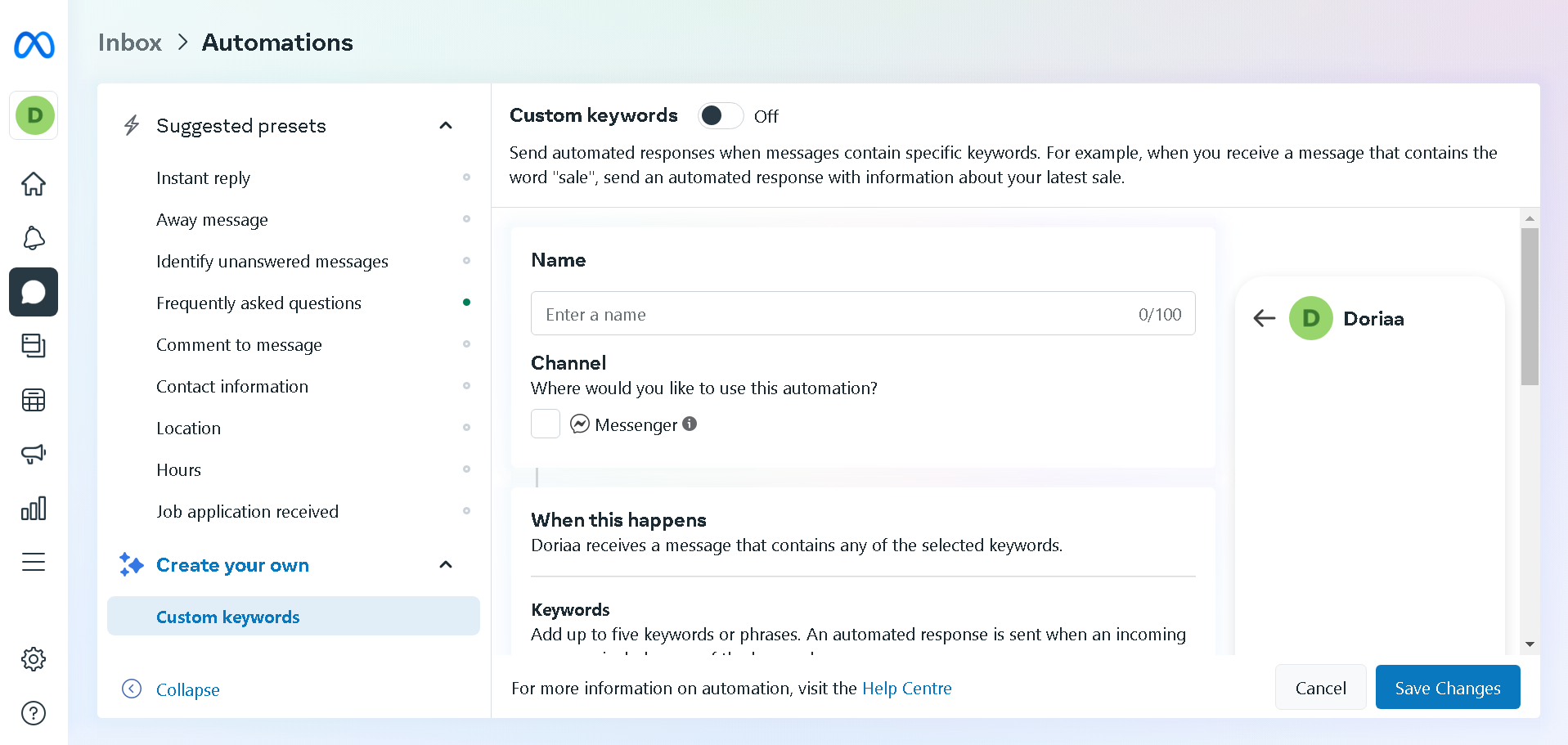 Ensure your Welcome Message works fine by clicking the 'Preview' button or 'Send Message' button on your Facebook Page.
Save Changes and Enable your Welcome Message.
Once you are done with this process, move towards testing the feature and establishing its authority by getting responses from a few customers. Remember to make periodic changes in the message based on the feedback you receive and the insights obtained from your bot or the Meta Business Suite platform.
Conclusion
Greetings are an effective communicator. They establish a positive link between your company and a potential customer, even before you have had a chance to talk to them. Whether it is the initial welcome message you send to a new client, a Facebook welcome back message for a client who has lost touch, or a thank-you note, all kinds of greetings are effective. You will notice a positive difference if you attempt to set one up for your company.
Frequently Asked Questions
How do you write a welcome message on Facebook?
Writing a welcome message for Facebook is easy. First, you must keep the experience goal in mind that you have for the receiver. Second, make sure you use respectful and grammatically correct language. Third, use call to actions and include links to your website and other profiles to increase customer engagement with the brand.
What is a Facebook page welcome message?
A Facebook welcome message is a brief popup or notification that visitors to your website will see as soon as they arrive or perform a task. It is a wonderful approach to welcome new guests and establishes the tone for encounters to come. But more crucially, a welcome message can aid in boosting conversions for specific objectives.
What is a good Facebook welcome message?
A good welcome message greets a user while helping them resolve their query. You can do this by including a frequently asked questions button with the message and allowing customers to escalate their query if they cannot seem to resolve it with FAQs.
How do I change my Facebook welcome message on Messenger?
To change your welcome message on messenger, do the following steps:
1. On the left menu of your page, click 'Settings'
2. Select 'On' for the 'Show a greeting' option
3. Click 'change' to edit the greeting
4. Save the new greeting to implement in your messages section
Latest posts by Ritu Sharma
(see all)