Those who want to rule the world of SEO, often choose two sought-after tools: Ahrefs and Semrush. Although these tools can drastically improve your site's SEO performance, they aren't cheap. If you want to use both Ahrefs and Semrush, you'll need to pay nearly $220 each month. And this includes just the basic plans of each tool. If you have the budget, you should sign up for both. However, you may want to choose one of these tools, but how to decide Semrush vs Ahrefs.
You can do either of these: sign up for a free account of each of the tools one by one, use them, and see which one caters to your needs the best, or read a detailed comparison between them to make up your mind quickly.
To help you make the right decision without wasting any time, we've created this ultimate comparison – Semrush vs Ahrefs. Here, we're going to compare these tools on the basis of eleven parameters. These include:
Both of these tools have been frequently featured in our Best SEO Tools reviews, and before delving deeper into the comparison, let's see brief overviews of each of these tools.
What Is Ahrefs?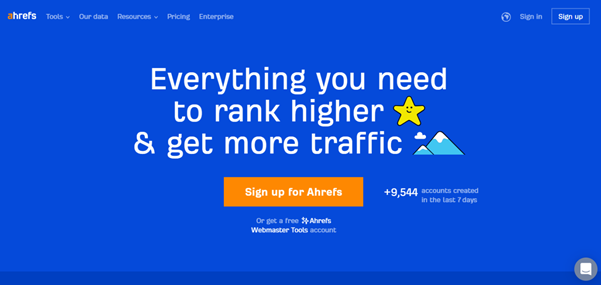 Ahrefs started its journey in 2010 mainly in the form of a backlink analysis tool. However, today it has become a comprehensive SEO analysis tool that you can use to perform keyword research, website audit, and content marketing, among many other things.
During its initial years, people knew Ahrefs mainly for its backlink analysis capacities. However, it soon started transforming into an all-purpose SEO tool by introducing new features. Now, it has got a feature for almost every SEO activity.
If you want to identify and fix technical SEO problems with your site, you can use the Site Audit feature. If you're lacking content ideas encompassing your target keyword, the Keywords Explorer will help you produce hundreds of them quickly.
In short, with Ahrefs, you can improve your site's SERP rankings without having to resort to paid ads or dodgy techniques. The additional traffic it helps you generate makes it worth the investment.
What Is Semrush?
In 2008, a small group of IT and SEO experts combined their expertise to offer a powerful competitive research service in the form of Semrush. The primary objective of Semrush was to help digital marketers create content and develop advertising strategies.
Today, this is one of the leading SEO tools around, with more than 10 million loyal users, including many fortune 500 companies. Similar to Ahrefs, Semrush also brings you a plethora of features that can be used to perform many different SEO activities, from SEO audit and keyword research to competitor analysis, rank tracking, and any other SEO activity you can think of.
Whether you want to improve your site's overall SEO performance or a particular aspect, Semrush has got the features to help you achieve your goal.
Now that you know a little about these tools, it's time to find out which one of them will help you achieve your SEO goals in the best possible manner.
We'll be comparing the parameters in the same order as mentioned at the beginning of this article.
User Interface: Semrush vs Ahrefs
Regardless of the tool you choose, without a simple yet powerful user interface, it'll be very difficult to use the features quickly and effectively. For this parameter, we looked at the components available on the dashboard and then explored how easily we can complete tasks like searching for the best keywords for a new blog post.
Ahrefs
The dashboard and overall interface of Ahrefs are quite simplified. The primary menu is placed at the page's top. However, the search bar can only be used for typing in domains, which some users may feel is slightly limiting.
In the dashboard analytics section, you can view everything, from domain ratings and search engine rankings to backlinks and referring domains.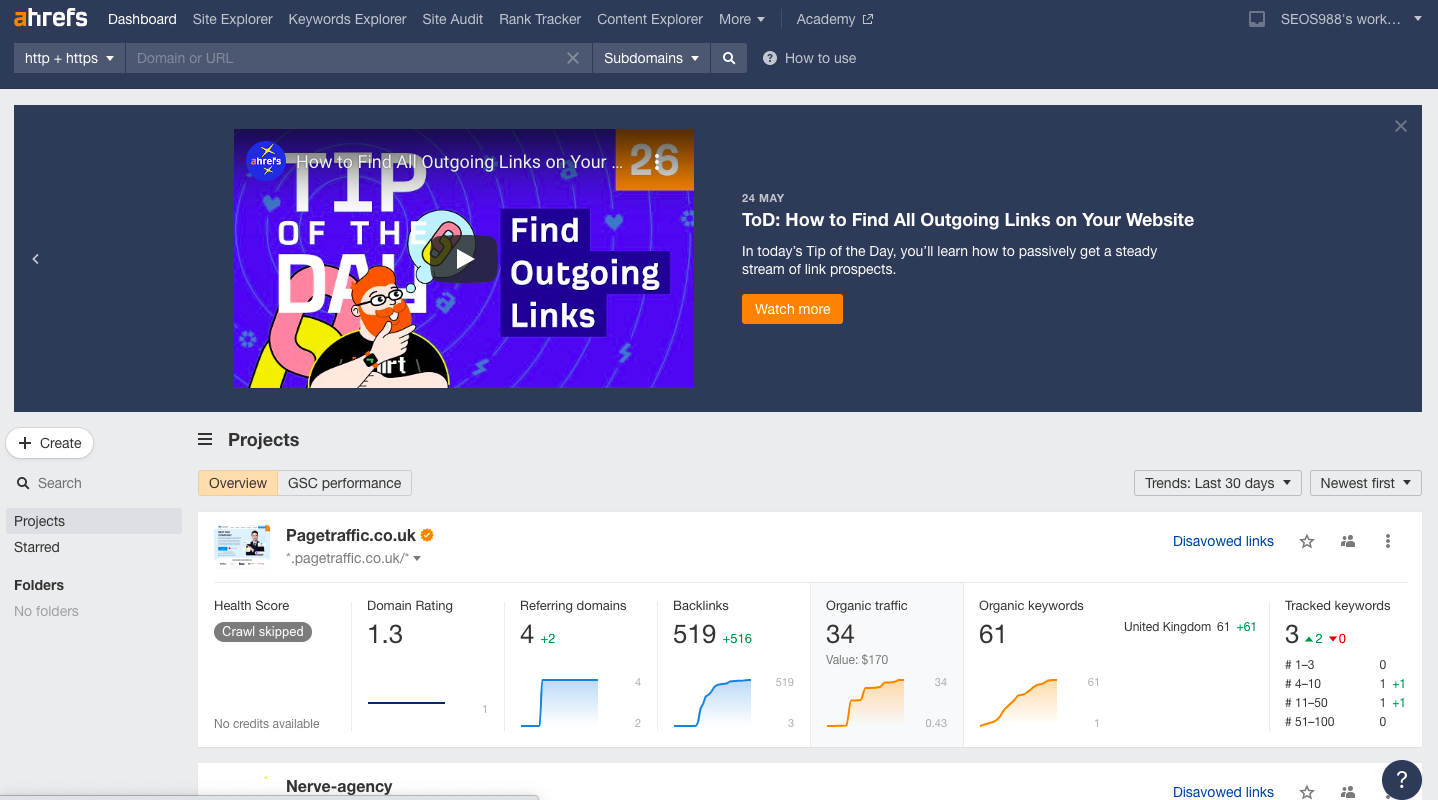 You can comfortably switch from one feature to another. For instance, if you want to use the Keywords Explorer feature immediately after rank tracking, you'll just need a click of the button.
Ahrefs comes with its own tooltip helper tool that you can use to read a detailed explanation of an element, as shown in the below image. This is highly useful as it helps users understand abbreviations and acronyms that are commonly used in SEO tools.
Semrush
The Semrush dashboard comes with more modules than that of Ahrefs. For example, you can use the Domain Analytics module to get information about your domain's organic keywords, ad keywords, and traffic.
In the search bar, not only can you type in a domain but keywords and any other thing that you'd want to explore, meaning it's more user-friendly than Ahrefs' search bar. The menu is placed on the screen's left side and has quick links to keyword analytics, projects, marketing insights, etc.
The Semrush dashboard also comes with customer support resources that let you check out resources such as blog posts, news, and webinars and contact the support team to get answers to your questions.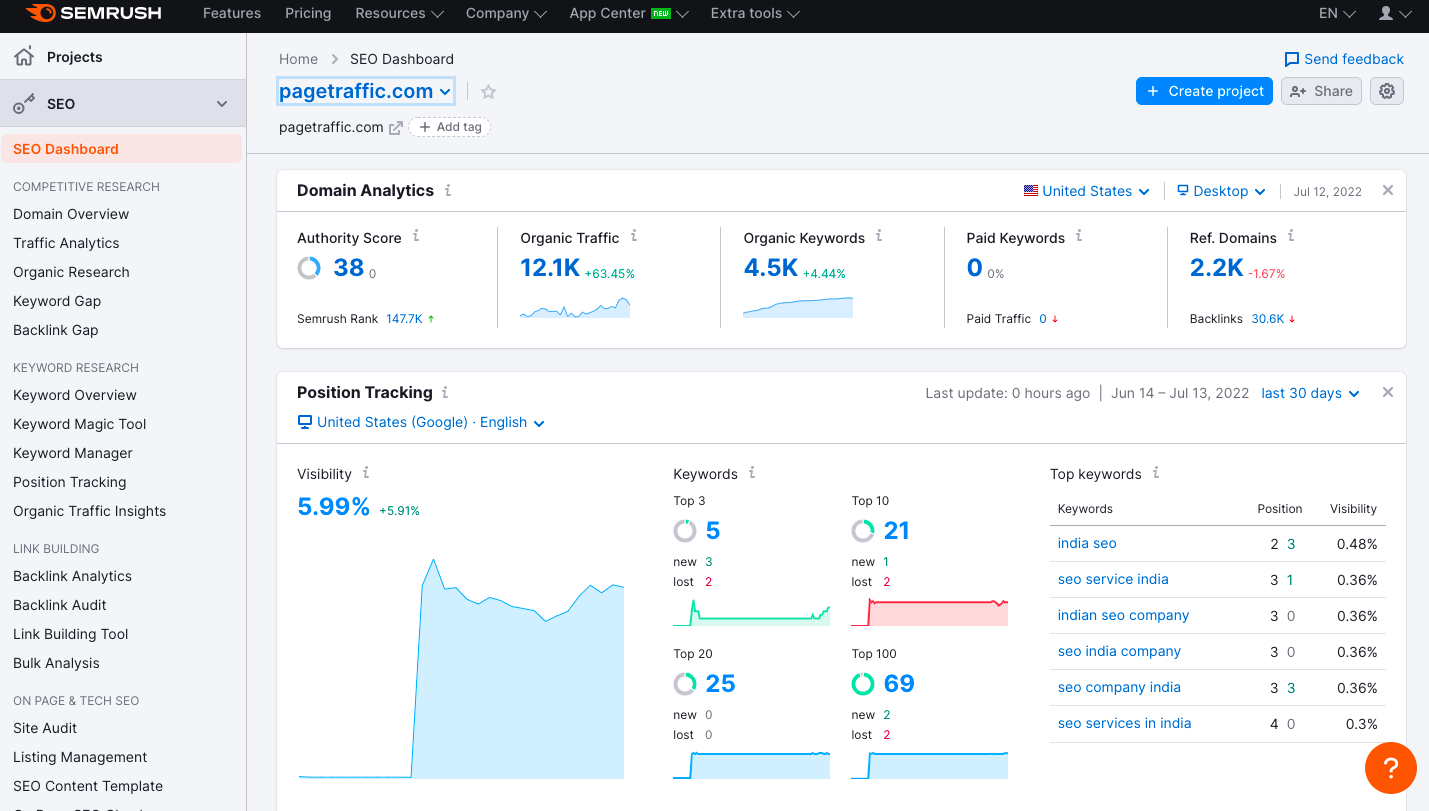 Similar to Ahrefs, Semrush also lets you see information descriptions for almost everything available in it.
Which Tool Should You Use For User Interface?
Deciding on this comes down to your own preferences, as both Ahrefs and Semrush come with strengths and weaknesses. If you want to use a clean, simplified interface, you should go with Ahrefs.
However, if having more tools on the screen and easy access to customer support resources is the thing you want, Semrush may be a better fit for you.
Keyword Research: Semrush vs Ahrefs
For any digital marketer, keyword research plays an immensely vital role. Without it, it's simply impossible to identify the terms that your target audience is using when looking for your offerings.
Once you've identified the appropriate keywords, you can use them to optimize your site and create content to satisfy the needs of both search engines and your site visitors.
Although Semrush is often considered a pioneer in the field of keyword research, Ahrefs also offers an advanced keyword research tool, Keywords Explorer.
Ahrefs
With Ahrefs' Keywords Explorer tool, you can produce thousands of keyword suggestions related to your primary topic. You can view vital keyword metrics like keyword difficulty, search volume, CPC, and more while getting data on subtopics like newly discovered keywords, similar keywords, and questions.
Here's a brief explanation of the working method of Ahrefs' Keywords Explorer tool.
Use your Ahrefs dashboard to go to the Keywords Explorer tab. In the search box, enter your keyword(s), select the location you'll want to target and click the search icon.
Ahrefs will then show you key data for your seed keyword(s) together with a keyword ideas list for them and search volume for every keyword.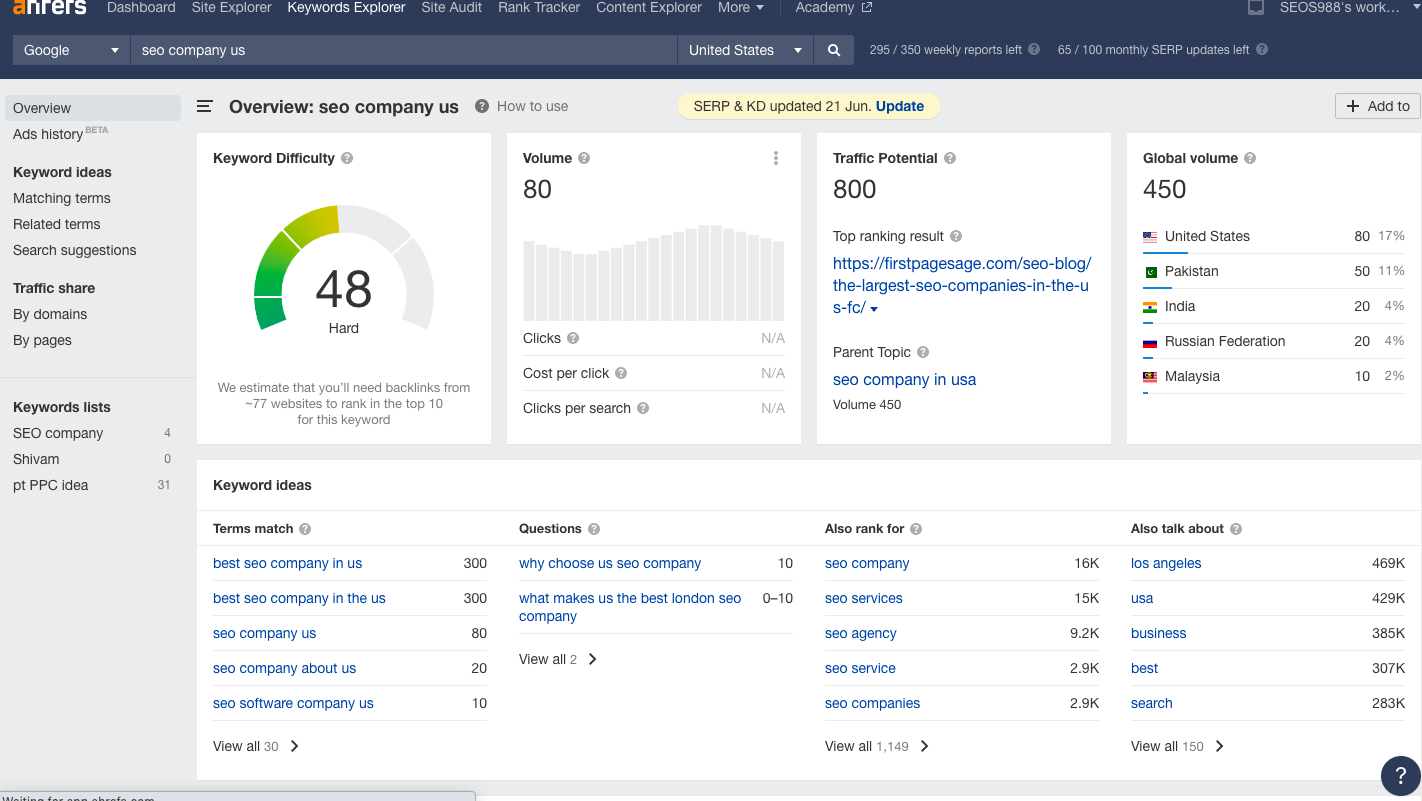 The notable thing about Ahrefs is that not only does it show you the search volume for your target keyword, but it also comes up with clicks metric. Clicks metric stands for the average number of clicks made by people each month when they search for your target keyword.
The value of this metric lies in the fact that some searches may fail to produce any clicks at all, while others may produce clicks on multiple results. An example could be when we use Google to search for the age of a particular celebrity.
Ahrefs lets you see clicks metric for every keyword generated from the seed keyword. Simply hit "View all" available at the list's end to view the clicks metric together with other keyword data for the target keywords.
Semrush
As mentioned above, people know Semrush primarily for the keyword research features it offers. In addition to them, the platform has garnered a solid reputation for generating the most accurate data pertaining to search volume, which plays a vital role in both PPC and SEO campaigns.
When you enter a keyword in its search box, you can get the first glimpse of the keyword research capacities of the platform. The Keyword Overview report comes with a brief summary of all vital keyword metrics related to that keyword. These include keyword difficulty, monthly search volume, PPC competition, CPC, ad copy, keyword ad history, and top-ranking pages, among others.
However, you'll need to use the Keyword Magic tool and the Topic Research tool to understand Semrush's keyword research capacities more deeply.
As we have a different section for comparing the topic research capacities of Ahrefs and Semrush, here, we'll mainly focus on the Keyword Magic tool.
The Keyword Magic tool presently supports 142 databases together with more than a total of 20 billion keywords. With the power of this tool, you can easily find the most appropriate keywords. Then you can use those keywords in your content and optimize the pieces in a manner so that they can help your site rank high in both organic results and the valuable featured snippets section.
To use the Keyword Magic tool, first, you need to visit your Semrush dashboard. Then go to Keyword Analytics and finally to Keyword Magic tool. Now, type in the seed keyword(s) and click the search icon.
Based on the seed keyword entered, the tool will produce a list of keywords to use in your web pages or blog posts so that they can acquire higher SERP rankings while bettering the overall relevance of the content.
Additionally, there are modifiers like Broad Match, Exact Match, Phrase Match, and Related that you can use to obtain more specific results from the seed keyword.
It's also possible to exclude keywords that are irrelevant to your campaign.
On the results page's left side, keyword groups for the seed keywords will be shown. Keyword groups can be excluded to narrow down your target keywords further.
After you've discovered all the keywords, they can be added directly to the Keyword Manager that helps you obtain more information on your shortlisted keywords.
So, with Semrush's Keyword Magic tool, you can get lots of keyword data that you can use to craft SEO-friendly pieces of content so that they can acquire high SERP rankings.
Which Tool Should You Use For Conducting Keyword Research?
If you want to choose a tool based only on its keyword research capabilities, you may want to go with Semrush. We aren't saying that Ahrefs doesn't have enough capabilities, but Semrush takes the entire process of keyword research to another level.
In the context of keyword data, with Ahrefs, you can only see keyword difficulty, search volume, CPC, and clicks for the seed keyword. However, with Semrush, you also get to see other vital keyword metrics like competitive density, SERP features, and trends.
In terms of the volume of the keyword database, Ahrefs has 20.8 billion keywords while Semrush has more than 21 billion keywords, meaning both will let you access nearly the same number of keywords.
Competitor Analysis: Semrush vs Ahrefs
In SEO, competitor analysis lets you find out the keywords using which your competitors are getting high rankings in search results. Once you get to know those keywords, you can use them to craft content better than your competitors to outrank them.
Let's see how Ahrefs and Semrush can help you with this.
Ahrefs
Ahrefs comes with a domain comparison tool that lets you compare five websites (yours and your competitors') side-by-side. You'll see metrics such as backlinks, domain ratings, and images, among others. Although this helps you compare your site's performance in comparison with other websites, you won't get any specific information on improving it.
In the sidebar, you'll find a Competing Domain section for each of the sites (projects) you tracked in Ahrefs. Here, you'll see your most direct competitors' list together with a decent keyword intersection graph.
If you want to obtain more information, you'll need to visit Content Explorer and Site Explorer modules. There, you'll need to enter a competitor's URL rather than your own.
In the modules, you'll see the highest-performing organic keywords on your competitor's site along with the top pages. You may want to try those keywords after reviewing their search positions and volumes.
Semrush
With Semrush, you can spy on your competitors as efficiently as possible. It offers several tools to test your competition.
The Keyword Gap feature is one of such tools. First, it lets you compare different websites with your own. Then it generates a list of the top keywords on all those sites, together with the ones among them that acquire the best ranking for those keywords.
Topic Research is another wonderful feature that allows you to see what's being written by your competitors and what keywords you should target to beat them. We'll discuss this in detail in the next block.
Market Explorer is another powerful competitor research module you get with Semrush. First, you need to enter a website name (such as your own), and then it comes up with a list of articles or websites similar to what you entered. You get various options to track those companies and markets.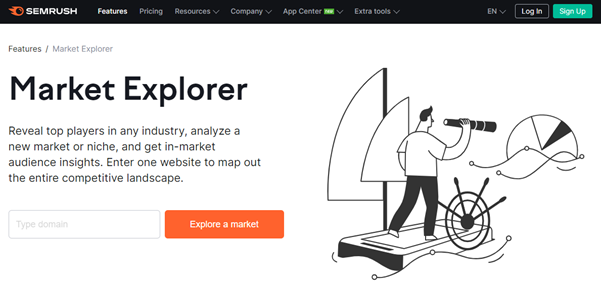 Which Tool Should You Use For Competitor Analysis?
Clearly, Semrush comes with many more tools that you can use to find your competition and figure out what right and wrong activities they're carrying out. Apart from comparing different websites with your own, you can track the overall market and obtain content recommendations from competitors.
Although Ahrefs also provides you with several features, Semrush offers a more powerful combination of features that you need to obtain a clearer comprehension of the activities of your competitors.
Topic Research: Ahrefs vs Semrush
Sometimes, we all need to craft content mainly for social media platforms or link-building purposes. And finding relevant, powerful topics for the pieces often becomes a difficult task.
Here's what Ahrefs and Semrush offer to fulfill this purpose.
Ahrefs
The Content Explorer tool from Ahrefs comes in handy to research topics. With this tool, you can identify trends data and perform data-driven content research.
First, you need to type in a phrase or keyword to search its database. You'll get dropdown options to choose how queries will be matched.

It'll come up with a high-level view of your topic's popularity on the pages over time graph. You can see the top authors for your topic and the volume of traffic they've generated.
For every web page, you can see vital social and SEO metrics. It's also possible to see results based on languages, authors, pages, or websites.
If you want to identify topics that have produced lots of links, you can use its referring domains filter for that purpose. Once you have topically relevant pages that have lots of links, visit them to generate topic ideas.
Semrush
With Semrush's dedicated Topic Research tool, a lot of content ideas can be generated for any given topic. You'll get headlines, related searches, questions, and more in the list of subtopics.
Start by going to Topic Research from the Semrush dashboard and entering the keyword(s) or topic in the search box. Click the "Get content ideas" button, and the tools will produce a list of subtopics encompassing your main topic.
By default, it'll show you the content ideas in the form of cards along with subtopics. There will be a fire icon with the trending subtopics. These are the subtopics searched most during the last sixty days across the web. If you want to see the trending subtopics first, you need to turn on the toggle for "Trending topics first."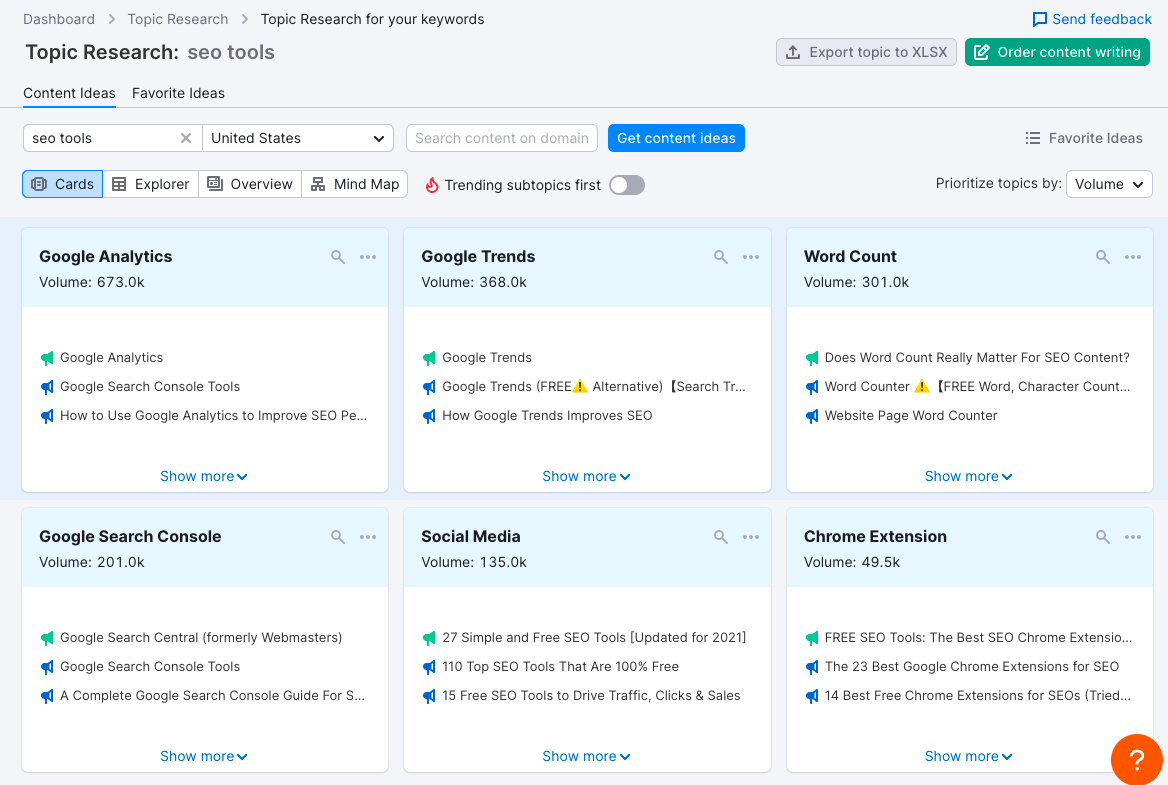 It's also possible to sort the topic cards based on difficulty, volume, or topic efficiency. Just click on a card to get more information, such as the top headlines, related searches, and questions encompassing the topic.
Which Tool Should You Use For Topic Research?
It's difficult to suggest one because both tools are great. While Ahrefs has lots of features to help you research topics, Semrush comes with a dedicated tool for this purpose. Either of these can be your go-to tool for finding ideas to craft content on.
Backlink Analysis: Semrush Vs Ahrefs
Link-building may belong to the most difficult aspects of SEO, but it brings lots of benefits your way when done right. By performing a backlink analysis of your site and the websites of your competitors, you can continue trying to get higher SERP rankings.
Let's find out what Ahrefs and Semrush have on offer in terms of backlink analysis.
Ahrefs
For Ahrefs users, a large amount of time is often spent on the Site Explorer tool. While this gives you a lot of valuable search data, it also lets you get a comprehensive analysis of the link profiles of your and your competitors' sites.
Use the Ahrefs dashboard to go to the Site Explorer, and type in the domain you wish to perform an analysis for to have a detailed look at the backlink profile of your site.
From the Overview report, you'll get a top-level view of the site for which you're doing the analysis. But as we're reviewing the backlink analysis features of Ahrefs, we're going to only focus on two metrics: Backlinks and Referring Domains.
Click on the number beneath Backlinks or Referring Domains to obtain more in-depth information about the websites linking to your site.
Here, the Referring Domains report plays a more vital role as it lets you see every website that's linking to your site and how many times it has linked. Use the link-type dropdown to select "dofollow" and sort by DR to view the authoritative sites linking to your site.
The Site Explorer tool can also be used to analyze specific URLs' link profiles.
Semrush
Although Semrush's Backlink Analytics tool was considered a weaker link in its SEO toolkit for a long time, the situation transformed in 2019 when it made a major improvement in its backlink data quality.
Today, it provides you with crucial data on the backlink profiles of your and your competitors' sites.
Start by typing in your domain in Semrush's search box. In the dropdown menu, select "Backlinks" and click "Enter." Within a couple of seconds, you'll get your overall backlink profile's overview, including the total count of referring domains and backlinks.
Now, you can click on the number of referring domains to see the Referring Domains report or click on the number of backlinks to see the Backlinks Report, both of which will help you get more in-depth insights into your site's link profile.
You can also see your site's other backlink metrics like link attributes (nofollow, dofollow), backlink types (image, text, etc.), categories of referring domains, top anchors, and more.
Likewise, you can get vital insights into the websites and link-building strategies of your competitors. Simply enter the domain name of your competitor in the search box, and the Backlink Overview report generated by the platform will let you see its overall link profile along with other backlink metrics.
The Backlink Audit tool is another powerful feature in the link-building suite of Semrush. This carries out a detailed audit of the backlink profile of your site to spot toxic backlinks so that you can avoid Google penalties.
It'll send you email alerts whenever it identifies a suspicious link on your site and helps you generate a disavow file that you can submit to Google Search Console.
Which Tool Should You Use For Backlink Analysis?
Although Semrush has made notable progress by incorporating new backlink features in its link-building suite, it still stays behind Ahrefs in terms of backlink analysis. Semrush may have a bigger link index, but with Ahrefs, you can obtain data more easily. Its expertise and experience help users get comprehensive backlink data faster and in a cleaner manner.
Technical SEO Audit: Ahrefs vs Semrush
Without optimizing the technical aspects of your site, it'll be almost impossible to achieve higher rankings on search result pages. Although many digital marketers prioritize on-page and off-page SEO over technical SEO, it plays an equally vital role.
To identify the technical issues with your site, like issues with site speed, site architecture, sitemap, XML, etc., you need to conduct technical SEO audits periodically and fix them to maintain your site's SEO performance.
Let's see how Ahrefs and Semrush can help us with the technical SEO audit.
Ahrefs
Ahrefs has a Site Audit tool that crawls each and every page on your site and analyzes it for more than a hundred pre-defined SEO issues. After it completes the audit, you get an overall SEO health score together with all possible SEO problems with the site, charts showing key data, and recommendations on fixing the issues.
After logging into your Ahrefs account, go to Site Audit. Then go to New Project, type in your domain name there, and hit Continue.
Now you need to wait while Ahrefs crawls the site and checks for probable technical SEO issues.
Note that even if your site has a moderate number of pages, Ahrefs may take several hours to generate an audit overview report. If you want, you may log out of your dashboard as Ahrefs will send you an email alert after completing the site audit.
Semrush
With Semrush's Site Audit tool, you can do a full SEO audit of your site while analyzing its overall SEO health. You get a list mentioning on-site issues that are presently being faced by your site. You also receive recommendations on fixing those errors to improve your site's SERP rankings.
The Site Audit tool comes with more than 130 checks for SEO errors. These include common on-page issues such as title tags, meta descriptions, h1 tags, as well as complex issues like format errors in sitemap.xml files, and hreflang conflicts within page source code, among others.
To perform a site audit, you need to create a new project. Then, in your Project interface's Site Audit block, select the "Set Up" button. Type in the details here and click on the "Start Site Audit" button.
You'll get an overview report of the SEO health of your site within a few minutes.
Your site's total health score is generated on the basis of the ratio of discovered errors to performed checks' number. Semrush categorizes these issues into Warnings (issues of medium severity), Notices (less severe than Warnings), and Errors (most severe issues).
Semrush mentions the top issues from the audit below these categories. It shows the issues on the basis of their priority level and the pages' number with said issues. If you want to see the list generated in the Issues tab, click on any of the buttons available beside the issue. Here, you'll get more information on the issues and recommendations on how to fix them.
Once all the issues are checked and fixed, you can perform a site audit once again to see if the warnings and errors are gone.
Which Tool Should You Use For Technical SEO Audit?
Although Ahrefs gives a fairly accurate view of the issues that are impacting the SEO performance of your site, it takes much longer than Semrush to scan a site and produce an audit report. Moreover, the Site Audit tool of Semrush is more accurate, easier to use, and comes with additional features like historical charts, crawl comparison, and more.
So, the Site Audit tool of Semrush is clearly the winner here.
Rank Tracking: Semrush vs Ahrefs
Without tracking the positions of your target keywords in the SERPs, it's simply impossible to measure the effectiveness of all your SEO activities. With the help of rank tracking (also known as position tracking), you can track your site's overall visibility in search results to understand what activities are working and what aren't.
Moreover, you can also track the rankings of your competitors in SERPs to understand your site's overall position.
Let's figure out which tool among Ahrefs and Semrush helps us track positions better.
Ahrefs
With Ahrefs' Rank Tracker feature, you can keep track of a target keywords' list in different locations (country level) both for mobile devices and desktops. You can also see the progression of your rankings for a specific keyword over time by going through position history charts.
At the time of adding a new project on the platform, you also get the option to include keywords that you'd want to track for your site. It's also possible to add a maximum of five competitors to make a comparison of your organic search rankings against them.
Once these details are entered, you can track your keywords' performance in SERPs and measure your SEO campaigns' effectiveness. You can also monitor the visibility of competitors' in search and modify your campaigns accordingly.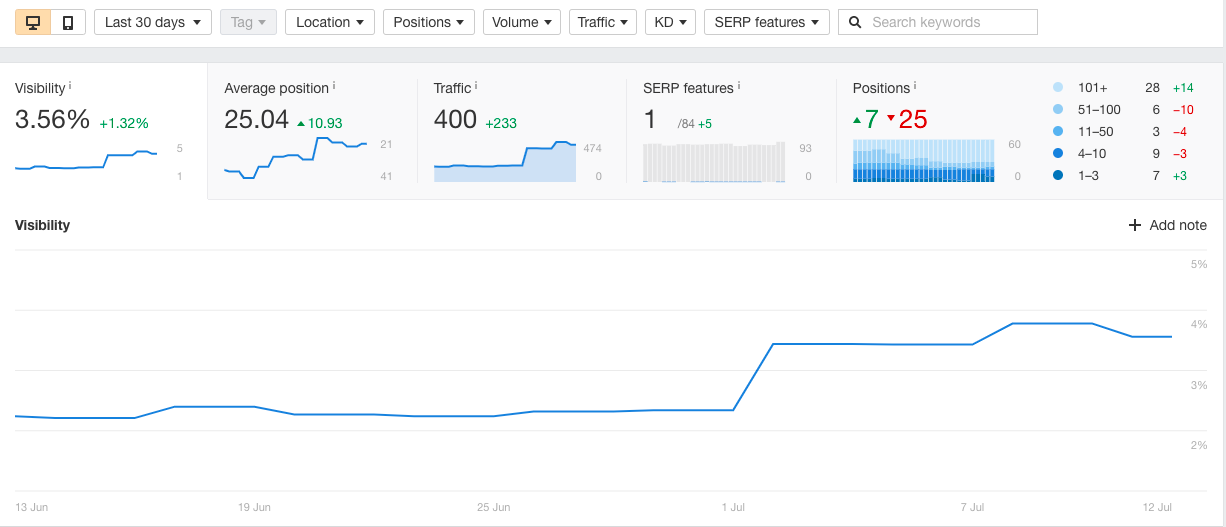 If you want to get email alerts from Ahrefs whenever there's an improvement or decline in your rankings, enable Rank Tracker Notifications available in Settings.
Semrush
Semrush's Position Tracking tool is widely considered one of the perfect position tracking tools around. One notable thing about this tool is that you can see local and mobile rankings to get a complete picture of the visibility of your site in SERPs.
You can add all the keywords you'd wish to rank for and track your site's positions for those keywords for any location on different devices.
First, you need to go to the Project. Then go to Position Tracking and finally to Set Up. There, you need to add several things, including your location, your competitors' domains, and a list of keywords that you wish to rank for, along with selecting the device (mobile, tablet, or desktop).
In the Position Tracking report, you'll see three main metrics for every keyword you've added: Visibility, Positions, and Estimated Traffic.
It'll also show you the top-performing keywords for your site, improved rankings (keywords with positive impact), and decreased rankings (keywords with negative impact).
If you wish to get more detailed information on the rankings, clicking on the Overview tab will let you see the position tracking report for your chosen keywords in the Google top 100, along with position changes during a specified time period.
Which Tool Should You Use For the Purpose of Rank Tracking?
As Ahrefs and Semrush perform equally well in helping users track positions, you can choose either of them. Any of them will give you highly accurate and detailed rank tracking data.
Browser Extension: Semrush vs Ahrefs
With the right browser extension, you can automate research and analysis that results in a more powerful SEO strategy.
Let's find out whether you should use the browser extension from Ahrefs or the one from Semrush?
Ahrefs
Ahrefs' browser extension displays page-level stats (number of referring domains and backlinks, the URL rating, estimated number of keywords that a site acquires rankings for, and estimated search traffic), together with domain-level stats (same factors but domain-level). It also shows the Ahrefs rank that's the platform's own method of calculating how powerful a domain is.
Semrush
Semrush's browser extension is called SEOquake, which is available for free. Basically, it displays how many pages are on Google's index for a particular site, how many backlinks are pointing to that specific page, and the Alexa rank and age of the site.
To be honest, the majority of this information may not be that useful for many digital marketers these days. It's important to remember that this toolbar was launched much before the introduction of the Penguin update, and at that time, link spam played a vital role in SEO.
Which Tool Should You Use For Browser Extension?
Although Semrush's toolbar is available for free, it isn't that useful. If you can pay for a browser extension, you should go with Ahrefs.
Additional Features: Ahrefs vs Semrush
From time to time, both Ahrefs and Semrush continue adding new features while improving the existing ones. For instance, Semrush has fully overhauled its link-building features to help users get better data.
On the other hand, during the last couple of years, Ahrefs has made notable improvements to its keyword research capacities by adding the "clicks" metric and updating its keyword database to help users get a more accurate and comprehensive report.
However, in the context of additional features, Semrush helps you get the maximum out of your investment.
When subscribing to Semrush, you also get access to several other toolkits apart from the SEO toolkit. You get access to the social media toolkit (Social Media Poster, Social Media Planner), competitor research toolkit (includes add-ons such as Market Explorer and Traffic Analytics), and advertising toolkit (CPC Map, PPC Keyword Tool).
But the more important thing is that it lets you access the multifaceted content marketing platform. This comes with several highly useful tools like the following ones.
Topic Research
As discussed in the "Topic Research" block above, it lets you analyze the content of your competitors and generate ideas to acquire better SERP rankings than them.

SEO Writing Assistant
It checks whether or not your blog posts adhere to SEO best practices. You can use it as an alternative to Yoast SEO.

SEO Content Template
It helps you craft effective SEO-friendly content.

Content Audit
It carries out an audit of your site and provides recommendations for improvements.

Post Tracking
With it, you can track rankings, social shares, and backlinks of any post.

Brand Monitoring
It tracks online brand mentions of you and your competitors.
As you can see, these tools can help you develop a robust content strategy for crafting blog posts that will outrank your competitors in search results.
In addition to these, Semrush comes with better reporting features than Ahrefs. It lets you generate, customize, and schedule PDF reports so that you can conveniently organize your data in a single location.
If you only want to have an SEO toolkit to give your site's search rankings a boost, Ahrefs may bring you satisfactory results. But if you also want to take care of several other important things along with improving your site's SERP rankings, you should go with Semrush. For instance, Semrush's PPC Keyword Tool may be extremely effective in optimizing the results from your Google ad campaigns.
Pricing Plans: Semrush vs Ahrefs
The cost of the tool plays a vital role in deciding whether you should go with Ahrefs or Semrush. Let's see the pricing plans of each of them.
Ahrefs
Ahrefs has four plans, with the basic one starting at $99 per month.
If you want to pay annually, the actual monthly costs of all the plans get reduced significantly, as shown in the screenshot below.

Note that Ahrefs doesn't have a free trial. However, website owners may sign up for the Ahrefs Webmaster Tools for free. It gives limited access to Site Audit and Site Explorer.
Semrush
Semrush has three plans, with the basic one available at $119.95 per month. Here's a screenshot of its current plans.
Similar to Ahrefs, you can get up to a 17% discount if you choose to go with annual billing.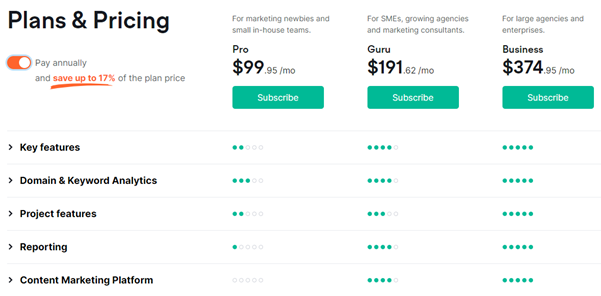 In the context of restrictions, Ahrefs seems to appear with more of them on the basic plan compared to Semrush.
When it comes to refund policies, Ahrefs gives you just 48 hours to raise a refund request for monthly subscriptions. On the contrary, all plans of Semrush come with a seven-day money-back guarantee.
Support: Semrush vs Ahrefs
When it comes to premium tools like Ahrefs and Semrush, the quality of customer support is a crucial deciding factor. Let's see how customer support stands for these tools.
Ahrefs
You get support from Ahrefs through live chat. Live chat is really impressive, and you can almost always expect a response within three to five minutes.
It also has a large collection of tutorials, SEO guides, blog posts, and FAQs that provide great help for all of its tools and help you navigate through the world of SEO.
To read tutorials and FAQs, you need to visit Ahrefs' Help Center.
Links to Ahrefs blog, Tech blog, and SEO guide are available on its website under the "Resources" section.
Semrush
You can contact Semrush's customer support team through phone, email, and a contact us form. Similar to Ahrefs, it has a large knowledge base comprising user manuals, videos, and ready workflows.
The link to Semrush Blog is available under the "Community" section of its website.
Closing Thoughts
There you have our ultimate comparison between Ahrefs and Semrush on the basis of eleven parameters. We're sure that you now have a clearer idea of how each of these tools works.
Ultimately, choosing one between Aherfs and Semrush as your favorite SEO tool boils down to your personal requirements.
If your priorities include backlink analysis and link-building, you should go with Ahrefs. But if you consider keyword research, content marketing, and technical SEO more important aspects than link-building, Semrush will serve you better.
Still, if you have the budget, we'll suggest you use both these tools simultaneously as they come with their own unique advantages.
Frequently Asked Questions
What is Ahrefs best used for?
Ahrefs is a popular tool among SEO's and content creators to research key.words, backlinks profiles as well as the overall health of your website on Google. Ahrefs can also be used to find content that has performed well, in terms of social sharing
Is there a free version of Ahrefs?
Yes, a free version of Ahrefs' Webmaster tools can be used for your website. To start using the free version, you need to verify the ownership of your website on Ahrefs.
Can I use my Semrush account for free, after canceling my paid subscription?
Yes you can. A paid Semrush subscription after canceling, automatically becomes a free account.