You may be an adept digital marketer with good strategies and expertise to create captivating ads, but what will you do if those ads start to lose their effectiveness? What will you do if they fail to bring you the competitive edge required to outperform your competitors? The simple answer is to try the Facebook Ads Library out. While it was created to maintain transparency and allow government agencies and journalists to research ad campaigns completed earlier, it can be a goldmine of information for any digital marketer.
Here, you can find all of the advertisements that appeared on the platform within the last seven years. If you're trying to make compelling Facebook ads, the Facebook Ads Library can provide you with highly useful information and inspiration.
In this post, we're going to dive deep into how you can utilize it to gain valuable insights into your competitors and make ads more effective than theirs.
What Is Facebook Ads Library?
The Facebook Ad Library was created in 2019 by Facebook as a response to the massive controversy about the 2016 U.S. presidential election. In fact, you don't even need a Facebook account to get information on earlier Facebook ads.
It contains a digital database that you can search to get information about any active ad on the platform. From the creator of the ad and its creative elements to the date it was published, you can get several pieces of useful information.
The library maintains information on all the published Facebook ads for a maximum period of seven years.
As a marketer, you can get concepts for your personal campaigns, see the advertisement activities of your competitors, and observe the progress of your own ads.
Perhaps you already know that Facebook ads can be of different types. When you launch an ad on Facebook, it doesn't mean that it'll show up only on Facebook timelines and feeds. Marketers can choose to place their Facebook ads on different platforms owned by the Facebook (now Meta) ad network.
As Facebook is the owner company of Instagram, there's no surprise that you can also see Instagram ads in the Facebook Ads Library. This essentially helps you get information on how to create the right ads for Instagram to stay a step ahead of your competing businesses over there.
Also Read:
How Can You Effectively Leverage the Facebook Ad Library?
As Facebook's objective behind creating this library was to provide the users with complete transparency, it comes with several search functionalities. In fact, Facebook has a detailed guide on the process of searching the Facebook Ads Library.
However, to help you make the most out of it, we've curated the following tips.
To search the Facebook Ad Library, first you need to go to it by entering facebook.com/ads/library into your internet browser's address bar. Once you're in the ad library, you need to click on the drop-down menu beside the "Ad Category" button under "search ads."

By default, your country will appear on the box. Be sure to choose the right country where you offer your services. Failing this may lead you to marketing information irrelevant to your business. Using a VPN or other similar services may also make the library show a different country.
You can either scroll the list and find the appropriate country or type its name in the available search box.
After you've selected the right country, you need to choose your advertising category. The "Ad Category" button is available on your country's right. Try to choose the category that closely matches your competition's description.
In the library, you'll find a limited number of categories based on your selected country. For instance, if you choose "United States" as your country, you'll see five categories. These include "All ads," "Issues, elections or politics," "Properties," "Employment," and "Credit."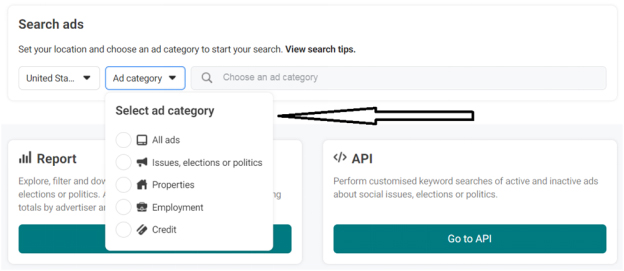 Remember that you must select one of them to start your search. As the categories aren't fully transparent in what they contain, it may be ideal to select "All ads."
This'll help you find fully commercial ads placed by your competitors, from which you can search for the one(s) that'll associate with your own marketing campaign.
Search The Facebook Ads Library
Once you've selected an appropriate category, you can start searching the Facebook Ad Library. On the right of the "Ad Category" box, there's a search box available where you need to type a keyword or the name of an advertiser.
For instance, if you want to get information on ads placed by "Adidas," just type it in the search box, and the ad library will show you all the advertisements (up to the last seven years) presently active on Facebook.
Similarly, if you want to see ads on a particular product, you need to enter the keyword(s) most relevant to it. For example, by entering the keyword "sports shoe," you can see all the related ads neatly organized by Facebook Ads Library on the basis of the month they were launched.
Now that you've completed the search, it's time to get detailed information about an ad. You can see a couple of details directly above an advertisement. These include the following information:
The launch date of the advertisement
The platforms that the ad is being displayed on
The ad's ID
Whether the ad is active or not
If you want to get more information about a particular ad, click on the button "See ad details." You can find this button just below the above pieces of information. If there are multiple versions of the ad running simultaneously, you can see them here.
It's vital to comprehend the information presented to you by the Facebook Ads Library. If an advertisement is active, it'll appear with a checkmark in its top left corner. Below the status, you can see the platforms the ad is currently active on. These may include:
Facebook
Facebook Messenger
Audience Network
Instagram
Once you gain all these pieces of information on one of your competitors' ads, you'll be in a much better place to come up with your own advertisements.
How to Filter Your FB Ads Library Searches?
While you can use the ad categories as filters, the ad library allows you to make more detailed searches. Here're the options you can use to locate the exact advertisement you want to get information on.
To succeed with your own advertising campaigns, it's extremely important for you to comprehend different markets. As many different languages are used in different parts of the world, you may need to select the language that your target market is using to understand it.
For instance, if your target audience is in Portugal, you may need to view Portuguese advertisements to understand that market. With the help of the language filter of the Facebook Ads Library, you can easily view the ads running in a particular language to create your own ads tailored to that market.
As mentioned above, searching with a keyword is the first filter option available in the Facebook Ads Library. If you don't know the accurate name of a competing company or you want to search by product type, you can use this filter to find successful advertisements relevant to your keyword.
One major benefit of using this filter is that you can view different ads encompassing a particular product type. It means you can choose different elements from different ads to create the right one for your own ad campaign.
This filter allows you to search for ads running using certain media types. Some media types are more suitable for some particular platforms. For instance, photos are more suitable for Instagram. You can search the following media types using this filter.

Video
Image
No video or image
If you want, you can also search for all media types. As different individuals respond differently to images than the way they respond to texts and videos, you can get a deeper understanding of how to create successful ads using different media types.
We've already mentioned which platforms the FB Ad Library supports. Below the status of an ad, the platforms on which it's running are mentioned. With the help of this filter, you can see the ads running on a particular platform, whether they're Facebook, Facebook Messenger, Audience Network, or Instagram ads.
As marketing strategies differ from one platform to another, it's vital to gain insights into the successful ads that are running on your target platform. So, be sure to choose the platform that you want to target or maximize the effectiveness of your ads already running on it.
Comprehending the Facebook Ads Library
In today's fierce competition in the business landscape, succeeding with an advertising campaign has become very difficult. However, with the proper utilization of the Facebook Ads Library, you should be able to navigate the complexities relatively easily.
You already know how to make the most of the Facebook Ads Library and how to use the filters to find the right ads to get information and inspiration. Now it's your turn to delve deeper into it, find the most effective information for your own campaigns, and implement them to build better ads than your competitors.
It's always a good idea to outsource your paid marketing tasks to professionals, so you can concentrate on what you do the best. It's time to get in touch with an experienced paid marketing company.
Frequently Asked Questions
What is Facebook Ads Library?
Ads library is the place to find all ads that are running across all Facebook products. It was originally compiled in response to political controversy surrounding the US Presidential election 2016 and has since grown into something much more than what its original intention ever was!
Is Facebook Ad Library free to use?
Yes, it's absolutely free to use. You can check every detail about the ads. This includes the ad copy, ad creative, how long it's been live, and versions which are being A/B tested.
How can I find all Facebook ads?
1. Go to the Ad Library.
2. Select the country.
3. In the Ad category drop-down, select All ads.
4. Enter what you're looking for in the search bar.
5. Select See ad details to get more information.
Is Facebook marketing worth it?
If you want to reach out to a wider audience, increase the number of leads and conversion – Facebook ads are totally worth it. Businesses should invest in highly organized campaigns with well designed creatives to get the most out of their Facebook marketing.
Latest posts by Ritu Sharma
(see all)