We have been around since the early days of search marketing – PageTraffic was founded in 2002, four short years after Google. As the industry has evolved, we have adapted along with new trends and updates to the algorithm to ensure our clients are in the most effective positions in search results.
We are now listed as the top SEO agency in India on Clutch by keeping up with the ever-changing search environment.
Clutch is a B2B ratings and reviews website located in Washington, D.C. Two of our clients have recently left positive reviews on the site.
For the first project, we developed a new PPC campaign for a financial brokerage firm. The goal of the campaign was to attract at least 3 new customers per day for the firm's day trader programs while the campaign ran.
It produced a 25% ROI within the first month and matched the lead generation daily goals. The client also enjoyed working with us on a daily basis.
"They reached our expectations in terms of communication and project management in a transparent manner." – Strategist, Financial Brokerage.
The second review covered a project in which we provided content marketing services for a software development company. We wrote blog posts and press releases for the website and created visuals for social media.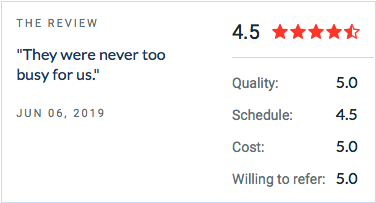 The high-quality content was used to convert prospects into clients by publishing regularly.
"[W]e saw a drastic increase in traffic on our website. They value their customers, and it shows in every interaction." – Marketing Manager, Software Firm.
We want to thank our clients for taking the time to fill out these reviews. They are incredibly valuable to our company and help keep us at the top of a very competitive industry.
You can also find us on two other sites that are also run by Clutch. The Manifest includes us on its list of the best India SEO companies. Aside from similar lists of other industry leaders, it publishes business news and best practices in an effort to help companies stand out from their competition.
The second site is called Visual Objects and hosts portfolio items to help potential clients make an informed decision about who they hire.
Interested in finding out how we can help your business rank higher in search results? Contact us today!