Here at PageTraffic, we're globally recognized for our SEO work. We partner with growing e-commerce brands to scale sales by leveraging the expertise learned from our tenured and dedicated team's experience and apply ethical and customized strategies to ensure that each client is found for the most competitive keywords and receive the most qualified traffic. We solve the challenge of making marketing campaigns profitable — and we do this with the help of our team!
Our team is the backbone of our small business. As we have less than 250 employees, each member of our team can give personal and dedicated attention to you and your brand. A standout team is essential to any small business as communication skills, motivation, an enjoyable workplace, shared training, and universal goals are important parts of any team. Our team is amazing — exceeding all of these traits in spades.
We love small businesses, especially small businesses here in New Delhi, India! Small businesses provide the backbone of the Indian economy! Small businesses make up the majority of businesses in New Delhi, and employ most workers! In fact, small businesses thrive at filling community needs across the nation and serving the entirety of India.
We love supporting small businesses by providing unique digital advertising solutions. During the current COVID 19 pandemic, ensuing lockdowns, and responsive economic calamities, small businesses across the globe and here in India are hurting. The relief that the government is providing only can go so far — so it's up to small businesses to support each other. We're here supporting small businesses with creative digital marketing solutions so that they can emerge from this period stronger than ever.
Miss your barber and want to show him some appreciation? Show him some love on Yelp or Google Reviews. If you love your favorite B2B service provider, review them on Clutch!
Clutch is our preferred ratings and reviews platform. Just steps away from the White House and the Washington Monument in the heart of America's capital city, Clutch highlights leading businesses and agencies. Their superstar team of analysts conducts client reviews, independently verifies them all, and then curates the content so that you know that you're receiving the best B2B services as a buyer. We have a stellar 4.3-star average on Clutch, featuring 5.0 star reviews from people like Deepika Chowdhry of Candid India, who praised our SEO & PPC campaign for their travel company!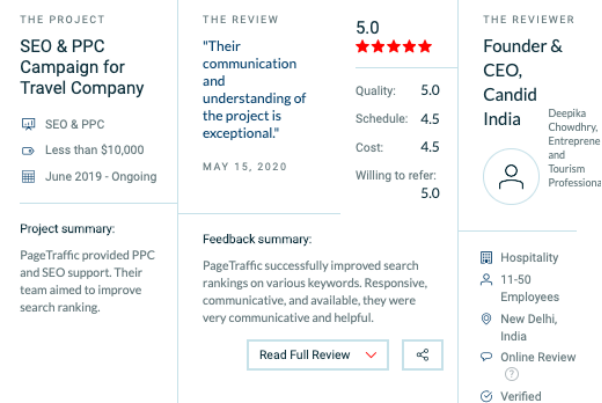 If you're a small business or working to augment your small business, please contact us today!
Latest posts by Ritu Sharma
(see all)