Mind blowing fact: "Happy employees make a great team which is like a four leaf clover – hard to find and lucky to have! This is because happy employees are more creative, innovative and dedicated."
Why Office Indoor Olymics? While work is the priority at offices, sometimes employees just need to let go off the heat and pressure. So, it is important to break up the monotony of a typical day on the job and involve your staff in team building activities, which not only makes the workplace a happy place for employees, but also helps relieve stress and increases efficiency. The purpose of team building activities is to build a stronger unit of workers. After completing team building activities together, employees better understand each other's strengths, weaknesses, and interests. This understanding helps them work even better together on future progress vital to a company.
How do I host a virtual office Olympics?
You can host an indoor online Olympics by inviting a new user to complete an activity and then rewarding them with points based on their performance. The user then competes against other users and the highest scoring member wins. At PageTraffic, we began digging online for ideas and came across "Office Olympics", an event filled with games and happy hours. This is how PageTraffic OLYMPICS came to life.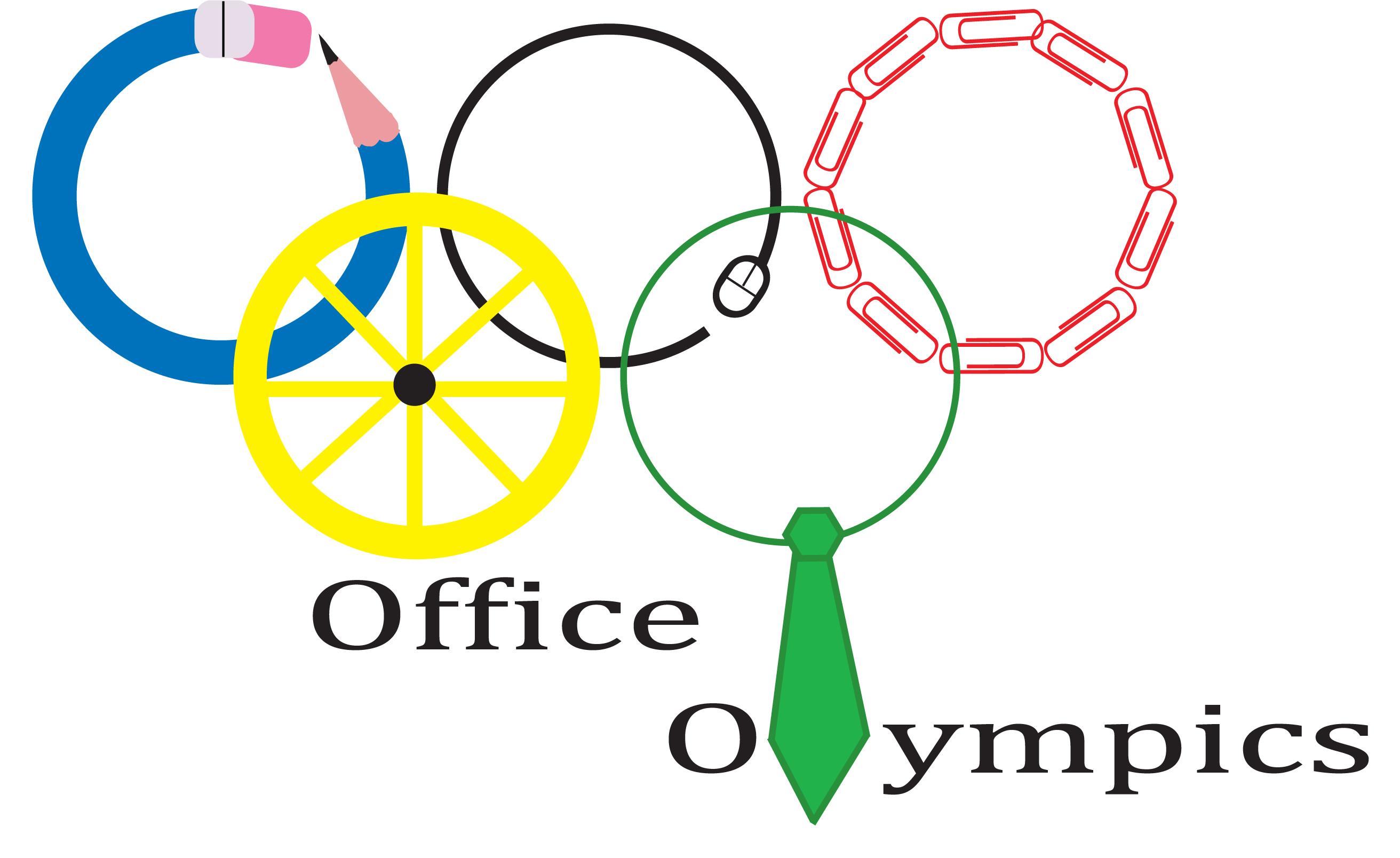 Deciding to host an office Olympics is one thing, but to come up with ideas for the various challenges is another! To fill an entire month with exciting events and activities, we divided our staff into 5 teams which represented different countries and games were played on the first working day as well as the last working day of the week. We kicked off the month with opening ceremony in which our teams decorated their bay areas as the village of the respective country. Following are the teams, with their villages, all ready to go on this adventurous ride: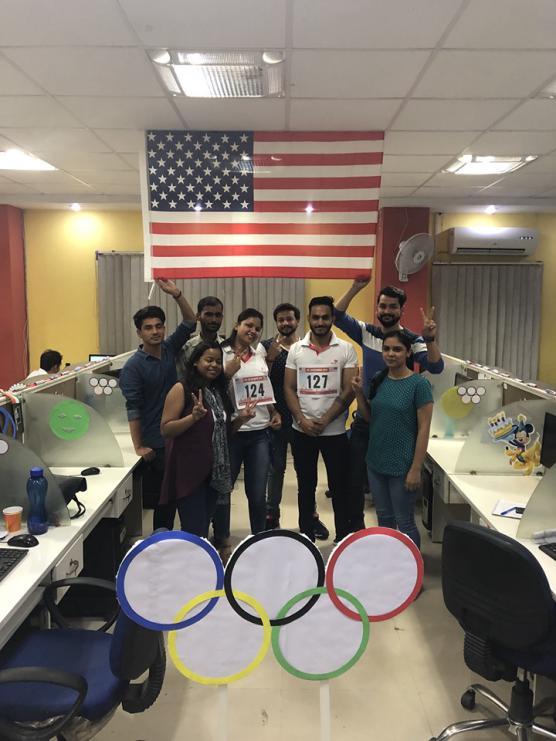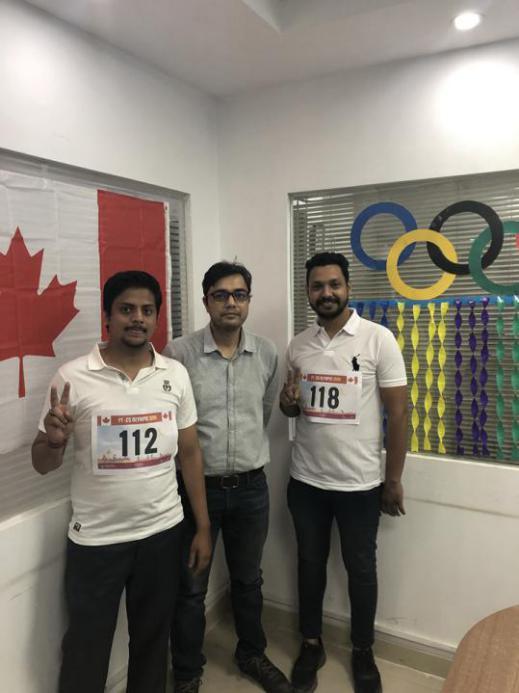 List of virtual office Olympics ideas
OFFICE GAMES – READY, SET, GO! With a calendar that was jam packed full of competitions and activities, we were all excited to run this amazing event in an office space. We chose creative office game ideas and ran them using office supplies we had on-hand. Here are the games we tried and played with our fellow employees:
Paper Javelin Throw:
In this, we provided paper rockets to our contestants.
They had to take turns standing behind a marked line to threw the rocket towards the other end.
The distance of their each throw was added to evaluate their performance!
We had Elimination Round Match between all the five teams and finally the teams that made it to the finals went ahead and fought for gold!
Office Soccer:
Each team got a five round shoot out.
Athletes were provided crumpled pieces of paper/ball, which they had to shoot across a table (6ft long).
When the five rounds were up, each athlete's score were added up for a combined team score.
We had several Round Robin Matches for this game and the teams enthusiastically played in each match.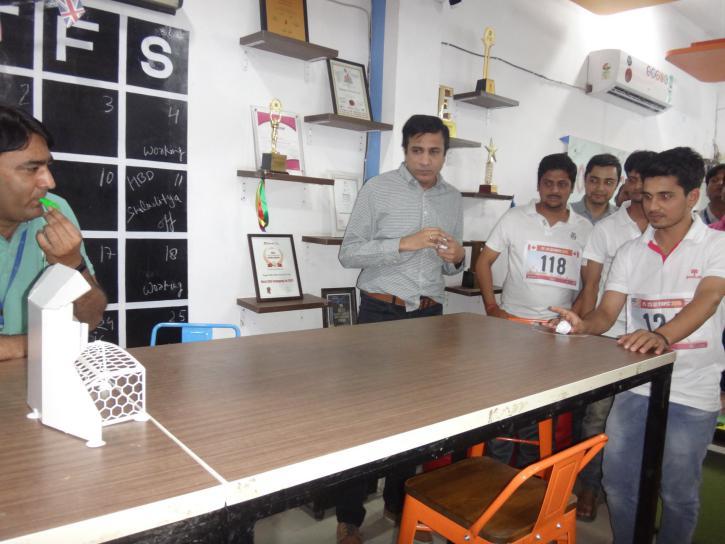 Table Tennis:
This was not that conventional table tennis game! In this, the participants played through several round robin matches and had to maintain consistency, in a team of two, to maintain their place in the game.
One participant had to shoot the TT balls using their hand in a way that they could hit the glass placed at the other edge of TT Table.
The participant on the other end had to catch the balls and threw them back at their partner.
The balls were supposed to hit the table (not more than twice) before hitting the glasses, i.e. if the ball directly hits the glasses, it was marked as foul.
The more the glasses fell off the table, the higher they scored!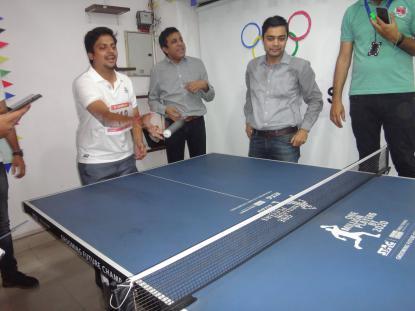 Basketball:
This short and simple game, was a creative play on the classic basketball-style game, of trying to throw paper balls into a wastebasket.
The participants had round robin matches in which we provided 5 chances to each player.
Participants had to stand behind the line, ball paper up and shoot into their team's bin which was placed 5-8 fit away.
The more the chances were missed, the far the participant was from winning gold!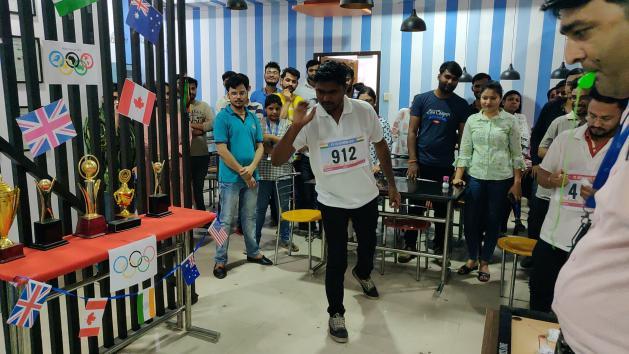 Speed Finger Skating:
The speed finger skating game was an individual event which required one athlete from each team.
The athlete was supposed to compete in a 60-second typing test using a timed typing website (like typingtest.com).
In the test, the typing speed of each athlete was monitored on the automated system, mistakes were counted and the average score was settled to compare it with others.
The teams were very excited and cheered their participants to utilize those 60 seconds and the competition was neck to neck between team India and Canada.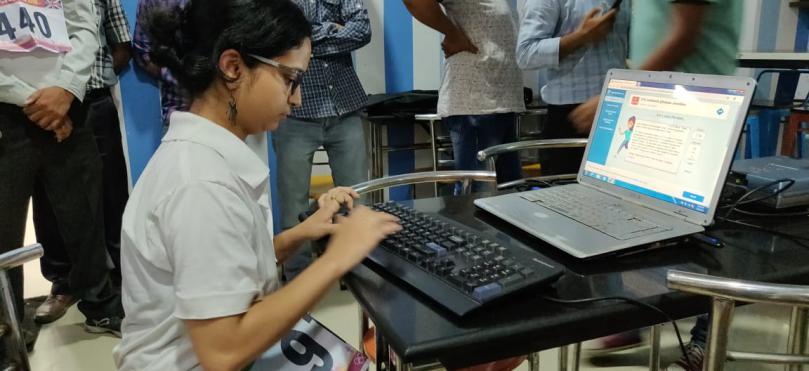 Paper Plate Discus Throw:
Each athlete was provided a paper disc and was supposed to stand behind a line marked on the floor to throw the 'disc' the furthest.
The total of the distance covered by the disc was added to get an overview of each team's performance.
It was again played as an elimination round and team India and USA were eliminated! It's harder than it sounds!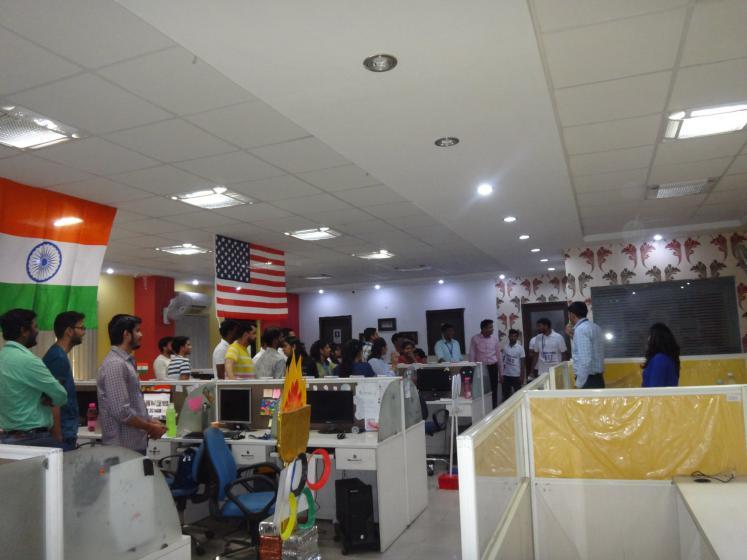 Desk Chair Sprint:
The desk chair sprint required two athletes from each team.
One athlete was supposed to sit in an office chair, while the second athlete had to push the chair through the course of cones/bottles and then switch for a total of two laps.
For every cone/bottle hit, we added 5 seconds to the total time.
The team with the lowest time span won the round.
It was fun to watch our fellow employees pushing the chairs and trying to get pass through the hurdles.
Balloon Sprint:
Each athlete stood behind the start line with a blown-up balloon between their legs.
Athletes had to run down the course with the balloon between their legs the entire way.
They were not allowed to touch the balloon! They had to let it slide until it touched the ground.
Then only they were allowed to pick it up and continue walking!
It was fun to watch them struggling with a balloon yet performing with great zeal and enthusiasm.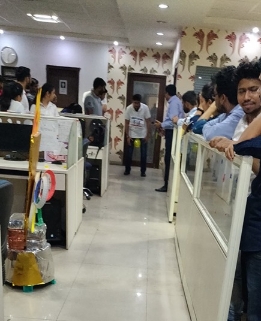 Chair Rowing:
Participants had to roll office chairs in an open area (a long hallway).
They push off the ground with both feet, trying to "row" themselves as far as possible without having their feet touch the ground again.
They were trying it hard to make it through the hallway and score the highest to win the elimination round.
Archery:
We created a marker board to create a target for the candidates and provided a set of paper and rubber bands.
The participants were then provided 3 chances to shoot the pieces of paper on the target and the score was added to get an overview of their performance.
This was also played as elimination round and the lowest performing teams were eliminated and lost their chance to win gold.
There is no limit to the many creative office Olympics-themed activities you can come up with. These were a few which we incorporated to make it more enjoyable and good-natured competition. Despite of the physical capabilities, the PT-Olympics was something everyone could participate in with confidence and was equally excited for!
Award Ceremony
After any sports team wins a major championship, they celebrate and have fun, which motivates them even more. This extreme example shows that the celebration, cheering and fun that come with every team bonding event can motivate employees to bring their job to the next level. So, after all those challenges and competition, to encourage the staff and to let them celebrate their victory, we also organized an award ceremony. In the ceremony, we facilitated the winners with the gold, silver, and bronze medals, and as a token of respect, love and solidarity, we played the national anthem of the respective countries. And of course clicked photos to commemorate the occasion. For us, it was an exhausting month trying to do all the "boring" work and running the Olympics, but our crew works hard and they deserved it. To our surprise, our employees not only got a lot more closer together, but they also contributed to a more successful and creative event!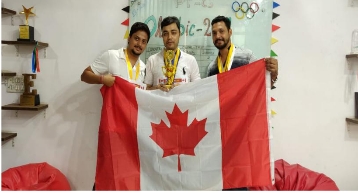 Hopefully, this was an Olympics that the employees at our office enjoyed so much that they won't want to wait another four years to host the next office games olympics!
FAQ: Virtual office Indoor Olympics
Here are answers to common questions about virtual online Olympics.
What are Office Olympic Games?
The Office Olympic Games is a weekly competition that takes place during the workweek and has participants competing in different physical sports to see who can get the most points.
What are some good virtual office Olympic ideas?
Some good virtual office Olympics ideas include Paper Javelin Throw, Office Soccer, Table Tennis, Basketball, and Speed Finger Skating.
Why should I participate in a virtual office Olympics?
There are several reasons why you should participate in a virtual office Olympics:
It's a fun way to compete against your colleagues from other organizations
It's a great way to learn new skills and improve your existing ones
You can win prizes and recognition for your achievements
How do you run an office in the Olympics?
First, designate a space in the office for the Olympics. This can be any open area, or even a conference room if you have enough space. Then, get creative with your events! You can hold traditional events like sprints and long jump, or get more creative with your own ideas. Some fun ideas include water balloon toss, ping pong ball shootout, or paper airplane flying contest. Finally, make sure everyone knows when and where the office Olympics are taking place so they can participate!