If you frequently use Google, it's very likely that you've seen the feature namely, "People Also Search For". This belongs to the search engine layout strategy of the tech giant, Google.
With Google continuing to add different elements to make the SERPs (search engine result pages) increasingly dynamic, many people feel a little overwhelmed with keeping pace with the updates. But elements like "people also ask for" can open the door to new SEO opportunities when leveraged properly.
While the people also search for (PASF) feature may appear slightly complex at first, you can utilize it to drive more organic traffic to your site.
With this in mind, we've created this guide to help you get a good understanding of this feature so that you can modify your present SEO strategy for search results accordingly.
What exactly is People Also Search For?
The PASF feature started its journey in 2012 as part of Google's introduction of knowledge graphs. It was designed to display a set of image thumbnails related to a particular search term.
Over time, this became an independent box with the primary objective of working for searches related to the domain of music. Somewhat similar to Spotify's algorithm that we see today, the concept of people also search for was to suggest music tracks according to the searcher's taste in music. The independent box would also show other albums having similar names or tracks by the same artist.
In today's SEO landscape, the PAA feature in Google has transformed into a goldmine. We cannot see the thumbnail images anywhere in the search engine result pages as they have been replaced with real topics having relevance to the actual search term.
The people also search for – PASF box only becomes visible when a user revisits the result page immediately after clicking on a search result. According to Google, the user instantly comes back to the result page because they were unable to find what they were searching for. And Google provides them with suggestions based on the search phrases they entered in the initial search to help them find useful PASF results.
The user intent plays a central role in developing the recommendations. Google offers options to find accurate search results by identifying the user intent of a searcher. From the outlook of a business owner or website owner, this can be incredibly helpful as it displays topics encompassing a particular search phrase and/or keyword.
Examples of People Also Search For
PASF box displays questions associated with the actual search query. Note that the suggestions vary depending on the device you use to conduct a search. If you're using a desktop, you're likely to get six results. But with mobile devices, the number may go up to eight results.
Although the exact reasons behind this are somewhat unclear, we can assume that Google probably wanted to stay away from creating a lengthy SERP on the desktop. And as people also search for (PASF) results appear like a carousel on mobile devices; they can accommodate eight search results without creating a long SERP.
Initially, the PAA feature in Google was placed right above the "searches related to" list. While the former helped us see several topically-relevant recommendations, the latter helped us expand or refine our present query.
However, in today's time, people also search for (PASF) is placed independently, as shown in the below image.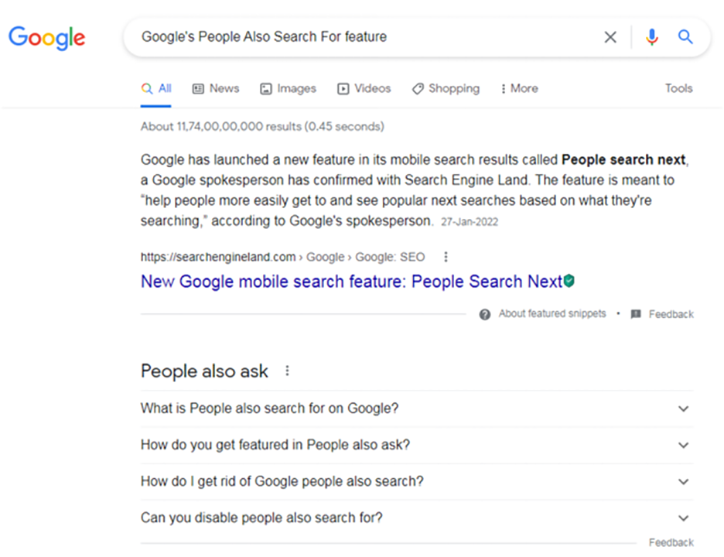 Google has abandoned the thumbnail images and attached the related topics to individual organic results. Now, the topics appear to be a combination of "searches related to" and the actual people also ask feature in Google (PASF).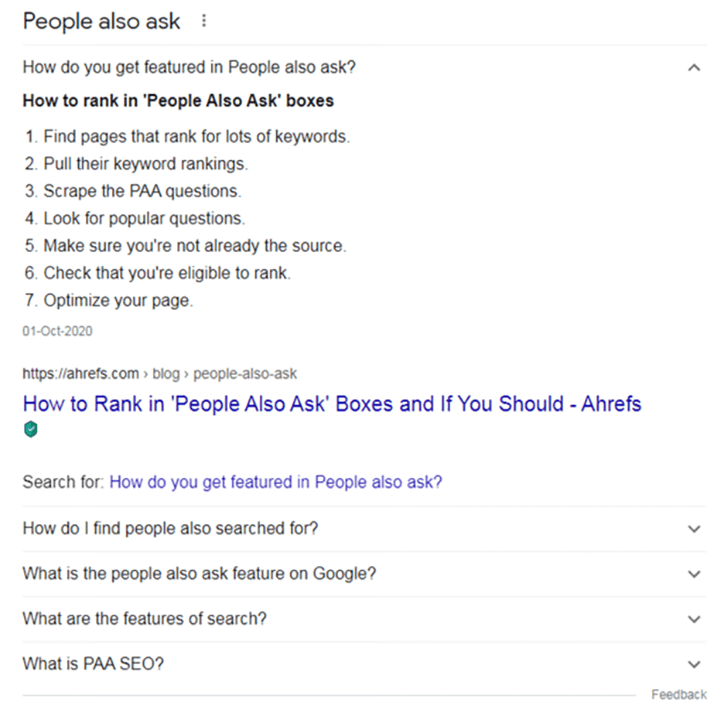 In the examples above related to the query "Google's PAA feature," the suggestions stuck to the organic results.
Essential Things You Need To Understand about People Also Ask For
Here are the key facts you need to know about the PAA feature in Google.
People Also Search for Positions May Not Be Fixed Always
People commonly believe that the PAA or PASF box can always be found at the bottom of the search result pages. However, the truth is its position changes depending on the way Google's algorithm perceives the lack of search results that were intended in the primary search.
Therefore, unlike featured snippets, PASF box can be seen anywhere on a page. This change may play a vital role for your site because the placement of the box may influence your present SEO campaigns.
For example, if a good number of users indicate that the third search result on a page doesn't offer any practical value, the positions on that page might be simply changed by Google's algorithm.
People Also Ask For Can Often Repeat Featured Snippets
It's a fact that the majority of PAA or PASF questions use featured snippets. However, how often the same featured snippets get repeatedly displayed for related searches isn't known to us. For a particular set of keywords, the same set of search terms and answers might be displayed repeatedly. Therefore, you need to change your content on the web pages accordingly.
People Also Search For May Display Video Results
Although the suggestions displayed in the PAA feature in Google generally appear as text results, video results may also be included sometimes. This usually happens when a particular action is associated with the search term, and the term itself comprises words such as "where can I find," "how to," and the like. This knowledge may help you create videos encompassing your keywords to increase their chances of appearing in the PAA results.
Merge People Also Ask With People Also Search For To Improve SEO Performance
Ideally, you should collect everything you can get from "people also ask for" and "people also search for" while reviewing the results displayed in the "related searches" boxes of each. Combining these two features of Google and using the insights can greatly help you build your keyword lists, create content that can cover a diverse range of topics, and ultimately drive traffic to your site.
How to Rank For PASF Keywords?
Here is how you can rank for PASF keywords:
Understanding The Target Query's Search and User Intent
A PASF box uses follow-up questions that are based on the relevant search query the user is looking at to guide them in a new route. The capacity of Google to anticipate related search queries and compile the most helpful links in the form of SERP makes this possible. By anticipating the questions that potential customers may ask when searching for your company, you can use other effective Google marketing tools or a straightforward keyword research tool to make sure you appear in those searches. You can also use the right keywords and well-thought-out content ideas to make sure you appear in those searches.
Focusing on Key Search Terms
You can determine the method Google employs to present these pages in the alternative SERP section by identifying important search phrases. You can then reorganize your website's landing pages so that the website appears in these "People Also Search For" alternatives, which will increase traffic to your pages naturally on Google.
An underutilized option that increases website traffic and gives you an advantage over rivals is the "Frequently Asked Questions" section. If the related queries being asked are comparable to what you have, it will be simpler for it to appear in the search results if you address the most frequent questions via a FAQ page on your own website. You develop into a reputable website domain authority at the same time.
In terms of your rivals, it pays to be aware of what's going on. Knowing what went wrong and comprehending the key areas that need change can help you avoid experiencing the same needless suffering. By utilizing related inquiries, keyword-research tools can assist you in formulating the most frequent questions and reorganizing them to best meet your company's needs.
Organizing Content Around Related Ideas
This is yet another easy method that can raise your ranking. Try writing content that seeks to provide the answers to these queries once you have researched the frequently asked questions, and those that keep coming up in the "People Also Search For" keyword section. Along with increasing website traffic, it will assist you in establishing your authority on connected subjects. Since search engines enjoy displaying search query results that address these questions, be sure to include the Who, Why, When, Where, and What in your titles.
Utilizing Well-Known Search Engine Attributes
To maximize the likelihood that the product or service you are discussing will show up in the first few web pages, use popular attributes while discussing it. Since no one will look for sophisticated characteristics of a product, being too specific may muddy the waters. This is a potent marketing strategy that aids in tying your company's services and goods to other congruent things that appear in the search results.
Consider reconstructing the web pages with more relevant terms that people search for via monthly search volume data study to be more useful to people to lower the bouncing and exit rates if you ever find high bounce rates along with speedy exits from any organic landing page.
Tools to Find PASF Keywords:
Keywords Everywhere is a fantastic tool for any blogger or specialty website owner trying to enhance their SEO score and generate traffic via the use of targeted keywords. One of the cornerstones of effective SEO is keyword research. Unfortunately, conducting a keyword study can take a lot of time. One of the best SEO tools for viewing data directly on your search page is Keywords Everywhere. You can get access to both 'Related Keywords' and 'People Also Search For' keywords with this tool. These outcomes are generally pretty similar and easy to understand.
This is a quick and simple method for finding PASF keywords without having to repeatedly click into (and back out of) links in Google's search results.
Google SERPs

Sometimes Google Search Engine Result Pages (SERPs) are the best tools you need to find PASF queries. Using Google search you can see other relevant queries that people search for. These are the search keywords that people are currently using. These can be recently searched terms, therefore keyword research tools won't always be able to find them.
The People Also Ask (PAA) area of Google is another resource for finding keywords directly. Finding material and blog post ideas to pursue might be easy with the help of the PAA section. Google's search engine results page (SERP) is updated frequently with fresh results and search methods. Once more, this is due to Google's objective of promptly concluding a user's search experience.
There are not many tools that are as useful and efficient as Ahrefs when it comes to keyword research. It is one of the tools that content management teams use the most frequently since it has produced the best results for helping websites obtain high search rankings that increase traffic. You will see more than simply PASF keywords with Ahrefs. Additionally, it will display a wide range of other keyword suggestions as well as items like 'Questions,' which are taken from Google's People Also Ask (PAA) database.
Also Asked is an easy-to-use tool for figuring out what queries people are looking for in relation to a seed term. You can modify using the tool according to region and functions. This is a great starting point when trying to pinpoint problem areas or better understand audience needs. Also Asked is another keyword research tool that is excellent for determining your target market the PASF way.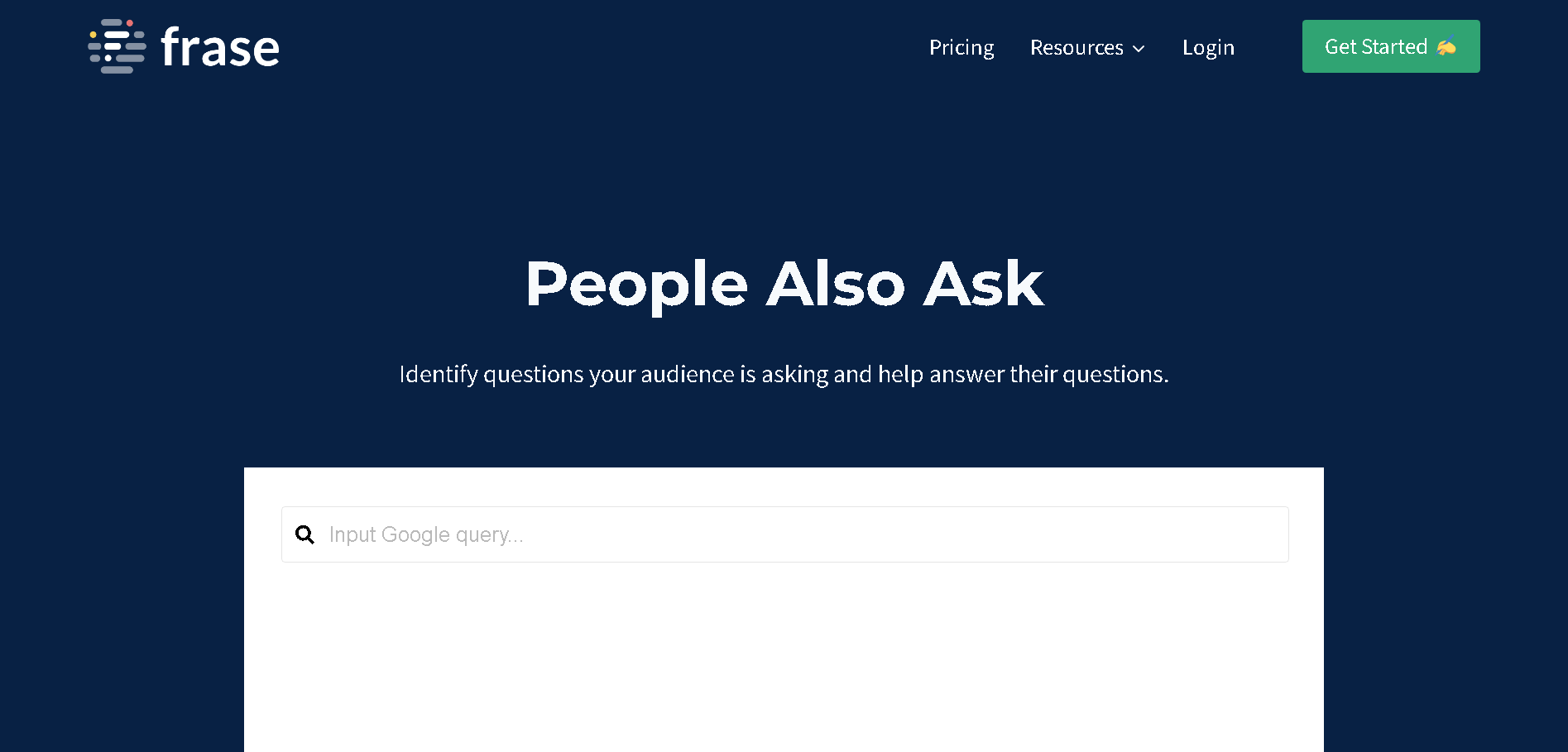 Frase helps you in creating SEO-optimized content by locating the appropriate keywords and questions for your article. Additionally, it can generate and improve pertinent responses to the queries posed by your target audience! Frase is brimming with some absolutely outstanding features that not only help you save time but also enable you to produce stunning, in-depth, and SEO-focused content. Frase steps in as the savior. You can actually automate the research process with Frase. It compiles a list of pertinent queries as you type your term using data from the People Also Ask column, Quora, Reddit, Search Autocomplete Results, etc. It assists you in identifying the questions your audience is posing so you can better address those issues in your articles.
Answer The Public is a fantastic keyword research tool that may help you locate a plethora of hidden keywords in any niche. It helps in keyword research and content inspiration. Data is fetched and searches from Google and Bing are used. It features a keyword tool that, as you can see above, visualizes search queries and gives you a tonne of term possibilities. It also has a sizable database that can anticipate the questions that users will type in. To find better content ideas for your blog, YouTube channel, or other platforms, it offers incredible PASF query options.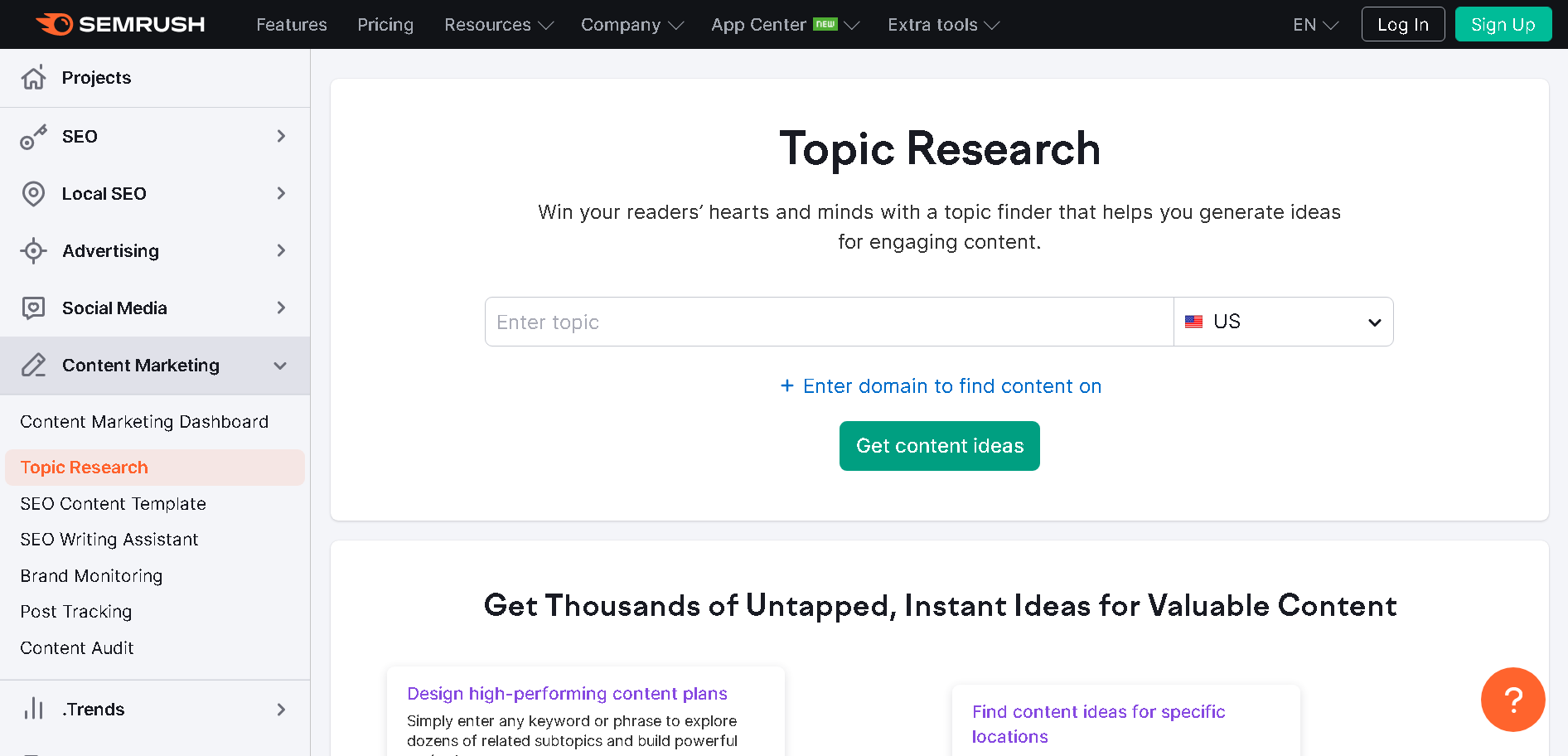 The questions tab of SEMrush's topic research section presents another great way of finding PASF queries. You just need to input a keywords or phrase to start the process. SEMrush will then go through its database and also fetch real time updated data from the web to give you the most accurate results.
Final Thoughts
Much like SEO, "People Also Search For" boxes can be used to boost organic traffic from the search results. To be effective with this type of marketing strategy it's important that data-driven decisions are made and nothing else besides research goes into the process.
Give people what they want, and Google will reward you!
Frequently Asked Questions
What is Google PAA or PASF?
People Also Search For or PASF is Google's way to prompt users surfing the internet and make them consider other related queries that are frequently asked online.
How do you get on People Also Search For?
In order to appear in "People also search for questions," provide concise and informative answers that meet the searchers' expectations. Use HTML headings to direct Google to the right section.
Why is PASF important?
Results from People Also Search For or PASF can give you a better understanding of what your audience is interested in, which will help when doing keyword research and recommending content that should go on website pages.