Learning a new language can be fun because of Google's recent game, the Google Word Coach. It is an excellent way to improve your English and vocabulary yet have fun during the learning process.
Have you noticed the game popping up on SERPs when you look for a specific word/translation meaning and wonder what this game is all about? Here, you will learn what it is, how it works and what you can do with it.
Let's dive in.
What is Google Word Coach?
It is an amazing web-based quiz game to help improve and expand your english language in a fun and engaging way. The search engine king has created this fun game to help people improve their English language skills. This game is perfect for you who can't speak English but want to learn this language, like non-native speakers. But, you can play the Google Word Coach game even if you are good at English to have fun and be productive.
The quiz pops up whenever Google search results display Google translation and dictionary boxes. When you type "Word Coach" into the Google search panel, it also displays.
To play this game, you need to answer a few MCQs on concepts, such as Synonyms and Antonyms; the interactive feature is how the Google algorithm maintains newness and engagement in search results. Google may launch this game in multiple languages in the future.
Google's Spokesperson Comment on the Vocabulary Builder Game Launch
Google launched "The Google Word Coach Quiz" for non-English speaking countries, like India, in February 2018. Google's spokesperson released the statement below:
"Google Word Coach is a game designed to help expand English-language vocabulary in a fun and engaging way. It appears under our dictionary and translates boxes or when someone searches for 'Google Word Coach' or गूगल वर्ड कोच in Hindi in Google. It launched in non-English speaking countries and also in India. It may come to other countries and languages in the future."
One of the fun elements of this game is players who perform well and earn points. They explain why your answer was wrong and what and why should have been the correct answer.
How to Open Google's Word Coach (गूगल वर्ड कोच)?
Here are the two ways to open the app:
Type "Google Word Coach" or "Word Coach" on the Chrome browser or in the Google App on your smartphone. You can also try in in hindi by typing गूगल वर्ड कोच

Search for an English word meaning on Google. The Word Coach game will display under the translation or dictionary boxes in the search engine results.
These are how you can open Google's Word Coach game and start playing the fun game. Then, you can email or send your score on social media profiles, such as Facebook and WhatsApp, by clicking the "Share" button. Once you close the browser, you lose all the scores.
How to Play the this Quiz Game
Here are the steps to play the Quiz Game:
After you open the Google Word Coach (गूगल वर्ड कोच) game, you will pass different rounds (every round having five questions).
You will have to pick one of the two options to answer every question. The options can be either two images or two words/meaning of words. The game usually asks questions on opposite words, same words, visual identification and definitions.
If you don't know or are unsure of an answer, you can skip a question. The ease or difficulty level depends on where you start the game.
The game shows if you were right or wrong as you answer each question. Then, the next question displays on the screen.
Things to Know About Scoring on Google's Word Coach Game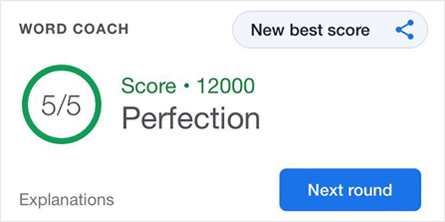 Here are the key things to know about Game scoring:
Each correct answer scores 200 points. But, the Google algorithm can change these points depending on your level/search history. For instance, if the quiz displays a question related to a word, which you searched sometime back, you could get more than 500 bonus points for the right answer.
Wrong answers have no negative points.
Once you answer five questions, you get the final score and an explanation for every answer. To continue playing, you can then tap on "Next Round".
Google algorithm upgrades your questions depending on your performance. If you easily score high points, Google prompts that it will increase the difficulty of future questions. You can decide to level up your game at this point.
How to Create a Shortcut for Google Word Coach?
The game's shortcut icon works only on smartphones but not on laptops and desktops. They have presented a Home Screen shortcut icon for mobile phone users.
You can see a mini arrow at the game card's bottom left in the Google search engine. You can create a Google Word Coach shortcut anywhere on your phone's home screen by tapping on it.
How to Download Word Coach Vocabulary Game App?
If you have ever searched the meaning of a word on Google, you may have come across the Google word coach app/the sport. It displays immediately below the directory and translator option when looking for the app.
This game is addictive and fun for both experts and non-experts in English. As you move forward in the game, the difficulty level increases. The Google Word Coach app is user-friendly, and learners can use it easily. If you play this game repeatedly, it can significantly improve your English vocabulary. You will learn at least a few new words every day when using this app and grow to be an expert shortly.
However, there are many more things that you can do on Google with its subsidiaries, such as Gmail and apps. One of the most effective apps and simplest subsidiaries by Google is the Word Coach app, which you can download on your phone.
Google Word Coach test doesn't have an official app. When internet users type words on the search panel, it only appears in the SERPs. Let's see if Google builds such an app in the coming days.
What Was the Key Reason for Building Google Word Coach?
Google is constantly upgrading their searches. The recently launched Word Coach game is informative and built to improve English language vocabulary in a fun and engaging way. It is for non-US-based search results to help those looking for definitions/translations to improve their English.
The search engine king launched in India and non-English speaking countries and is about to launch in other countries and languages in the future. They have added a replacement feature, called "Google Word Coach", to the Google dictionary and translate boxes in web searches for non-English searchers.
When you perform research, which triggers a dictionary/translation box, Google tends to show you the Word Coach, which helps upgrade your English vocabulary in a fun and enticing manner.
How Does Google Word Coach Differ From Other Google Services?
Google added the Word Coach game as a step to upgrade its algorithm. So, Google users tend to feel engaged and learn more. It takes only a minute to start studying or playing the quiz game by typing "Google Word Coach" on your smartphone. Google has a dictionary and resources to help users with a single click. However, the game is a fun-filled way of improving your English vocabulary. Plus, you can learn an increasing number of English words as you progress.
Both English beginners and experts can play this game. You can earn some reward points when you give the right answers. You will get a detailed explanation for all the wrong answers, which holds the interest of users who want to play until the final stage.
As Google Word Coach implements fun and encourages all age groups to learn easily and quickly, it is quite different from other Google services.
Google Word Coach Availability and Future Predictions
It is an excellent game to improve your English-language vocabulary. It is also a fun and entertaining way to learn more about the English language, words, phrases and meanings. You can start playing this game anytime by searching for "Google Word Coach". It displays below the translate boxes and dictionary.
This game is available in India and non-English speaking countries across the world. You can find it by searching for गूगल वर्ड कोच in हिन्दी. However, it may be available in other countries and languages in the future. Google may upgrade this English vocabulary by improving the game to other languages in the coming years. If they do so, it can be a great gift for people who want to learn multiple languages of their interest.
The Bottom Line
Google Word Coach is definitely one of the most distinguishing features of the Google search algorithm, which adds fun and interactive elements to a normal search and learning experience. Even though it is basic in nature, the play ensures to make you confident and upgrades your English language skills, mainly for beginners.
As there is a chance for this game to be available in other languages in the near future, you are going to experience much more funnier and educative Google searches. Hopefully, this comprehensive guide on Google Word Coach helped to learn the most important things about it. Now, start enjoying it to improve your English vocabulary skills.
Frequently Asked Questions
What is the highest score on Google Word Coach?
It's difficult to determine the highest score ever on Google Word Coach. The highest Google Word Coach score reported till date is 600360 points. However, let us know if you or someons else has scored more than this.
Latest posts by Ritu Sharma
(see all)