If you have not heard nor done an SEO audit for a WordPress site, then it is high time you did one. Naturally, the next question will be how do you conduct a WordPress SEO audit?
For starters, it is not difficult. If you are a bit tech savvy, which I guess you would be… otherwise you would not be reading this post.
Besides, instead of taking you along the drawn-out process of conducting your own SEO audit… what I intend to do is to introduce you to some of the popular internet tools, that will make SEO auditing a whole lot easier. We are moving in to a mobile world, and we want things that could do jobs for us much faster.
I will also explain to you what the whole SEO WordPress audit process is all about, so that you are aware of what you will be doing.
By evaluating and rectifying those factors that influence your SEO performance, you'll make sure that your website is operating at its peak.
What is an SEO audit?
It is an audit to ensure that your website is working at its optimum levels. It also identifies flaws in your SEO strategies that are hurting your website's performance, and how you can rectify them. There are internet tools currently available, that suggest possible methods that you may have to fix for optimum SEO performance.
When should one conduct an SEO audit?
There are no hard and fast rules on when to do an SEO audit. It is to be understood that one of the fastest ways to enhance your WordPress site is to conduct an SEO audit. If you feel that your WordPress website is not functioning, it would be advisable to do an audit. On the safe side, it is advisable to conduct an SEO audit every quarter, as it will ensure that your site is always performing at its optimum levels…
Below are the issues we believe to be the most important for a WordPress SEO audit. You may think it sounds complicated, but it is rather simple.
Choosing your goals.
Every WordPress site or blog owner, must clearly understand that their most important stage is defining goals, including what to expect following an SEO analysis, and what an SEO analysis can do for you:
Identifying technical problems, if any.
Optimization of content.
Utilization of SEO bonuses.
Identifying and rectifying posts with poor content.
Improvisation of existing content and other related factors.
making the site load faster, and
Increase in traffic.
Identify the problems affecting your WordPress site or blog.
There are so many internet tools that are available online which are either free or you have to pay a small sum. These tools are so indispensable during an SEO audit of your WordPress site.
Some of these SEO audit tools are given below.
Screaming Frog.
Google Search Console (former Webmasters Tools).
Google Analytics.
BuzzSumo.
Moz Crawl Test.
SEMrush.
Of course, you must know how to utilize the above tools… only then can you take advantage and conduct a successful SEO audit.
All of the above tools are good in their own right, but I am only going to detail out only a few. Of these, the below SEO Audit Tools are the ones that are rather popular…
With this tool, you can audit just about any SEO element on a WordPress website. A downloadable tool that comes free, but once you have completed scanning of 500 URLs; you have to purchase the license. It can literally crawl your WordPress site within minutes and provide useful info on SEO technicalities.
You don't need to go through each of the parameters, one by one, if you have Screaming Frog. With this tool, you can audit just about any SEO element on your WordPress website. This can include most of the site's critical parameters and is not limited to URLs, titles, meta descriptions, content, tags, images, sitemaps, errors, and links. However, there is one small glitch – Screaming Frog needs Java to operate.
The Webmaster tools provide us with the closest access to the search engines. It comes with a whole lot of info on the optimization levels of the site that you have identified for the audit. So set the site up in your Google Search Console and get ready to roll.
The Google Analytics provides you tons of information about your site's visitors. Although there are several other similar solutions available online, this one comes forth as the most significant.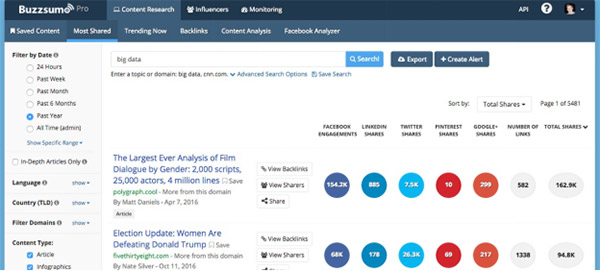 Source: BuzzSumo.com
BuzzSumo.com has to be the most important tool for content marketing and SEO campaigns. The ability to quickly identify what content is working well in an industry or niche area, and who the major influencers are. It is also a great place to see which topics related to your business get the most attention. If you want a post to go viral, you need to know what triggers sharing in the first place. BuzzSumo analyzed about 100 million posts in 2014 to look for patterns in most shared content.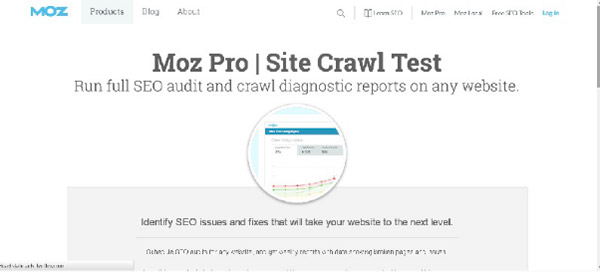 Source: MOZ.com
With the Moz Crawl Test, you can run a full SEO audit and crawl diagnostic report on any website, and identify SEO issues and fixes that will take a website to the next level… In addition, you can also schedule SEO audits for any website, and get weekly reports with data showing broken pages and issues.
Very popular with SEO agencies and professional bloggers, SEMrush is an SEO tool, which lets you check backlinks, track keyword ranking, does keyword research, check competitor ranks, and to top it all does a complete SEO audit of your WordPress website. It also provides you with insights into your competitors' strategies in organic and paid search, display advertising, and link building.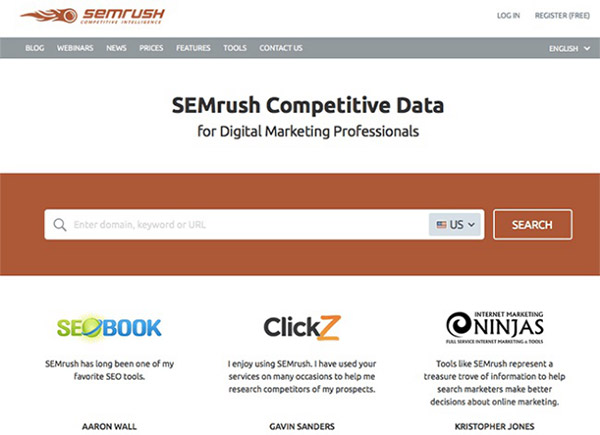 Source: SEMrush.com
Let us now crawl the WordPress website.
Data is readily available for both the Google Search Console and Google Analytics. However, for Screaming Frog, we must run the site crawl to get information from Screaming Frog. All you have to do is to type your WordPress website address in to the bar and press start.
Next step depends if you are a free user, or if you have a license to use Screaming Frog.
Now that you are familiar with the many online tools that are readily available to do an SEO audit for a WordPress site… let's get our hands dirty and get down to the real process.
How to do an SEO audit of your WordPress site and page ranking factors.
Let's now focus on one of the most important aspects when you do an SEO audit… the on-page SEO markers. Since we are focusing only on WordPress sites, this is relatively easy if you are using the Yoast SEO plugin. With this, you can constantly monitor the state of your pages' on-page SEO in handy traffic light form in the WordPress backend.
If you opt for the manual route, then make sure to review the below mentioned factors… particularly on your key pages.
HTML – The HTML markup is very vital for SEO, as it contains a lot of important info. However, if you are using a quality theme (which is updated regularly in WordPress), this should not be a problem. If not, this is a key area that you have to constantly monitor.
Titles – It is important, that your titles are unique, precise, and relevant to the content, with keywords placed in proper locations. While the Yoast plugin is enough for WordPress sites, you can also check it with Screaming Frog's Page Titles tab and HTML Improvements under Search Appearance in Google Search Console for any title duplication.
Meta description – Ensure that the description is unique and below 172 characters, and is relevant to the page content, with few keywords added to it. Apart from the Yoast and other SEO plugins, they can also be checked with Screaming Frog.
URLs – Ensure that your URLs are short, user friendly and has a keyword added into it. Use pretty permalinks, i.e., the URL to each post should be pretty, permanent, and never change, hence the name permalink. While WordPress does this automatically, there is no harm in checking.
Headings – Heading tags are very important for structuring content and making it scannable. H1 tags should be used only in titles.
Precise Content – Unique, precise, value-added content and a minimum of 300 words. Proper location of keywords with no keyword stuffing. The WordPress plugin Yoast checks all this, but you have to be aware of it.
Images – ALT tags, file titles, SEO markers for images are a must. It should contain keywords and should be descriptive as well. WordPress has an image plugin, while Screaming Frog has its own section where you can reduce image size for it to load faster.
Links – Key factor. As the site grows, the chances of dead links increase. Hence, constant linkchecksfor relevance are a must. Although, there is a relatively good WordPress plugin to identify broken links, there are also some good dead link checkers available online.
Keywords – For WordPress, leave this to the Yoast plugin. However, you have to be aware that it optimizes only one page per a focus keyword. If a repetition occurs, Yoast will point it out.
Technical errors – Switch to the Google Search Console account to Crawl > Crawl Errors. If there are any, correct the nonexistent pages with the 404 error. Rectify and optimize these pages. In other words, redirect the URLs of these pages to places with the necessary information.
Duplicate content – Siteliner.com is a good tool to findduplicate content issues on your site. You can also use the HTML Improvements under Google Search Console Search Appearance.
Most of the SEO problems that you may encounter will be technical in nature. Hence, that is one of the reasons that if they are resolved, you can literally say goodbye to them.
So, don't be apprehensive. Doing an SEO audit for a WordPress site is not so difficult. With so many online tools currently available, you will find it relatively easy.
Any other final words after you complete a SEO Audit.
Now that you have gone through the whole audit process, you would now be aware of a site's SEO weak spots… You can then rectify each flaw and prioritize each flaw, and over time, you could see how each alteration and its positive impact on a WordPress website… this way you would have to do very little on any future SEO audits for a WordPress site.
Frequently Asked Questions
How do you perform an SEO audit for a website?
There are multiple ways to perform an SEO audit for any website. You can either go with a manual audit or via an audit tool to accomplish the task. If you choose the former, here's the checklist for WordPress website audit:
1. Verify the programme and plugin versions
2. Check the website's speed
3. Check out the content on blogs
4. Verify WordPress' security
5. Look for any broken links
6. Verify the functionality
7. Analyze your metrics
8. Review SEO results
Is an SEO audit worth it?
With the help of an SEO audit, you may find ways to improve the functionality of your website, learn about the marketing tactics of your rivals, and eventually increase the revenue of your company. You could be shocked by what an audit can show, even if you believe your website to be in excellent shape. Hence, it is recommended that you get SEO audits done regularly to make sure your business website is in the best possible shape.
What is the best SEO Audit Tool?
The most significant website problems that might adversely affect search rankings can be found and fixed with the assistance of reliable technical SEO audit tools. We've put together this list of the top 5 SEO audit tools so you can get started.
5 Best Technical SEO Audit Tools
1. Google Search Console
2. SEMrush Site Audit
3. Ahrefs Site Audit Tool
4. GTmetrix
5. Screaming Frog
How much should an SEO audit cost?
The cost of an SEO audit depends on a number of factors surrounding your business and its website. If you are a small company with very little website activity that cost could range between $250-$500. On the other hand, if you are a medium to large sized corporation, you can expect to pay $500-$10,000 for an SEO audit. This will depend on how the auditor company assesses your website and the time spent on reviewing it.
Related Services
Explore the award winning services of PageTraffic that puts you in the search engine spotlight.
SEO Services – Search engines have become rigidly stringent and the competition is doing all it can to move up. However, we snatch the top positions for you.
Full Time SEO Consultant – The modern mantras of growth are streamlining and strategizing. Hire an expert full time SEO consultant to manage and take care of both.
SEO Reseller – Expand your client base and service offerings with our private label SEO reseller partnership.